Osix OR3 reef LED bars combo 4k video review by @cloud9aquariums Youtube channel and why this may be the best LED system for reef of the year - Part I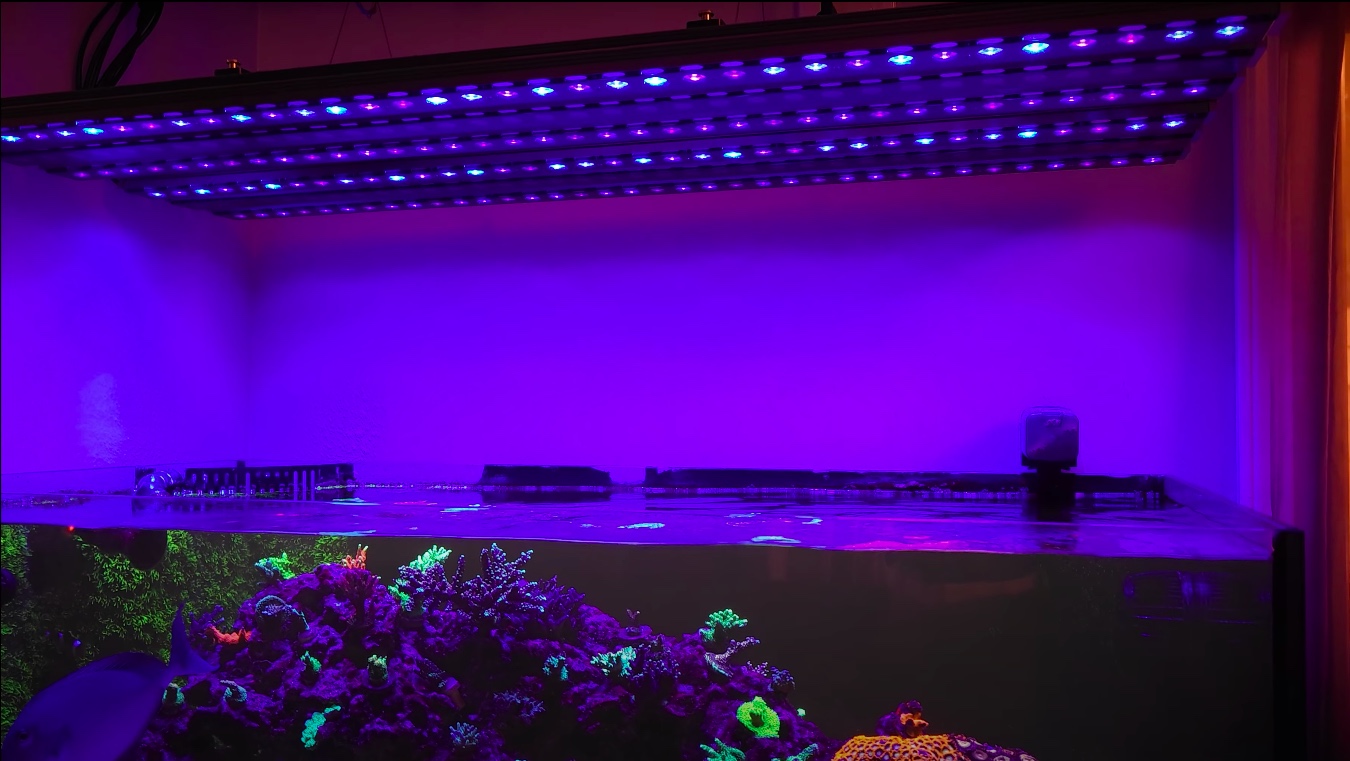 Join us today on a captivating video journey alongside the passionate reefer, Even from @cloud9aquariums, as we delve into the exploration of Orphek's latest cutting-edge technology - The Osix Smart Controller.
@cloud9aquariums is very popular American YouTube channel that has been entertaining and educating viewers since 2012 with captivating content on both freshwater planted and saltwater reef aquariums.
Through this immersive experience, you will gain a comprehensive understanding of why the combination of Osix and Orphek OR3 LED Bars might just be the best lighting system for SPS corals stands out as the ultimate lighting system for SPS corals, according to Even's expertise.
Witness the awe-inspiring installation of these amazing OR3 LED Bars above the aquarium, and observe how he effortlessly programs and controls them using the OSIX controller via Orphek's incredible app.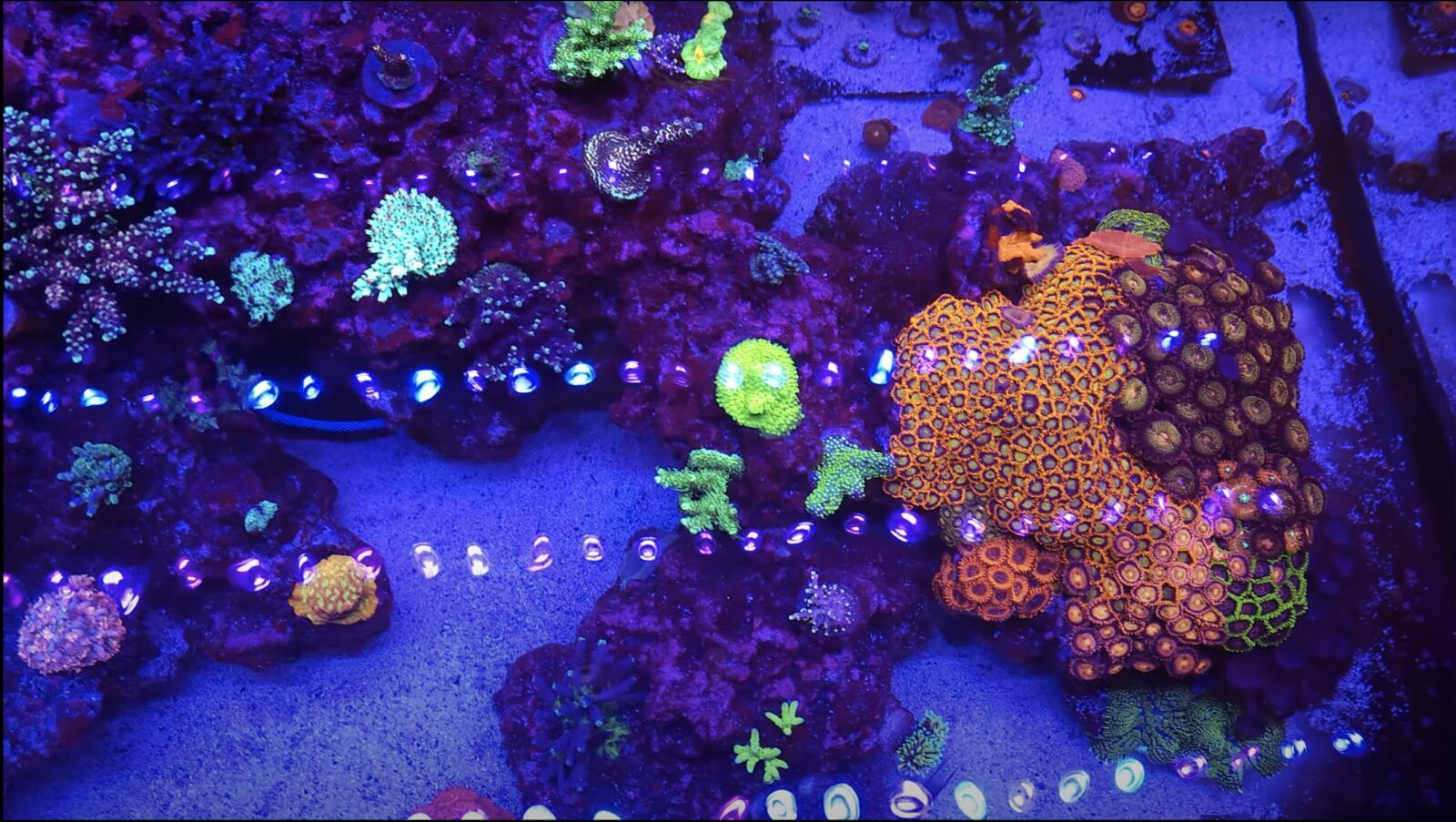 Furthermore, grasp this incredible opportunity to discover the PAR readings @cloud9aquariums will generously share, and least but not last, witness the mesmerizing illumination of the tank created by these exceptional Orphek lighting solutions.
In a nutshell, join us today and be a part of this extraordinary journey of innovation!
The 4K video
For our non-English speaking audience: We included screenshots and excerpts from the video. This way, you can conveniently utilize a translator engine to fully enjoy and comprehend the content. Sit back, relax, and revel in the experience!
It is awesome to watch the video, but if you scroll down you will find screenshots from the video, with excerpts and additional comments/information from us that are also worth reading!
We have divided this post into 2 parts so you it will be easier to follow.
In Part I, we will delve into the initial 5 minutes of the video. During this segment, you will gain insights about @cloud9aquariums Youtube channel; about Osix and about what OR3 LED Bars were chosen and the quality of the lights chosen.
He will also guide you through the intricacies of connecting, programming and monitoring the OR3 LED Bars via Orphek App.
Additionally, you will discover the specific program chosen by the reefer to optimize the growth and vitality of their corals.
To enhance your experience, we have carefully curated a collection of remarkable screenshots and photos that are sure to delight you.
Lastly, Orphek will impart invaluable additional information that you simply can't afford to miss!
A bit more about @cloud9aquariums
In the owner's own words: "My goal is to keep this hobby relaxing and rewarding for everyone. Setting up a balanced tank doesn't happen overnight. I'll guide you through the steps and show you what I do to keep my tanks looking great without blowing an unnecessary amount of money and layout what you really NEED. Subscribe to my channel and learn to enjoy the hobby with me!"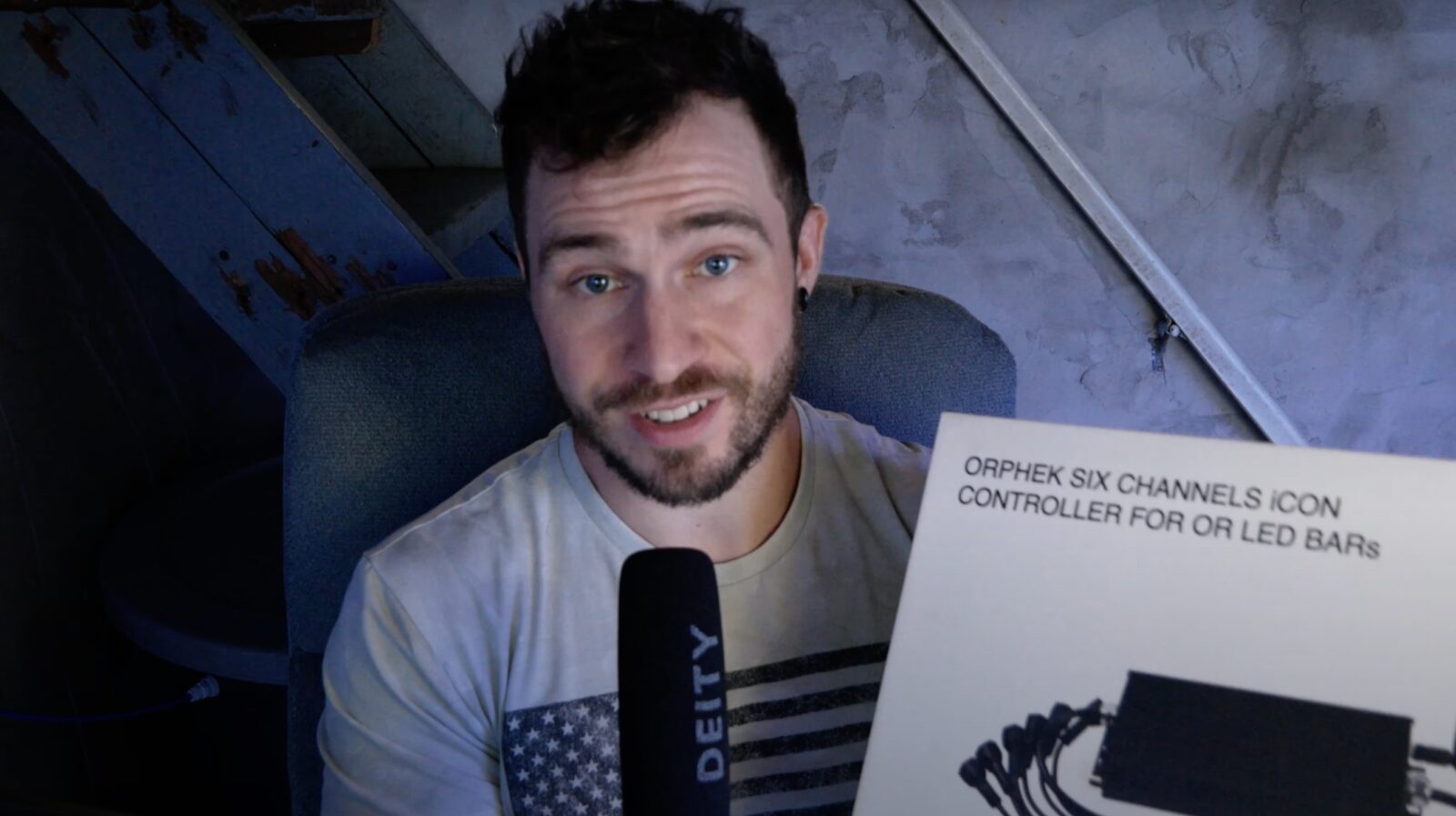 Even starts presenting the video and from the very beginning he sets the tone of the video by explicitly stating that he has no sponsorship from Orphek, and has personally purchased all the products showcased in the upcoming content.
[We want to emphasize that this video is a completely independent initiative of the channel, further confirming its authenticity. We have eagerly awaited the opportunity to come across videos like this, and we are truly thrilled to share it with all of you!]
About Osix
He also mentions that Orphek was caught by their radar when they saw SPS dominated tank running in forums with Orphek's Atlantik iCon units. The colors and the pop from the corals were attention grabbing to say the least.
So, excited about color pop he mentions that the with the release of Orphek's OR3 LED Bars it was possible to add color pop to his corals, using them as supplemental light to achieve that extra pop and to get the same coverage of T5's but with the pop and shimmering offered by LEDs when combined with the Osix controller, being able to link 06 or 03 bars to get the same features and App. of the Atlantik iCon.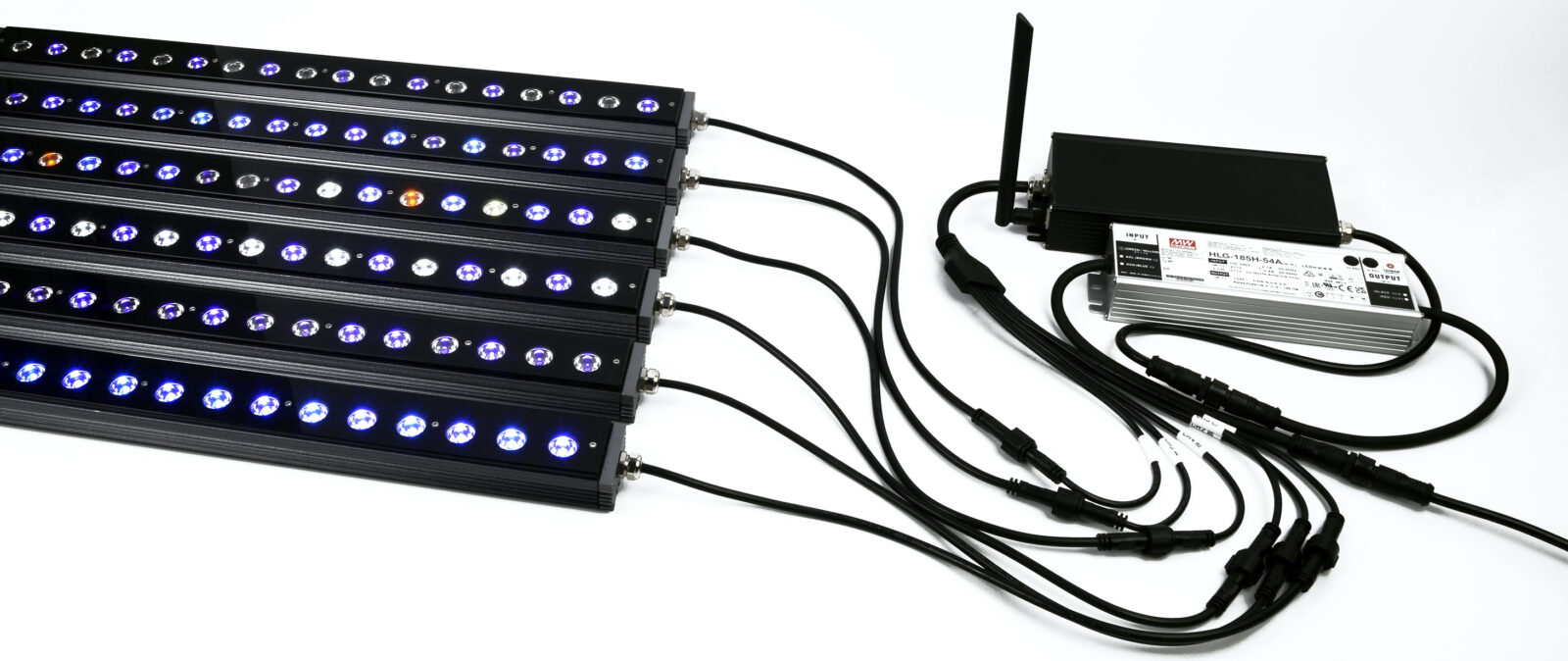 Orphek Osix connecting 06 OR3 LED Bars / Photo credit: Orphek Reef Aquarium LED Lighting
[Indeed, Orphek R&D team developed and engineered a sophisticated technology, converting what could be one more dimming controller in the market into a groundbreaking device that will integrate LED lighting solutions is a way never seen before :
Osix is a smart device with iCon technology that allows you to program, control, monitor and dim up to 06 units of OR3 Reef Aquarium LED Bars and also integrate them with all Orphek iCon LED solutions.
With Orphek Osix you will be able to connect your OR3 LED Bars to Orphek awesome App. which is compatible with both Android and iPhone.]
About build quality of Orphek lights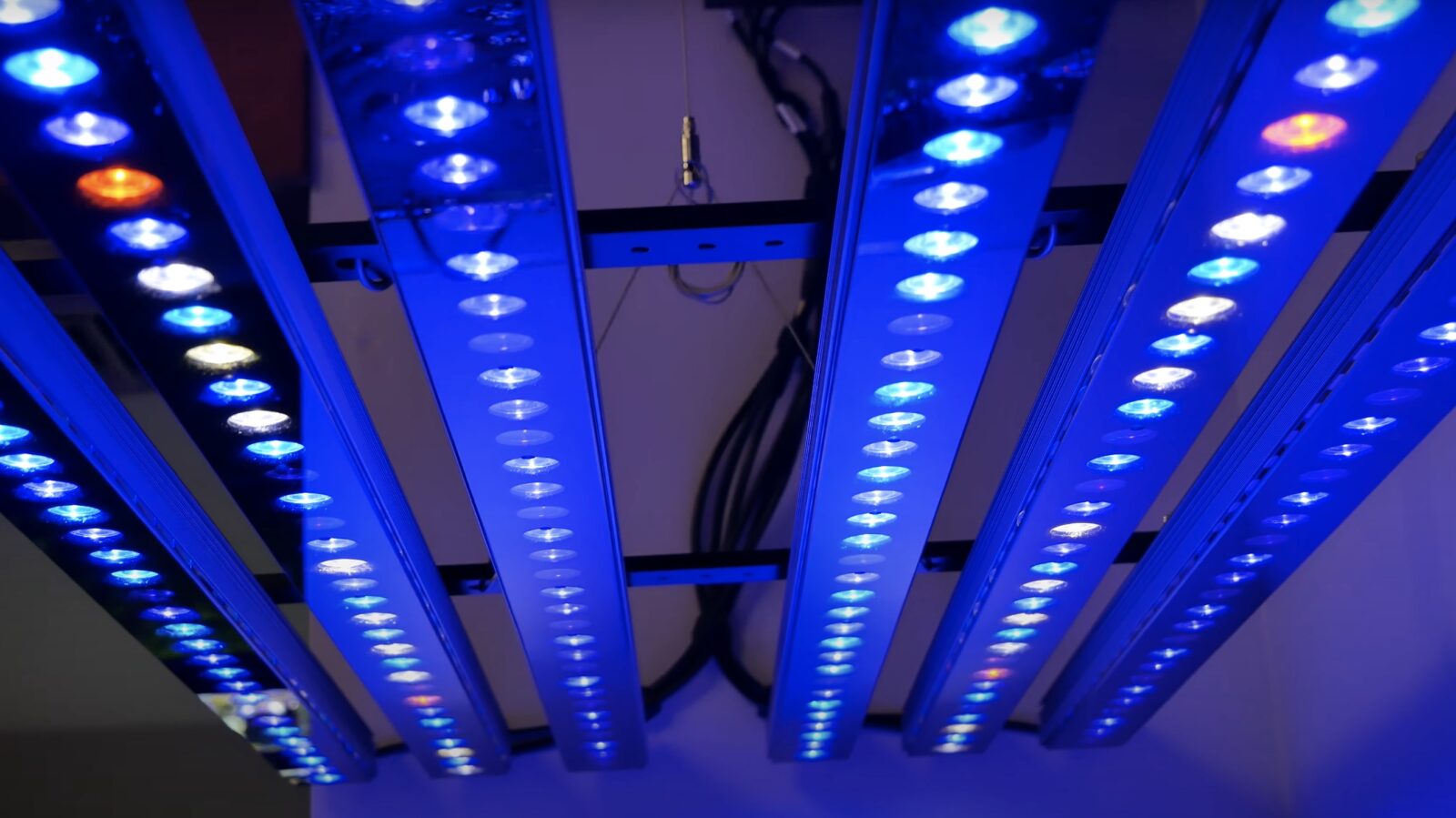 Before going into further details about his decision, he wanted to share his opinion regarding the build quality of Orphek products. He explains that these lights are his first Orphek lights, and even before unboxing them, he noticed how heavy and solid they were (five pound a piece).
The entire surface of the bars are extruded aluminum heat sinks which means no noisy fans or any moving parts for that matter.
He also mentions that they are not heated to touch even and its peak, IP67 waterproof rated (he adds that in his opinion it is not necessary but in this hobby everyone knows that water and salt creep gets everywhere at some point).
[No wonder...OR3 LED Bars comes with a 8mm acrylic cover!
Both Osix and OR3 LED Bars are developed with exceptional quality and durability, developed specifically to provide a safe natural ambiance including aquariums with expensive rare, exotic & high maintenance species.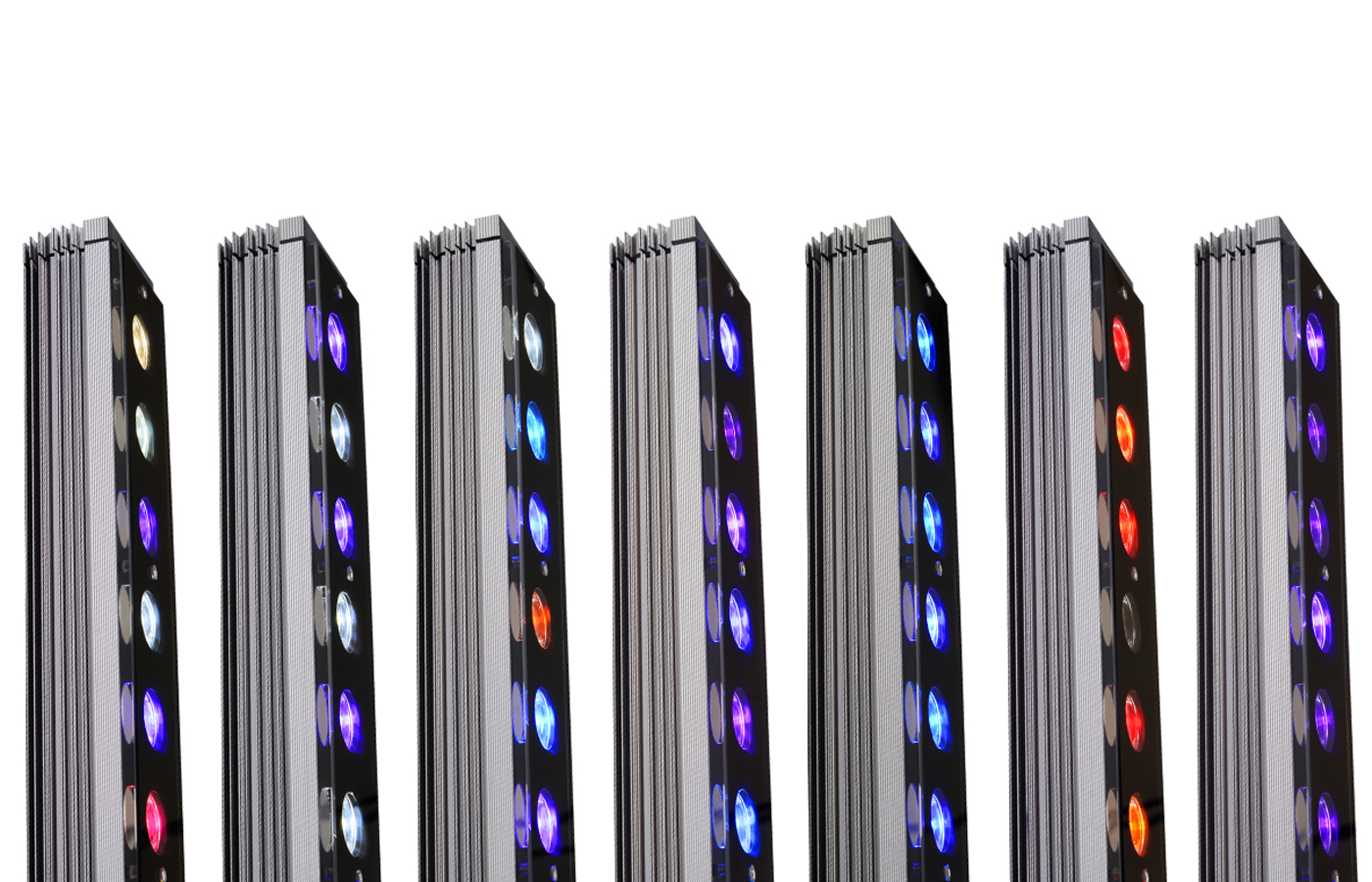 Orphek IP67 certified OR3 LED Bars Series / Photo credit: Orphek Reef Aquarium LED Lighting
Osix and OR3 LED Bars are IP67 waterproof certified - All parts of Orphek Osix iCon Controller, including Orphek OR3 LED Bars connected are IP67 certified (and all parts, connectors, extension cables and plugs are water-proof, anti-rust, anti-corrosion). Orphek is also proud to be probably the company with the most IP67 and IP65 line of lighting products for reef in the market today!
Osix has high quality Aluminum electric anodized coating - All aluminium parts are made of high quality electric anodized aluminium coating, therefore it will never rust even in contact with salted water or environments with high humidity!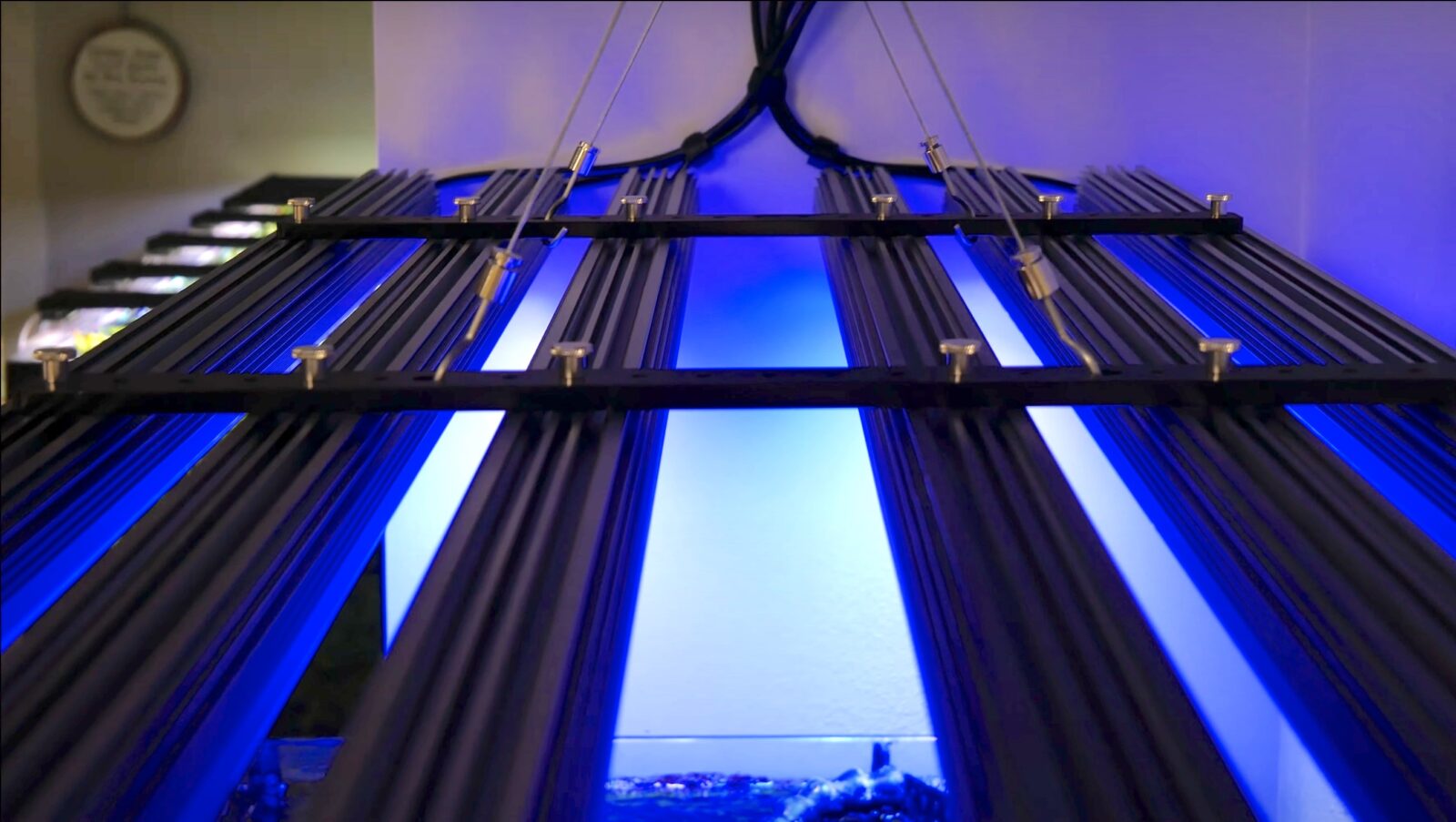 The compliment to us: Orphek takes R&D to another level in these fixtures.
and he adds...They use their own proprietary 5watt LEDs and Osix is driven with a single Mean well power supply. That means one power brick and one plug.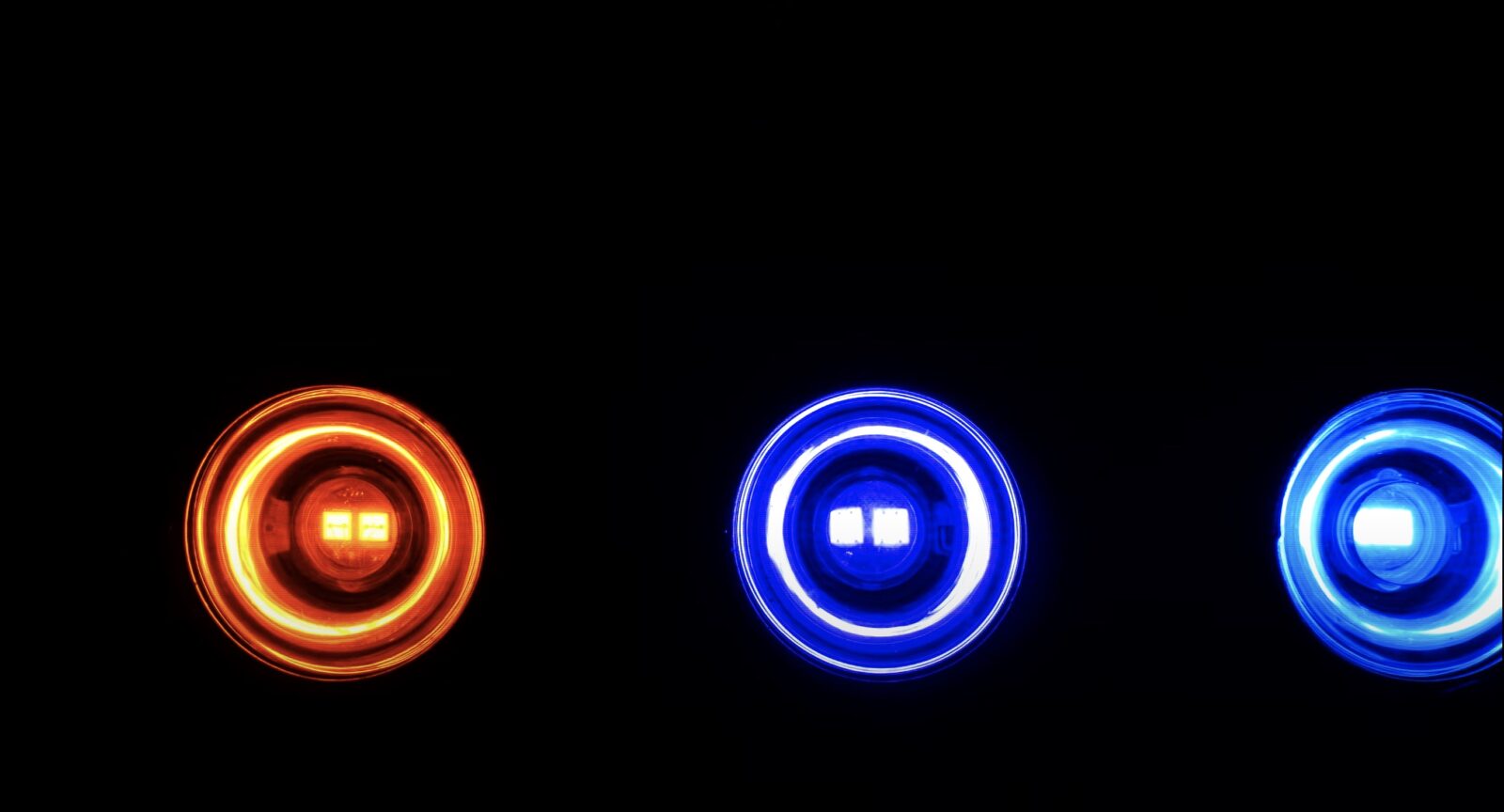 [About the LEDs in our OR3 LED Bars - You are getting newer high efficiency 5w Dual-Chip power LEDs running at 50% of the power, for highest PAR longevity with really minimum loss over the years!]
What OR3 LED Bars were chosen to run on this aquarium
As @cloud9aquariums explains, he chose to run 2 units of Orphek's OR3 Blue Plus LED Bars + 2 units of OR3 Reef Day LED Bars + 2 units of OR3 UV/Violet LED Bars, all assembled and hung with Orphek's Universal Fixing Brackets and Hanging Kits, controlled and dimmed by Osix and programmed by Orphek App.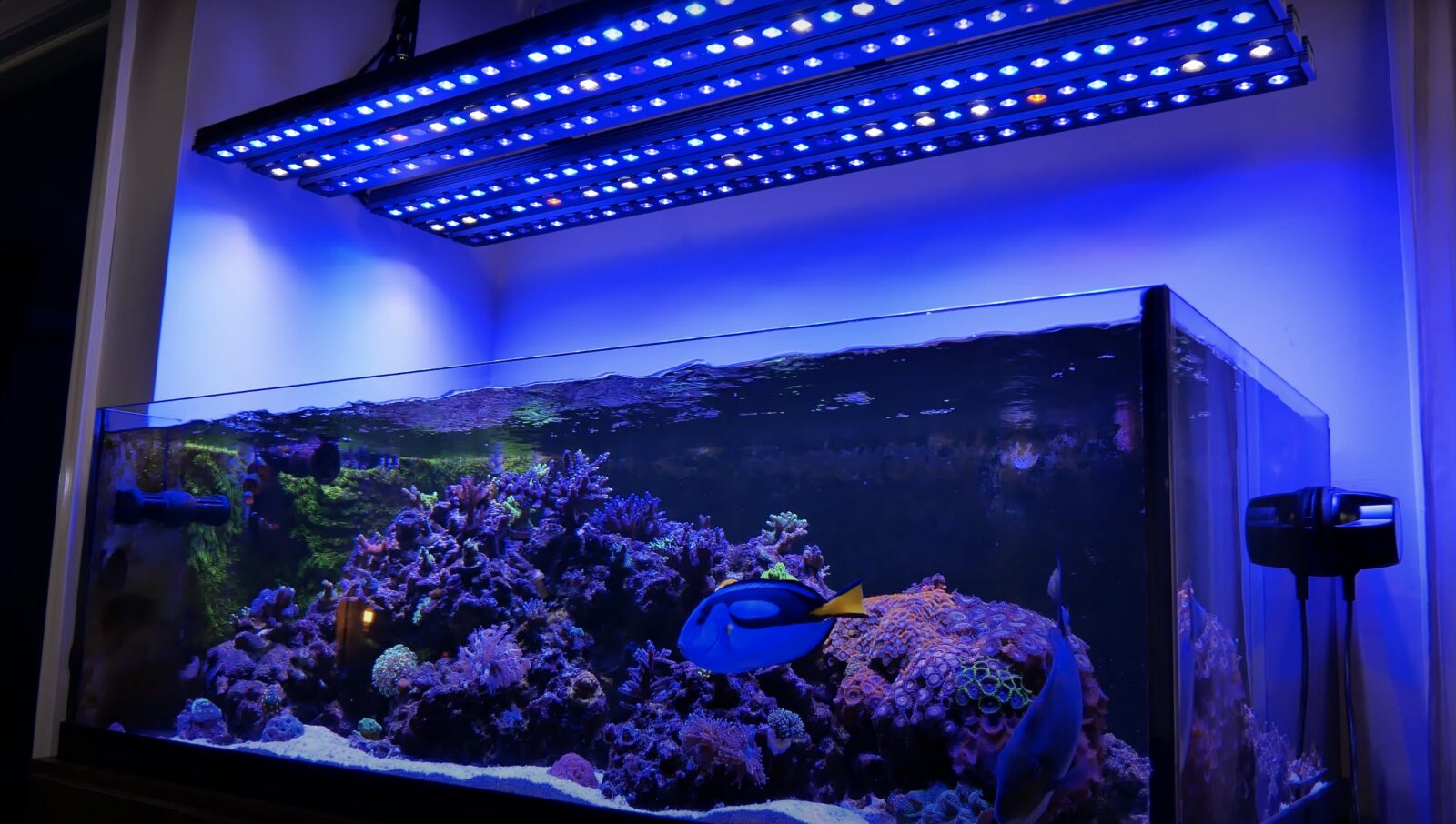 [ Find here quick info on the spectrums chosen:
OR3 Blue Plus – Incredible widest Blue / violet fluorescent spectrum. Blue/Violet spectrum 400-500nm for SPS/LPS/Soft coral growth and wide fluorescent coral pop. Maximum absorption of Chlorophyllc2 (the most common form of chlorophyll c) is achieved around 447nm.
OR3 Reef Day Plus – Widest White full natural day spectrum. Widest 18000K Full Spectrum 390-740nm for SPS/LPS/Soft coral growth, color and illumination.
OR3 UV/Violet – Unparalleled widest actinic fluorescent pop. UV/Violet Actinic for SPS/LPS/Soft coral growth and Actinic fluorescent coral pop. 400-430nm wavelengths are very useful in photosynthesis. Absorbed by chlorophylls a and c2. wide violet band of 400-430nm proved to be essential for the excitation of fluorescent proteins.]
(Click LED Map & Spectrums graphs)
Connecting, programming and monitoring the OR3 LED Bars with Orphek App.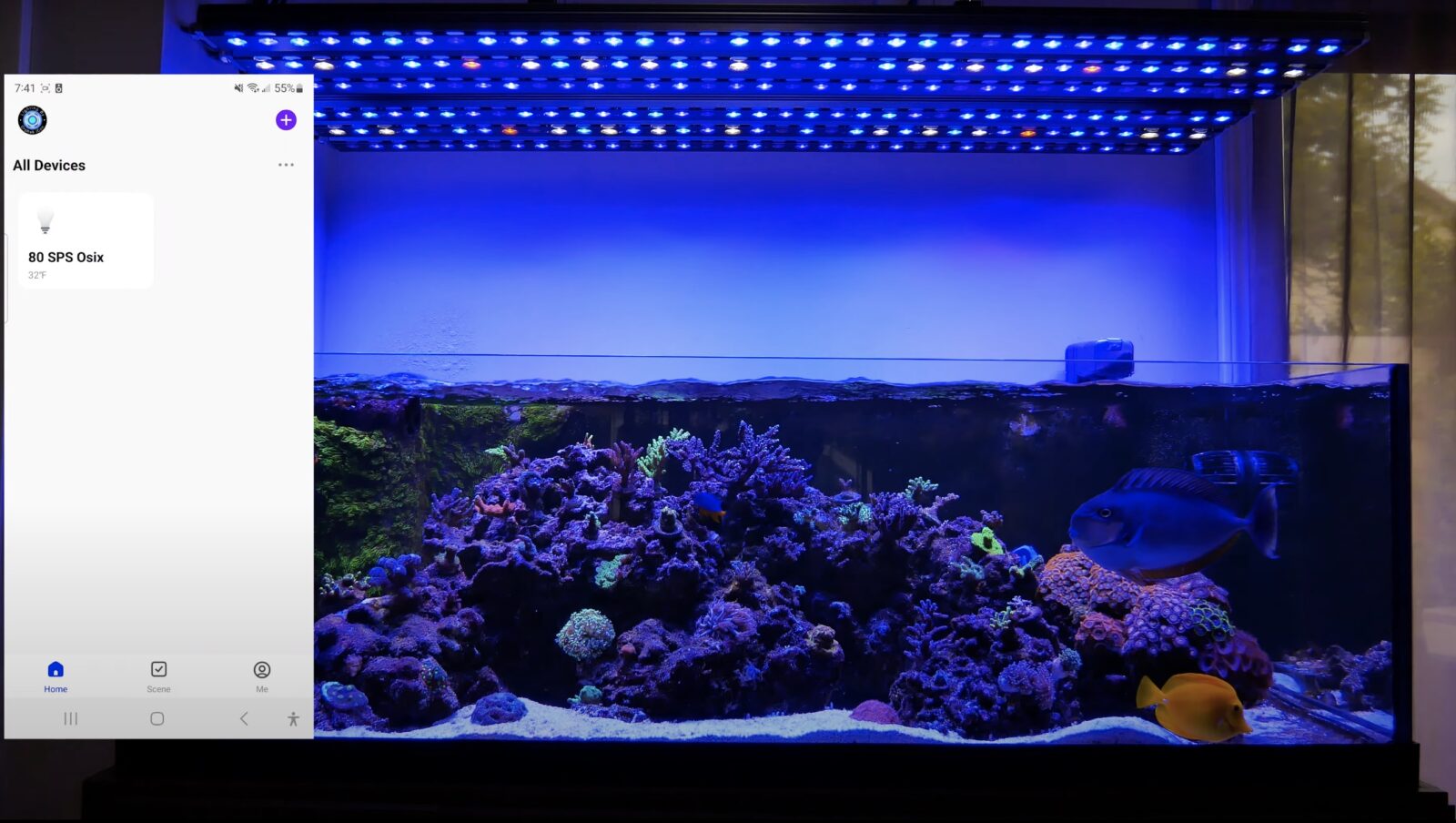 After downloading the Orphek App. from the internet, Even selected his tank in the App.
He elucidates that you will come across a program mode and a quick mode, facilitating effortless control of all six channels with just one touch or the ability to adjust individual channels according to your preference. You will notice that the adjustments that you do are for the entire Bar and not for individual LEDs.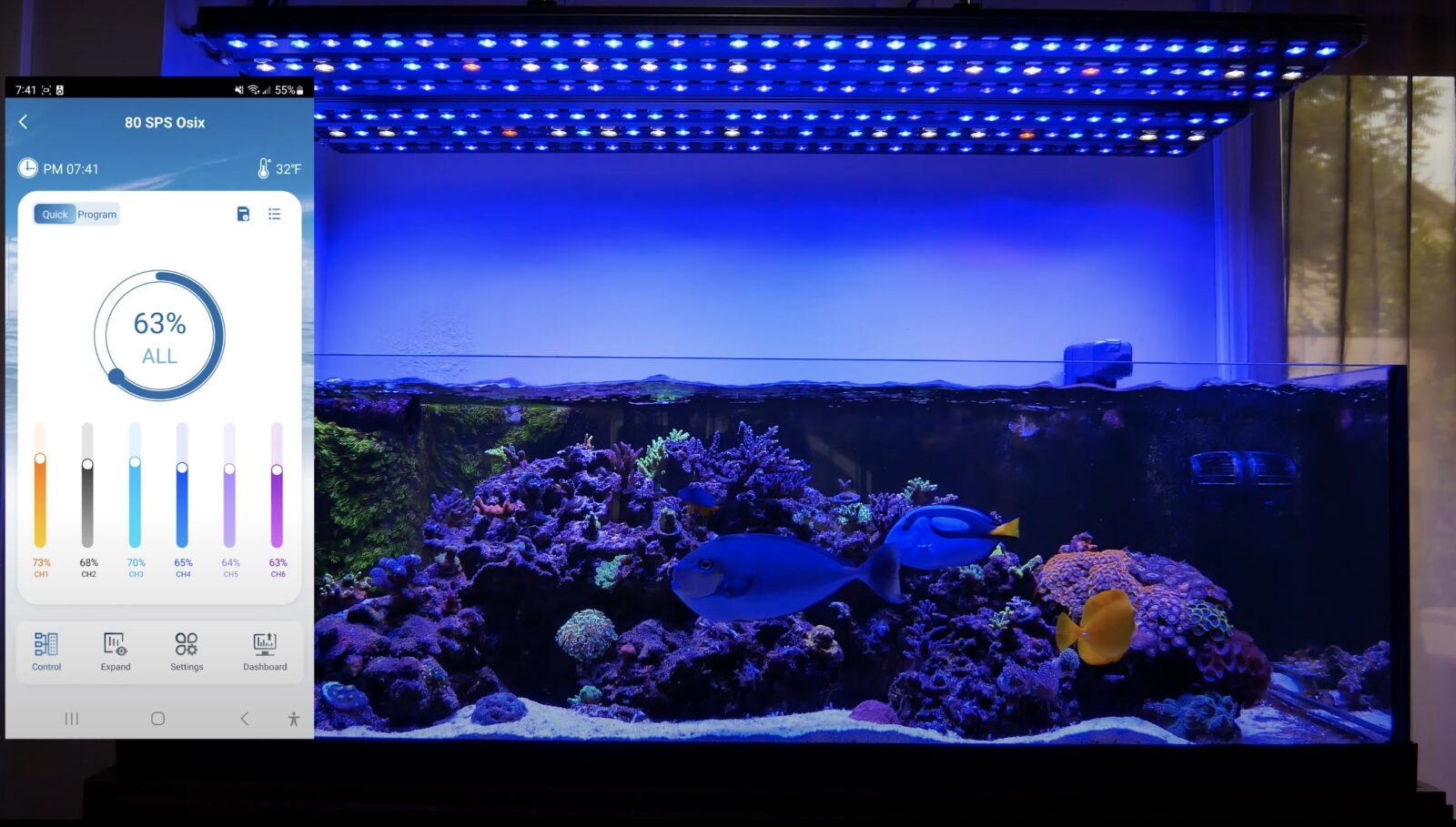 He highlights that this means that you cannot go off on a wild bender creating some absurd spectrum that the corals won't even like.
[This is a very wise comment from his part. Orphek OR3 LED Bars are one of our most versatile line of LED lighting solutions. orphek relies on years of research that were necessary to create LED Bars to render optimal SPS/LPS/Soft boost of coral color pop, health & growth/ fluorescent color/ photosynthesis and you don't want to loose that!]
Even demonstrates the versatility of these bars by adjusting the percentages of the channels, both collectively across all bars and individually within each bar, using the App. You will be able to witness the distinct lighting effects produced in the tank, as he provides a visual representation of the diverse lighting outcomes that can be achieved.
We have curated a photo gallery exclusively for you!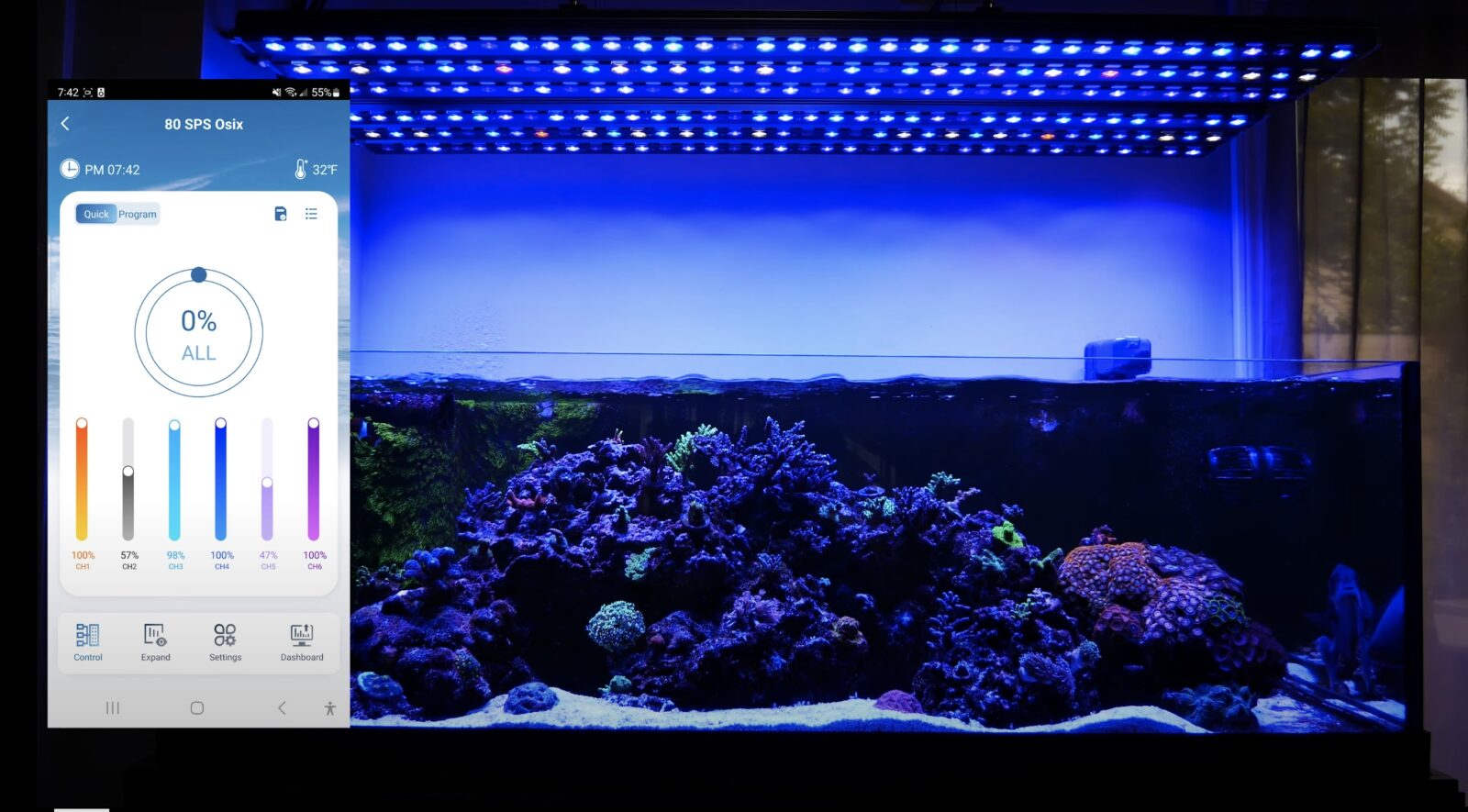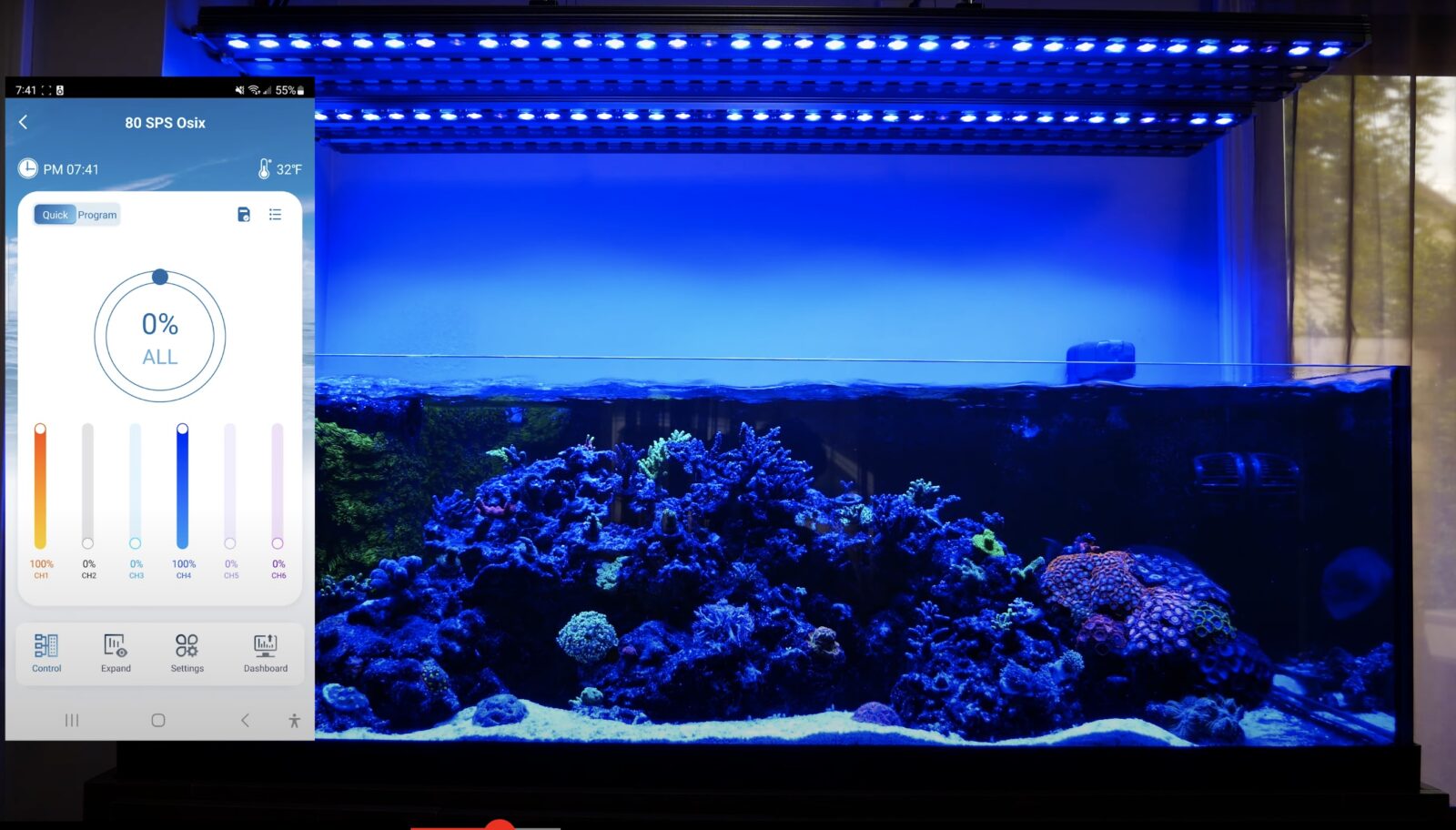 Program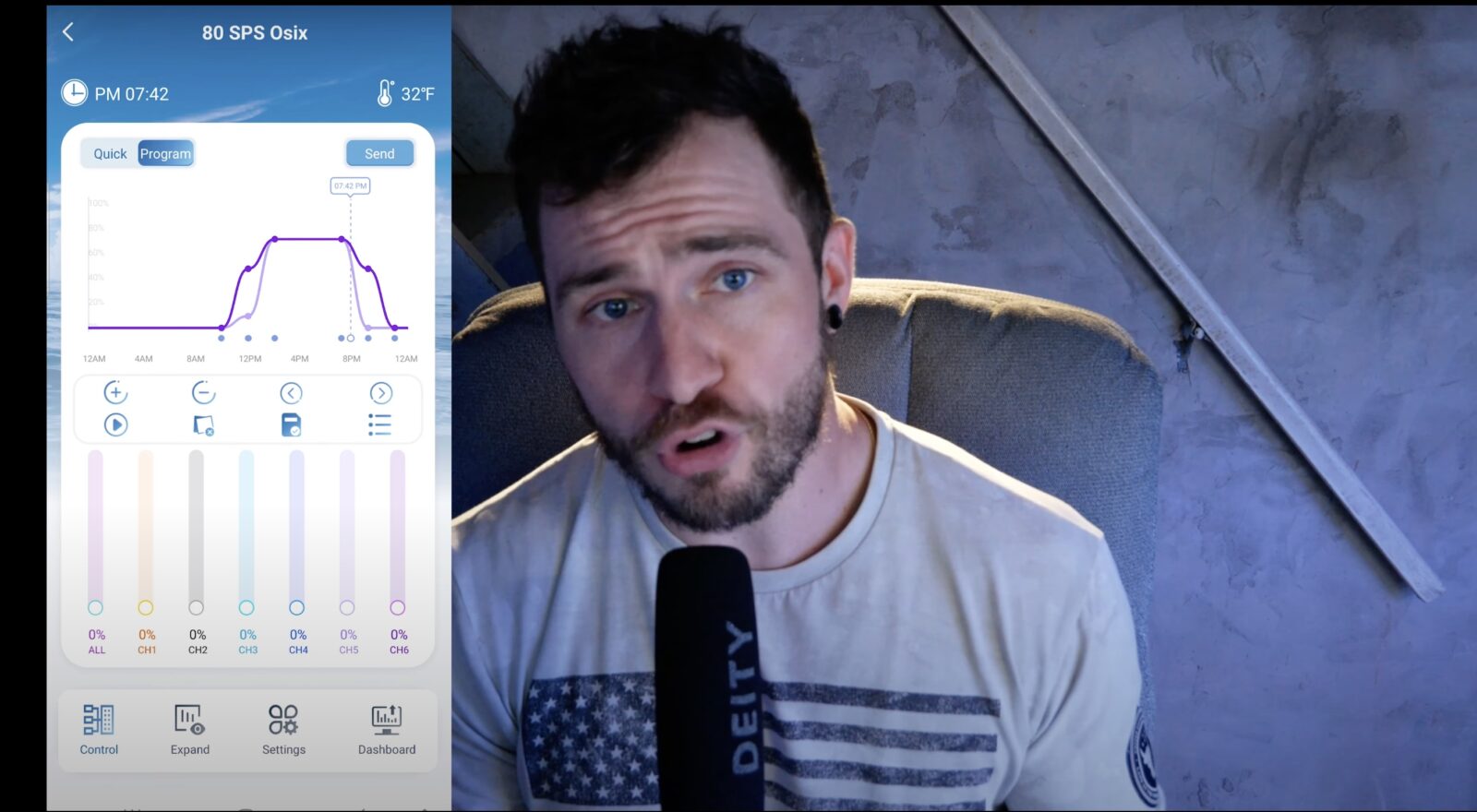 While @cloud9aquariums elaborates on the functionalities of the App, he proceeds to demonstrate how he programmed his OR3 LED bars.
He has a four hour ramp up with the first two hours being UV and blue heavy and then five hours Peak, followed by another four hours ramp down, with the last two hours being UV and blue only.
He also chose to use Orphek's Lunar Mode, which according to the his explanation is the first of its kind. He mentions that we did extensive research into this mode and found that the true Lunar lighting is actually full spectrum and at incredibly low levels, so this mode actually allows to dim below one percent and then automatically mimics natural moon cycles.
In addition, he explains that for those seeking simplicity, Orphek has conveniently pre-loaded the Helius schedule in the App, which proves to be highly effective in the majority of tanks.
[Well, we want to make a quick stop here and add some comments for you!
Once you have the OR3 LED Bars + Osix installed, you are upgrading your OR3 LED Bars to iCon technology. That means that you will be able to profit from our groundbreaking technology!
BEST SPECTRUM BY DAY + REAL NATURAL MOONLIGHT BY NIGHT:
You to get the best spectrum created by Orphek during the day with 1 – 100% dimming range and you can combine it with Orphek's moonlight spectrum during the night with 10,000% (0.01 to 1%) dimming range.
He nailed when he mentioned our research. While relying on decades of academic research, Orphek R&D Teams developed and engineered the One and Only Real Moon Cycle in LED Reef lighting Solutions reproducing Nature at its fullest.
And just to detail a little bit, learn how Osix is changing the game and this is a trailblazer!!!
Osix allows you to use Orphek 10,000% dimming technology for Moon cycle.
Osix allows you to program dimming progression 24Hs a year round mimicking Nature.
Osix allows you to choose in what channels you will run your moonlight cycle for full customization!!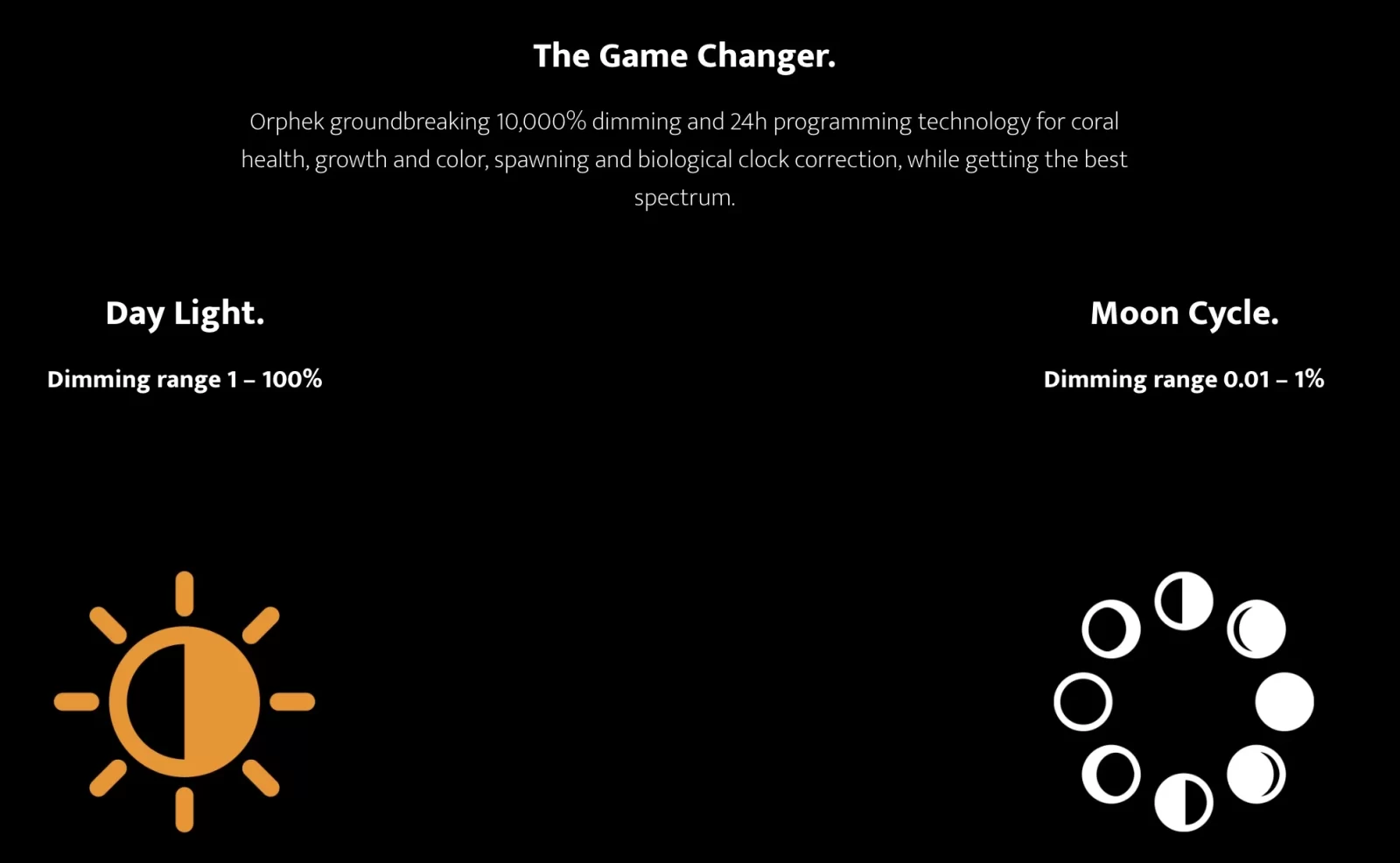 TO BE CONTINUED!!
Don't go anywhere! There is also Part 2 of this video where @cloud9aquariums will continue to review our OR3 LED Bars + Osix combo, providing PAR readings and finally answer to the question: why this may be the best LED system for reef of the year!
---
How can I order Osix/ OR3 LED Bars/ Orphek Mounting Solutions / Combos or each product individually?

Go to STORE to buy OR3 LED Bars/ Orphek Mounting solutions/ Combo Fixing Brackets + Universal Mounting Arm+ Extension kit in our online shop.
(Obs.: Osix and Osix + OR3 Combo is not currently available in our online shop)
Go to CONTACT to buy Osix and Osix Combo
* Orphek online shop that is a brand new shopping experience for Orphek products in many languages, many currencies and forms of payment. Our online shop offers free consultancy from our sales representative near your location. We offer Free shipping – With our Door to Door worldwide Express Delivery.
** Orphek online shop sells worldwide, but if you cannot find your country in our online shop, contact us.
More awesome video reviews about Osix combined with OR3 LED Bars
Latest articles posted about Osix & OR3 LED Bars Combo
Links
---
Credits & Special thank you note
Image & content credits: All screen shots were taken from the video produced and published by@cloud9aquarium Youtube channel. Orphek has also added awesome proprietary photos of its products!
Excerpts were sourced from his comments/ personal opinion about Orphek. Orphek has added information (in Italic and between [ ]) about its products that holds significant importance and is worth sharing with our audience.

Orphek wishes to express its gratitude to @cloud9aquariums Youtube channel for making this incredible video review of our Osix + OR3 LED Bars, and most of all, for being such a passionate reefer!
Invitation
We would like to invite you to browse our website and participate with your Orphek experience.
Let us know about your tank and share it with other hobbyists in Orphek Facebook Group and Instagram!
Sharing is very easy! All you have to do is to send us the basic information about your tank, usually starting from the beginning (when you started your tank), what are you running in the tank, the living creatures you have in your tank and of course, pictures of the tank and of your corals.