Amazing 2022 Korean 48" reef tank with colorful SPS corals, lighted by Orphek Atlantik V4 & Compact, OR3 120 Blue Plus & Blue Sky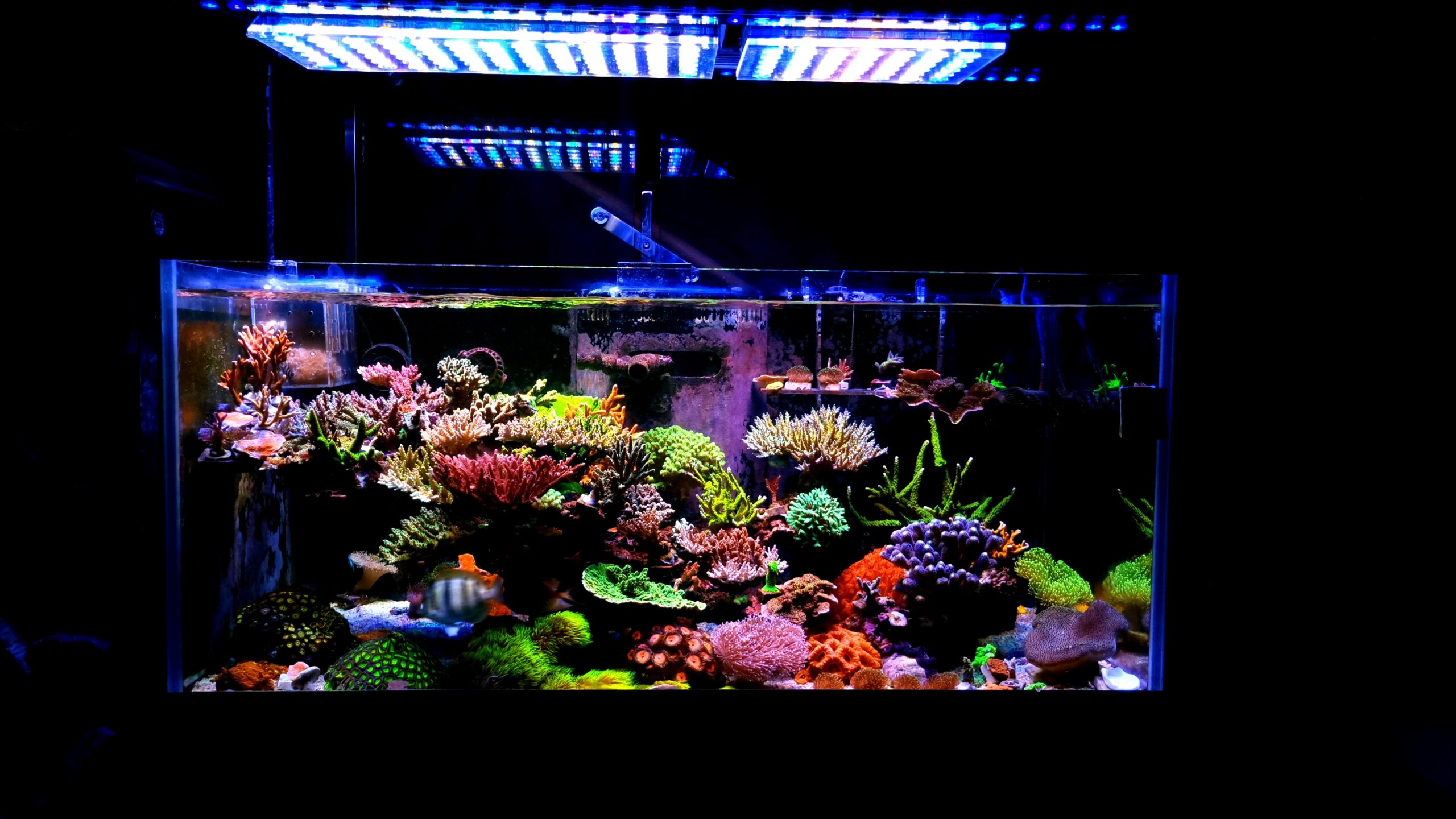 In 2022 we started posting many amazing tanks from our clients in Asia, and the reason we are doing so is that these clients not only are mastering to plan and compose beautiful coral layouts in a way that colors are beautifully spread, but also that they can branch out and grow in its full potential, without cramming.
So today we will showcase Byun Kyung Hyun tank to show you how he has accomplished this composition making Orphek proud to be a part of it! (If you have missed the last Korean tank go to Korean nano tank)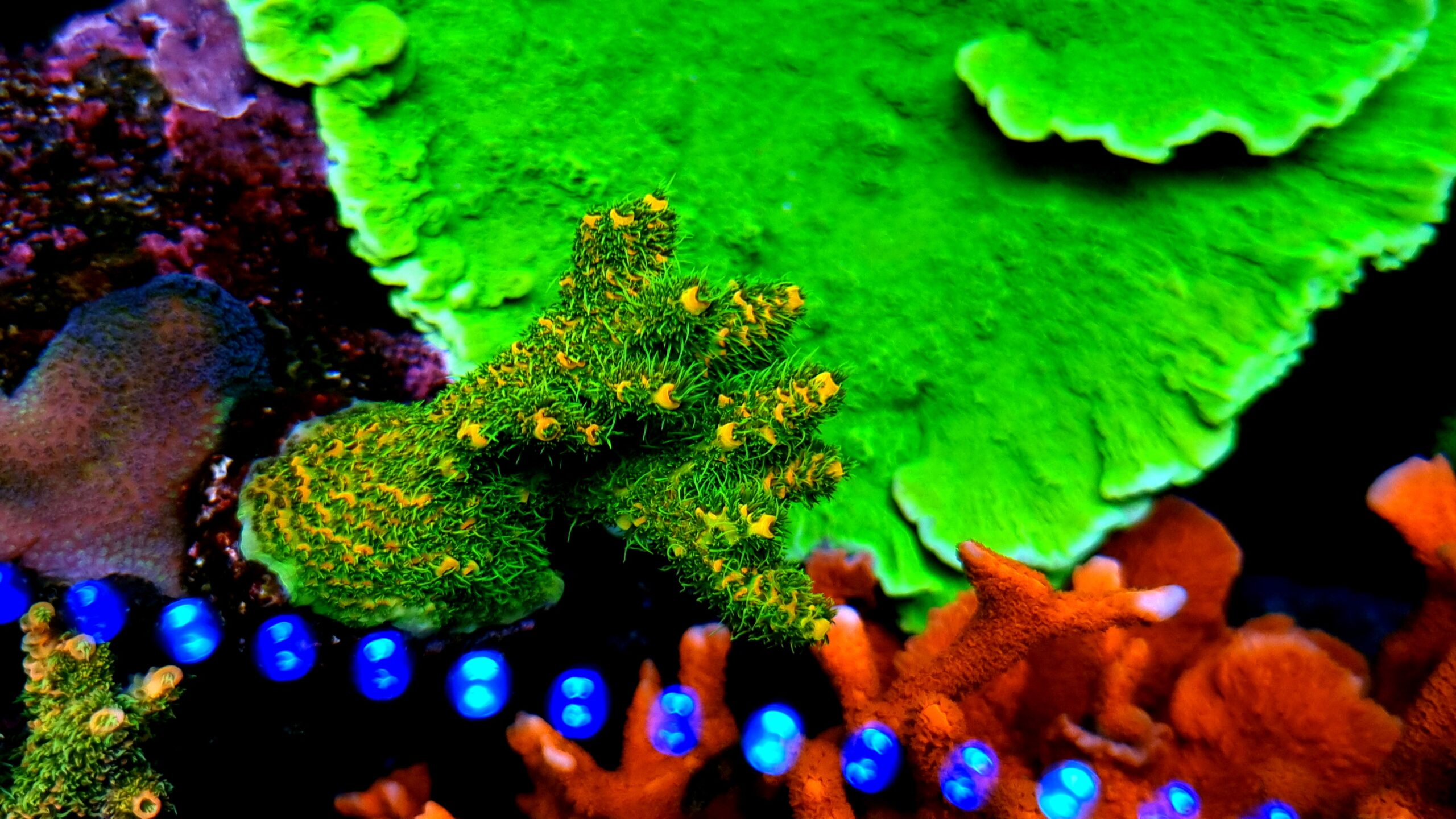 Byun Kyung Hyun's reef tank features:
Tank Size:  1200mm * 600mm * 550mm / 48inch * 24inch * 22inch
Reef Aquarium LED Lights:
1x Orphek Atlantik V4
1x Orphek Atlantik V4 Compact LED
1x Orphek OR3 120 Blue Plus LED Bar
1x Orphek OR3 120 Sky blue LED Bar
Skimmer: Sumpkorea Q200(43W)
Return Motor: Askoll (84W)
Wave Pump:  Koralria 5600x1/Jebao slw20x2/Jebao  rw-8x1
Dosing: Jebao 3.4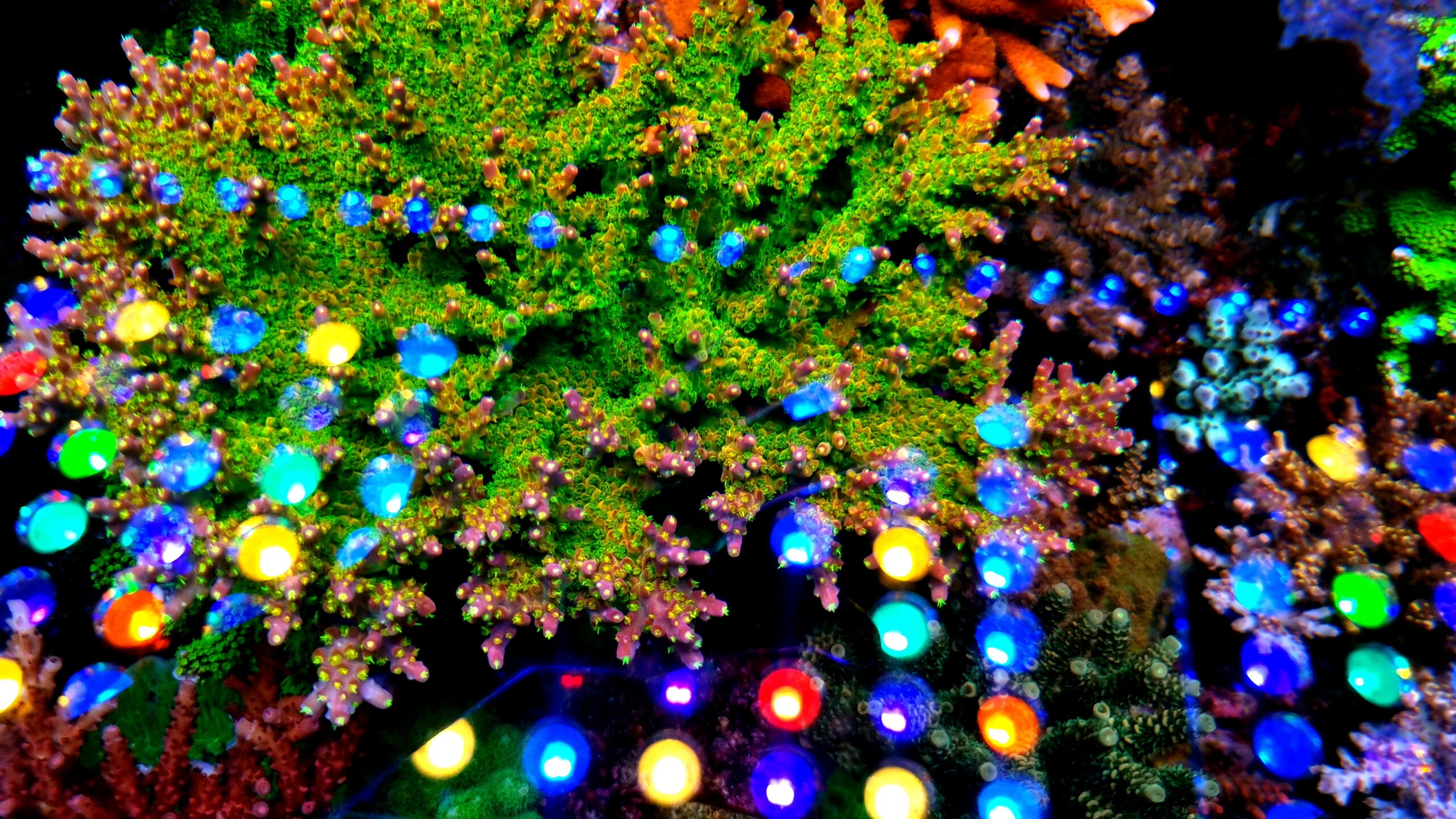 Knowing how to place and distribute SPS corals in a controlled environment, such as a reef tank is one of the keys to coral's survival. Understanding growth rates and patterns is very important when planning the layout of the tank, no doubt about it.
Experienced hobbyist already understood that Orphek delivers solutions that think about EVERYTHING! Including about coral's development such as height and branching out.
You will see that our 2022 spectrums and intensities of light deliver and balance in a way that corals are going to grow in a very harmonious and even way.
Corals come in a vast array of colors and shapes and we developed our solutions to help you bring out their beauty and potential and more... so that colors will pop up nicely, evenly spread and most of all ... gentle to the eyes (because we care as much for the owners as we care about their corals!).
Hyun went for 4 different Orphek solutions to get where he is right now:His light layout consists in one Orphek Atlantik V4 combined with One Atlantik Compact unit and 2 Orphek OR3 LED Bars.
What excites us the most is that we get to show this awesome tank with under one of our beloved fixtures - *The Atlantik V4 Compact.
*Since we have launched in 2022 the newest and latest generation of this fixture, the Atlantik iCon Compact, you can now upgrade your unit(s) your previous version of the Atlantik Compact.
If you don't have a previous version of the Atlantik Compact, continue to read this article to understand why it is totally worth it to have it over your tank!!
This year Orphek has already reduced the Atlantik Compact iCon's original launch price of USD$770 to USD$650 (15%) and now if you pre-order your unit(s) you will also get more discount:
Scroll down to see our pre-order promotion or click HERE now.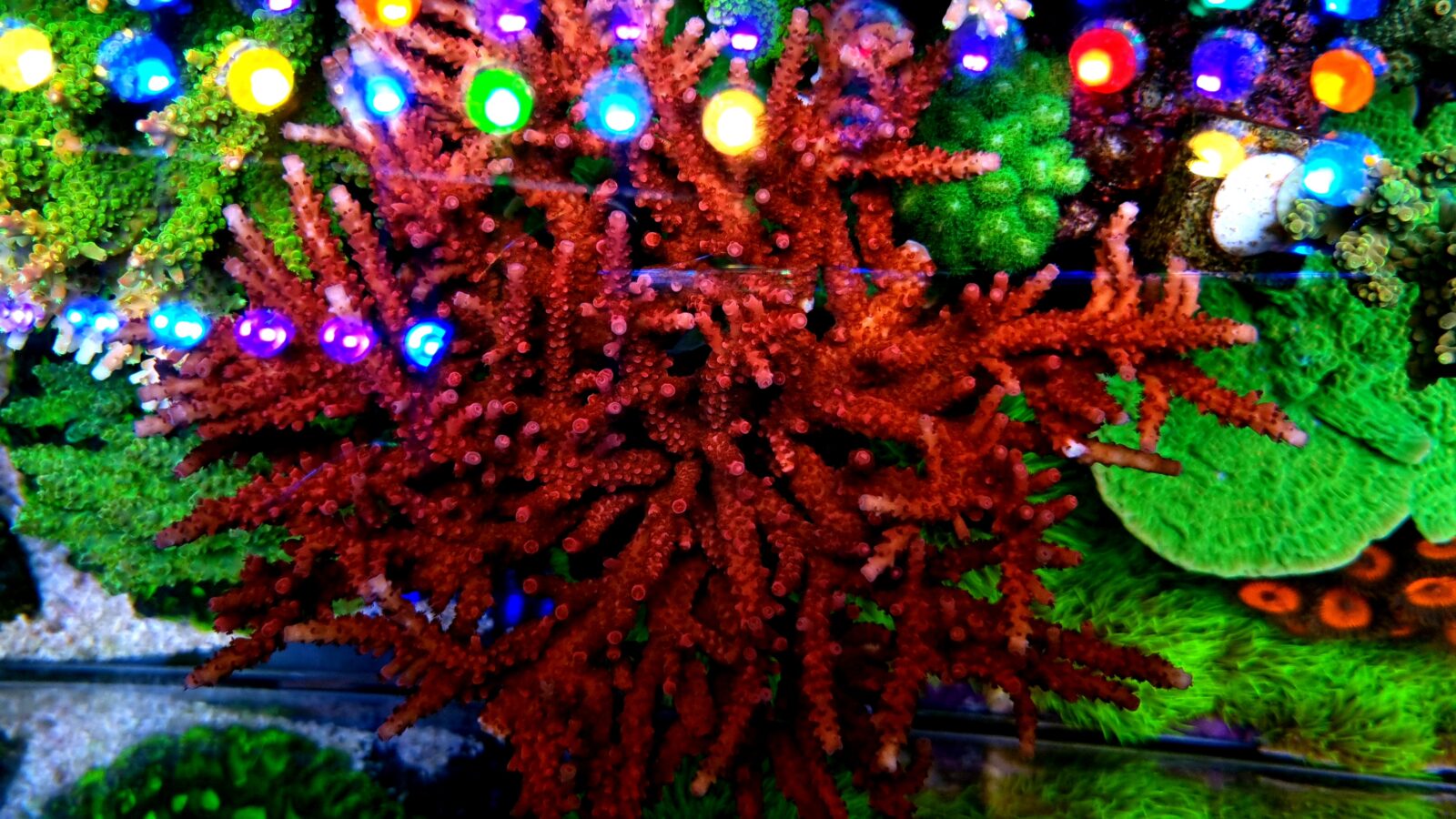 Getting back to BKH's tank...
As you can see in the pictures above corals are looking very healthy. They have stunning vibrant coloration, fleshy branches and you can see the growth extensions coming out.
It is really hard to get this red hue if you don't have the proper lighting and all other parameters, but Orphek has been receiving lately many pictures from its clients showing red and pink colored corals. So we are very happy about it :-)
The combination of corals and colors in Hyun's reef tank are really stunning!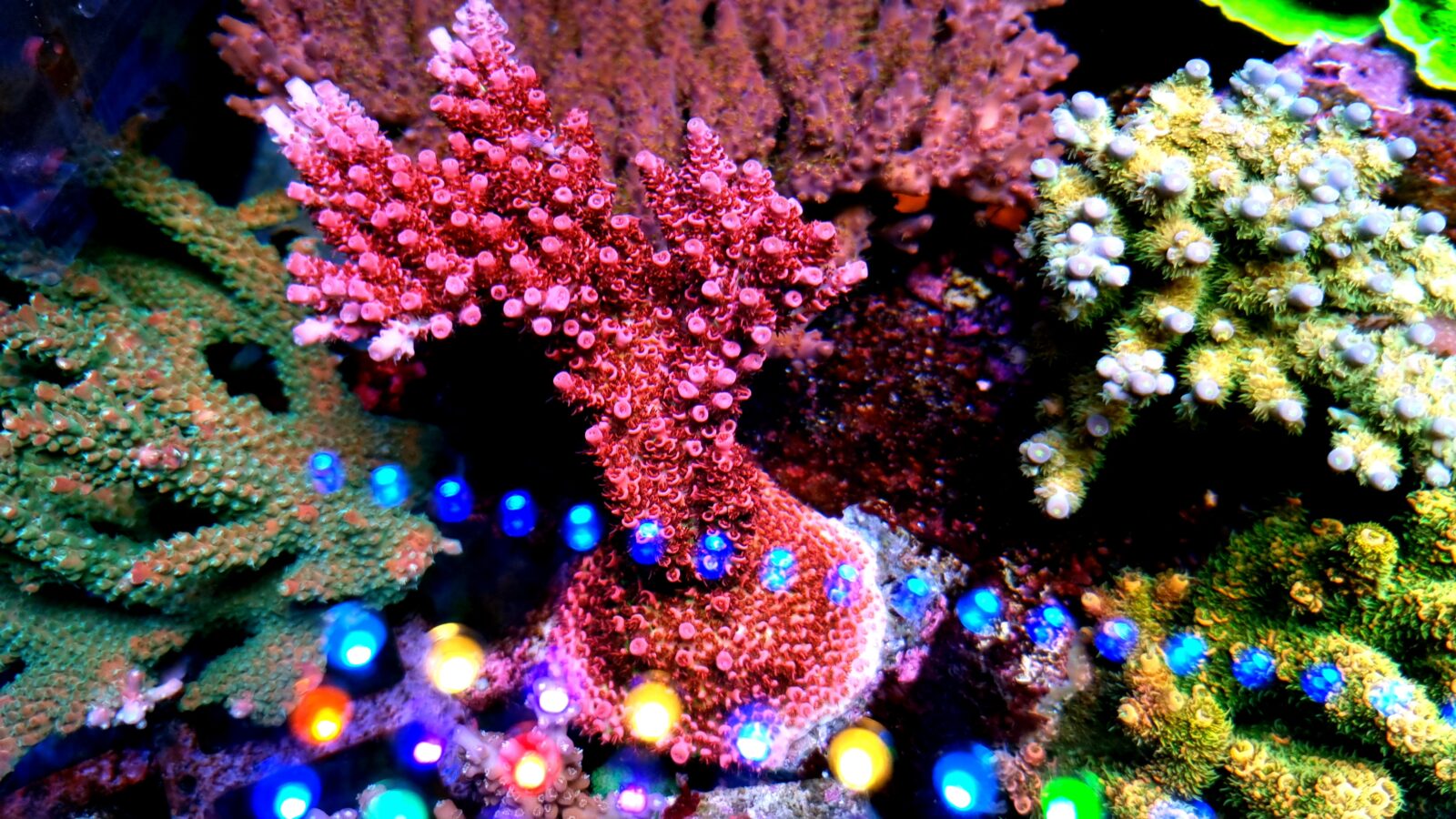 Not only that, also the photos of his coral look gorgeous under the Atlantik V4 Compact!
We gathered many coral photos that we think is worth showing:
Check their clear natural sharp look! AWESOME!!! (엄청난 !!!!)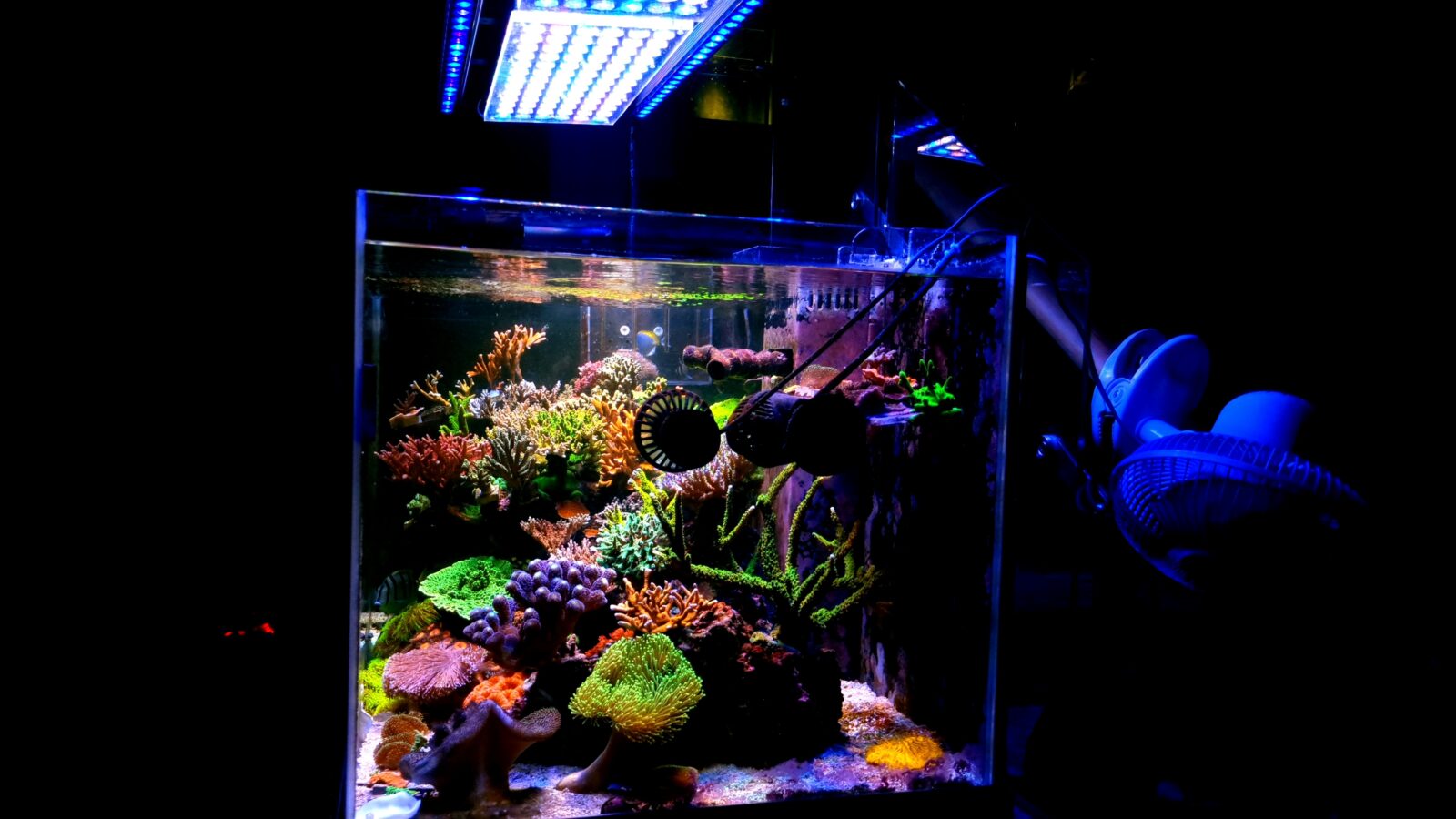 OR3 Sky Blue 450-470nm Extra wide fluorescent coral "pop" 
With Orphek Atlantik V4 and Atlantik Compact, combined with our OR3 Sky Blue and Blue Plus LED Bars (120cm) the tank received a wide overall color pop, with hues coming from violet to blue.
We are giving you all an extra help, so we have put together a list of corals and the respective spectrums just for you if you also want to master your tank!
Fluorescence of Coral Proteins Excited by a 470nm LED by Species (Excitation nm/Emission nm)
Emissions are almost entirely in the green-blue and blue-green portions of the spectrum: Anemonia majano (458/486), Acropora tenuis (465/485), Acropora tenuis (green band – 470/480), Acropora sp. (472/495), Discosoma sp. (475/500), Anemonia aspera (480/490), Anemonia sculata (480/499), Acropora aspera (480/500), and Acropora aspera (green band – 484/499).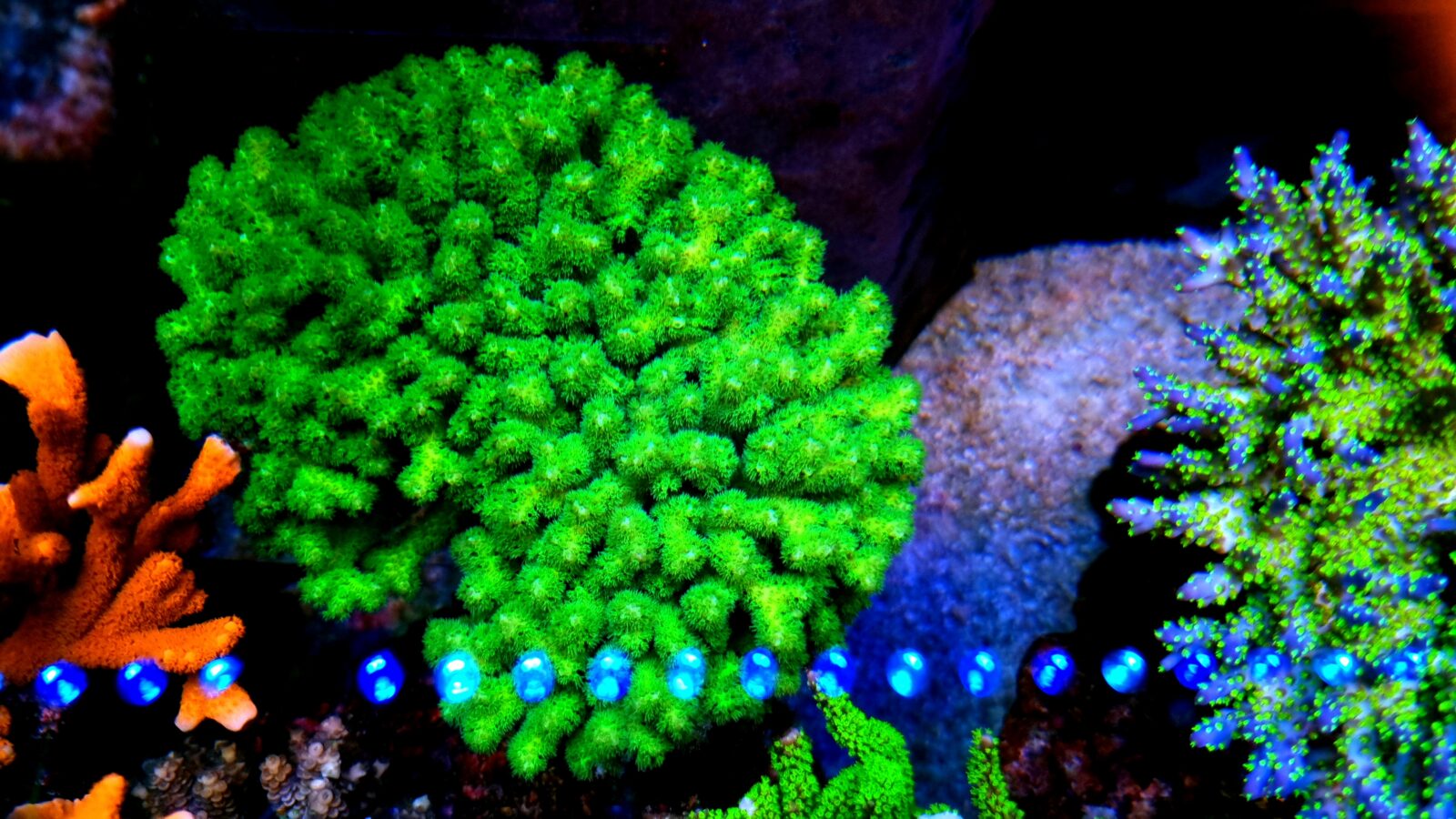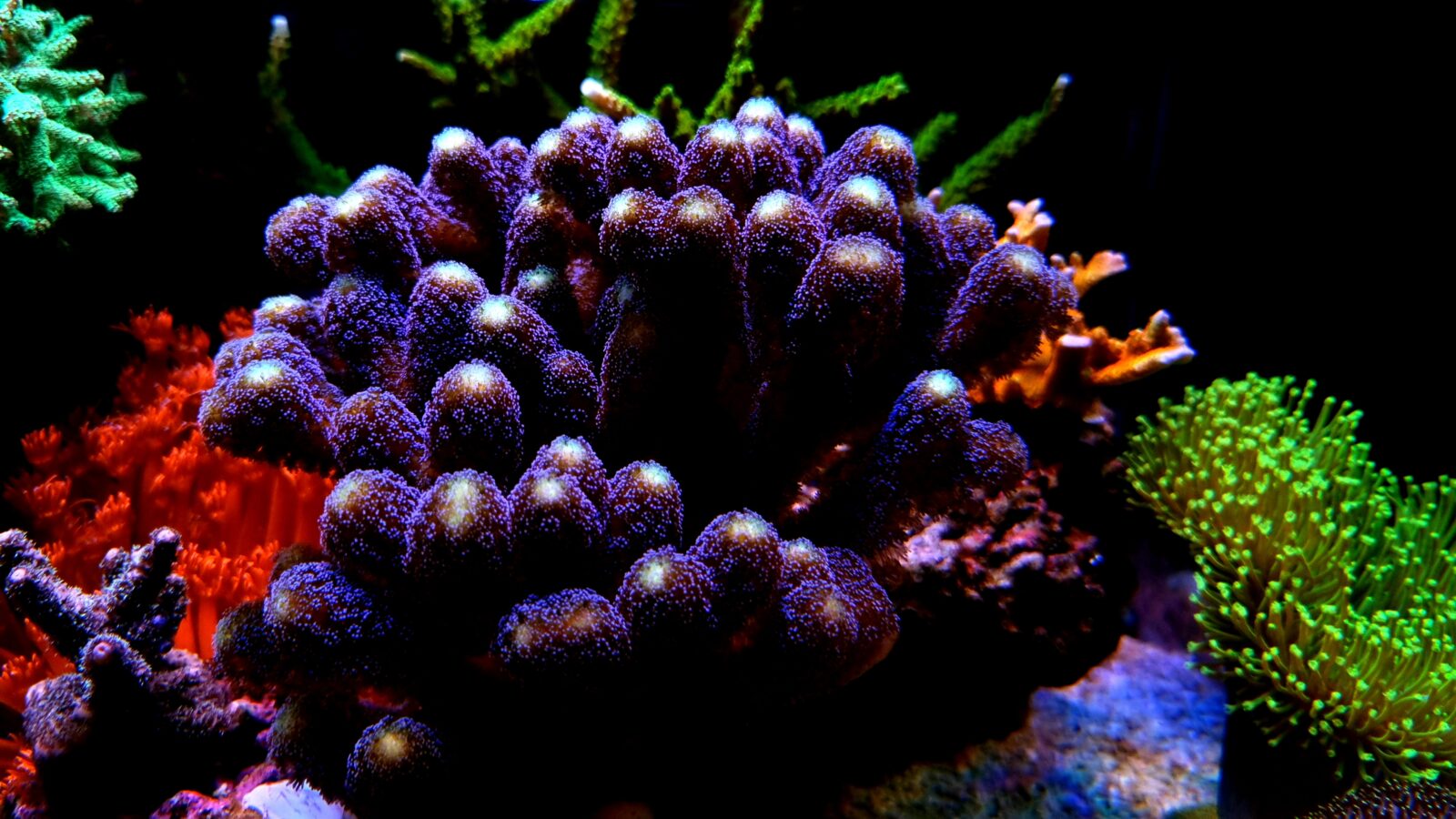 Also important to consider:
Under the 2022 Atlantik iCon Compact fish and other marine creatures also benefit from the natural spectrum.
As you all know, Orphek takes a lot of thought about both corals and marine creatures living in the tank. We want all to be healthy in a stress free environment and we also want our clients to have a stunning natural crisp look in the tank.
Byun Kyung Hyun took many beautiful pictures and these are worth taking a closer look: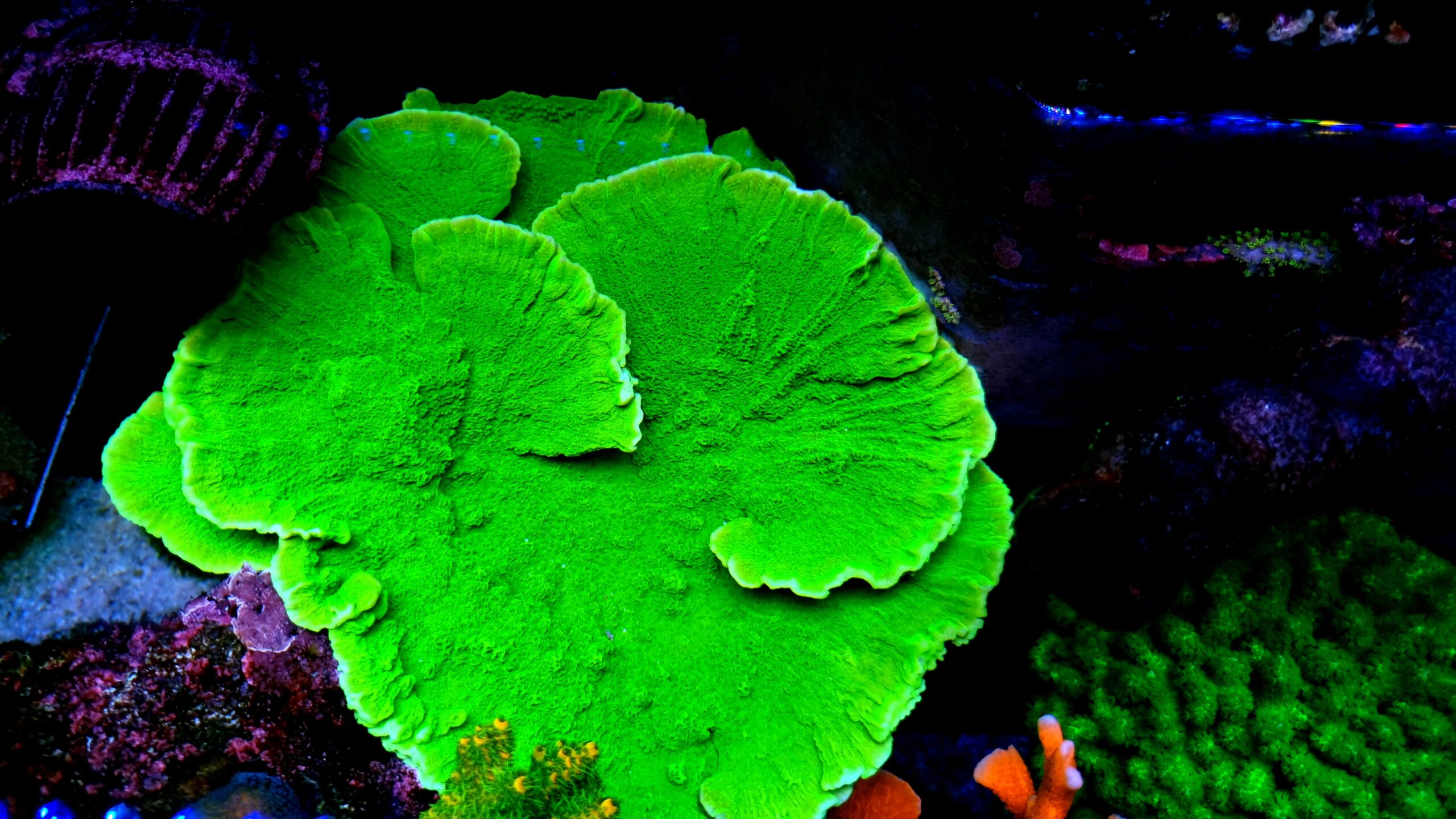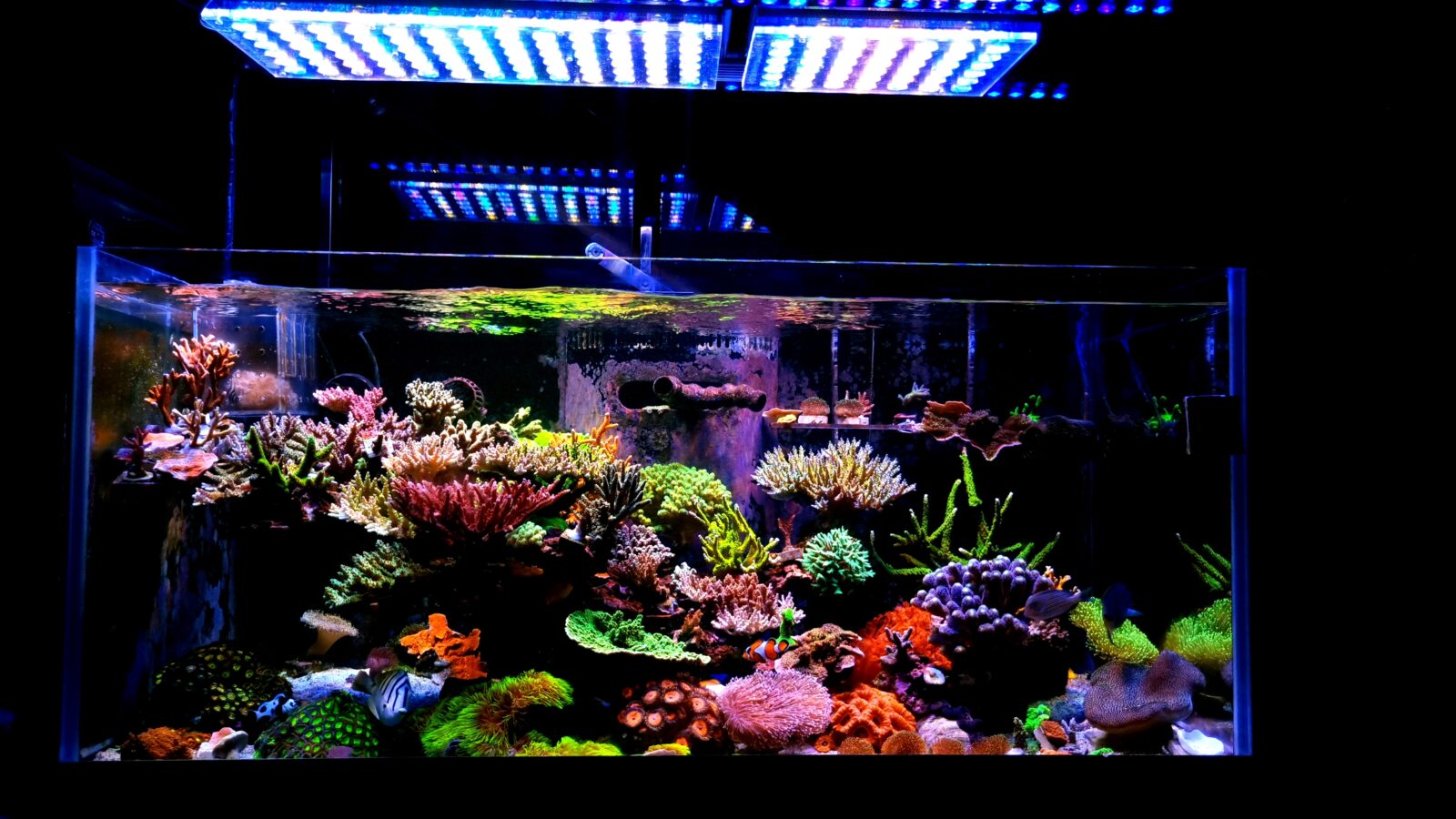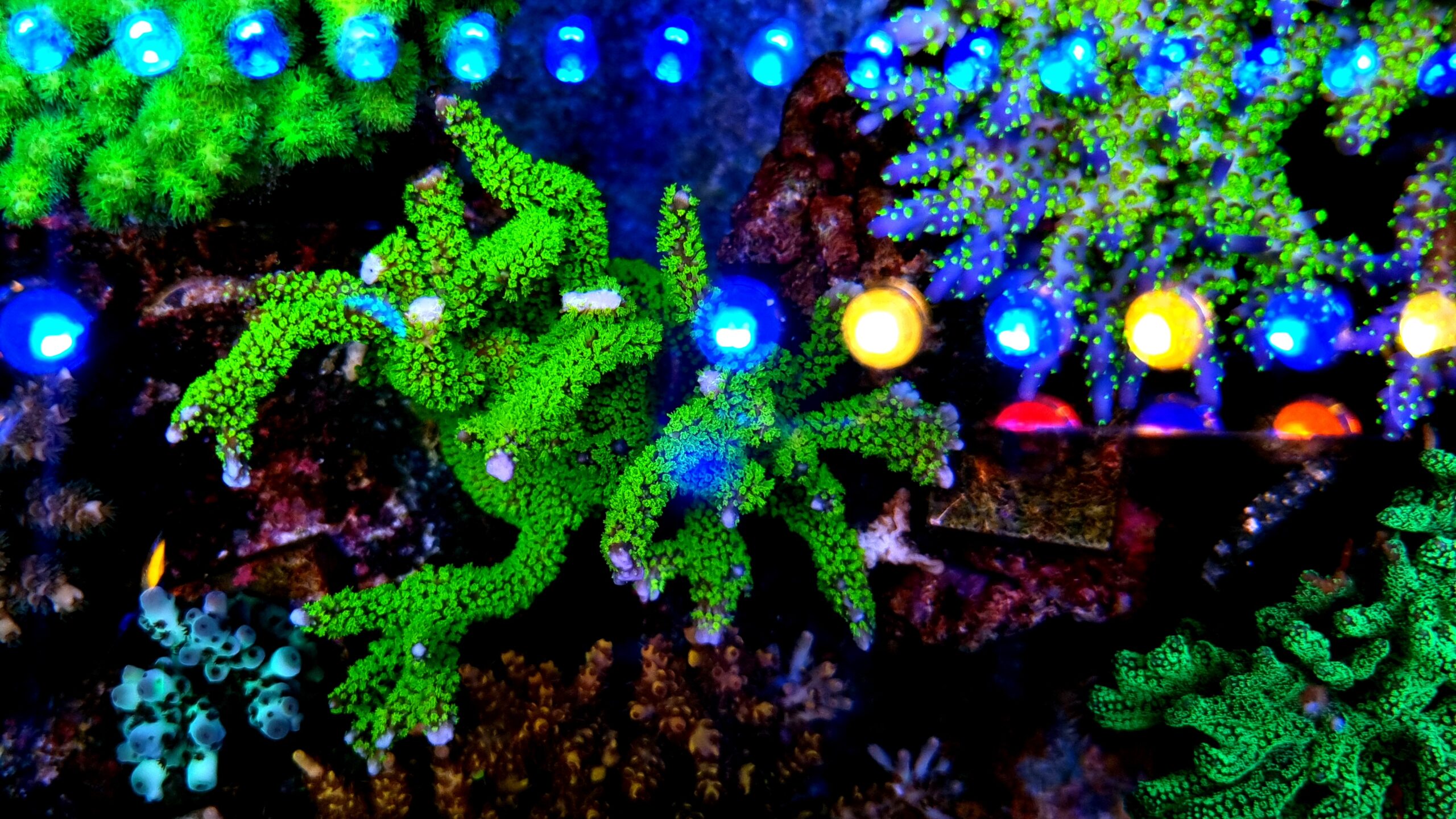 Now, what we are really excited about is to display the pictures where you can see a beautiful florescence he is getting with his Atlantik Compact V4*. It is amazing what it can give to a reef tank!
With the Atlantik Compact V4* he is also finding it easier to maintain LPS corals and softies or the most demanding branching SPS corals.
*Reminder: Since we have launched a newest generation of this fixture, the Atlantik iCon Compact, you can now upgrade your unit(s) if you have a previous version of the Atlantik Compact. If you don't have a previous version of the Atlantik Compact, continue to look at these amazing photos to understand why it is totally worth it to have it over your tank!!
Note to client: We really hope that he will upgrade his unit, so he will also benefit of our new App.; our newest Moon Cycle with 1000% dimming control system; our pre-set Helius program; and many other benefits that the new Atlantik iCon Compact is offering.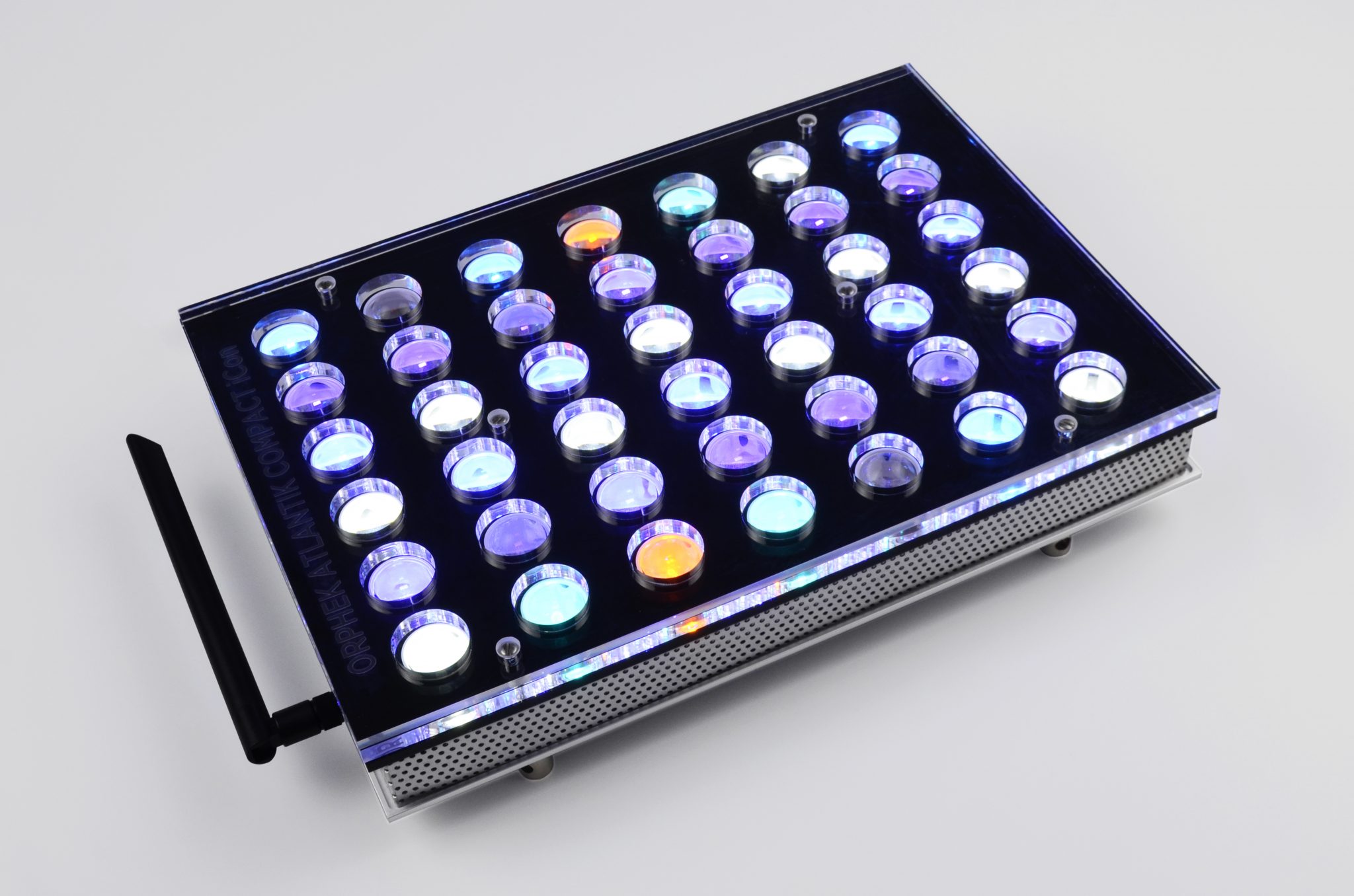 What you need to know about Orphek's newest generation of the Atlantik Compact series:
Upgrades of previous Atlantik Compact:
Where to find Orphek in Korea
Hankyung Na
Orphek Korea representative / REEF ZONE / 나한경
Email: korea@orphek.com
Address: 925-Ho, Gasan Tera Tower, 10 Gil 78,  Digital-ro, Geumcheon-gu, Seoul, Republic of Korea
Thank you all for sharing your passion for the hobby and for Orphek products with all of us!
We like to thank Byun Kyung Hyun for sharing your photos with us!
*All photos credits - Byun Kyung Hyun
Orphek Acessories:
If you wish to read about/buy our Orphek AURA High End Acrylic Mounting Arms for Aquarium:
If you wish to read about/buy our Orphek Universal Fixing Bracket Kit: