Elevate your living experience with exquisite aquariums iluminated by Orphek Atlantik iCon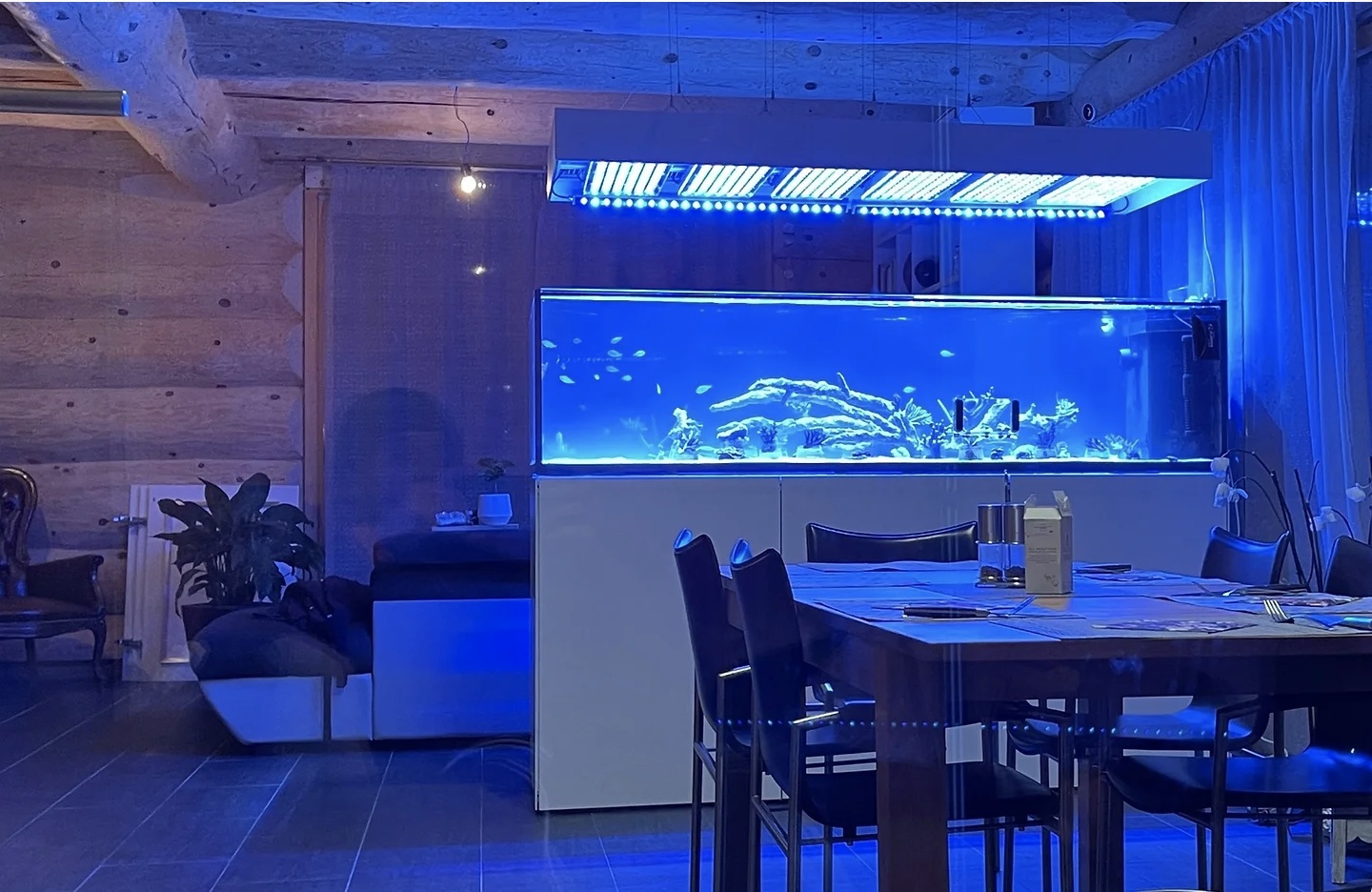 Within the realm of home embellishments, Orphek LED Lighting presents an array of possibilities for infusing a sense of wonder into your living space. While there are virtually infinite pieces of creative art and craft to choose from, a design aquarium illuminated by Orphek LED Lighting stands out as among the most spectacular choices.
In this week's post we're stepping inside the homes of clients from around the globe to showcase their lighting projects designed and developed for their incredible aquariums, providing valuable inspiration for your own endeavors.
European Union - Switzerland
KingFish Aquarien - based in Flurlingen, Switzerland - stands as a renowned Swiss authority in the field of aquarium construction, maintenance, and the production of exquisite reef structures, with a commitment to deliver tailor-made sophistication, where aesthetics and cutting-edge technology converge to transform dreams into reality.
Their choice of lighting solutions has been a pivotal element in achieving remarkable results. Notably, KingFish Aquarien has consistently turned to the Atlantik iCon - Orphek's advanced lighting system known for its precision and versatility.
The synergy between KingFish Aquarien's expertise and Orphek's innovative Atlantik iCon has resulted in aquariums that transcend the ordinary.
In the following photograph you will find a taylor - made suspension system that was intricately designed to integrate the living room area.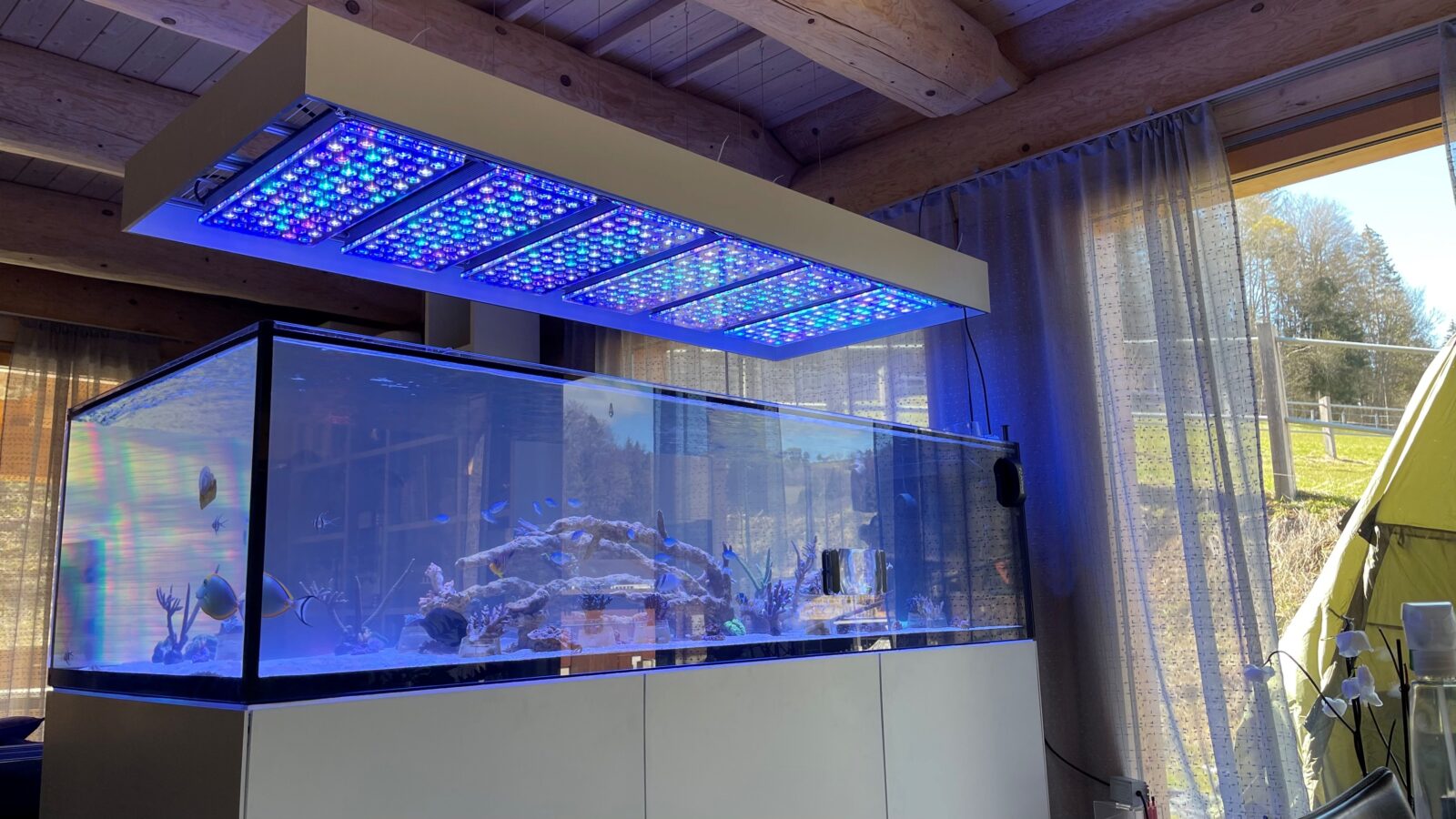 Offering minimum spillage of light, the Atlantik iCon offers the possibility of full integration in any living space, illuminating aquatic environments with mesmerizing spectrum of colors; enhancing the vibrancy of marine life; and creating breathtaking underwater landscapes.
USA - Ohio
Presenting a captivating exhibition tank, this aquarium was designed in a peninsula style that offers a panoramic view from three sides.
Crafted from 3/4″ low-iron glass, the tank dimensions are 80″ x 40″ x 30″, showcasing an expansive capacity of 400 US gallons.
The visual allure is amplified by the strategic suspension of five Atlantik iCon units, ingeniously hung with custom-crafted 80/20 T-Slot Aluminum rails.
This thoughtful arrangement not only lends a sleek and uncluttered appearance to the remarkable aquarium, but also ensures effortless access for cleaning, maintenance, and feeding tasks.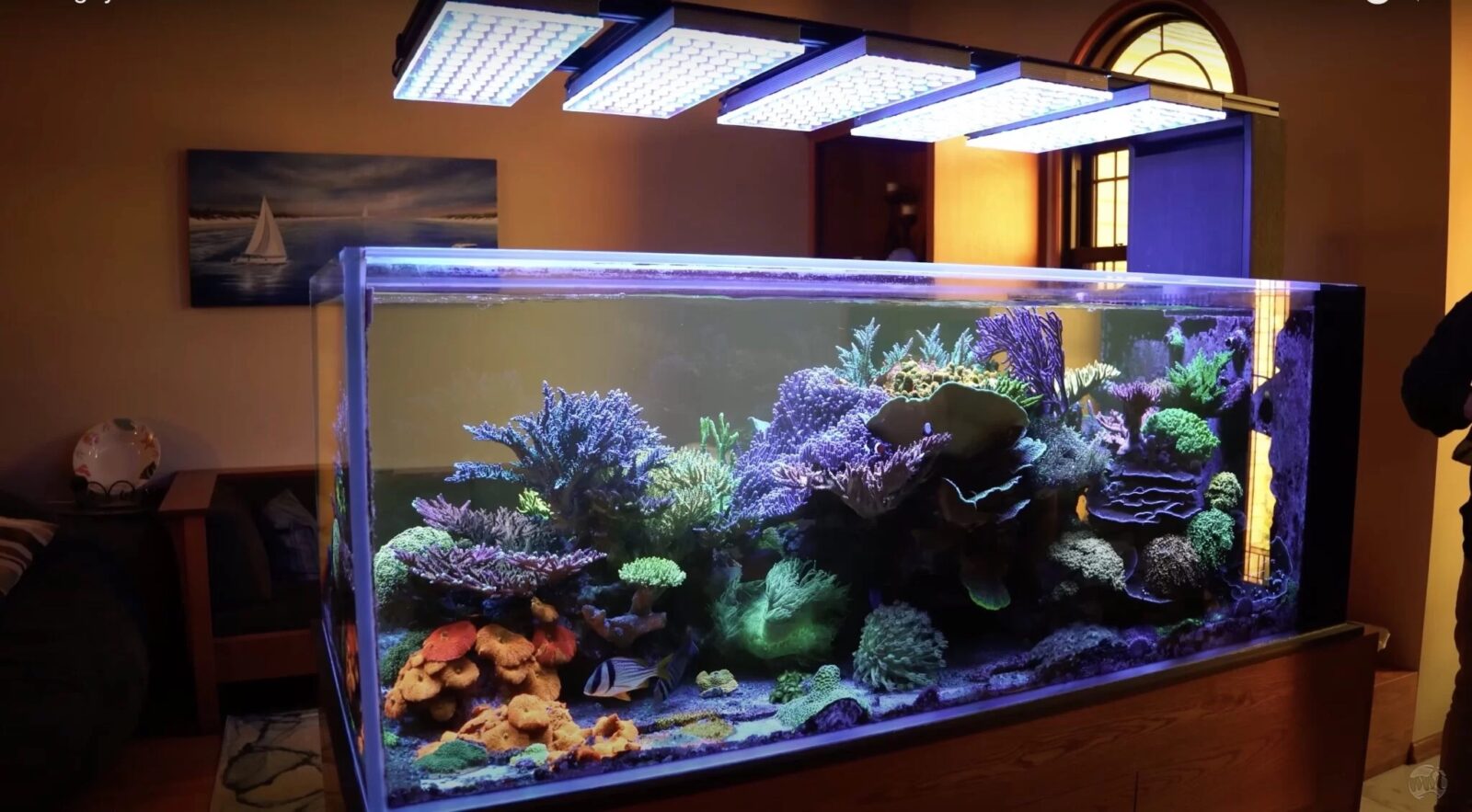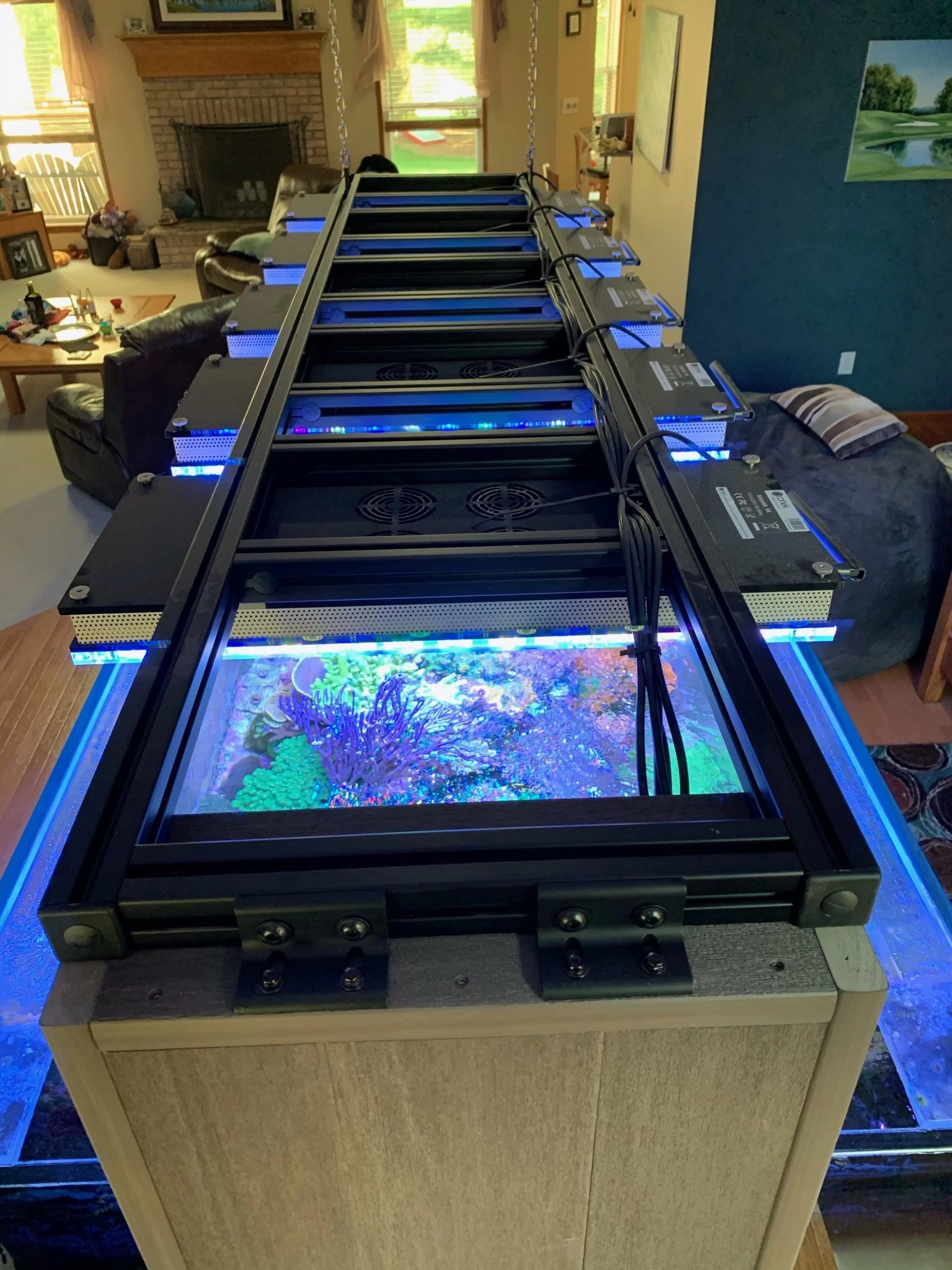 From conceptualization to realization, the following project showcases the best value out of the power of Orphek's innovative lighting solutions due to the fact that the Atlantik iCon units were deliberately unclosed within the structural framework. Fully displayed, their showcase seamless integration into world-class aquarium design.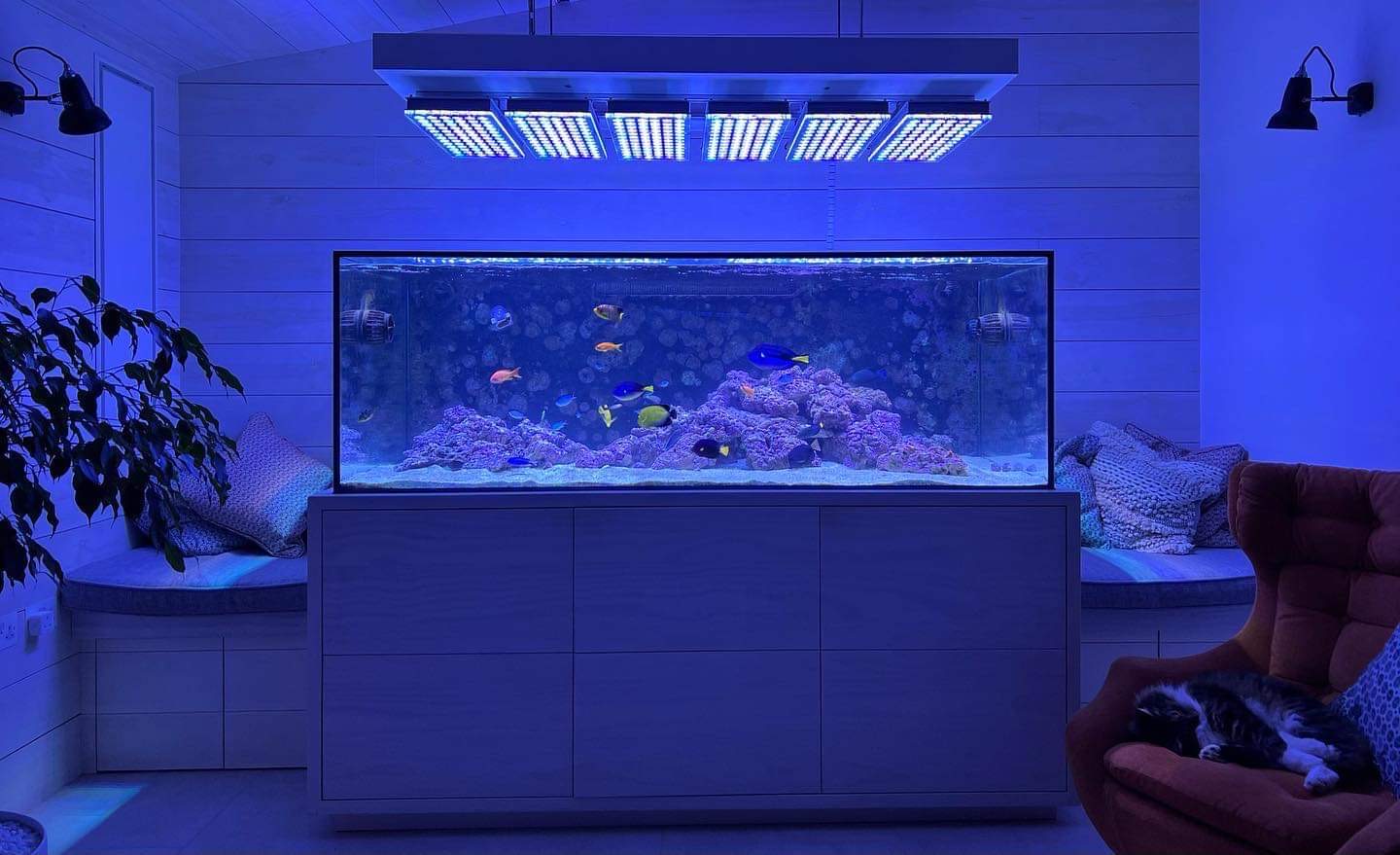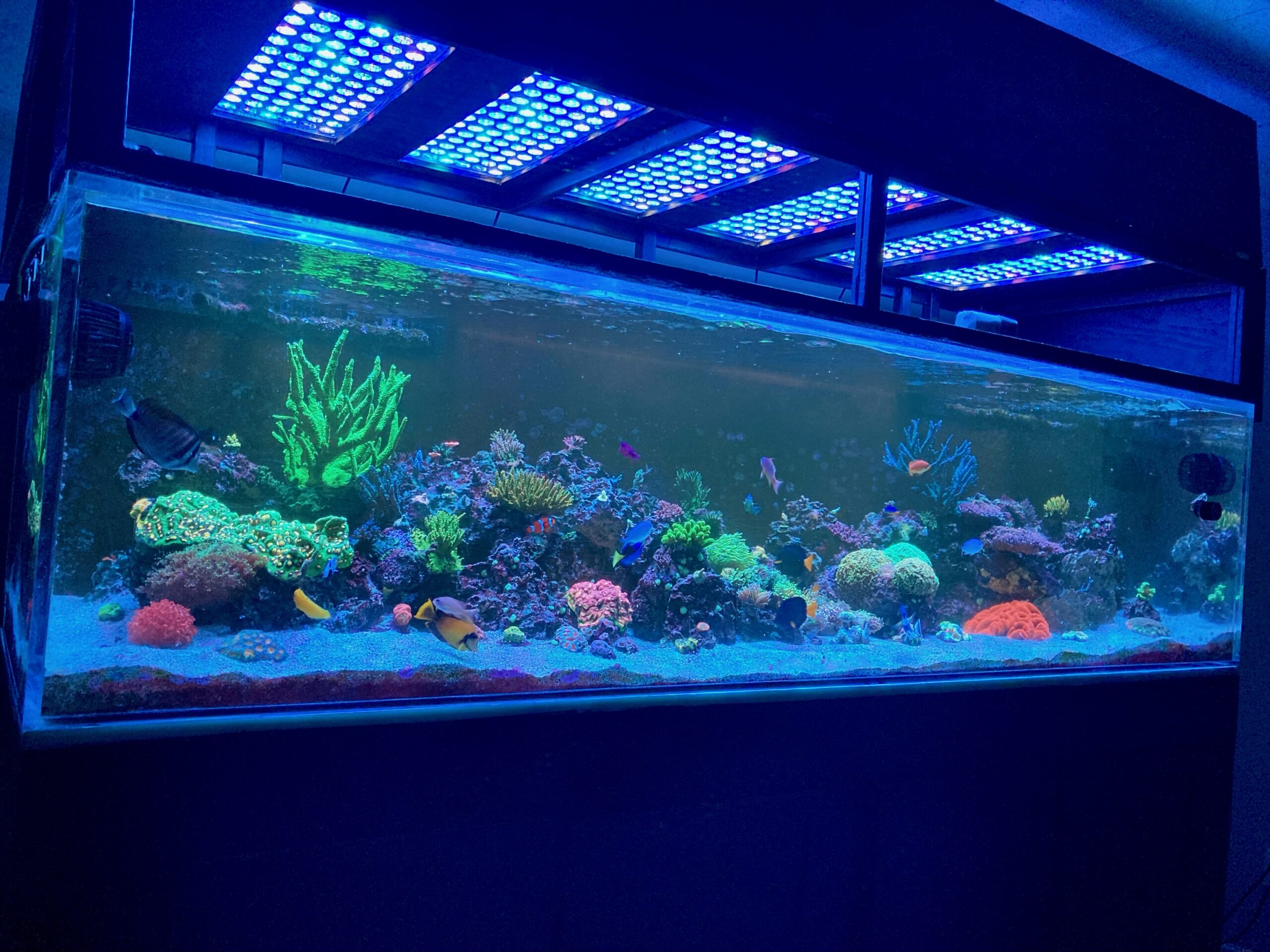 Atlantik iCon offers exceptional durability – A LED light that is made of full body acrylic and high quality aluminum alloy / Mean Well driver /waterproof connectors/ new double surface cooling system – improved thermal flow and dissipation of heat and 4 speed controllable fans for increased long-lasting life span of its LEDs.
These incredible features of the Atlantik iCon allows clients to fully encasing their light system without overheating the area or diminishing the life span of the fixtures.
Obs.: Orphek is the only company using 26 glass lens for all UV/violet LEDS.
South America - Brazil
Aquavila is a Brazilian coral shop that comes up with the idea of ​​bringing sustainability to the marine aquarium hobby, working with a focus on the cultivation and propagation of corals. By conducting research, studying the existing hobby and industry success, Aquavila's goal is to share this information with the community to maximize the health and beauty of all aquariums.
On Aquavila's social media platform, we came across a photograph showcasing a client's aquarium installation. Six Atlantik iCon units are meticulously suspended, not only fulfilling the illumination requirements of marine life, but also serving as a spatial partition within the architectural composition.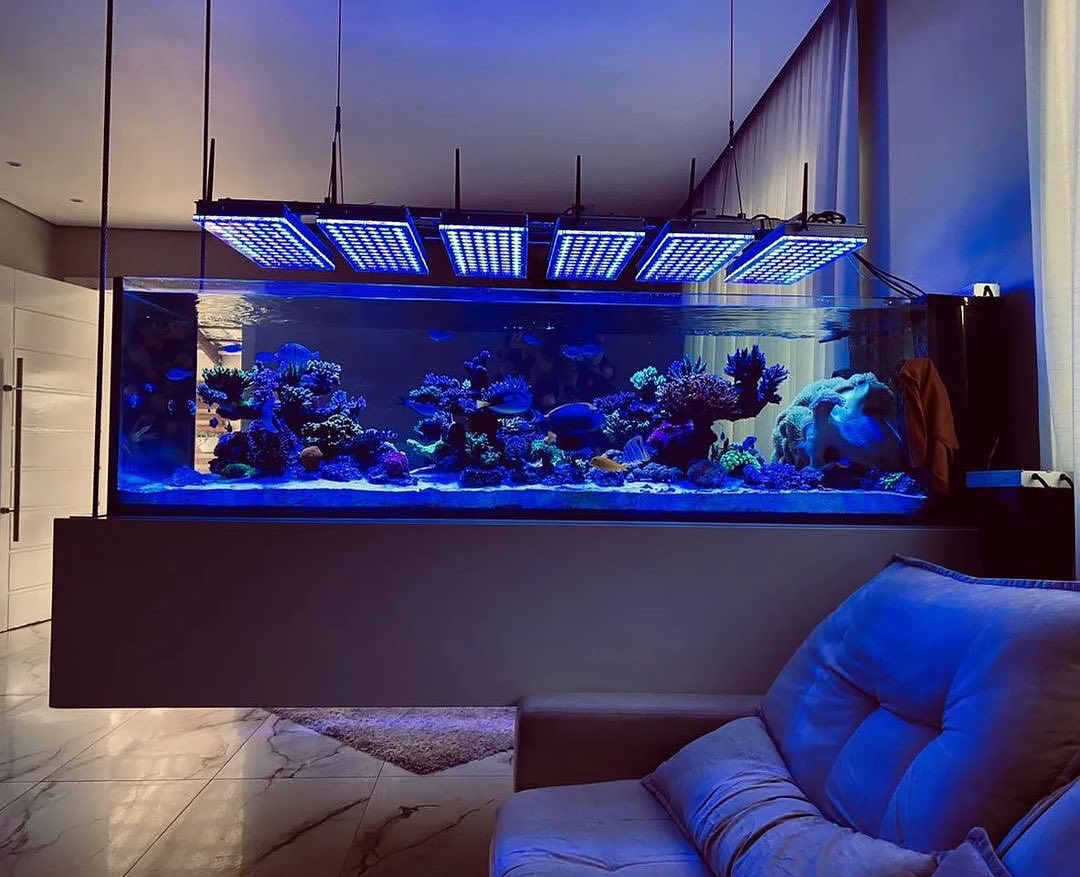 USA - Murrieta, California
In a setup akin to the Swiss project, showcased above Tony Hernandez's 150-gallon shallow lagoon tank, four Atlantik iCon units are nicely suspended and encased within a custom-made wooden structure. Hernandez has positioned two aquariums snugly in the corner of his room, creating an organized display.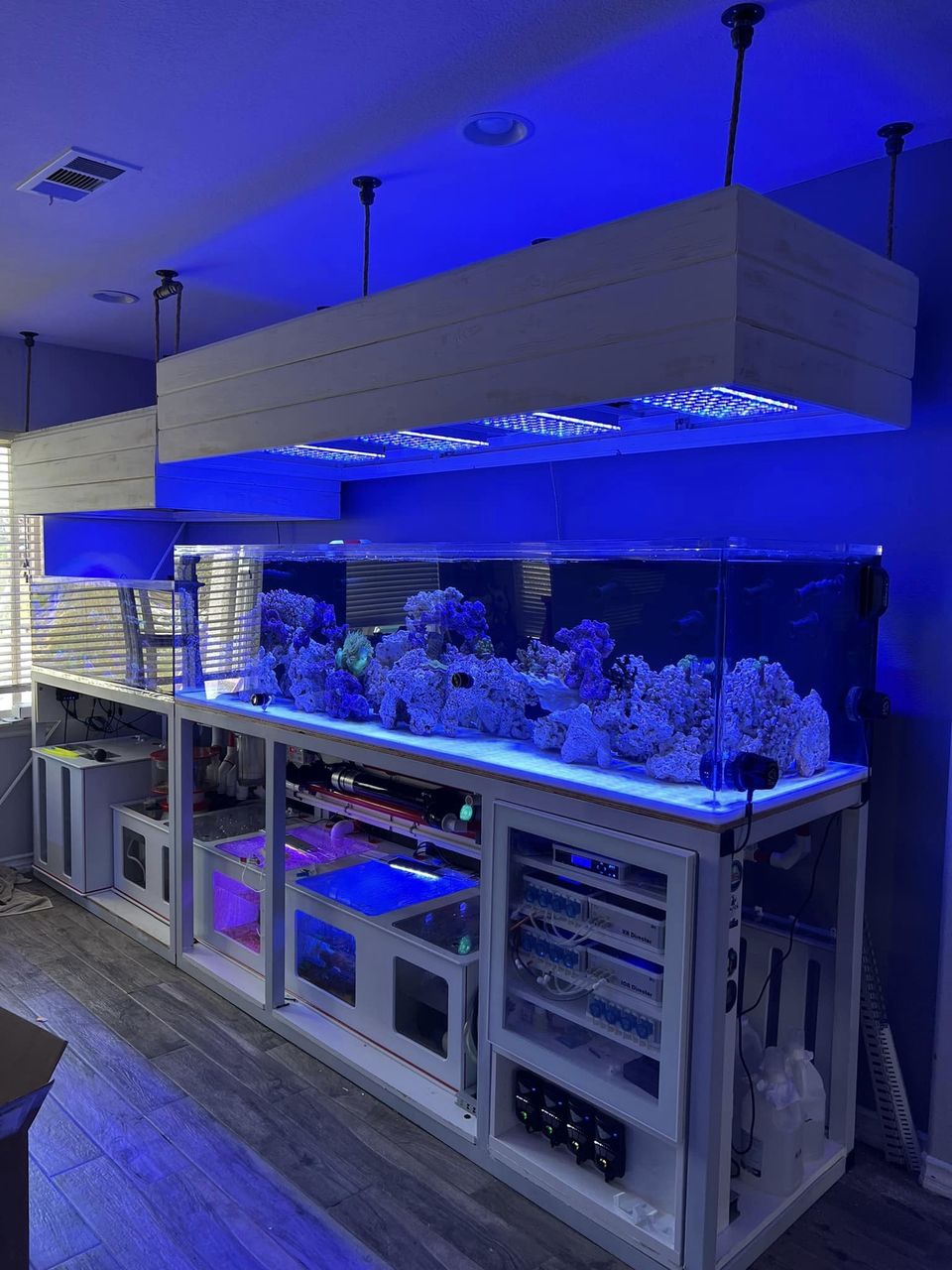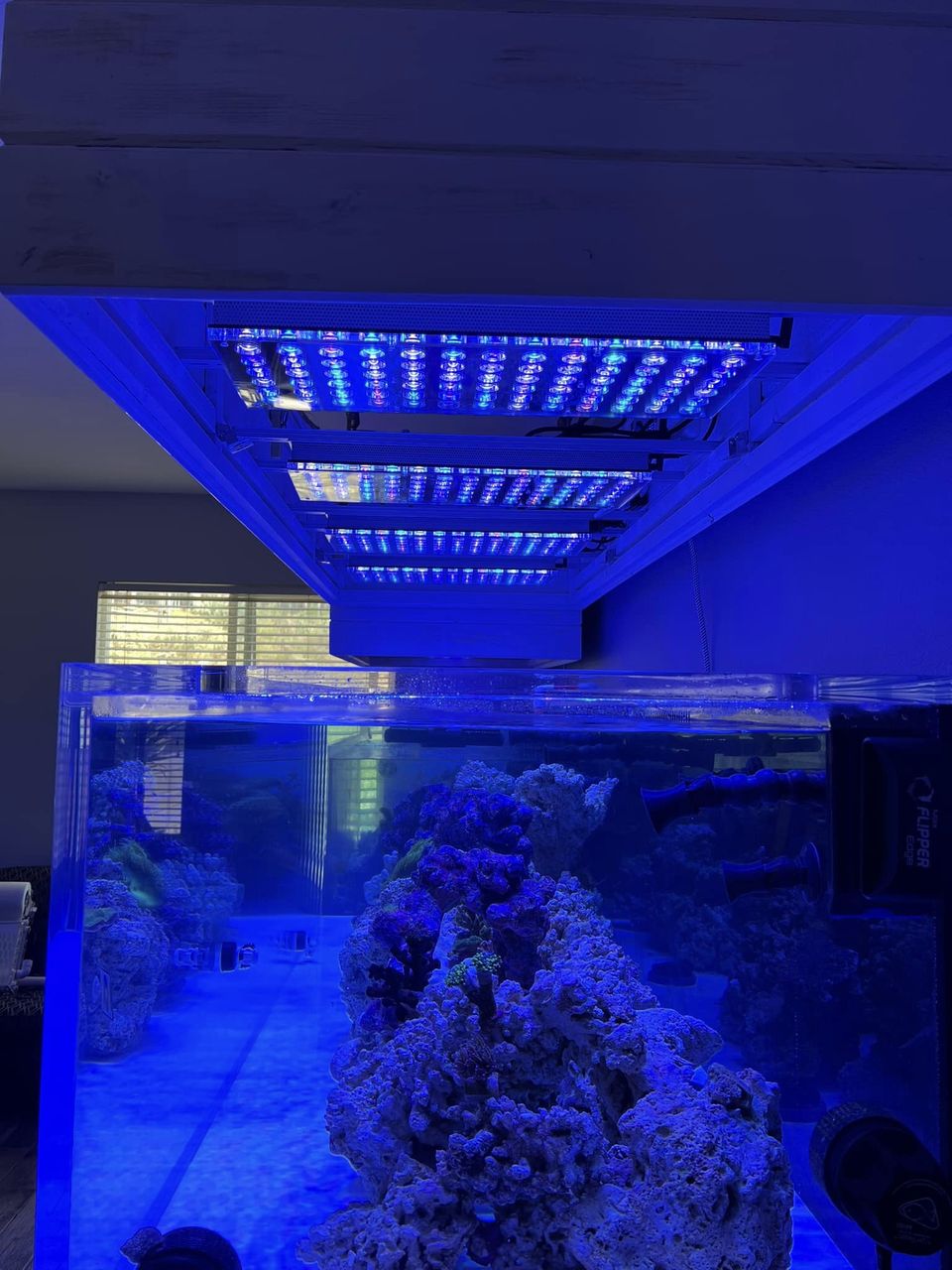 ---
Final considerations
In the world of home design, the harmonious fusion of aquariums, spatial design, cabinetry, and Orphek LED Lighting represents the perfect marriage between artistic expression and cutting-edge innovation.
What to consider when bringing an aquarium to your home
Aquariums breathe life into your living space, creating mesmerizing aquatic landscapes that captivate the senses. These underwater realms are not just habitats for marine life, but are also living artworks that evolve and change with time.
Spatial design adds the essential structure and flow to your living environment. It's the art of arranging and organizing spaces to enhance functionality, aesthetics, and comfort. When paired with aquariums, spatial design transforms your space into a canvas, providing the perfect backdrop for your aquatic masterpiece.
Cabinetry is the unsung hero of interior design, offering both functionality and style. Thoughtfully designed cabinetry complements and enhances your space, providing storage solutions and adding elegance to your interior aesthetics. When seamlessly integrated with an aquarium, cabinetry becomes a part of the overall design, providing the perfect stage for your aquatic masterpiece.
Orphek LED Lighting is where innovation takes center stage. These advanced lighting solutions not only illuminate your aquarium, but also bring out the full spectrum of colors and life within. With customizable settings, energy efficiency, and precision control, Orphek LED Lighting takes your aquatic display to the next level, ensuring that every detail is showcased in its true brilliance.
In the world of design, the combination of these elements is where "art meets innovation." It's where the beauty of aquatic life, the functionality of well-thought-out spatial design, the elegance of cabinetry, and the cutting-edge technology of Orphek LED Lighting come together to create spaces that are not just aesthetically pleasing, but also reflect your unique vision and personality.
It's a testament to the endless possibilities that arise when creativity and innovation coexist in perfect harmony.
How can I order Atlantik iCon / OR3 LED Bars/ Orphek Mounting Solutions or any other Orphek product for my home or venue?

For customization of Atlantik iCon for freshwater planted aquariums:
* Orphek online shop offers shopping experience for Orphek products in many languages, many currencies and forms of payment. Our online shop offers free consultancy from our sales representative near your location. We offer Free shipping – With our Door to Door worldwide Express Delivery.
** Orphek online shop sells worldwide, but if you cannot find your country in our online shop, contact us.
---
Latest articles about Atlantik iCon:
Articles about fantastic layouts & tanks with Atlantik iCon:
Atlantik iCon Applications:
SPS/LPS coral reef salted water tanks
Designed to enhance beauty of both natural and synthetic compositions!
Public venues / Private aquariums
Indoors
One unit is perfect for 48″ x 30″, 120cm x 75cm SPS/LPS Corals reef aquariums
Perfect for giving your tank the natural look, mimicking nature at its fullest
Perfect for coral farming
Atlantik iCon comes with incredible features:
Intelligent Connectivity – friendly technology, operating through Orphek awesome new App., compatible with both IOS and Android, voice control and many other cool features.
Wi-Fi / Bluetooth – with iCloud support, 5G internet connectivity, high speed response, extra data security.
10,000% dimming control system – never offered in the market before!
78 customized high quality, high efficiency 5w Dual-Chip power LEDs – total of 156 individual LEDs Chip.
10 optimized different types of Dual chip 5W wide range LEDs for maximum photochemical efficiency.
26 glass lens for all UV/violet LEDS – no yellowing over the time!
Plug and play technology – effortless part's replacement for simple and easy light maintenance.
Pre-installed program for optimal coral pop color and growth &coral spawning and biological clock and microbiology correction.
Wide convex 120 degree lens.
Customization: For Deep Aquarium 90 / 60 / 45 / 15 / and 5 degree lens.
Mean well Fan-less IP65 power supply.
New additional awesome features for your corals and jellyfish.
Six separated control and programming channels.
Pre-installed program for optimal coral pop color & growth.
New improved heat dissipation and cooling system & 4 fans.
Improved internal lens to make sure you are getting the best Orphek LEDs!
Extra data security.
Combine Orphek products with Atlantik iCon:
Atlantik iCon Upgrades
YES! Orphek products are built to last!!
Orphek offers UPGRADE possibility of its systems. That means that you will use the same Atlantik body over and over again! It means that if you have the previous versions of Atlantik you can upgrade to our newest Atlantik model: The Atlantik iCon.
What can you upgrade?
Orphek hanging solutions
Orphek offers many options for hanging/mounting its LED Solutions. Click HERE / HERE and HERE to get to know them!
Orphek is also providing advice/tips on how to reach a higher level of excellence:
Revealing top 10 secrets to get amazing coral color growth & health
---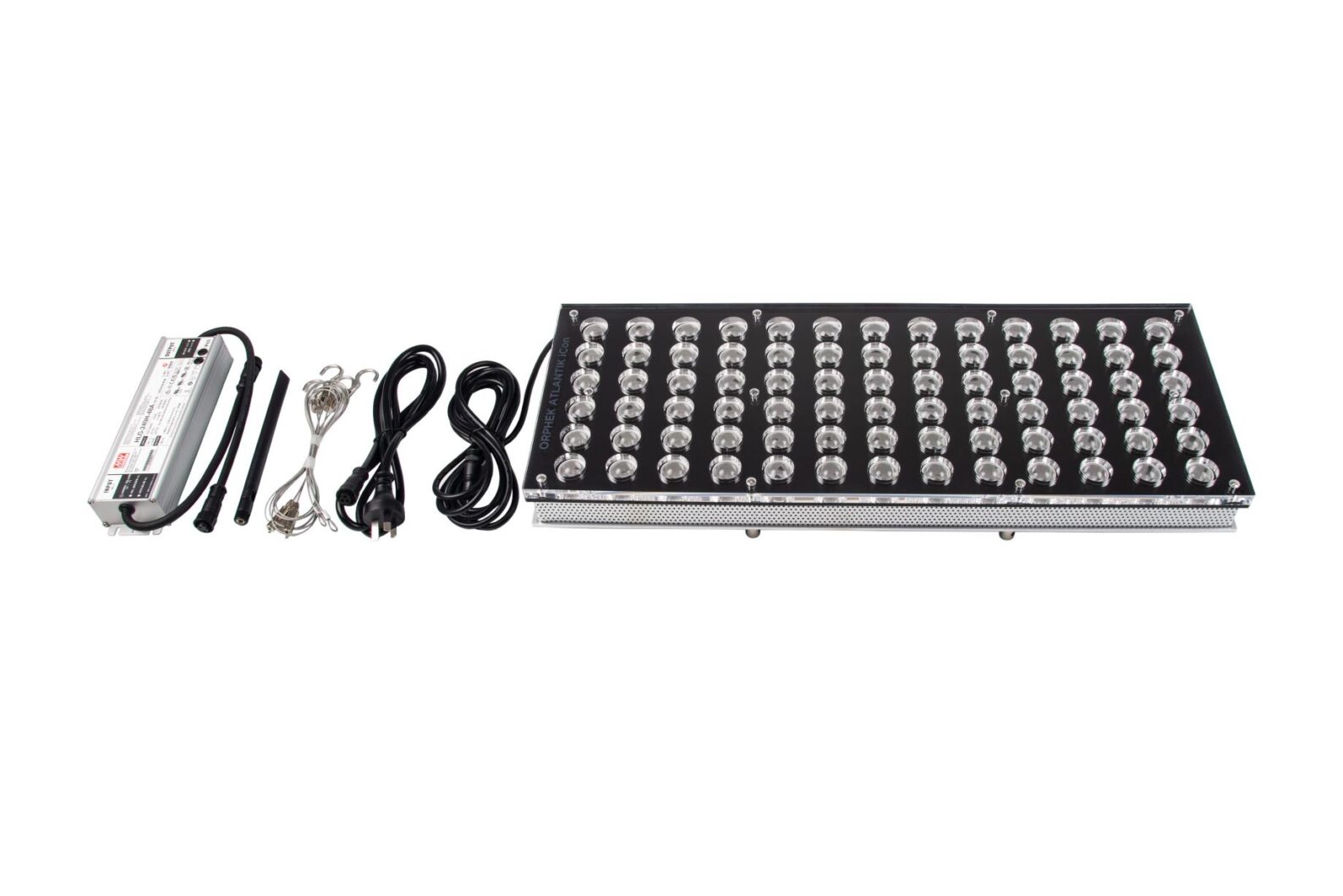 Special thank you note

Orphek wishes to express its gratitude to all the clients who take their time taking awesome photos and sending them to us or to publish them in our social medias.
We would like to invite you to browse our website and participate with your Orphek experience.
Let us know about your tank and share it with other hobbyists in Orphek Facebook Group and Instagram!