Atlantik iCon: Exploring a spectacular USA 400 gallon SPS dominated reef tank with World Reef Corals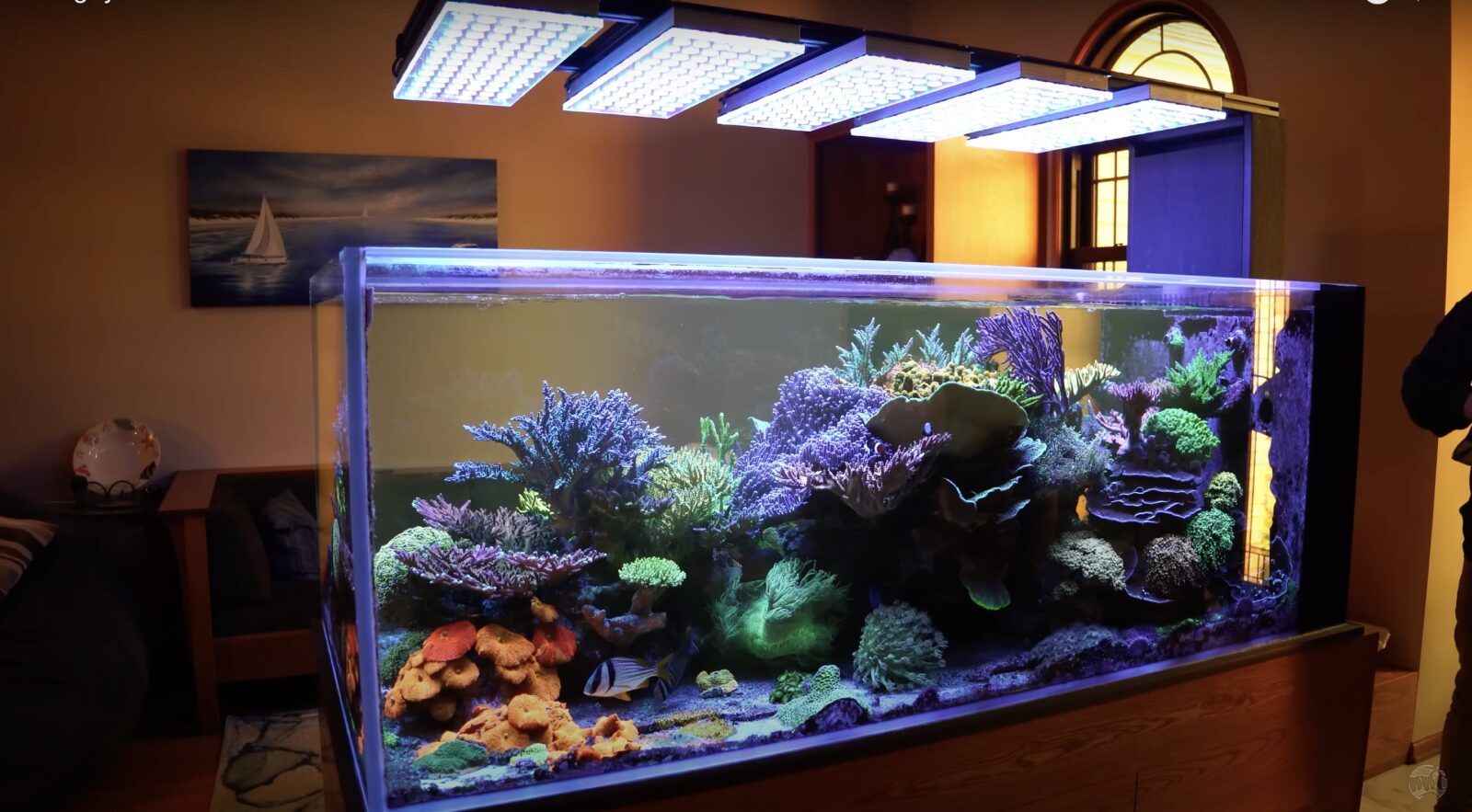 Today, we are thrilled to share a captivating video featuring a visit from World Reef Corals to one of our exceptional clients - The Blankenship family. You will plunge into the marvels of exquisite corals, tips to achieve perfection, frag tanks and much more!
Watching the video is undeniably awe-inspiring, but don't miss out on scrolling down to explore captivating screenshots from the footage. Accompanied by insightful excerpts, additional comments, and valuable information from us, that are truly worth reading and delving into!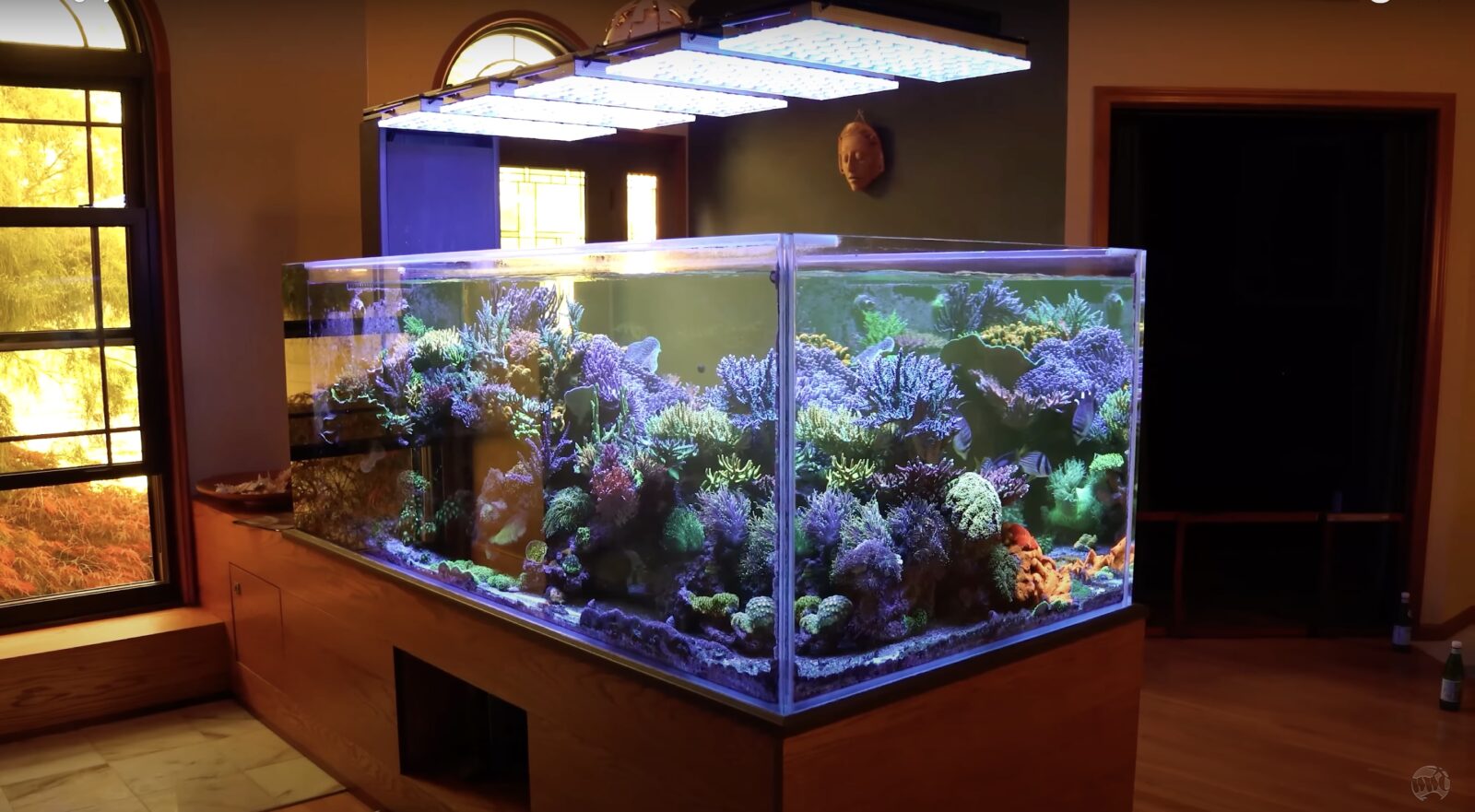 Brad's exquisite 400 gallon reef tank
World Reef Corals, based in Orlando, Florida specializes in high quality captive raised corals and saltwater aquariums. In addition to their expertise they also maintain a YouTube channel where they document their visits to clients' tanks, showcasing the diverse and fantastic marine aquariums created by their customers.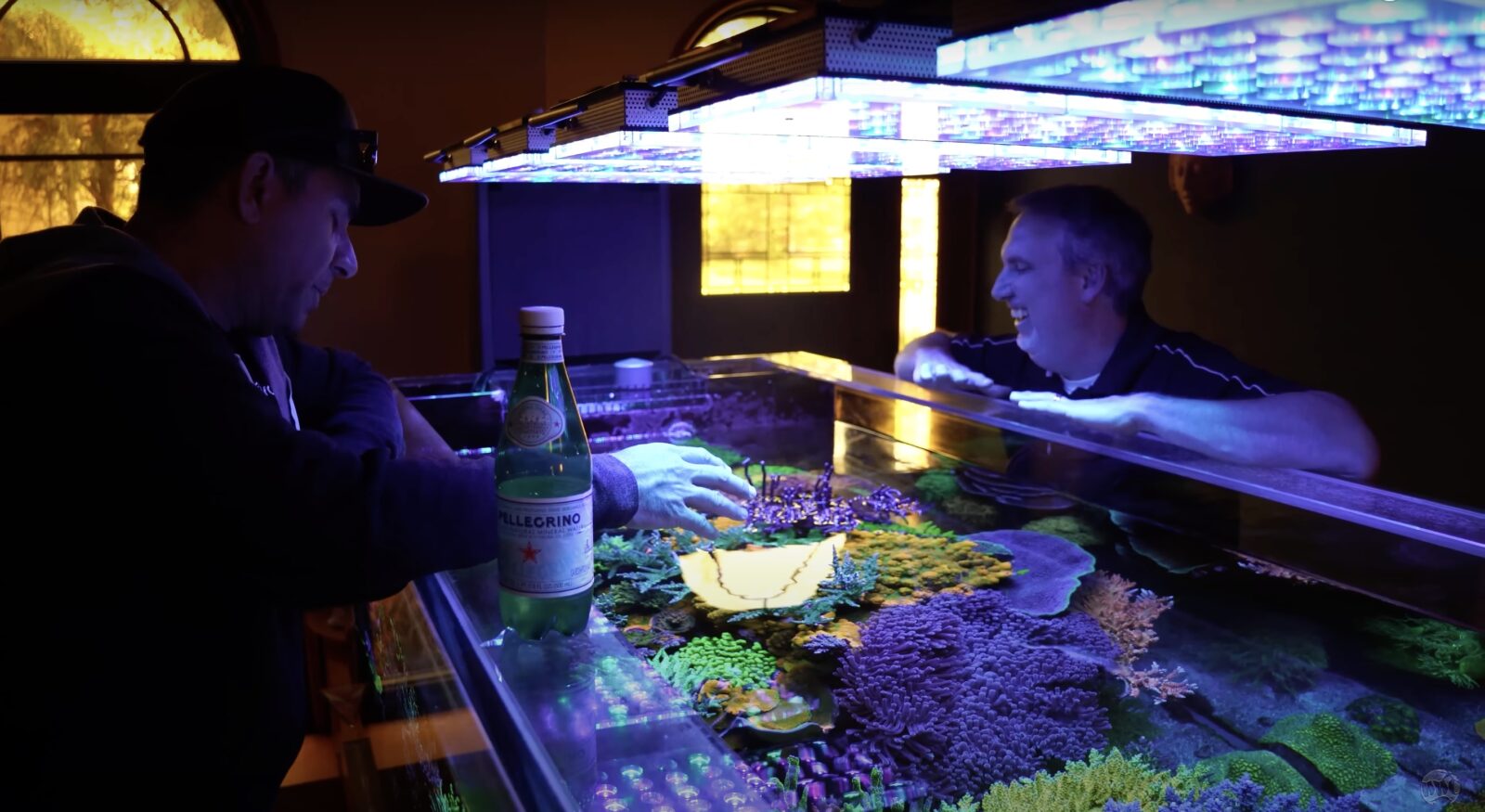 Victor on the left/ Brad on the right / Orphek Atlantik iCons in the middle ;-)
Brad's reef tank is a stunning display of vibrant and dazzling corals, each originating as tiny fragments. When Victor Fornari, the CEO of World Reef Corals, stumbled upon the tank's feature in Reef Magazine, he was greatly impressed by the exceptional health and vivid colors exhibited by the fish and mesmerizing coral colonies. Victor describes the tank as phenomenal, acknowledging it as one of the nicest he has ever seen.
And we are very happy to share his success, as he has been using 5 Orphek Atlantik units since he started this tank. Furthermore, he has recently upgraded to the Atlantik iCon, further enhancing the performance and capabilities of his tank.
Orphek & Brad Blankenship
Orphek LED Lighting solutions were Brad's first and only choice when he decided to replace his previous T5 lights. We featured Brad's remarkable aquarium almost a year ago, highlighting his installation of five units of our Atlantik V4 lights over his tank. With over 30 years of experience as a seasoned reefer, Brad recently upgraded his lighting setup to the advanced Atlantik iCon system and also incorporated Orphek OR3 Bars into his frag tank. (Brad has 7 reef tanks in total, in his home!)
[For detailed information about the upgrading options provided by Orphek, kindly scroll to the bottom of the page.]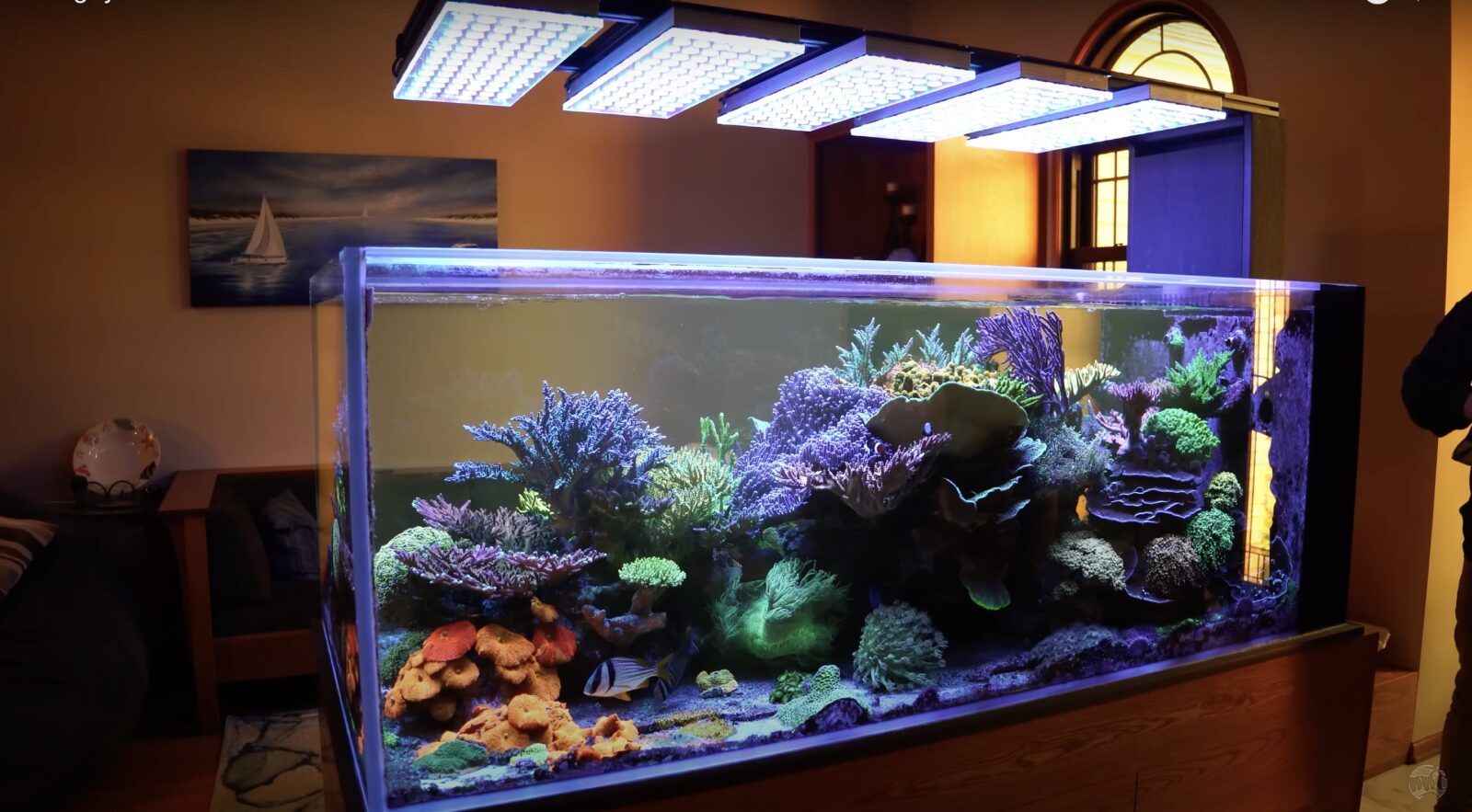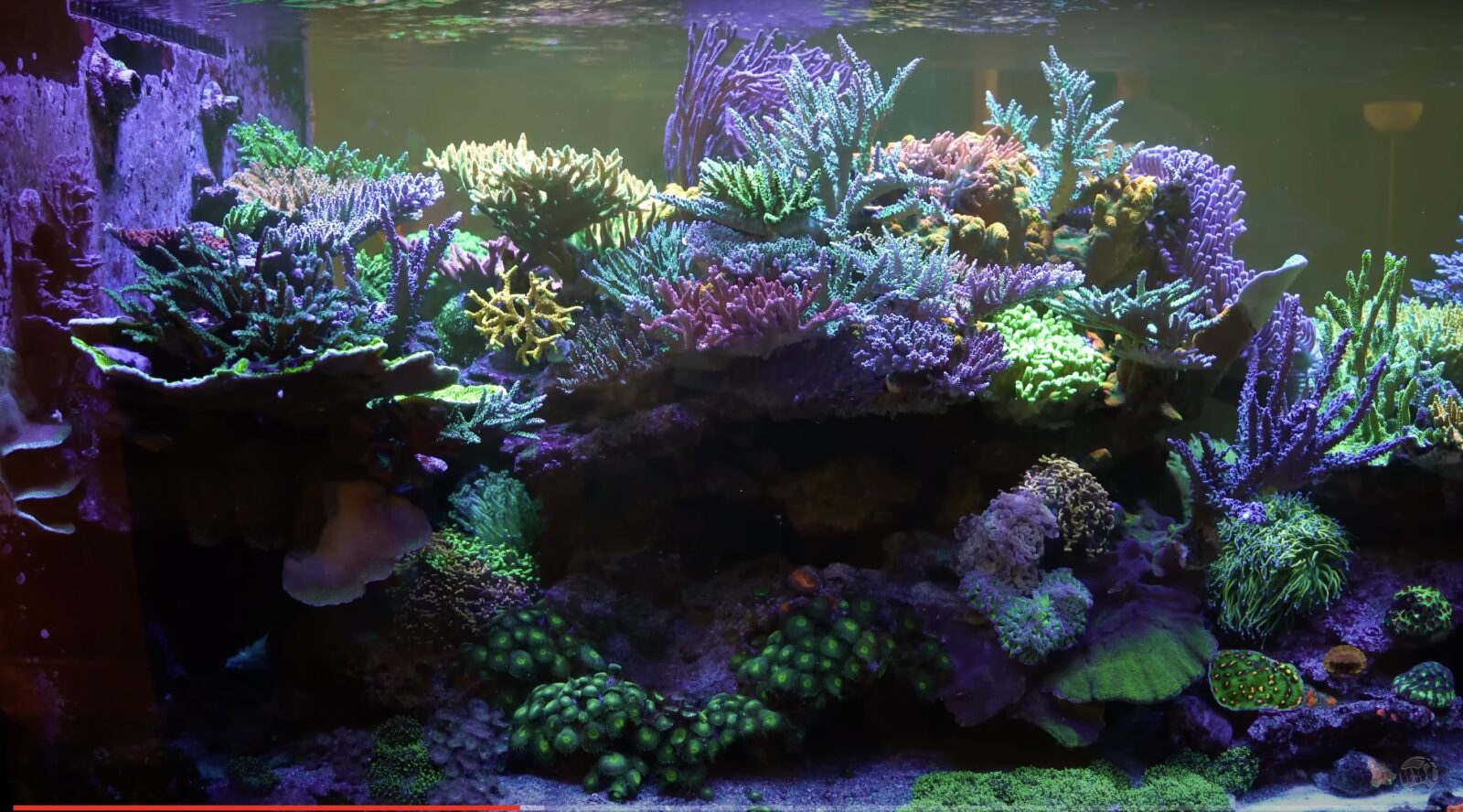 About the aquarium
To bring his dream tank to life, Brad had a custom-made aquarium designed to his specifications. This stunning display tank features a peninsula-style design, offering a viewable perspective on three sides. Constructed with 3/4" low-iron glass, the tank measures 80" x 40" x 30" and boasts an impressive volume of 400 US gallons. The suspended lighting further enhances the aesthetic appeal of this extraordinary aquarium.
Lights and mounting system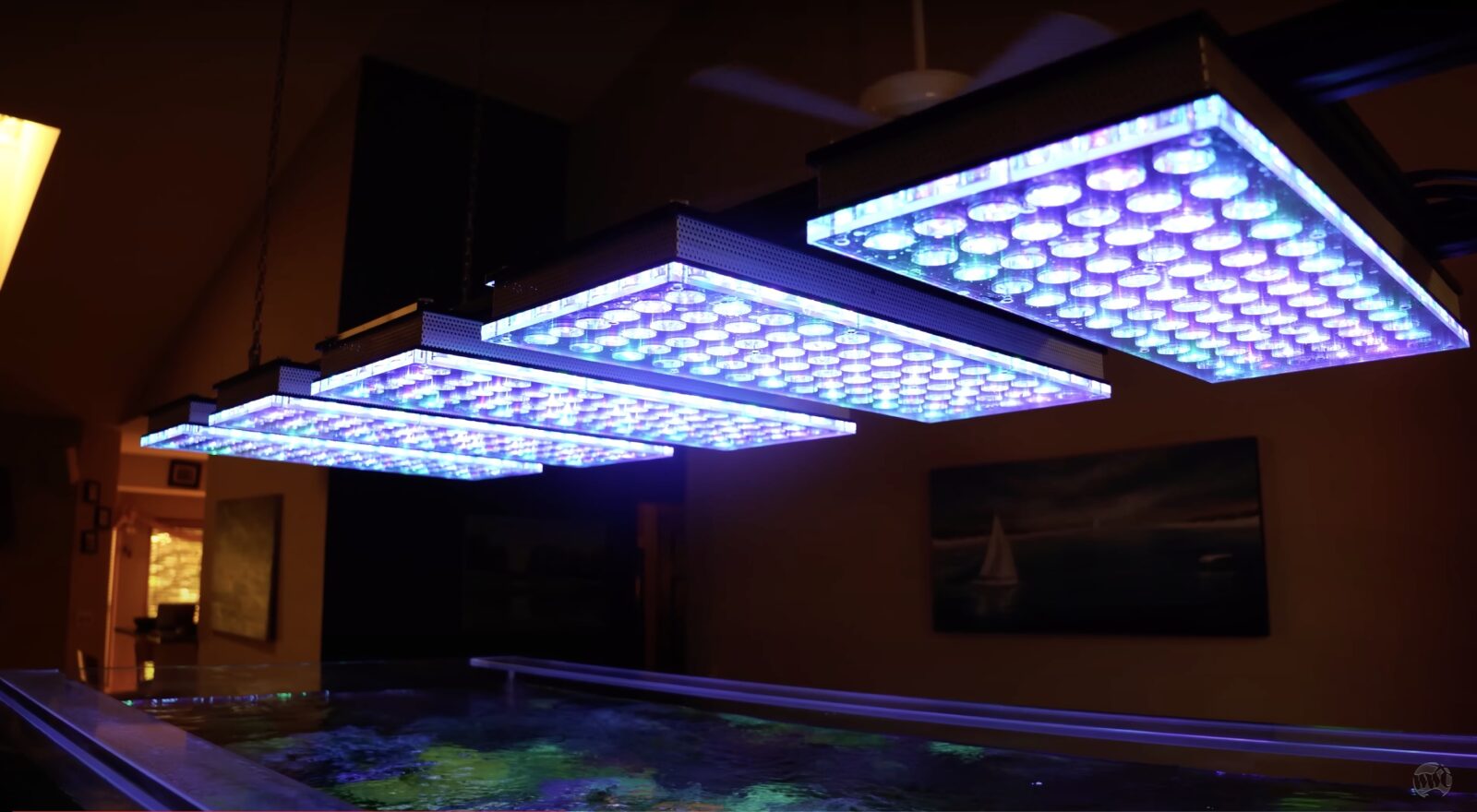 As we mentioned before, Brad upgraded his lighting setup from five units of Atlantik V4 to the Atlantik iCon. The lights are now mounted and suspended on custom-made 80/20 T-Slot Aluminum rails, providing a clean and streamlined look. This setup also ensures convenient access to the aquarium for cleaning, maintenance, and feeding purposes.
The Corals & corals' layout
With over 30 years of expertise, Brad has elevated coral growing to a professional level. Despite considering himself "old school," he has transitioned from T5 lighting to LEDs, fully embracing Orphek as his exclusive brand. This transition has proven to be very successful for Brad, as he has never looked back since making the switch.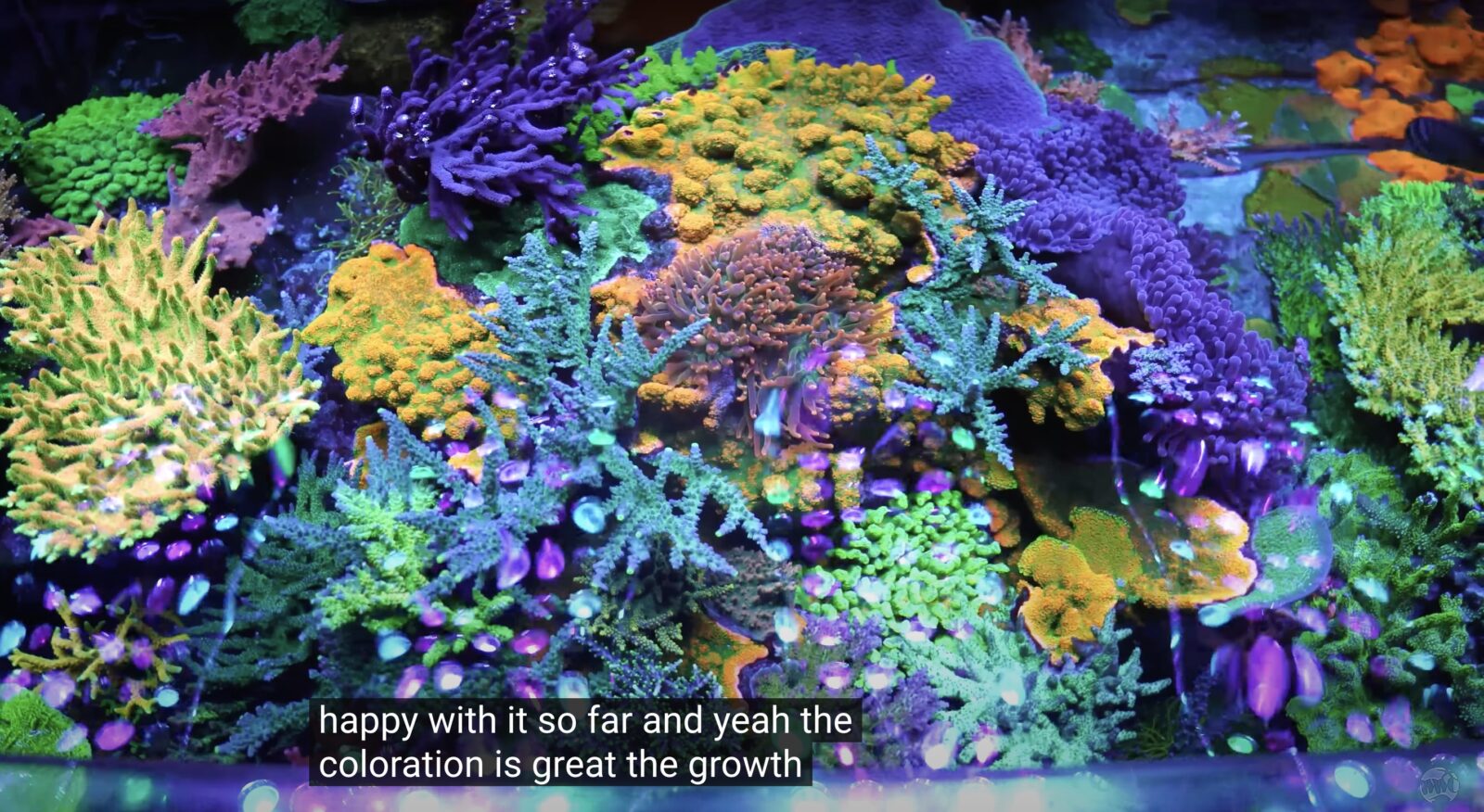 In a meticulous display, Brad has adorned the upper portion of his tank predominantly with SPS corals and Euphyllias. In the video he enthusiastically expresses his fondness for anemones as the preferred home for his clownfish.
Euphyllia corals belong to the category of LPS (Large Polyp Stony) corals, characterized by their stony skeletons and tentacle-like polyps that form distinct heads. Popular Euphyllia coral species include Hammer Corals, Torch Corals, Frogspawn, and Octospawn Coral.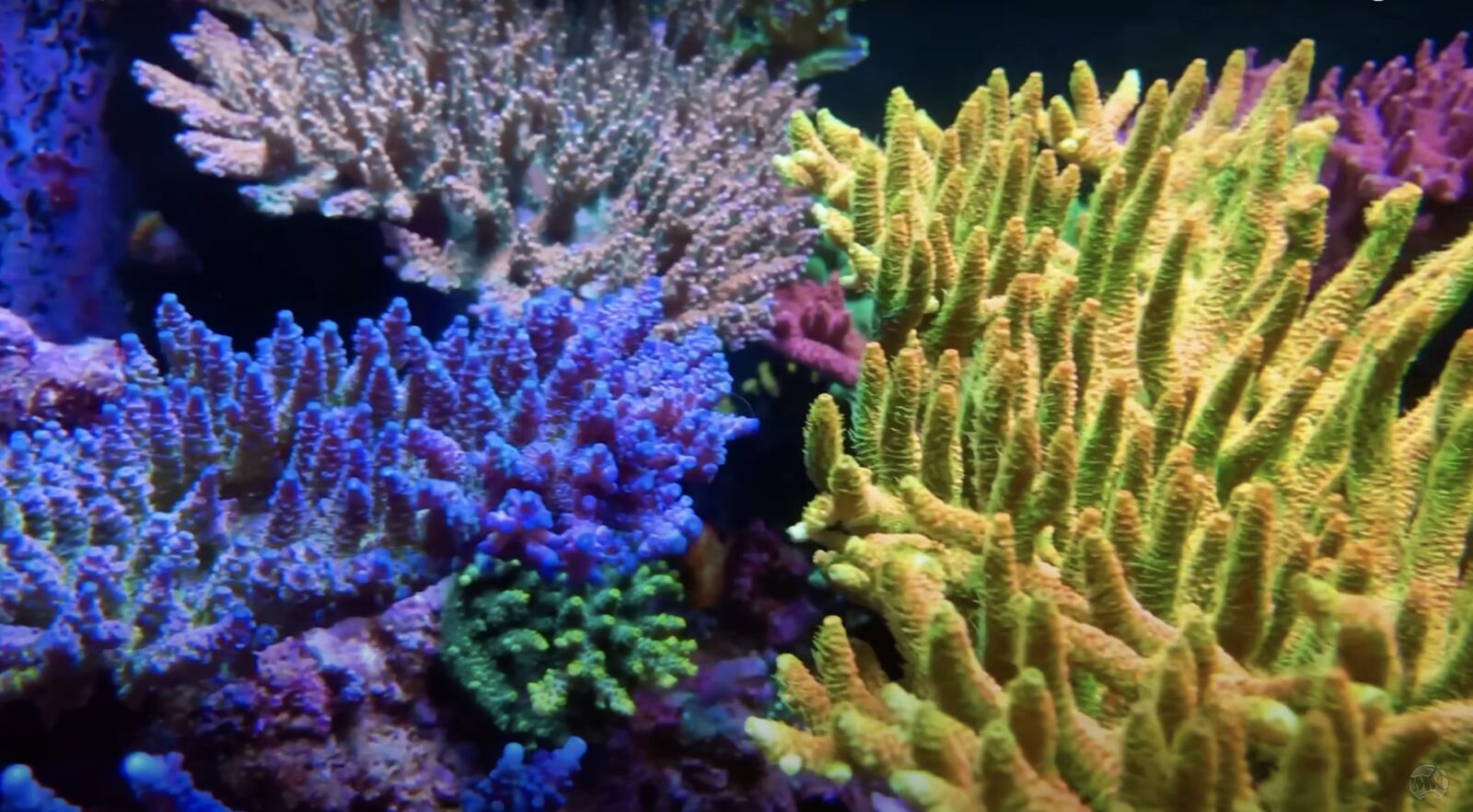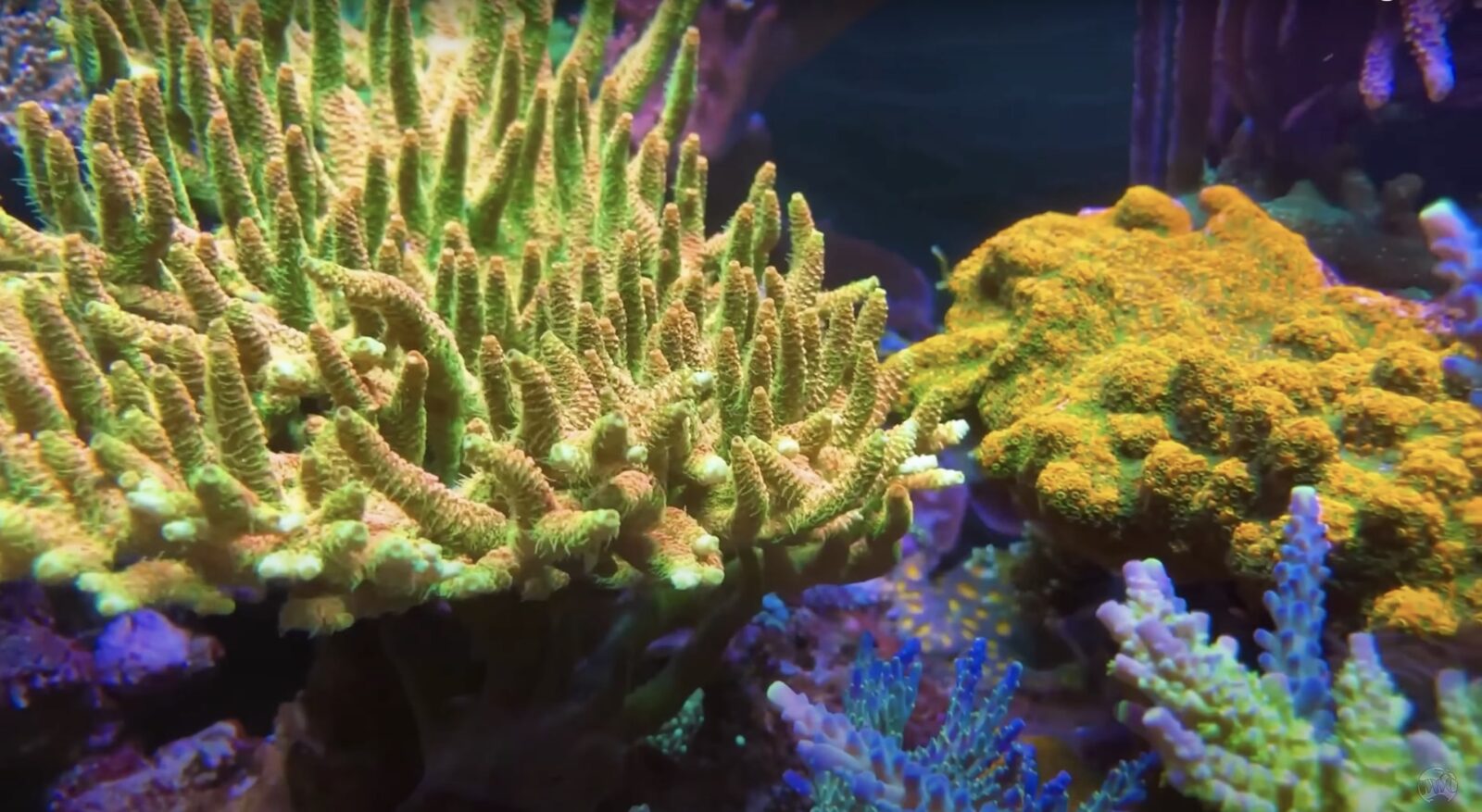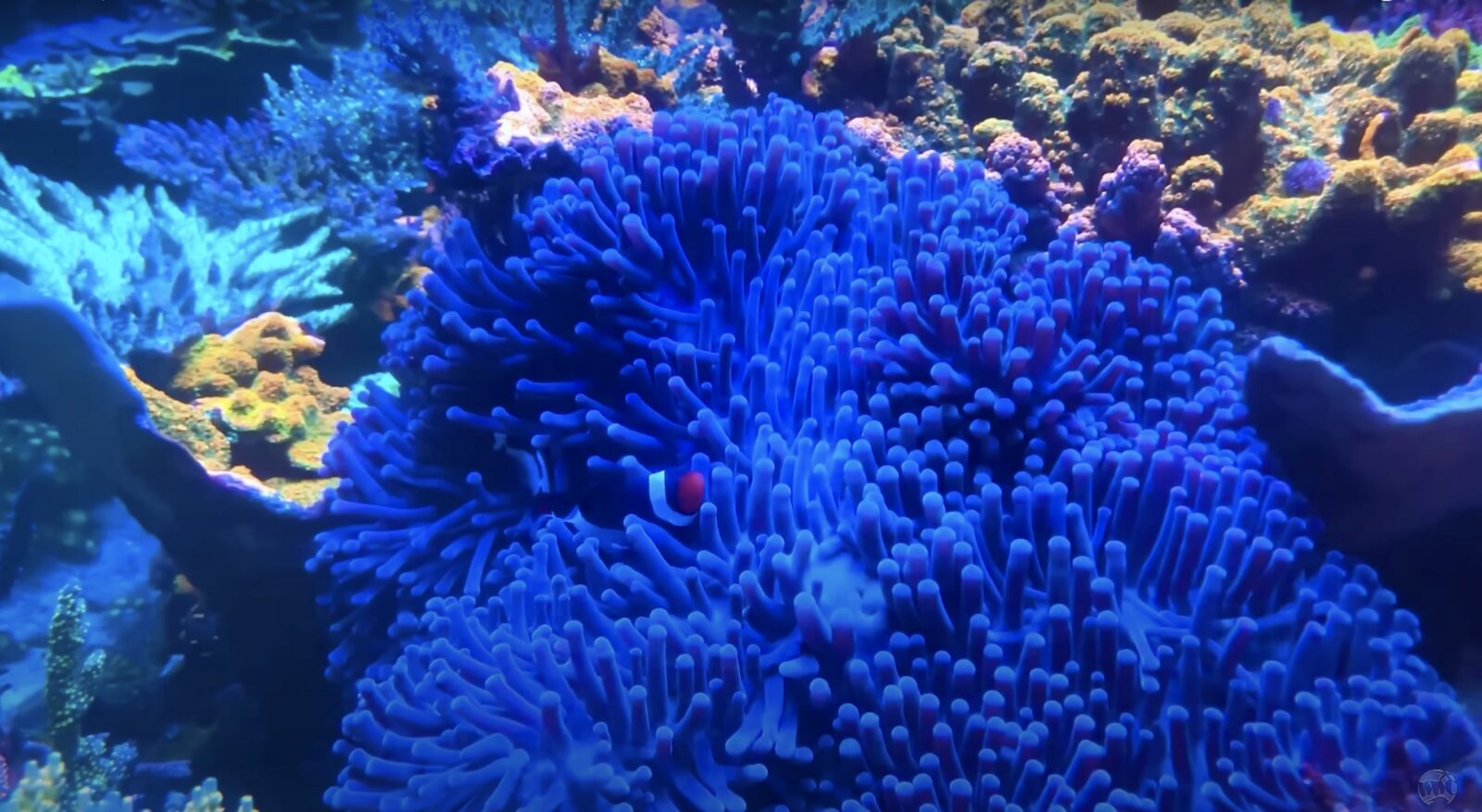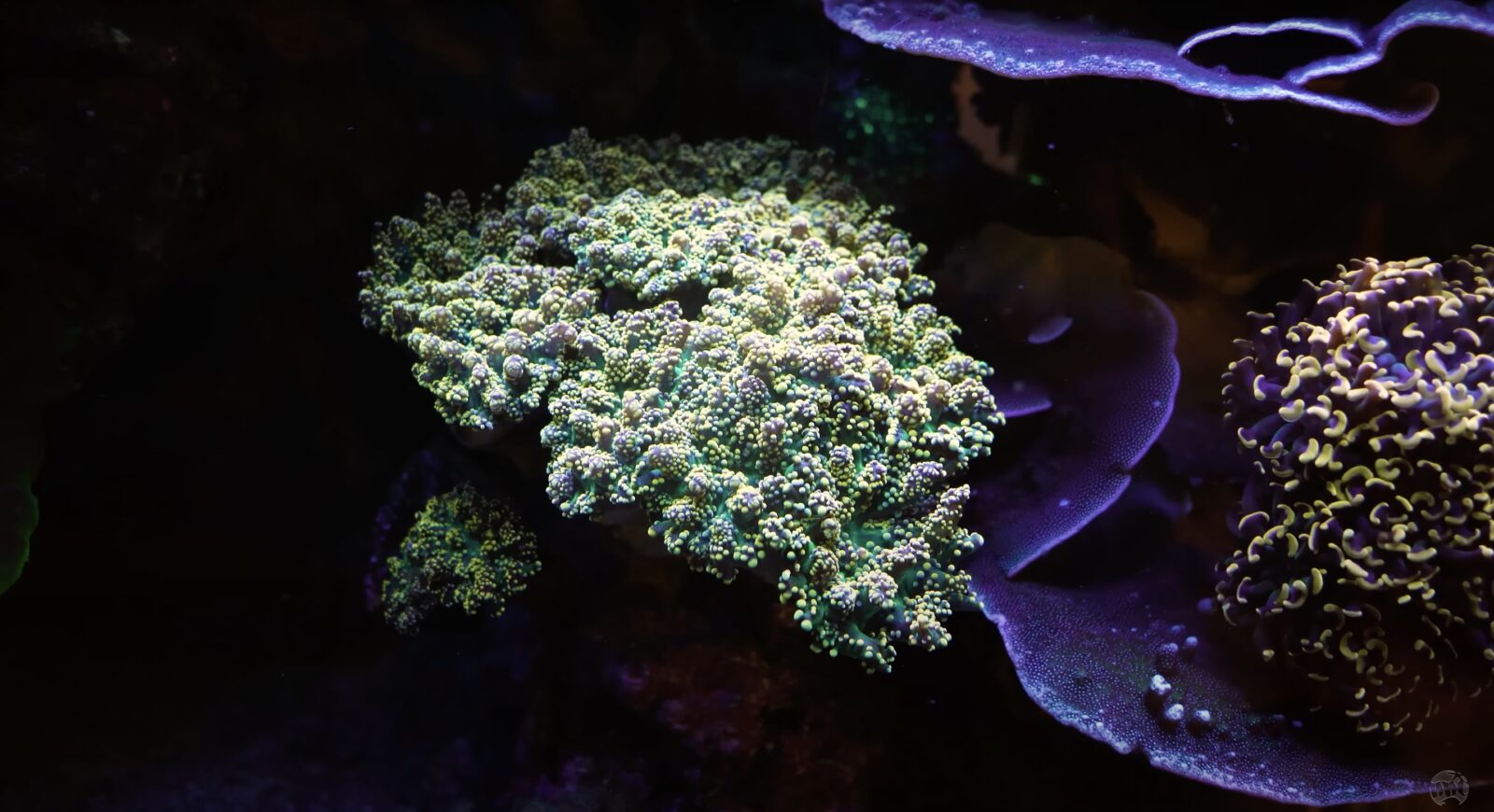 Brad mentions to Victor that he has many corals that he bought from World Reef Corals and corals coming from all around the world.
Orphek expertise is to develop, customize and deliver LED lighting solutions for perfect lighting design projects involving any biological need of a wide range of organisms, coming from different types of habitat and geographic zones, while meeting both the architectural aesthetics desired goals.
The Atlantik iCon is a prime example of Orphek's commitment to delivering lighting solutions that fulfill these objectives with excellence.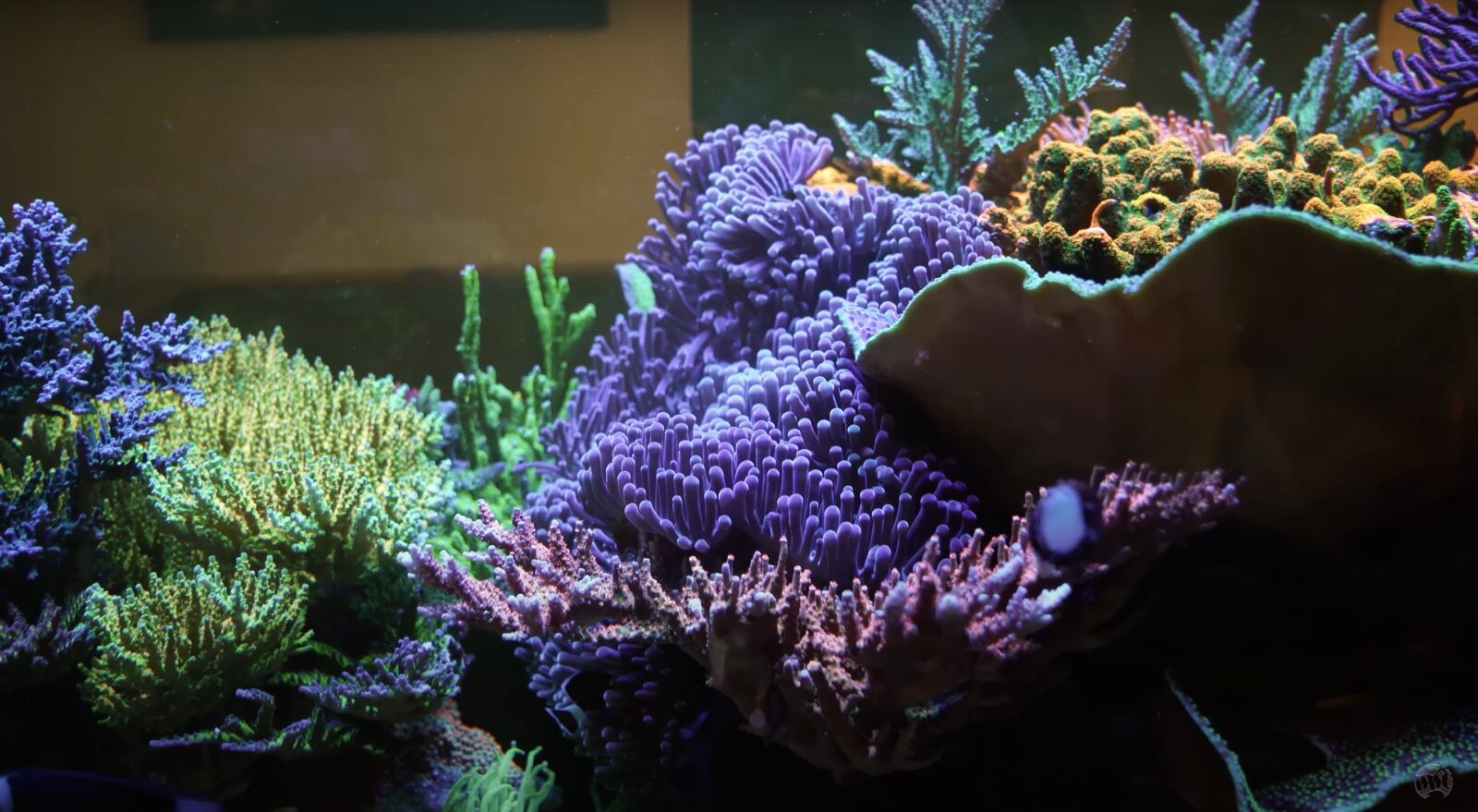 The following photos are showcasing how skilled Brad is in growing and taking care of corals.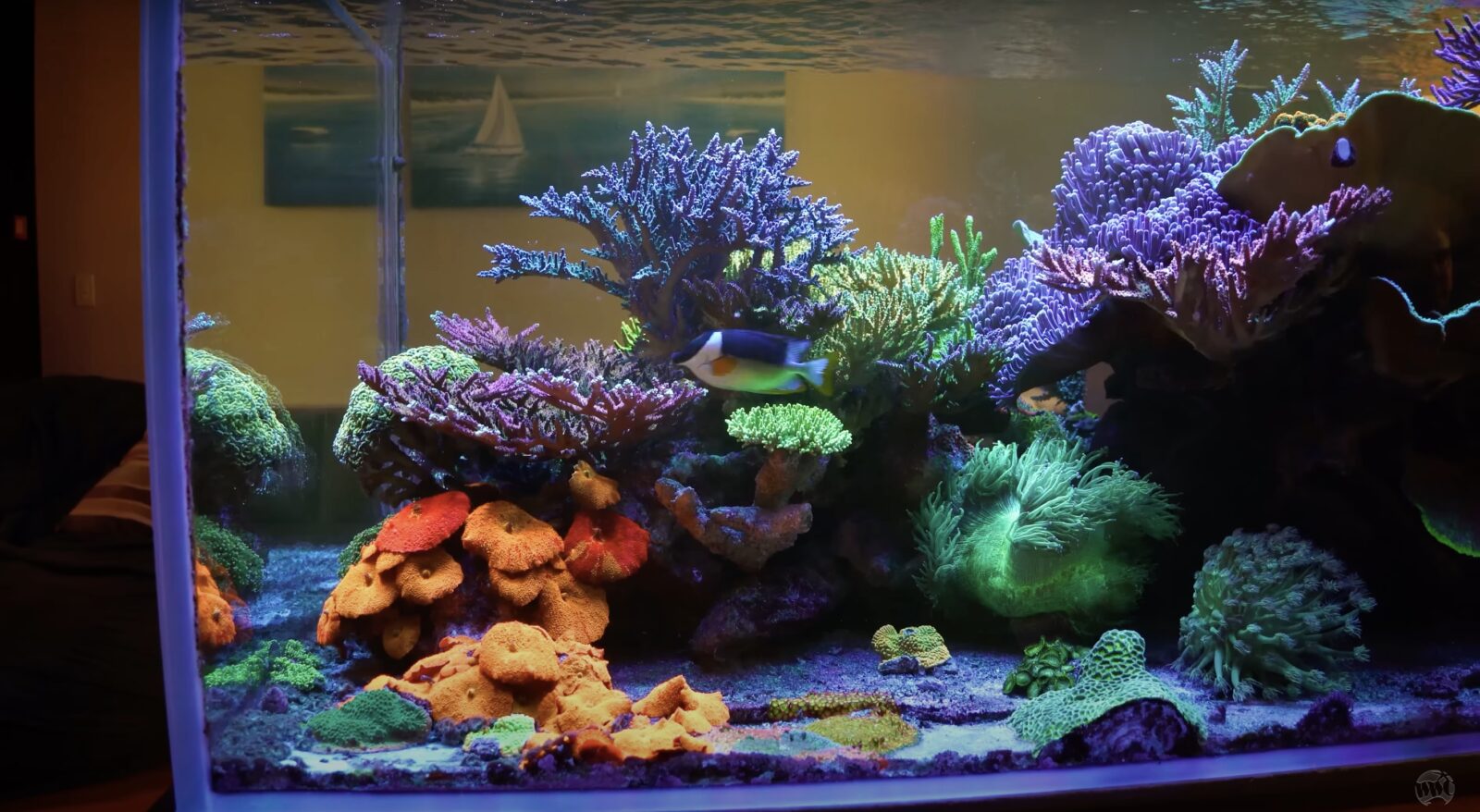 They are perfectly shaped with no signs of bleaching, no signs of coral damage from stinging or overlapping. As he explains to Victor, he has a routine of fragging corals, trimming them and replacing them when needed. It takes time and patience to master these skills, but Brad is certainly a pro!
Just take a look at these mesmerizing corals, specially the Sunset Montipora!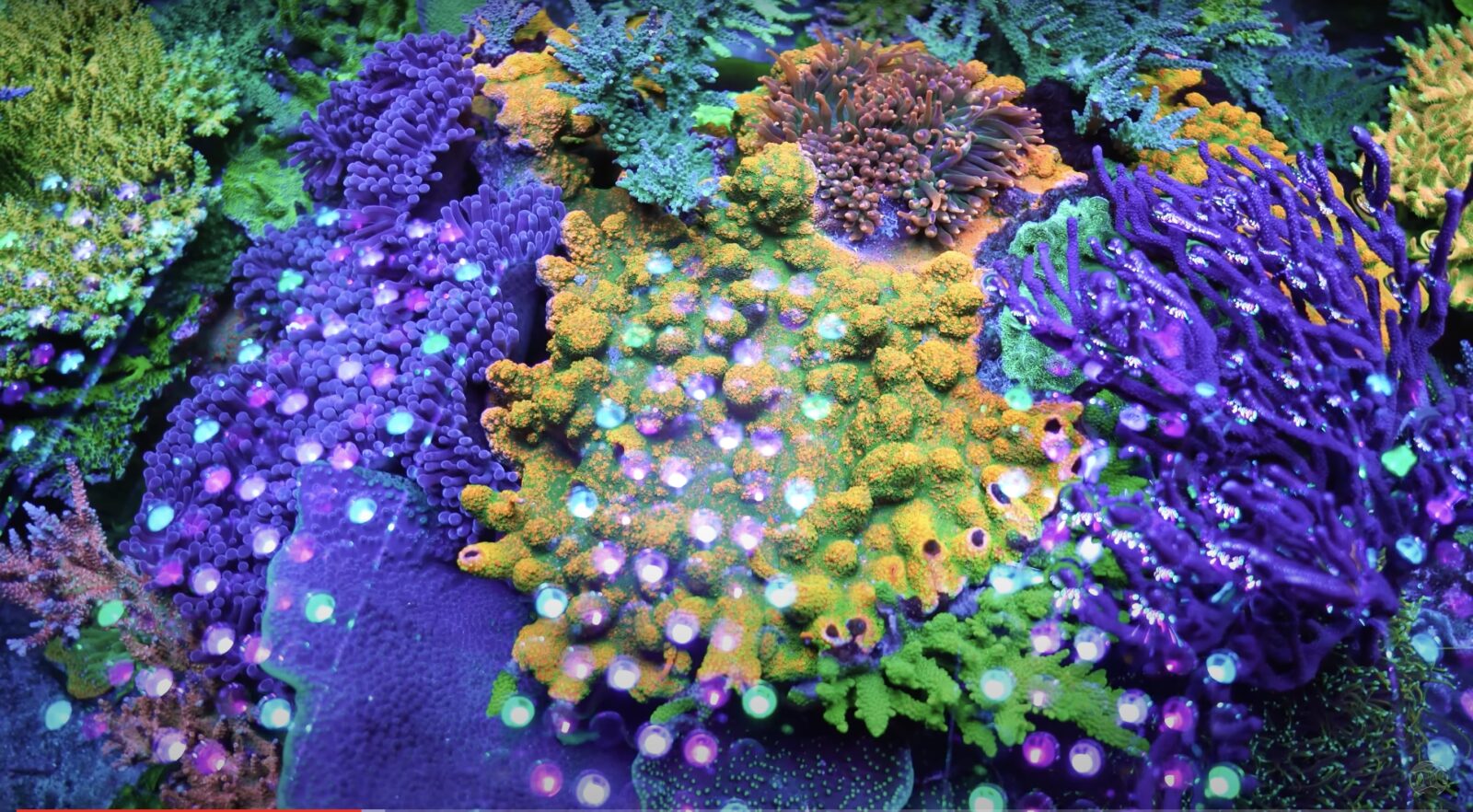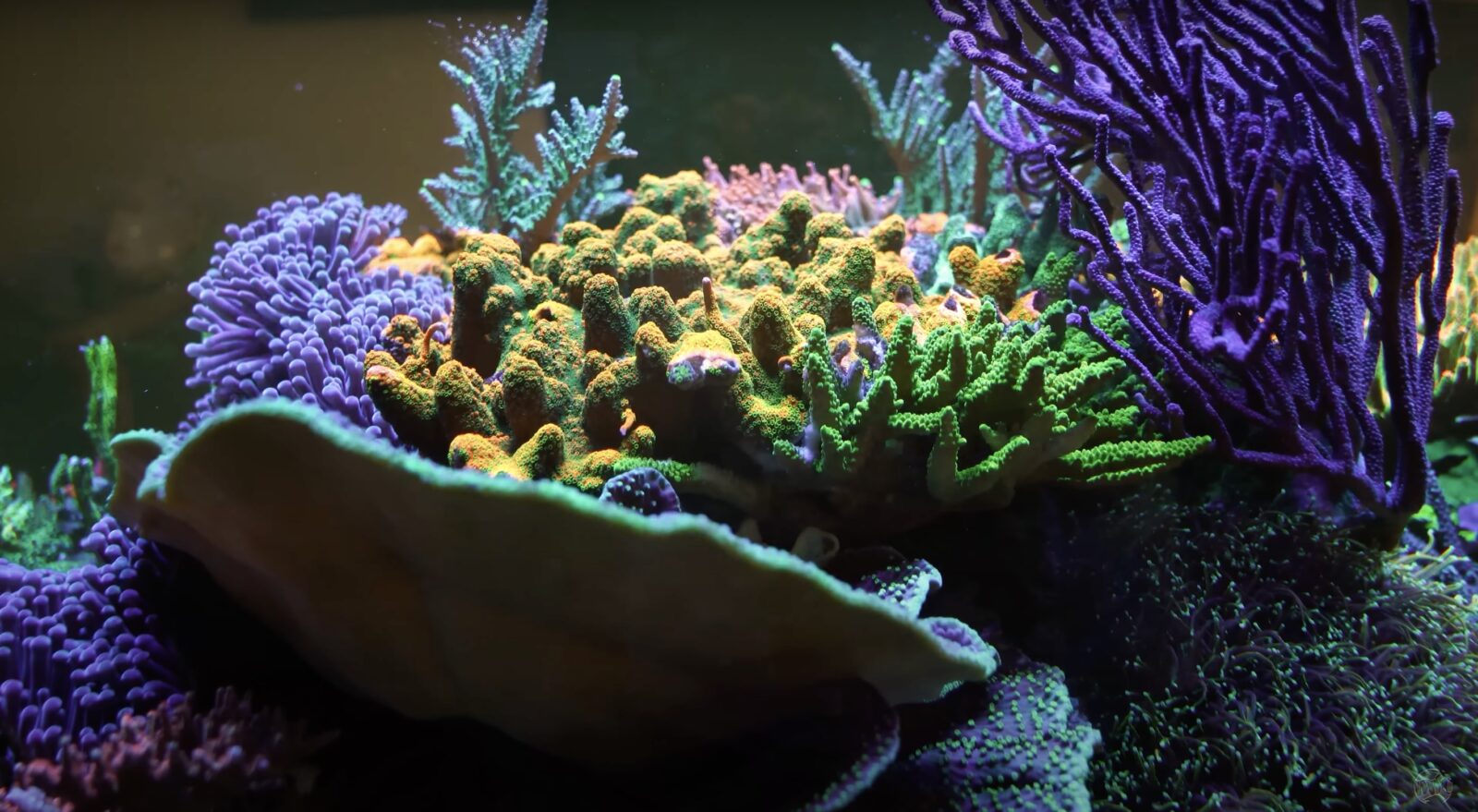 Aquascaping is undeniably a challenging hobby that demands a set of skills to navigate successfully. It requires the ability to select the right corals, skillfully arrange them to prevent conflicts, and anticipate their growth patterns to avoid overlap and potential damage. The process of choosing and placing corals necessitates thorough research and practical experience.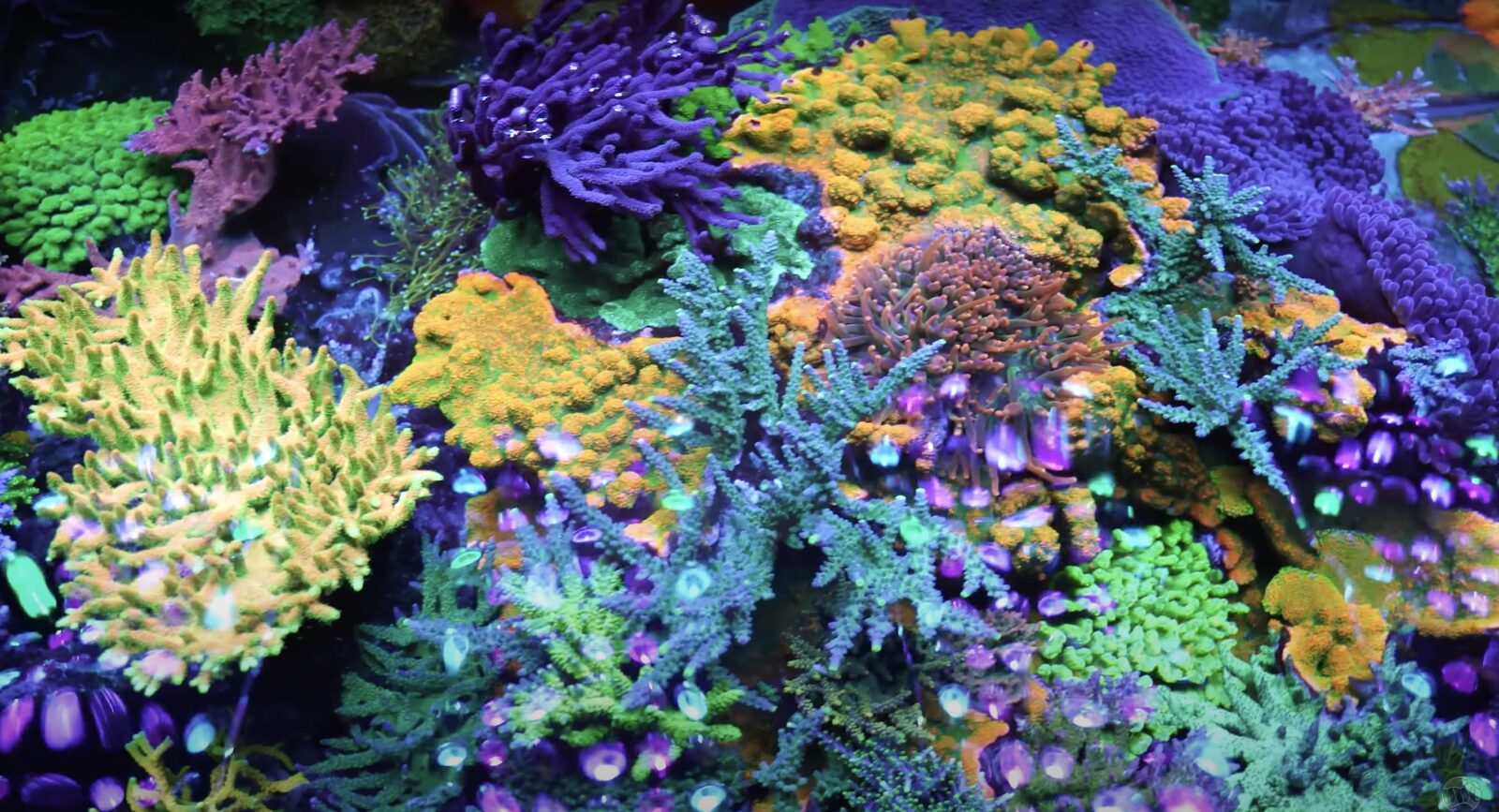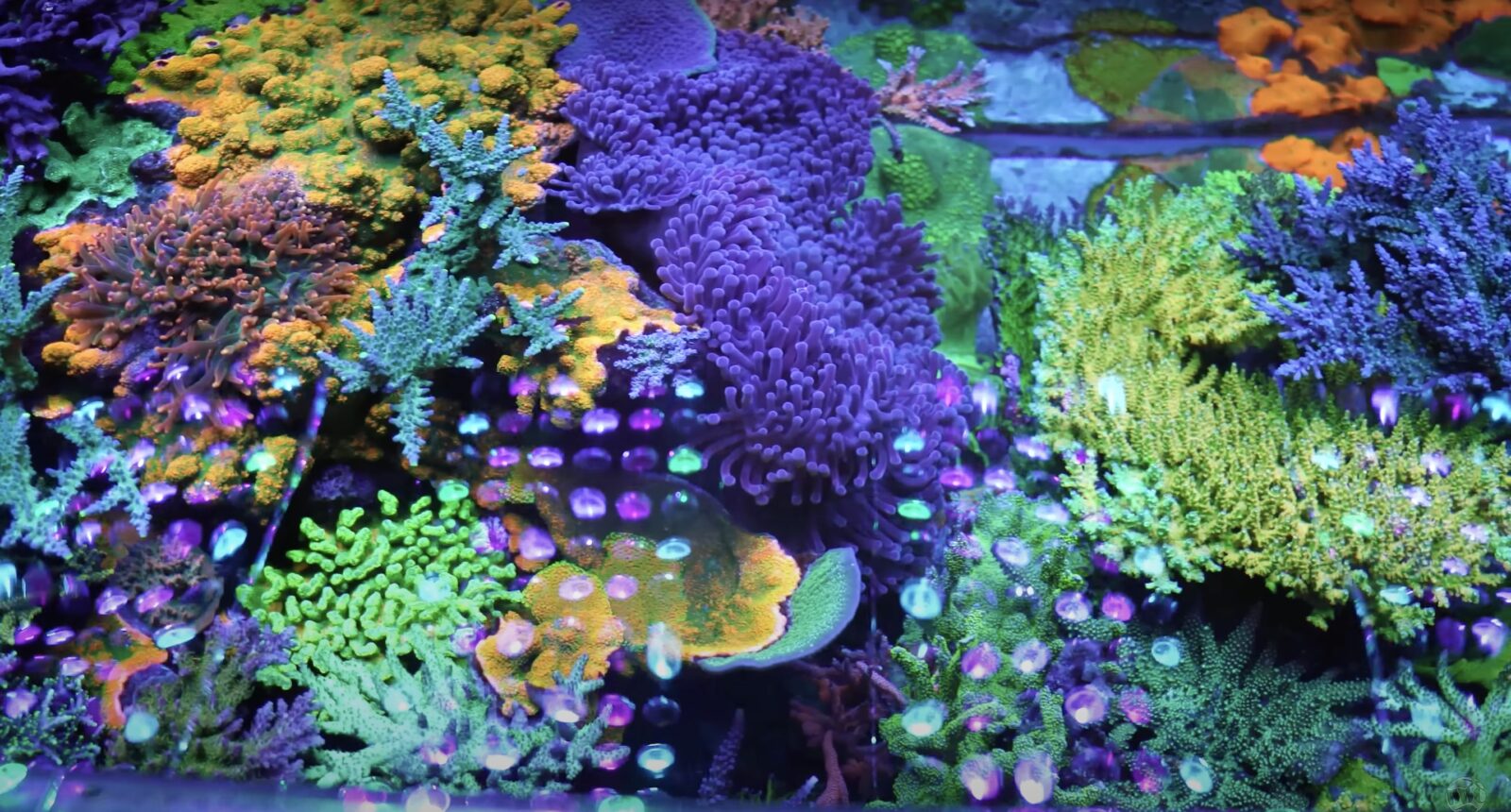 Unleashing Vibrant Coral Colors
While personal preferences play a role in coral color selection, having an understanding of how different coral colors interact with one another, and recognizing which colors are complementary or similar, assists aquascapers in creating harmonious and visually appealing aquascape layouts and one of the most remarkable aspects of Brad's reef tank is the vibrant colors exhibited by his corals.
Thanks to the Atlantik iCon, he has achieved a stunning array of hues that captivate the eye.
The spectrums provided by the Atlantik iCon is instrumental in enhancing coral coloration. This carefully designed spectrum promotes the production of pigments like chlorophyll and carotenoids, which are responsible for the vivid and natural coloration seen in Brad's corals. From cool blue and green hues, striking vibrant yellow and oranges, to intense purples, the color palette on display is simply breathtaking.
Furthermore, the exceptional PAR output of the Atlantik iCon ensures that corals receive ample light energy for photosynthesis. This translates into healthy growth and optimal pigment production, resulting in corals that truly pop with life and vibrancy.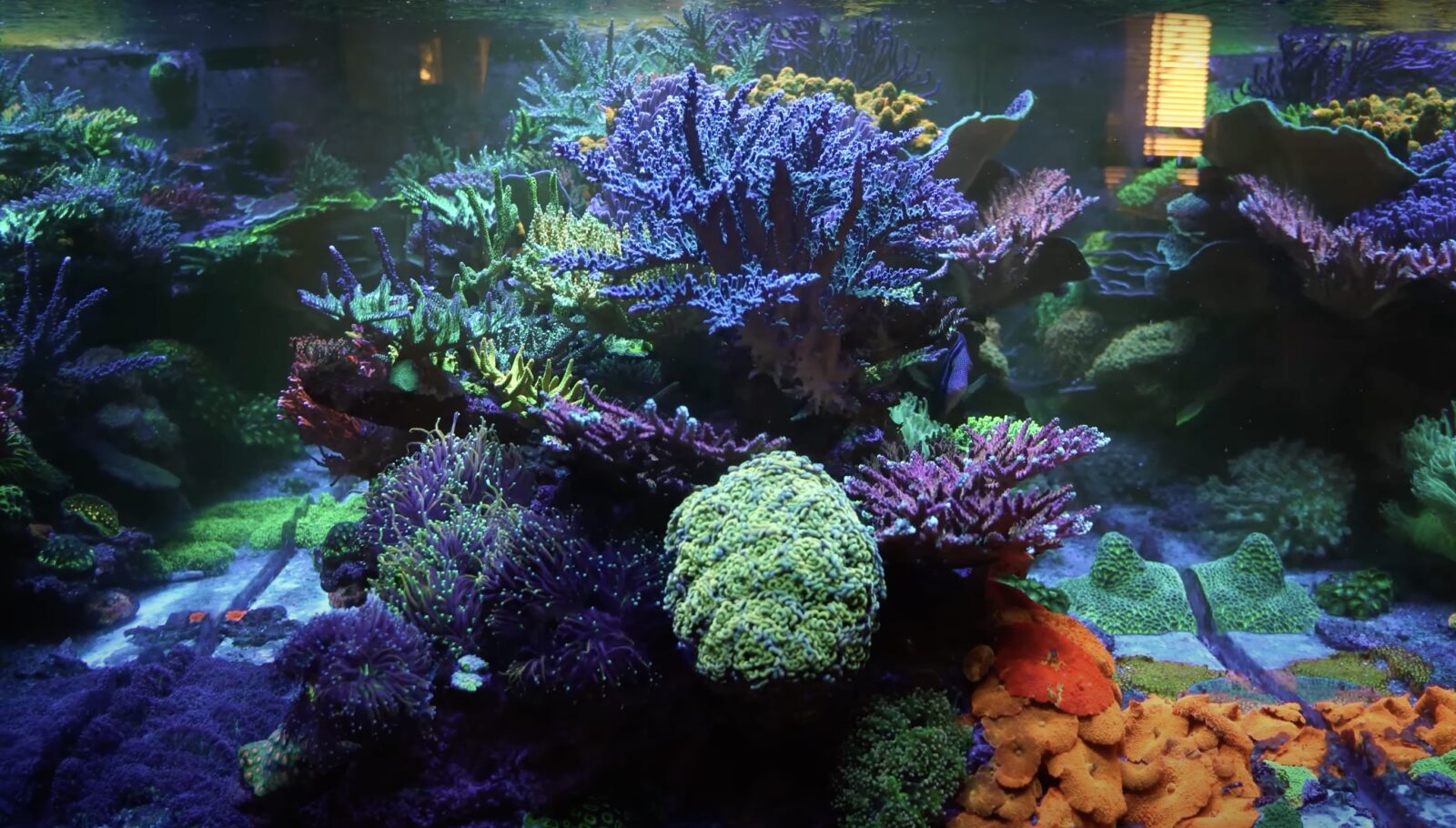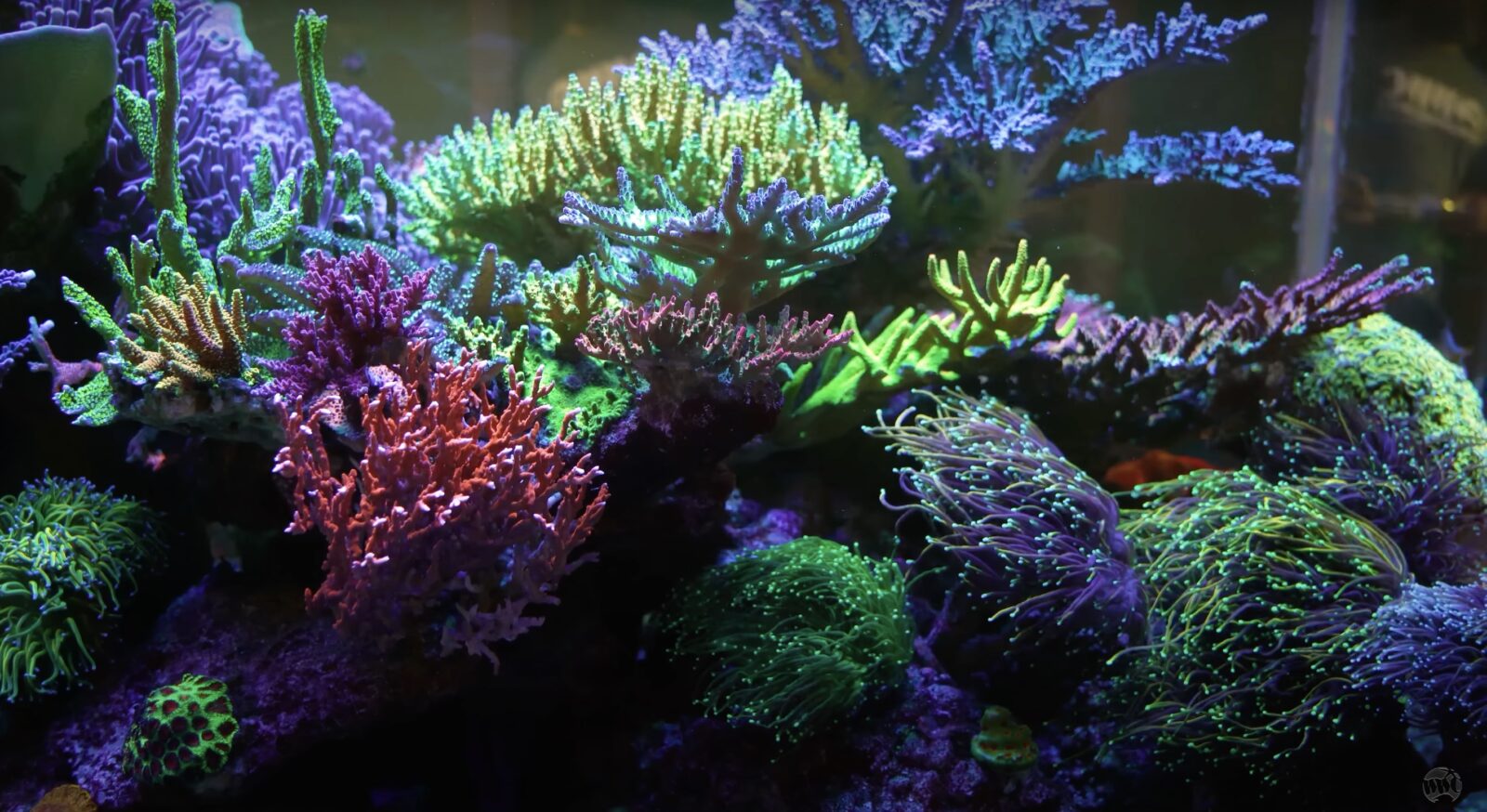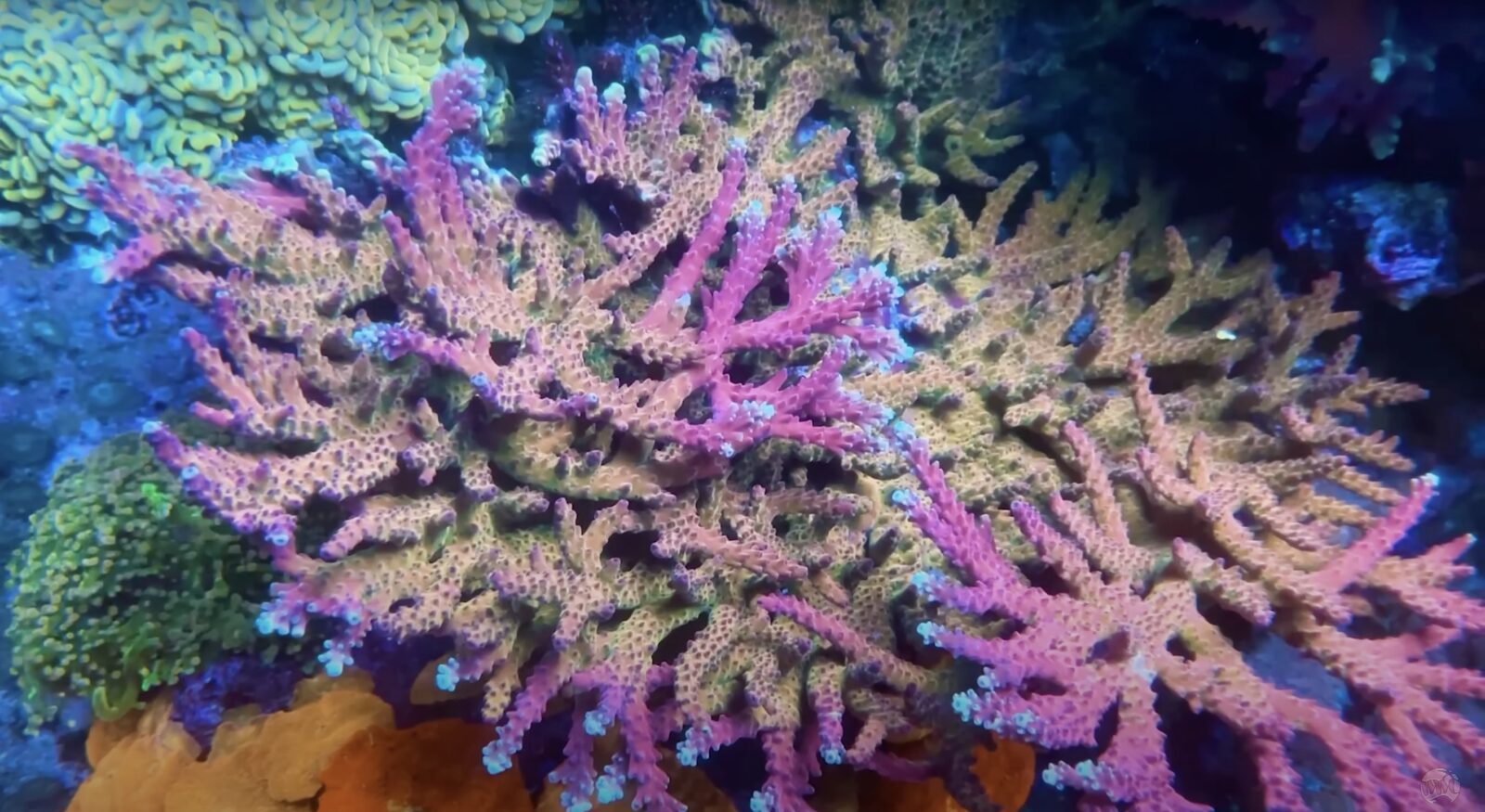 Last but not least - Brad's feedback experience with Orphek Atlantik iCon
Brad's experience with Orphek Atlantik iCon has been nothing short of exceptional. He has provided valuable feedback, expressing his satisfaction with the product.
In his own words: "I have been using Orphek since I started with LEDs which was five years ago... I am in the third version... I am really love it (commenting on the quality) and the spread is gorgeous... this is much light as I was getting with 3/4 400 watts M. Halides. Electricty is a lot less, heat's is a whole lot less Summer time."
Brad's Frag Tanks
Go to STORE to buy in our online shop
Orphek online shop that is a brand new shopping experience for Orphek products in many languages, many currencies and forms of payment. Our online shop offers free consultancy from our sales representative near your location. We offer Free shipping  – With our Door to Door worldwide Express Delivery.
Orphek online shop that is a brand new shopping experience for Orphek products in many languages, many currencies and forms of payment. Our online shop offers free consultancy from our sales representative near your location. We offer Free shipping – With our Door to Door worldwide Express Delivery.
Orphek online shop sells worldwide, but if you cannot find your country in our online shop, contact us:
---
Articles about Bradey's Tank & Orphek:
Latest articles about Atlantik iCon:
Articles about fantastic layouts & tanks with Atlantik iCon:
Atlantik iCon Applications:
SPS/LPS coral reef salted water tanks
Designed to enhance beauty of both natural and synthetic compositions!
Public venues / Private aquariums
Indoors
One unit is perfect for 48″ x 30″, 120cm x 75cm SPS/LPS Corals reef aquariums
Perfect for giving your tank the natural look, mimicking nature at its fullest
Perfect for coral farming
Atlantik iCon comes with incredible features:
Intelligent Connectivity – friendly technology, operating through Orphek awesome new App., compatible with both IOS and Android, voice control and many other cool features.
Wi-Fi / Bluetooth – with iCloud support, 5G internet connectivity, high speed response, extra data security.
10,000% dimming control system – never offered in the market before!
78 customized high quality, high efficiency 5w Dual-Chip power LEDs – total of 156 individual LEDs Chip.
10 optimized different types of Dual chip 5W wide range LEDs for maximum photochemical efficiency.
26 glass lens for all UV/violet LEDS – no yellowing over the time!
Plug and play technology – effortless part's replacement for simple and easy light maintenance.
Pre-installed program for optimal coral pop color & growth
Wide convex 120 degree lens
Customization: For Deep Aquarium 90 / 60 / 45 / 15 / and 5 degree lens
Mean well Fan-less IP65 power supply
New additional awesome features for your corals and jellyfish
Six separated control and programming channels
Pre-installed program for optimal coral pop color & growth
New improved heat dissipation and cooling system & 4 fans
Improved internal lens to make sure you are getting the best Orphek LEDs!
Extra data security
Combine Orphek products with Atlantik iCon:
Atlantik iCon Upgrades
YES! Orphek products are built to last!!
Orphek offers UPGRADE possibility of its systems. That means that you will use the same Atlantik body over and over again! It means that if you have the previous versions of Atlantik you can upgrade to our newest Atlantik model: The Atlantik iCon.
What can you upgrade?
Orphek hanging solutions
Orphek offers many options for hanging/mounting its LED Solutions. Click HERE / HERE and HERE to get to know them!
Orphek is also providing advice/tips on how to reach a higher level of excellence:
Revealing top 10 secrets to get amazing coral color growth & health
---
Credits
Image & content credits: All screen shots were taken from the video produced and published by @World Reef Corals Youtube channel. Orphek has also added awesome proprietary photos of its products!
Excerpts were sourced from both Vic's and Brad's comments/ personal opinion about Orphek. Orphek has added information about its products that holds significant importance and is worth sharing with our audience.
Special thank you note
Orphek wishes to express its gratitude to Bradley Blankenship for being such a passionate reefer and an enthusiast of Orphek products. In the same opportunity we would like to thank World Reef Corals for taking this trip to Ohio and making all this possible.
We also want to thank all the clients who take their time taking awesome photos and sending them to us or to publish them in our social medias.
We would like to invite you to browse our website and participate with your Orphek experience.
Let us know about your tank and share it with other hobbyists in Orphek Facebook Group and Instagram!