Orphek Atlantik iCon and OR3 90 Blue Plus LED Bars: The Secret of Salvador Santana's Stunning Reef Tank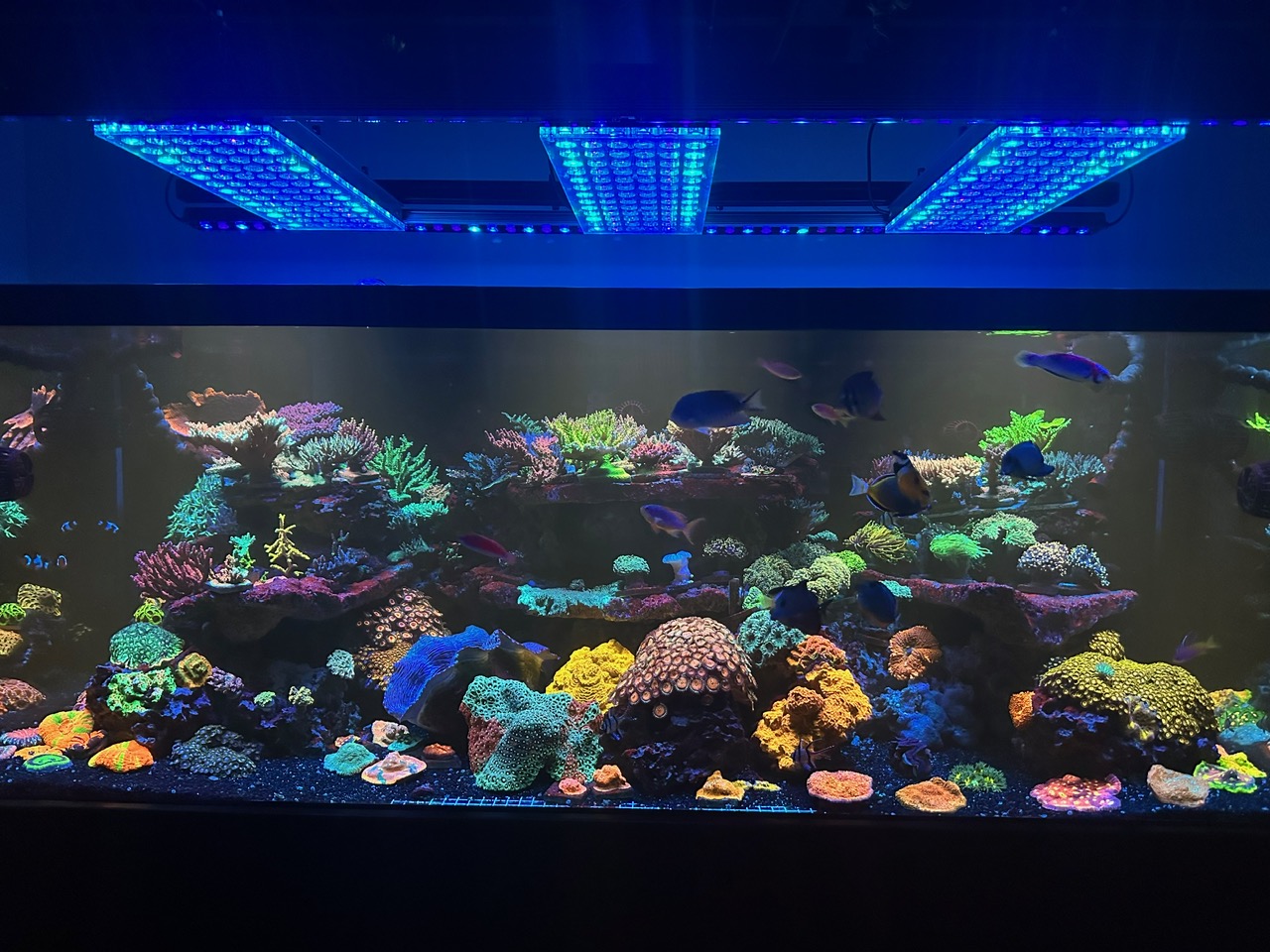 In this week's post we are unveiling Salvador Santana's underwater masterpiece with Orphek Atlantik iCon and OR3 90 Blue Plus LED Bars solutions.
Aquascaping is undeniably a challenging hobby that demands a set of skills to navigate successfully. It requires the ability to select the right corals, skillfully arrange them to prevent conflicts, and anticipate their growth patterns to avoid overlap and potential damage. The process of choosing and placing corals necessitates thorough research and practical experience.
We've selected Salvador's aquarium as a prime illustration of accomplished aquascaping, showcasing his expertise in crafting a harmonious and visually captivating underwater habitat.
About Salvador and his passion for the hobby
Salvador told us a little bit about how he started in the hobby and it was quite a fun story. It reminded us quite a lot about how Orphek founders started their passion!
"So the Hobby for me started with my oldest son who is now 16yrs old and at 5 yrs old we got him a 5 gallon FW tank with rainbow tetras. Then with no interest from him at all or my other 2 children I started on this insane adventure and that 5 gallon was upgraded shortly to a 30 gallon and I started venturing into live plants. so about 3 months passed and the 30 was upgraded to a 55 then a 90 then finally a 120 High-tech Planted Aquarium all within an 18 month span, lol. My wife thought I was going crazy or going through a mid-life crisis. So I ran this High-tech Planted tank for about 2 years and then got bored, so this is when I got the Saltwater bug…"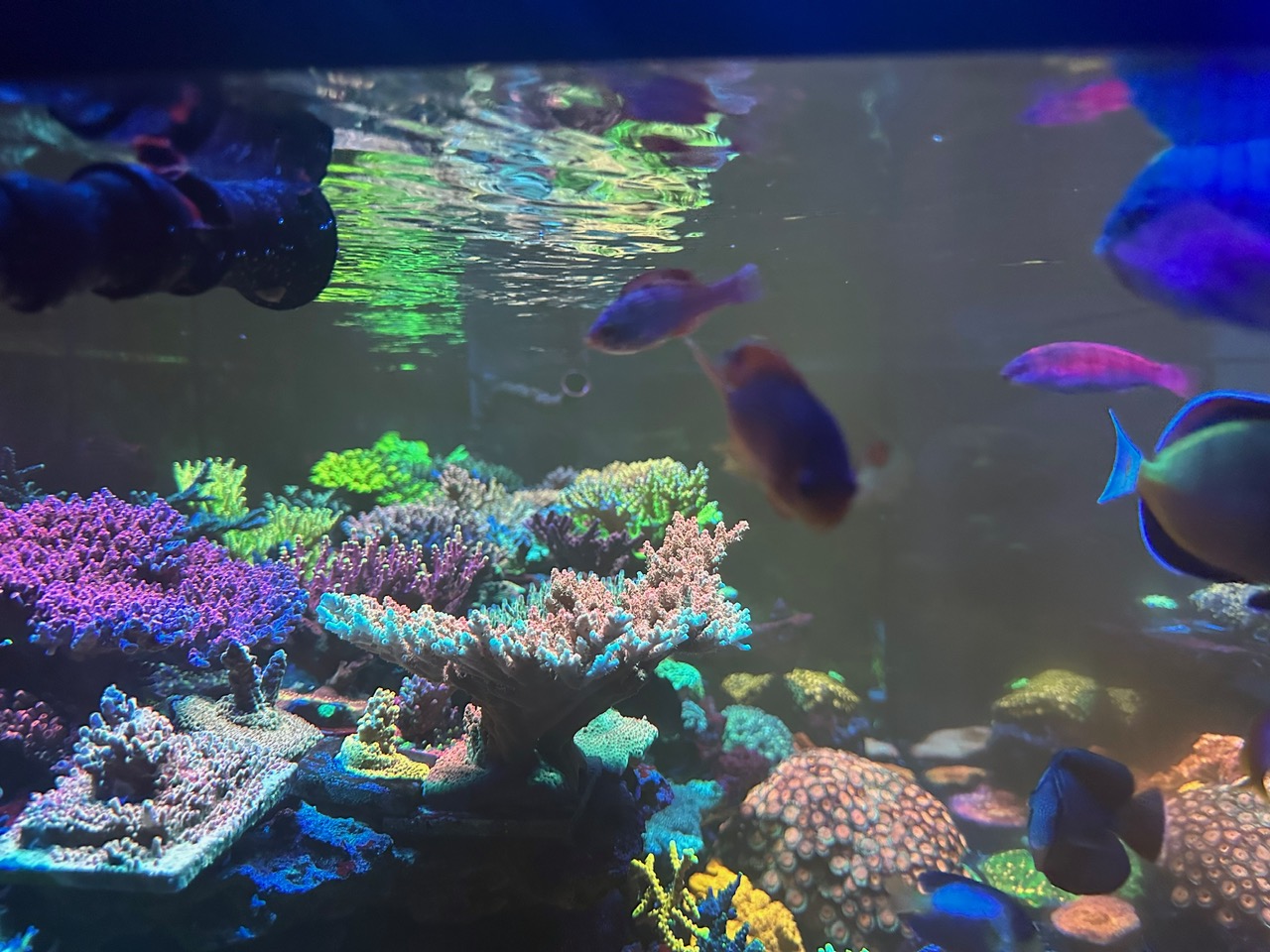 "... So in the process of moving and upgrading everything in life at the time I decided to give my entire FW Planted tank to a buddy of mine for next to nothing. I purchased my current 300DD and before we had even closed on the new house I had my LFS (Blueline Coral out of Naperville, IL) order me a new tank and it sat in my garage awaiting on us to finalize and close on the house. So we finally moved and we had in our contract for our movers to assist in moving new 300g tank and old 120g and it went pretty flawlessly but some corals did RTN and my 3 yr old clam died as well which I really loved. Now to present day and my 300DD has been up and running with all livestock transferred over from the 120 since 5/12/2019."
Info the aquarium
To bring his dream tank to life, Salvador installed Orphek solutions above a 72" x 36" x 28" Marineland 300DD tank. Salvador also possesses a frag tank measuring 36" x 24" x 10", which is illuminated by Orphek lighting consisting of 5 units of OR3 LED Bars, including 3 Blue Plus and 2 UVs.
Equipments:
Return Pump-Ecotech Vectra L2 & M1.
Wave makers- 4 Ecotech Vortech MP40's, 2 Maxspect Gyre's & 3 Jebao PP-8's.
Avast Marine Plank Auto-Feeder.
Calcium Reactor- Reef Octopus Dual 8" chambers (ARM coarse, Little ReBorn & ReMag Media-Mix ratio is 1 gallon of ARM/1.1lb of ReMag in 1st Chamber & Little Reborn in 2nd Chamber). Andre Mueller's Reef Moonshine Program along with monthly ICP-MS testing.
BRS 7stage Deluxe plus 150gpd RODI System. KHG (monitor Alk 6x a day).
Apex Fusion Controller (Salinity, pH, CaRx pH & temperature), Focustronic Mastertronic (N03, P04, Cc, Mg & Alk) & Dosetronic. I dose N03 & P04 daily (Brightwell Aquatics Neophos/Neonitro).
DIY Algae Scrubber, 2ea Aqua UV 45w Sterilizers.
BRS Dual Reactor Carbon (kural-zucht Activated carbon)/GFO (BRS HC GFO), IceCap ATO, DIY Powerfilter & 3 Aqueon Pro Titanium Heaters 300w.
Lighting project
3 units of Atlantik iCon + 2 units of OR3 90 Blue Plus LED Bars
Salvador initially incorporated Orphek lighting alongside 3 Geismann Vervve LEDs, which he operated for a year. During this period, he installed 10 Orphek OR2 90 LED Bars above his tank, comprising 2 units of OR2 Daylight, 4 units of OR2 UV, and 4 units of OR2 Blue Plus.
Subsequently, he enhanced his tank's lighting setup with 3 units of Atlantik iCon, complemented by an additional 2 units of OR3 90 Blue Plus LED Bars. This upgrade aimed to amplify coral color vibrancy, promote health and growth, enhance fluorescent colors, and optimize photosynthesis. [And that is THE SECRET of Salvador's stunning reef aquarium!]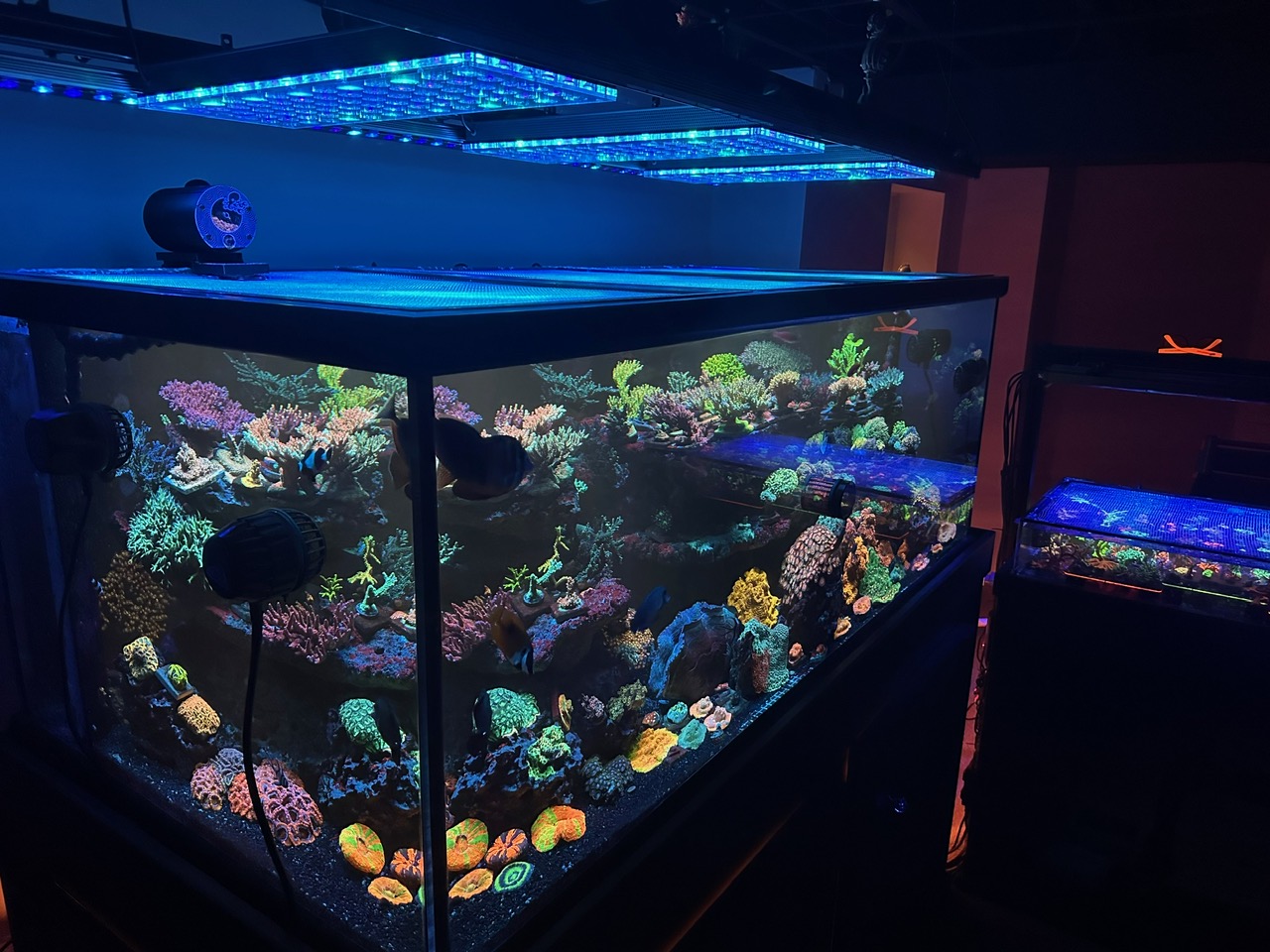 The secret of Salvador Santana's stunning reef aquarium
Orphek expertise is to develop, customize and deliver LED lighting solutions for perfect lighting design projects involving any biological need of a wide range of organisms, coming from different types of habitat and geographic zones, while meeting both the architectural aesthetics desired goals, and Salvador wisely chose our Atlantik iCon solution.
The Atlantik iCon is a prime example of Orphek's commitment to delivering lighting solutions that fulfill these objectives with excellence.
By adding Orphek OR3 Blue Plus LED Bars the aquarium receives an Incredible widest Blue / violet fluorescent spectrum.
The Blue/Violet spectrum 400-500nm for SPS/LPS/Soft renders the boost of coral growth and wide fluorescent coral pop. [Maximum absorption of Chlorophyllc2 (the most common form of chlorophyll c) is achieved around 447nm].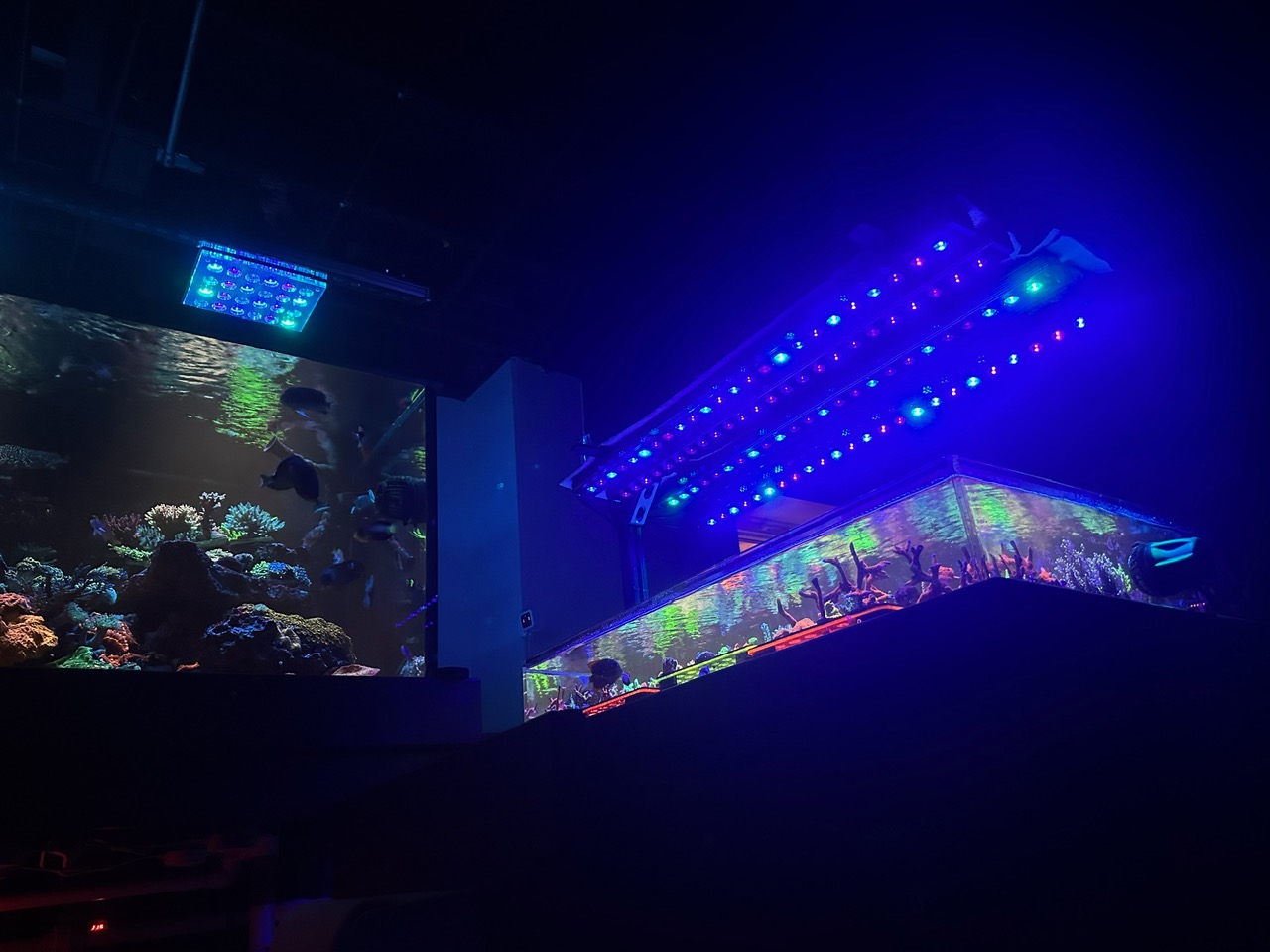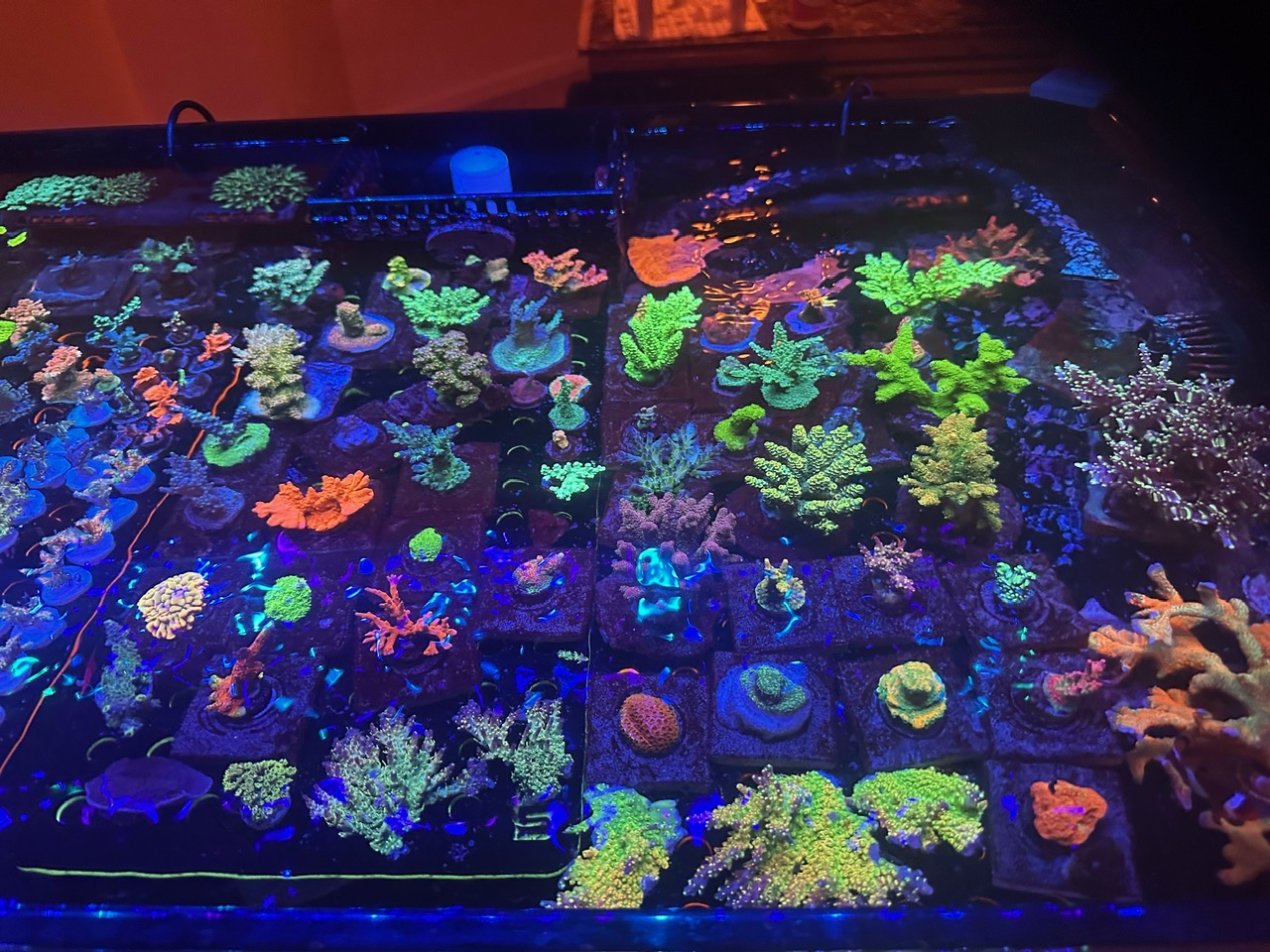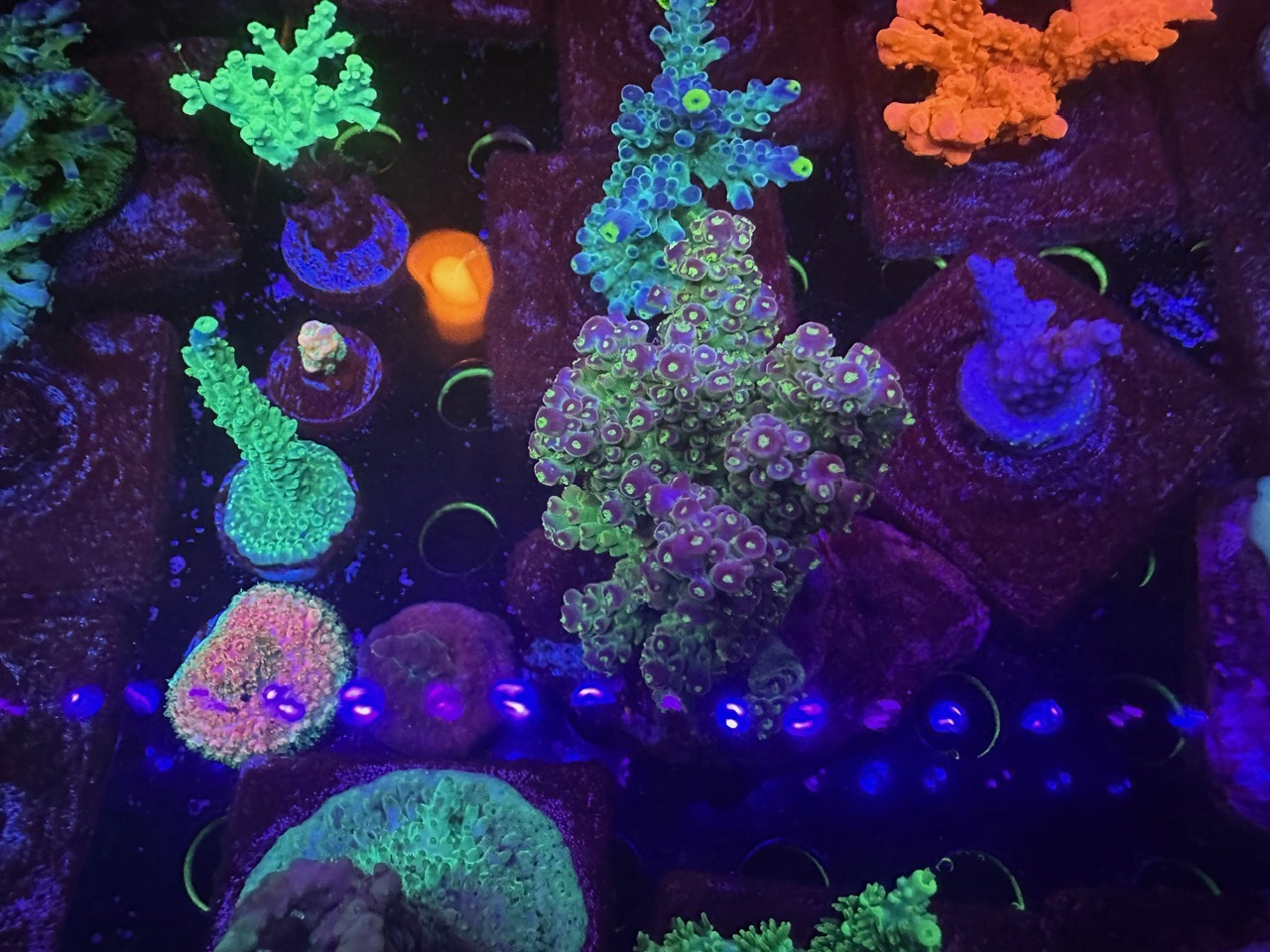 The corals and coral's layout
Residing within this captivating aquarium are an array of mesmerizing inhabitants, including Black Ice Snowflake Clowns, Banggai Cardinals, Bimaculatus Anthias, Copperband Butterfly, Desjardini Tang, Jade Filefish, Japanese Swallowtail Angel, Chocolate Tang, Multicolor Angel, Naso Tang, 1 spot Foxface, Orangeback Fairy Wrasse, Scopas Tang.
List of corals
BC Battlestag/ BC Bubblebath/ BC Xmas/ JF Solarflare / JF Foxflame/ Pearlberry/ Garf Bonsai/ KC True Yellow/ RRC Pink Cadillac/ Merlin Staff/ TSA Bill Murray/ PC Rainbow/ Green Slimmer/ Miyagi Tort/ Poison Ivy/ Orange Passion/ Home Wrecker/ Walt Disney/ Bubblegum Digi/ Forestfire Digi/ Emerald on Fire Digi/ Tyree Pink Lemonade/ Vivids Orange Julius/ Milli/ BigR Candyland/ Pink Dragon/ Frogskin Acro/ CC Pink Highlighter/ Walt Disney Jr/ RRC Jawdropper/ RMF Red Devil Nasuta/ RR Olympus/ Humility Humilis/ RR Pink Floyd/ Angrybird/ JF Jolt Tenuis/ 2GC Spartan Tenuis/ Raising Reef Blue Flame/ TGC Toxic Tenuis/ JB Copper Flame/ WWC Heartbreaker/ WRC Rainbow/ DFS Joker/ Tyree Superman Tenius/ SBB Sugar Rush/ SBB Heart Attack/ SBB Green Goblin/ BC Honey Comb/ Red Planet/ BC Therman's Rainbow/ Mother of Pearl/ Rasta Torch/ Dragon Soul Torch/ Dragon Soul Variant/ 24k Gold Torch/ Sun God Torch/ Aussie Gold Torch/ Holy Grail Torch/ The Grinch Acro/ WWC Golden Table Acro/ TGC Cherry Bomb/ SNS Wolverine/ RR The Vinh/ CB Maleficent/ Vivid Confetti/ Australian Painted War Coral/ 24k Leptoseris/ Jack-O-Lantern Leptoseris/ JF Psycho Rim Favia/ Yellow Submarine Favia/ BSA Blood Moon Goniopora/ BSA Rainbow Sakura Goniopora/ BSA Jiggy Goniopora/ BSA Mirror Image Goniopora/ BSA 24k Gold Goniopora/ BSA Pinky Dinky Goniopora/ Jelly Bean Chalice/ Miami Hurricane Chalice/ CC Cloud Berry Chalice/ JF Goldmeister Chalice/ Stained Glass Chalice/ WWC Pink Boobies Chalice/ JF Raja Rampage Chalice/ WWC Skittles Bomb Cyphastrea/ WWC Grafted Sunfire Montipora Cap/ WWC Mystery Acro/ WWC Yellow Tips Austera Acropora/ WWC Paletta Blue Acropora/ WWC Glowstick Hydnophora Acro/ WWC Nuclear Grapes Acro/ WWC Fruit Fusion Acro/ WWC Shark Attack Acro/ FF Red Robin Acro/ WWC Hollywood Dreams Acro/ WWC Dragon Slayer Acropora/ WWC Yoda Acro/ WWC Neon Plesiastrea/ Red Monti Cap/ Blue Monti Cap/ Jason Fox Boston Bean Digi/Tubs Stellata/ Bio Reef Green Goblin Anacropora/JF TNT Red Anacropora/ JF Fire Starter Montipora Hirsuta/ JF Red Hot Setosa/ JF Enchanted Forest Birds Nest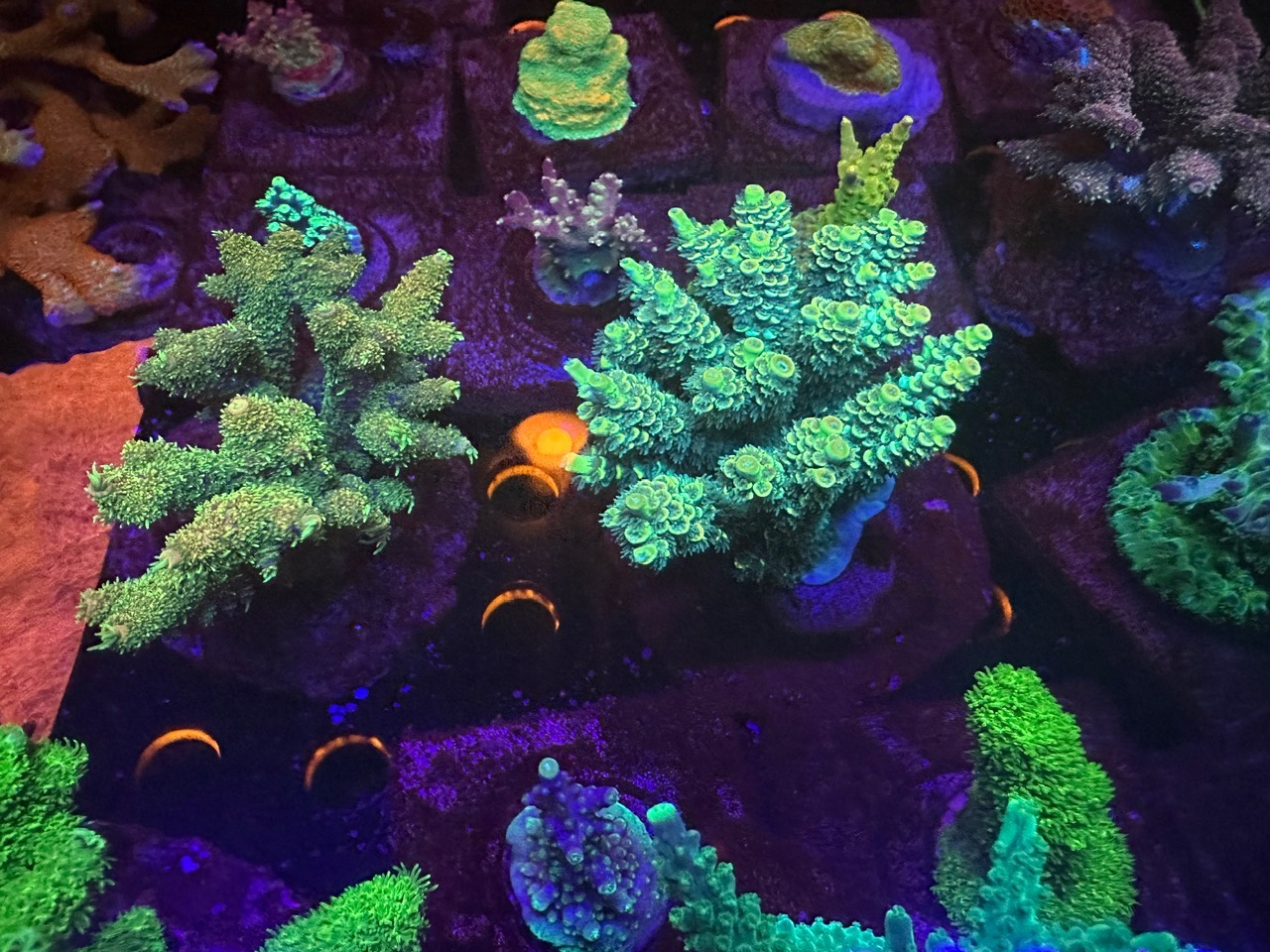 The corals within the aquarium were strategically positioned in a three-tiered layout, with some thoughtfully dispersed across the bottom of the tank'. All corals exhibit impeccable morphology, devoid of any indications of bleaching, stinging, or damage resulting from overlapping or aggressive encounters.
Unleashing vibrant coral colors
One of the most remarkable aspects of Salvador's reef tank is the vibrant colors exhibited by his corals. Thanks to the Atlantik iCon and OR3 90 Blue Plus LED Bars, he has achieved a stunning array of hues that captivate the eye.
The spectrums provided by the Atlantik iCon is instrumental in enhancing coral coloration. This carefully designed spectrum promotes the production of pigments like chlorophyll and carotenoids, which are responsible for the vivid and natural coloration seen in Salvador's corals. From cool blue and green hues, striking vibrant yellows and oranges, to intense purples, the color palette on display is simply breathtaking.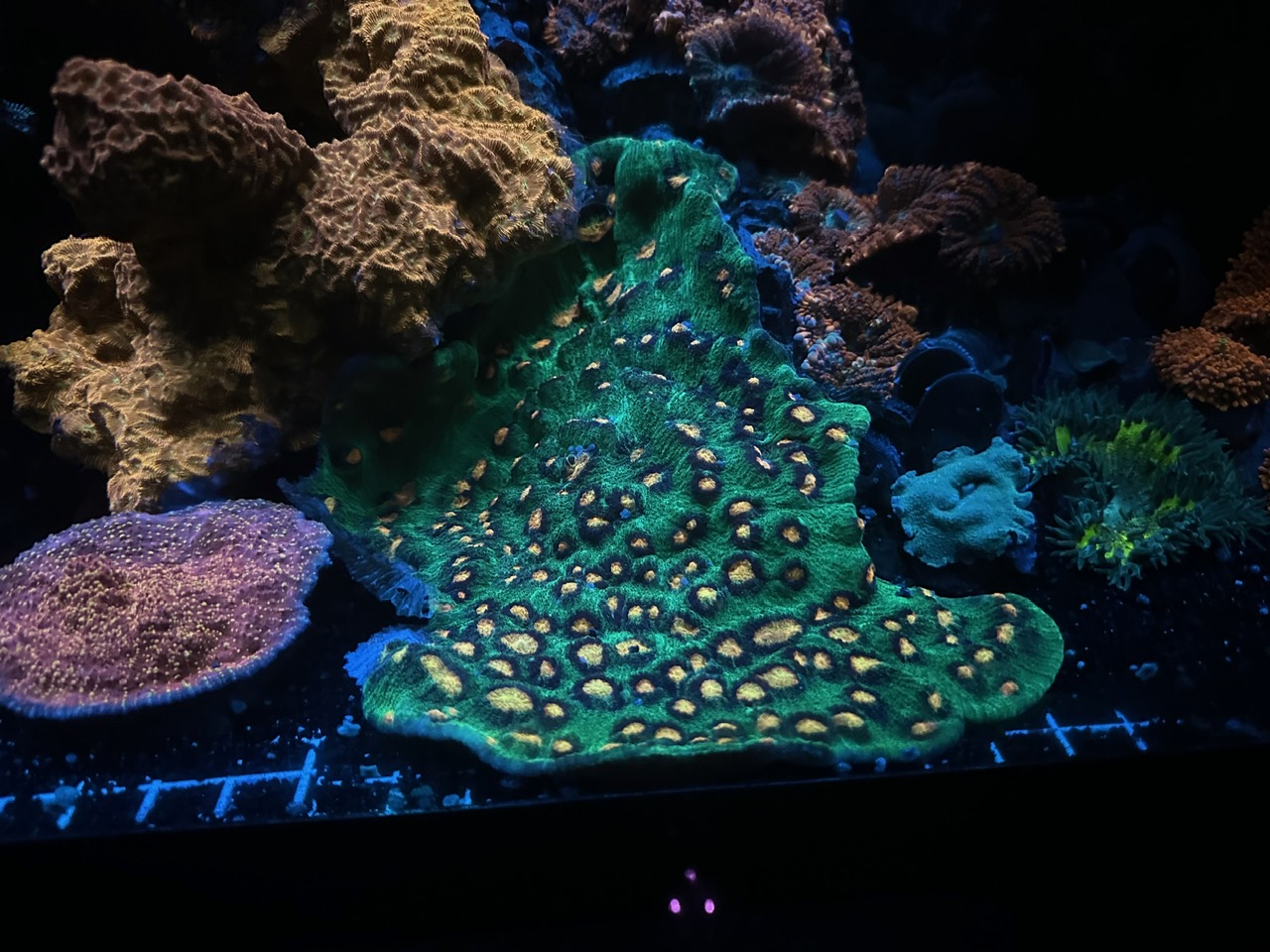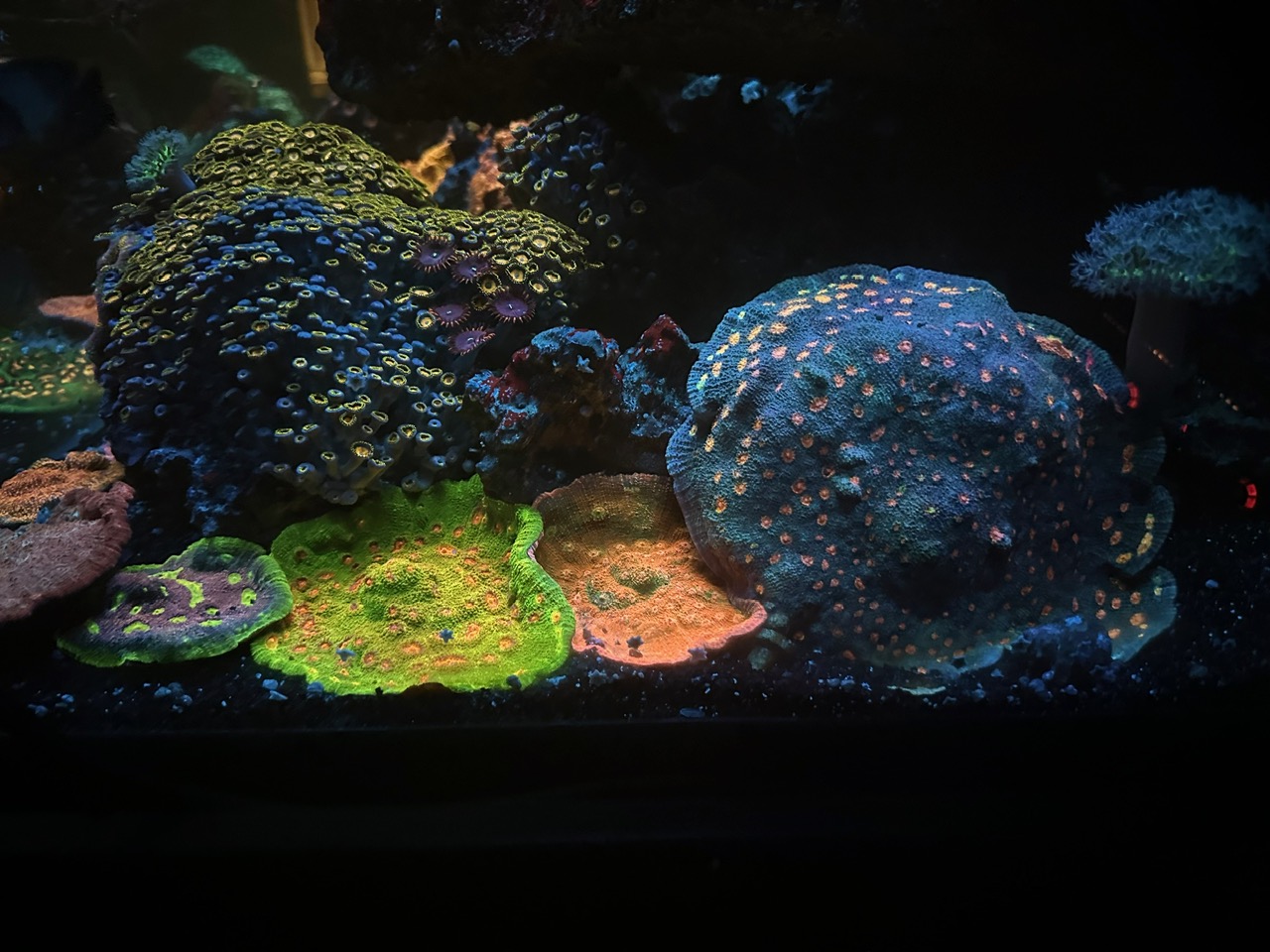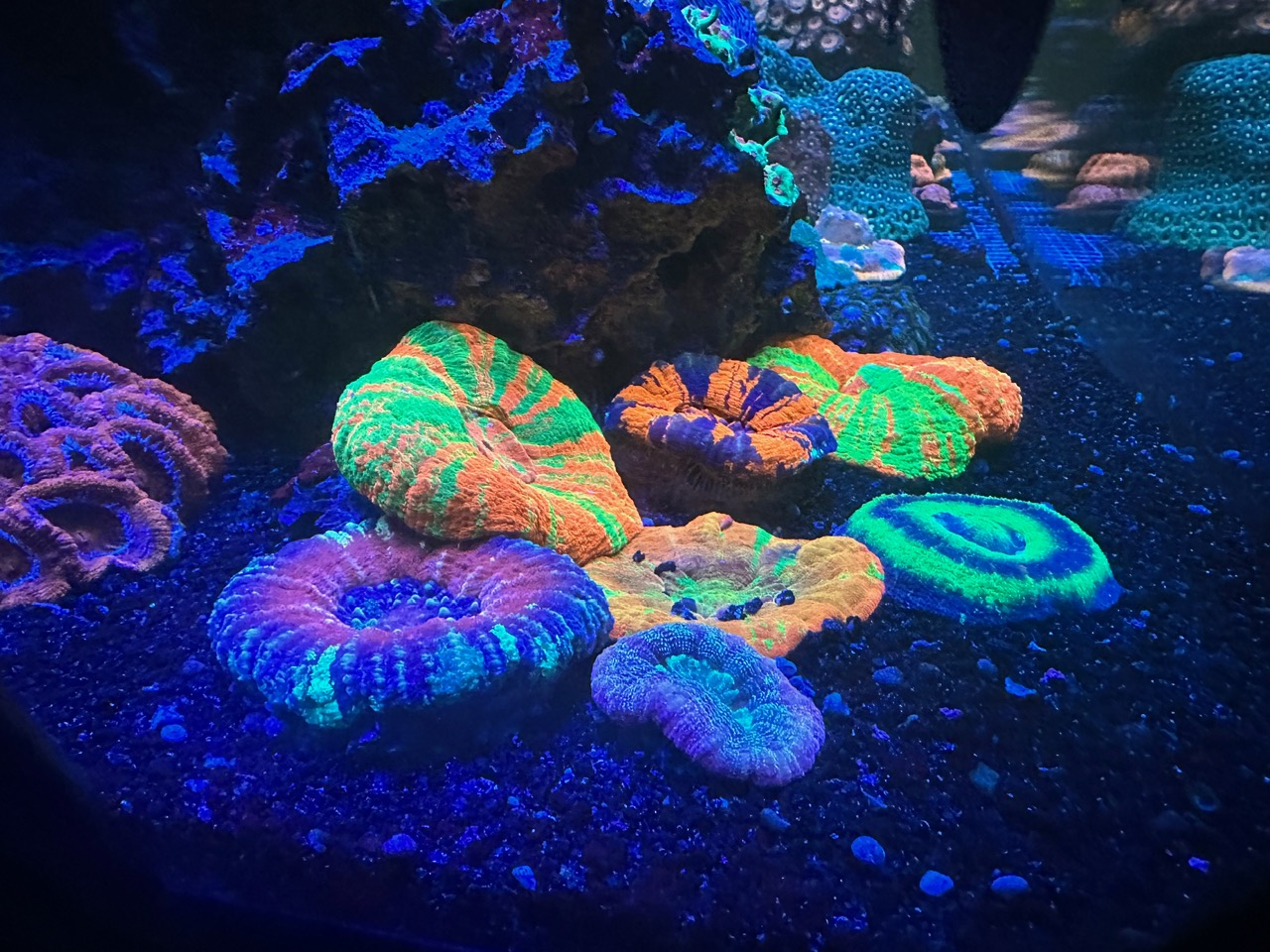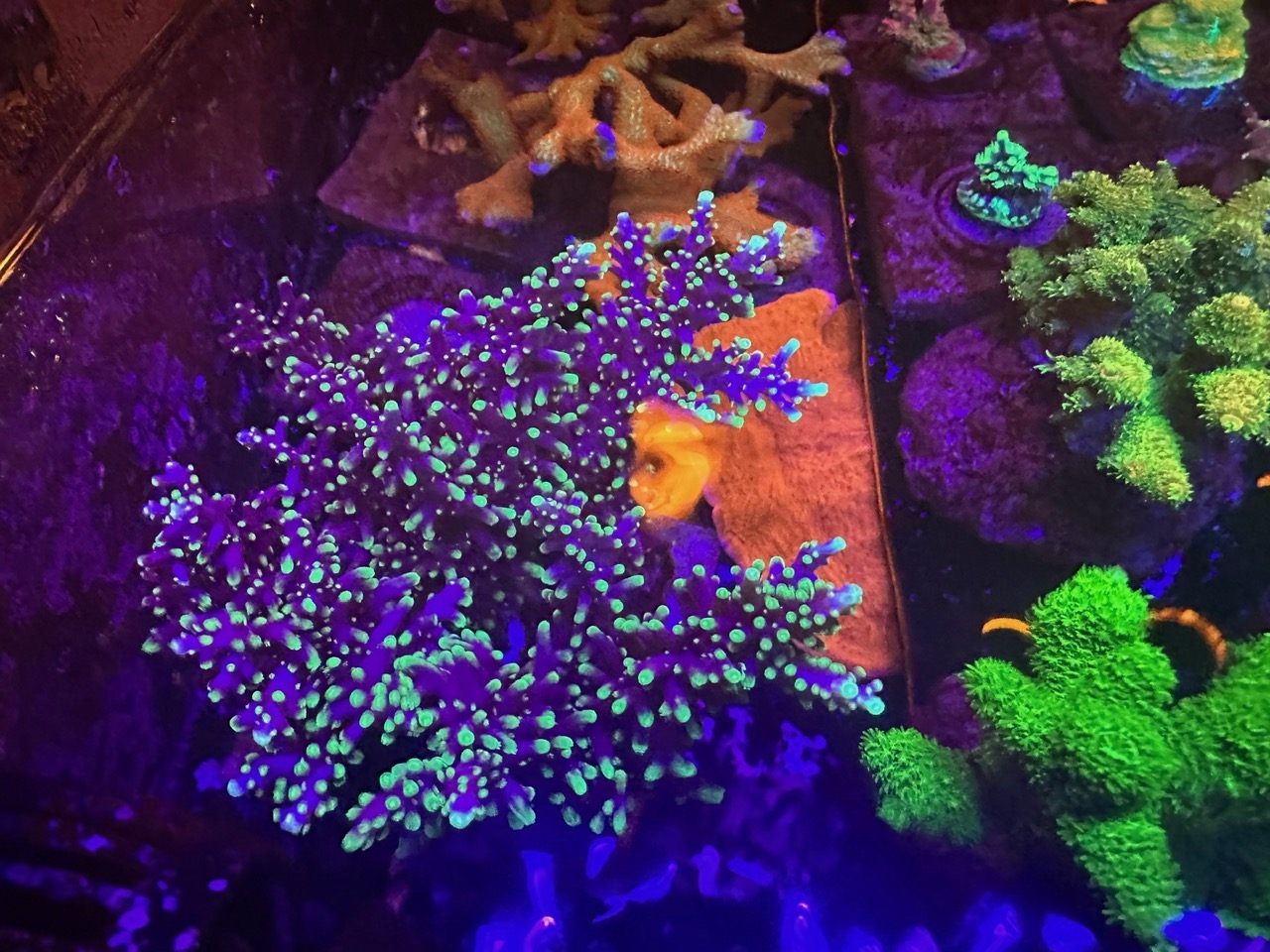 Furthermore, the exceptional PAR output of the Atlantik iCon ensures that corals receive ample light energy for photosynthesis. This translates into healthy growth and optimal pigment production, resulting in corals that truly pop with life and vibrancy.
Through his masterful composition, this aquarium serves as a genuine showcase of Orphek's steadfast dedication to excellence. Every facet of the tank embodies a harmonious equilibrium, and it brings us immense delight to witness the flourishing beauty of nature nurtured with meticulous care and guided by our clients' vision.
Salvador shared a valuable insight with us: "In addition to automation, I make it a weekly ritual to test Alkalinity (using a Hannah Checker), and when Alkalinity is maintained, Calcium and Magnesium levels stay balanced. I also monitor Salinity with a Refractometer and keep an eye on Temperature using a digital thermometer." This meticulous care, along with patience and a genuine love for the hobby, are the additional secrets/keys to his success!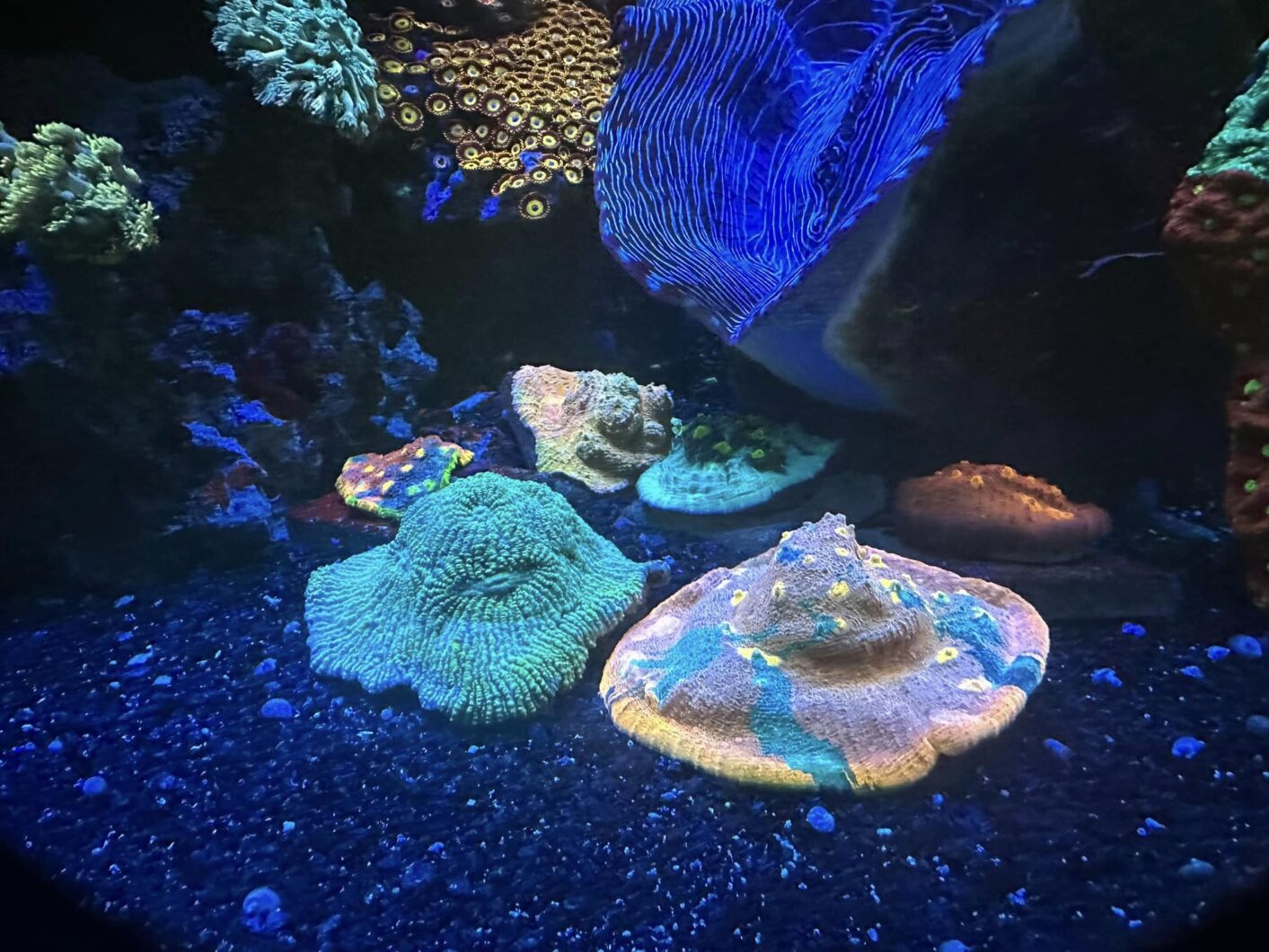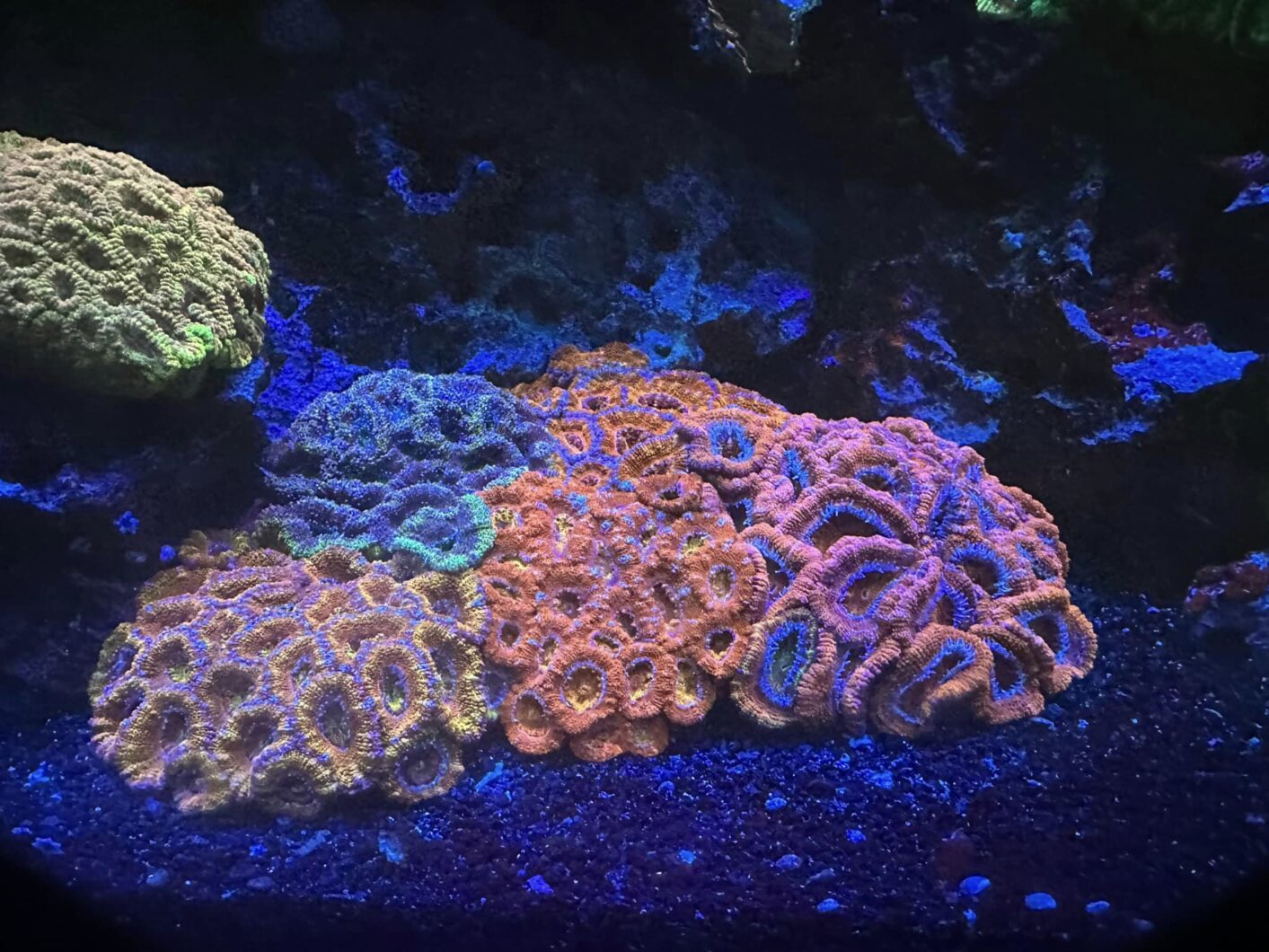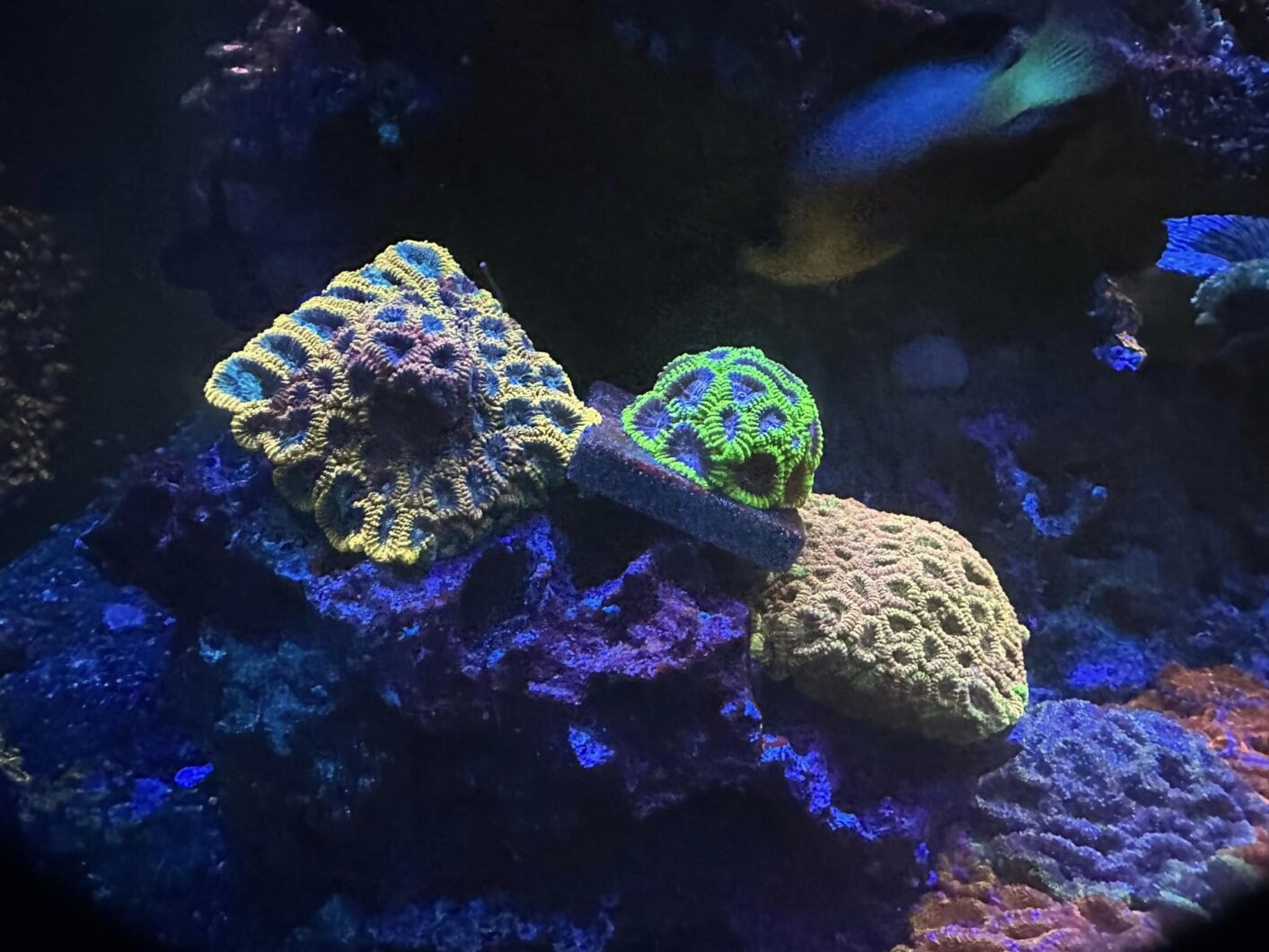 ---
Special thank you note
Orphek wishes to express its gratitude to Salvador Santana for being such a passionate reefer and an enthusiast of Orphek products. Getting to know you and exploring your journey as a reef enthusiast has been incredibly rewarding!
---
Latest articles about Atlantik iCon:
Articles about fantastic layouts & tanks with Atlantik iCon:
---
How can I order Orphek Atlantik iCon lights/ Orphek OR3 LED Bars?
Orphek offers you two ways of ordering your Atlantik iCon/OR3 LED Bars:
Go to STORE to buy in our online shop

Orphek online shop that is a brand new shopping experience for Orphek products in many languages, many currencies and forms of payment. Our online shop offers free consultancy from our sales representative near your location. We offer Free shipping – With our Door to Door worldwide Express Delivery.
---
Atlantik iCon Applications:
SPS/LPS coral reef salted water tanks
Designed to enhance beauty of both natural and synthetic compositions!
Public venues / Private aquariums
Indoors
One unit is perfect for 48″ x 30″, 120cm x 75cm SPS/LPS Corals reef aquariums
Perfect for giving your tank the natural look, mimicking nature at its fullest
Perfect for coral farming
Atlantik iCon comes with incredible features:
Intelligent Connectivity – friendly technology, operating through Orphek awesome new App., compatible with both IOS and Android, voice control and many other cool features.
Wi-Fi / Bluetooth – with iCloud support, 5G internet connectivity, high speed response, extra data security.
10,000% dimming control system – never offered in the market before!
78 customized high quality, high efficiency 5w Dual-Chip power LEDs – total of 156 individual LEDs Chip.
10 optimized different types of Dual chip 5W wide range LEDs for maximum photochemical efficiency.
26 glass lens for all UV/violet LEDS – no yellowing over the time!
Plug and play technology – effortless part's replacement for simple and easy light maintenance.
Pre-installed program for optimal coral pop color & growth
Wide convex 120 degree lens
Customization: For Deep Aquarium 90 / 60 / 45 / 15 / and 5 degree lens
Mean well Fan-less IP65 power supply
New additional awesome features for your corals and jellyfish
Six separated control and programming channels
Pre-installed program for optimal coral pop color & growth
Minimum light spillage
New improved heat dissipation and cooling system & 4 fans
Improved internal lens to make sure you are getting the best Orphek LEDs!
Extra data security

Combine Orphek products with Atlantik iCon:
Atlantik iCon Upgrades
YES! Orphek products are built to last!!
Orphek offers UPGRADE possibility of its systems. That means that you will use the same Atlantik body over and over again! It means that if you have the previous versions of Atlantik you can upgrade to our newest Atlantik model: The Atlantik iCon.
What can you upgrade?
Orphek hanging solutions

Orphek offers many options for hanging/mounting its LED Solutions. Click HERE / HERE and HERE to get to know them!
Last Published Mounting Solutions Post
New Orphek Mounting Solutions Combo Kit – 3-in-1 Fixing Bracket Universal Mounting Arm & Extension Combo Kit
---
How can I order Osix/ OR3 LED Bars/ Orphek Mounting Solutions / Combos or each product individually?

Go to STORE to buy OR3 LED Bars/ Orphek Mounting solutions/ Combo Fixing Brackets + Universal Mounting Arm+ Extension kit in our online shop.
(Obs.: Osix and Osix + OR3 Combo is not currently available in our online shop)
Go to CONTACT to buy Osix and Osix Combo
* Orphek online shop that is a brand new shopping experience for Orphek products in many languages, many currencies and forms of payment. Our online shop offers free consultancy from our sales representative near your location. We offer Free shipping – With our Door to Door worldwide Express Delivery.
** Orphek online shop sells worldwide, but if you cannot find your country in our online shop, contact us.
Awesome video reviews about Osix / OR3 LED Bars / PAR readings
Links
---
Check our groundbreaking innovations!
We are the first and only company in the world offering 10,000% dimming control system (0-100% and 0.001-1% for Moon Cycle)!
First and only company relying on decades of academic research to develop and engineer the the One and Only Real Moon Cycle in LED Reef lighting Solutions reproducing Nature at its fullest.
First and only company developing the best technology for coral growth, health, color, spawning and biological clock  correction.
First and only company offering lens adjustment and LEDs substitution without loosing waterproof protection/ customized power supply for best electricity transfer and stability – Orphek patented technologies.
First and only company developing LED lighting solutions focused on enhancing virtual and augmented realities.
First and only company developing and offering a smart device that allows aquarists to create their own fixture.
First and only company developing and offering a smart device that allows aquarists to allows you to program, control, monitor, dim and integrate all Orphek iCon LED solutions together at the same time.
We are the first company to develop "pop it up" spectrum technology for coral color enhancing.
First company to introduce Aquarium LED lighting Internet of Things (IoT) technology.
First company to develop solutions to deliver light spectrum for depths over 15 meters.
First company to develop and offer true UV/violet LEDs in reef aquariums (since 2012!).
First company that provides a wide spectrum red without using normal 660nm and 640nm LEDs.
First company making its own wide spectrum blue LEDs.
First and only company to make its own proprietary white UV LEDs.
First company to use high Kelvin white LEDs.
First company to make 100-watt matrix multicolor LED chips and first to have the technology to customize the chip to any Kelvin temperature desired.
---
Orphek invites you!
We would like to invite you to browse our website and participate with your Orphek experience.
Let us know about your tank and share it with other hobbyists in Orphek Facebook Group and Instagram!
Sharing is very easy! All you have to do is to send us the basic information about your tank, usually starting from the beginning (when you started your tank), what are you running in the tank, the living creatures you have in your tank and of course, pictures of the tank and of your corals.
---