Orphek Atlantik iCon: Unleashing Advanced LED Spectrum Customization for Freshwater Planted Aquariums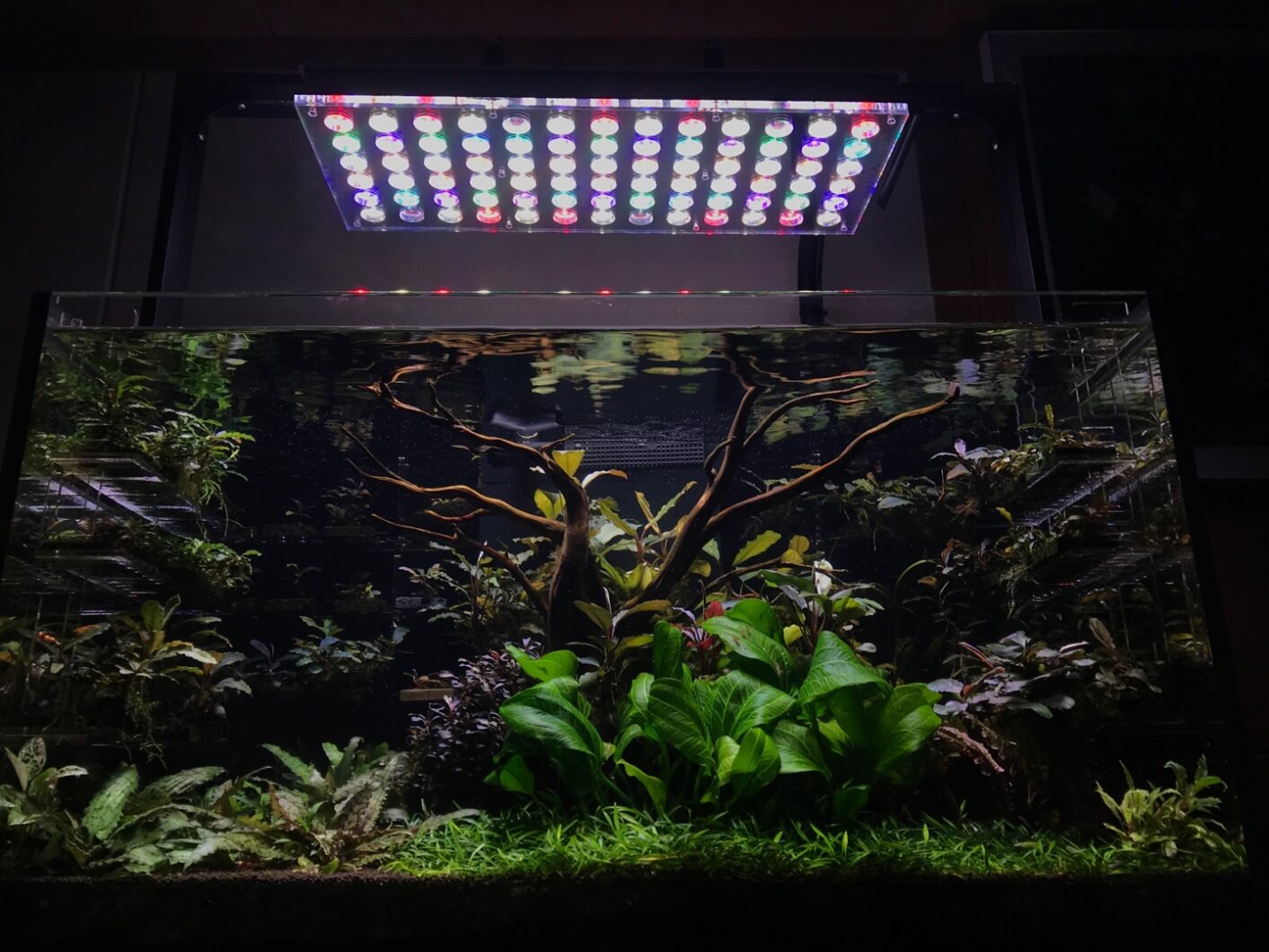 Orphek customized LED lighting solutions for freshwater planted aquariums
Orphek is a well-established brand renowned for its reef and saltwater aquarium lighting solutions.
However, what you might not be aware is that our brand also has made significant impact on the world of freshwater planted aquariums, by offering customized LED lighting solutions that renders numerous benefits to the aquarium ecosystem, including improved water quality, undesirable algae growth control, oxygen production, and habitat enrichment for the fish and other aquatic creatures residing in the tank.
With a focus on advanced LED lighting technology, we introduced innovative lighting systems tailored to meet the specific needs of aquatic plant growth and overall aquarium aesthetics of both public and private tanks.
Orphek's commitment to developing cutting-edge lighting solutions has proven to be a valuable asset for curators, researches, enthusiasts and hobbyists who are dedicated to creating and maintaining thriving and visually stunning freshwater planted aquariums.
Health, growth, color and balanced environments
In the context of freshwater planted aquariums, Orphek's lighting solutions have gained attention for our ability to provide the precise spectrum and intensity of light that fosters healthy and vibrant plant growth, and they are also developed to mimic natural sunlight, which is essential for photosynthesis.
Orphek Freshwater Planted Aquarium LED Lighting customized for private tanks
Planted aquariums aim to replicate natural underwater environments found in freshwater ecosystems, incorporating living plants to create a harmonious and balanced ecosystem.
The plants play a crucial role in enhancing the aesthetics of the aquarium, providing natural hiding spots for fish, and contributing to the overall health and stability of the aquatic environment.
Successful freshwater planted aquariums require careful consideration of factors such as lighting, substrate, water quality, to ensure the thriving growth of both plants and aquatic inhabitants.
In this week's post Orphek is all about customization and how Orphek customized the Atlantik iCon showcasing Kim Jae Young's freshwater planted aquarium and DoseAqua store located in Brazil.
Orphek & Kim Jae Young Freshwater planted Aquarium
As any experienced hobbyist Kim understands how import the choice of light is to the success of a freshwater planted aquarium, therefore he specifically selected the Orphek Atlantik iCon fixture as the quintessential LED lighting solution for his aquarium.
The result is so impressive that we needed to share the photos he has sent us.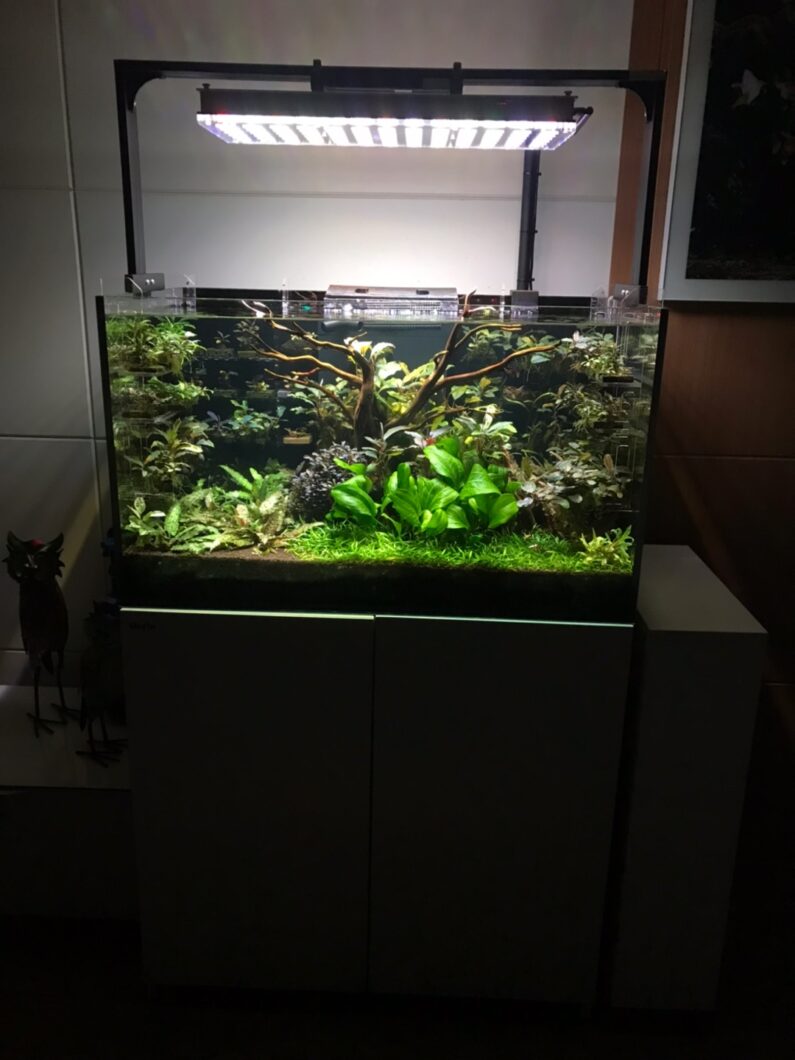 The choice of light and the results in Kim's Aquarium
The Atlantik unit design and spectrums heightened the impeccable elegance of the Kim's rimless tank structure and its remarkably clear edges. It also intensified the vibrancy of the plant's colors, significantly enhancing the tank's overall allure.
The Atlantik iCon not only contributes to the visual appeal of freshwater planted aquariums by illuminating the underwater landscape in captivating ways, but they also promotes the lush growth of his aquatic plants.
The exceptional PAR output of the Atlantik iCon ensures that plants receive ample light energy for photosynthesis. This translates into healthy growth and optimal pigment production, resulting in plants that truly shines with life and vibrancy, including high demanding carpeting plants.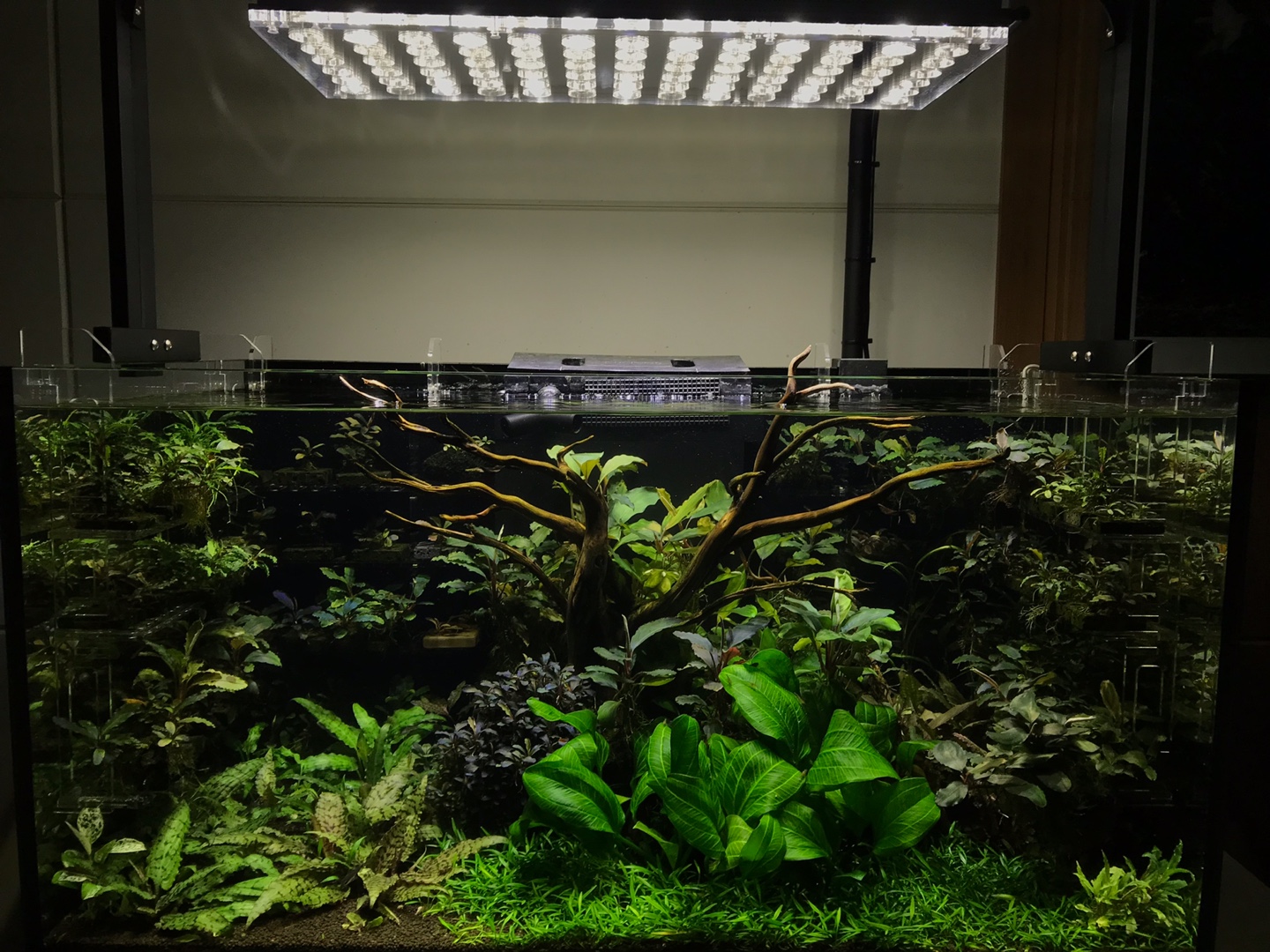 Orphek & Aquadose store freshwater planted Aquarium
Aquadose is a long established company with more than 20 yrs experience in the field of aqualandscape design for homes, offices, hotels and public venues.
Winners of many international championships and developers of more than 300 projects in South America (Brazil and Argentina), Aquadose has chosen Orphek for many of their aquariums in their shop, and our Atlantik iCon solution is over one of their freshwater planted aquarium displays.
As seen in the picture, Orphek elevated the entire ambiance. The Atlantik iCon not only enhanced the flawless refinement of the tank's rimless structure and its remarkably clear edges, but also intensified the vibrancy of the plants colors, adding substantial allure to the tank.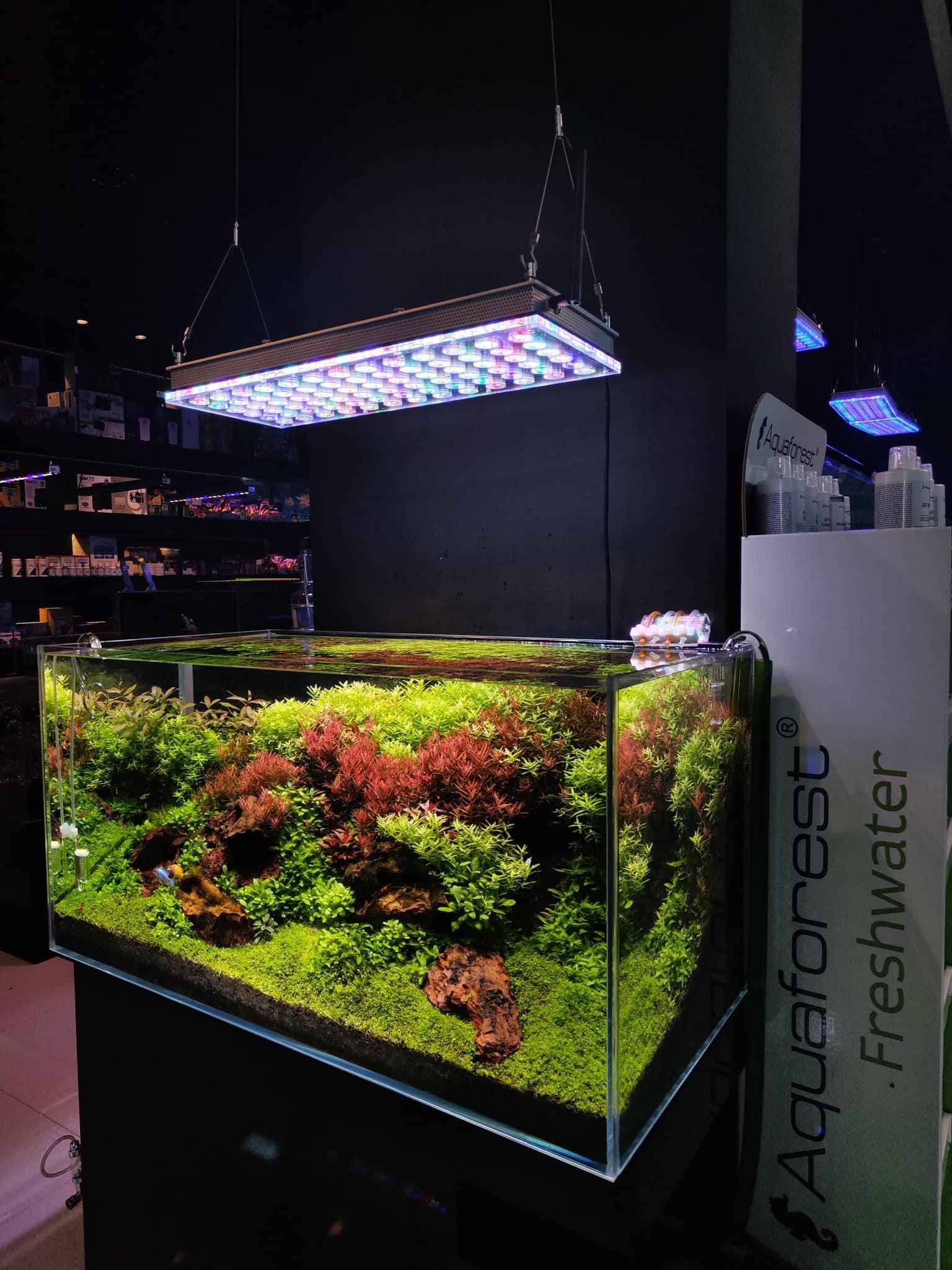 Orphek & Public Venues
Creativity, Innovation, Technology Developments and Customizations.
By developing products specifically for public venues, Orphek delivers perfect solutions build only with the best quality raw materials and sealant solutions & IP 65/67 certifications, offering LED light solutions that are solid, resilient and build to excel in performance even in extreme environments. They are also very easy to install and to perform maintenance.
Orphek LED lighting solutions renders the natural, health look to tanks of any shape, either placed in closed areas or canopies, such as gallery displays. Even elevators…
They can also be applied to make habitats such as mangroves, containing sand shorelines, mud flats, sand bars, small to medium islands, over the head mangrove roots, etc…
Not to mention that Orphek is the perfect solution for paludarium tanks, including both water and land features.
Since this semi-aquatic habitat houses a broad range of terrestrial, aquatic and semi-aquatic plants and animals, mixing land and water habitats in the same tank/area you need a LED solution that will render the perfect spectrum for both. And this is what we did!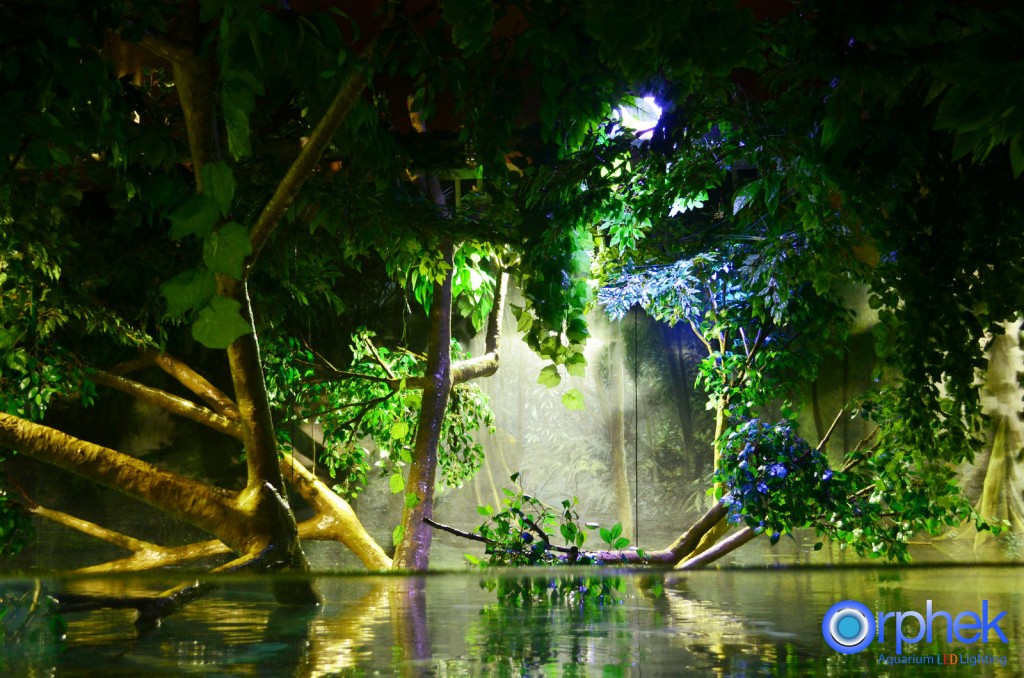 Orphek was chosen to be the supplier of LED lighting solutions for its long settled worldwide reputation proven to be the only leading company in LED lighting for aquariums with a true passion for Nature.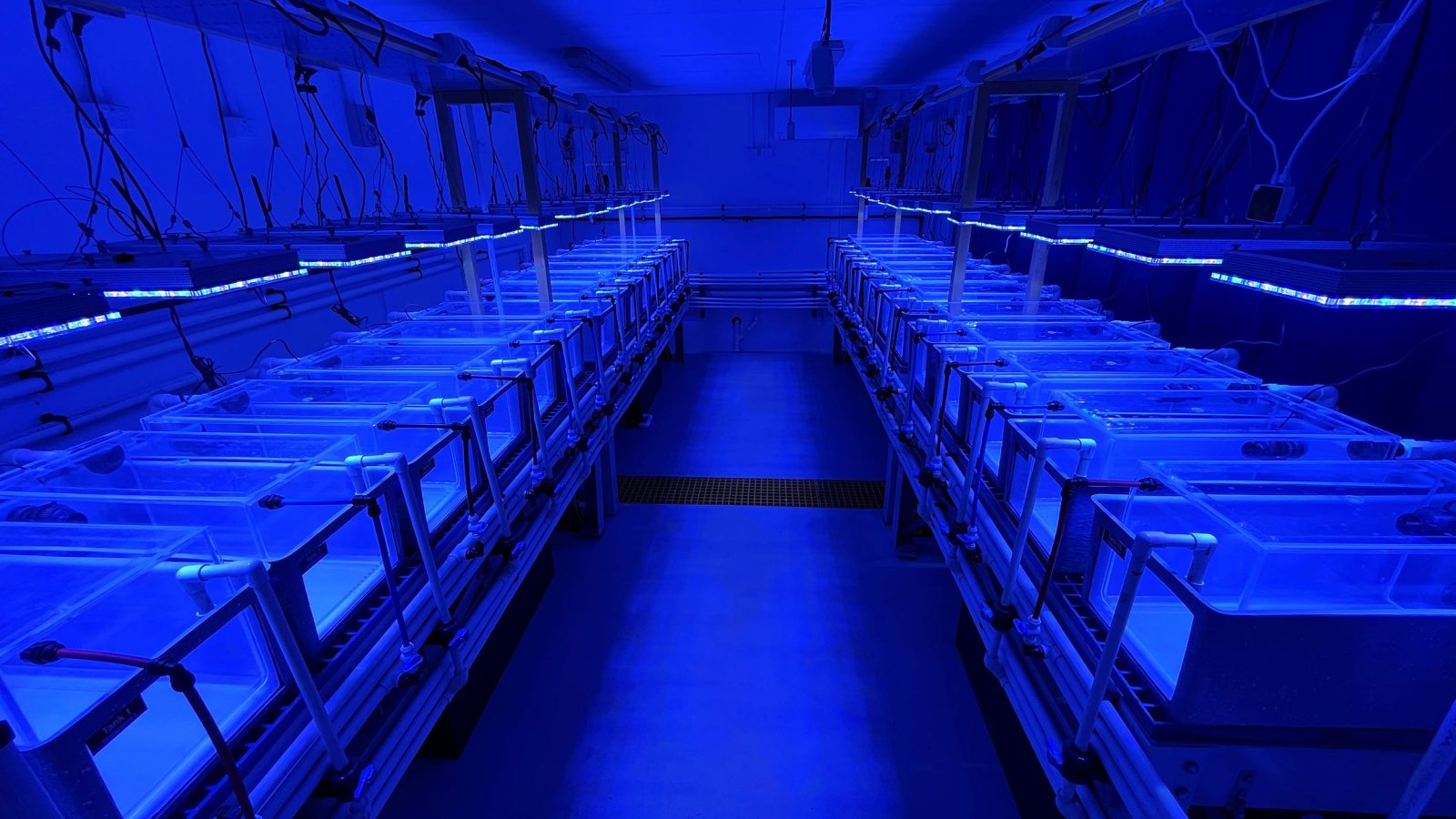 Read about The Flourishing Oceans Initiative
---
Atlantik iCon & your venue
The Atlantik iCon comes with ground breaking technology that is a game changer for curators and researchers:
Allows you to correct biological clocks; create optimal environment for spawning; while getting the best spectrum for health, growth and color vibrancy.
Allows you to use Orphek 10,000% dimming technology for Moon cycle.
Allows you to program dimming progression 24Hs a year round mimicking Nature.
Allows you to choose in what channels you will run your moonlight cycle for full customization!
---
What Orphek solutions & customizations can do for your venue:
Offer customization of spectrums to meet the specifications of your projects, involving any biological need of a wide range of organisms, coming from different types of habitat and geographic zones
We provide more natural, easy-to-adapt and healthier environment to the curated inhabitants.
We enable you create a memorable genuine experience to your visitors and healthy, safe environment to both visitors and staff.
and more...
Orphek provides the natural look of your venues when exhibited in virtual or augmented reality and videos.
We help to prevent, reduce and overcome maintenance challenges and costs.
We facilitate to meet energy consumption/reduction strategies and goals.
Click HERE to read more about Orphek & Public Venues
Orphek solutions available:
NEW ! Osix Smart Device - Osix is the new series of smart controllers with intelligent connectivity for OR3 LED Bar by Orphek. With iCon technology that allows you to program, control, monitor and dim your OR3 Reef Aquarium LED Bars and integrate them with all Orphek iCon LED solutions.
---
How can I order Atlantik iCon / OR3 LED Bars/ Orphek Mounting Solutions or any other orphek product for my home or venue?

For customization of Atlantik iCon for freshwater planted aquariums:
* Orphek online shop offers shopping experience for Orphek products in many languages, many currencies and forms of payment. Our online shop offers free consultancy from our sales representative near your location. We offer Free shipping – With our Door to Door worldwide Express Delivery.
** Orphek online shop sells worldwide, but if you cannot find your country in our online shop, contact us.
---
Latest posts:
---
All Asian:
---
Special thank you note
Orphek wishes to express its gratitude to Kim Jae Young for being such a passionate reefer and an enthusiast of Orphek products.
We like to extend our gratitude to Aquadose store and all public venues such as Chengdu Aquarium, Cairns Aquarium and The Minderoo Foundation for choosing our brand.
We also want to thank all our Asian clients who take their time taking awesome photos and sending them to us or to publish them in our social medias.
We would like to invite you to browse our website and participate with your Orphek experience.
Let us know about your tank and share it with other hobbyists in Orphek Facebook Group and Instagram!
---
Check our groundbreaking innovations!
We are the first and only company in the world offering 10,000% dimming control system (0-100% and 0.001-1% for Moon Cycle)!
First and only company relying on decades of academic research to develop and engineer the the One and Only Real Moon Cycle in LED Reef lighting Solutions reproducing Nature at its fullest.
First and only company developing the best technology for coral growth, health, color, spawning and biological clock  correction.
First and only company offering lens adjustment and LEDs substitution without loosing waterproof protection/ customized power supply for best electricity transfer and stability – Orphek patented technologies.
First and only company developing LED lighting solutions focused on enhancing virtual and augmented realities.
First and only company developing and offering a smart device that allows aquarists to create their own fixture.
First and only company developing and offering a smart device that allows aquarists to allows you to program, control, monitor, dim and integrate all Orphek iCon LED solutions together at the same time.
We are the first company to develop "pop it up" spectrum technology for coral color enhancing.
First company to introduce Aquarium LED lighting Internet of Things (IoT) technology.
First company to develop solutions to deliver light spectrum for depths over 15 meters.
First company to develop and offer true UV/violet LEDs in reef aquariums (since 2012!).
First company that provides a wide spectrum red without using normal 660nm and 640nm LEDs.
First company making its own wide spectrum blue LEDs.
First and only company to make its own proprietary white UV LEDs.
First company to use high Kelvin white LEDs.
First company to make 100-watt matrix multicolor LED chips and first to have the technology to customize the chip to any Kelvin temperature desired.