Osix OR3 reef LED bars combo 4k video review and why this may be the best LED system for reef of the year - Part II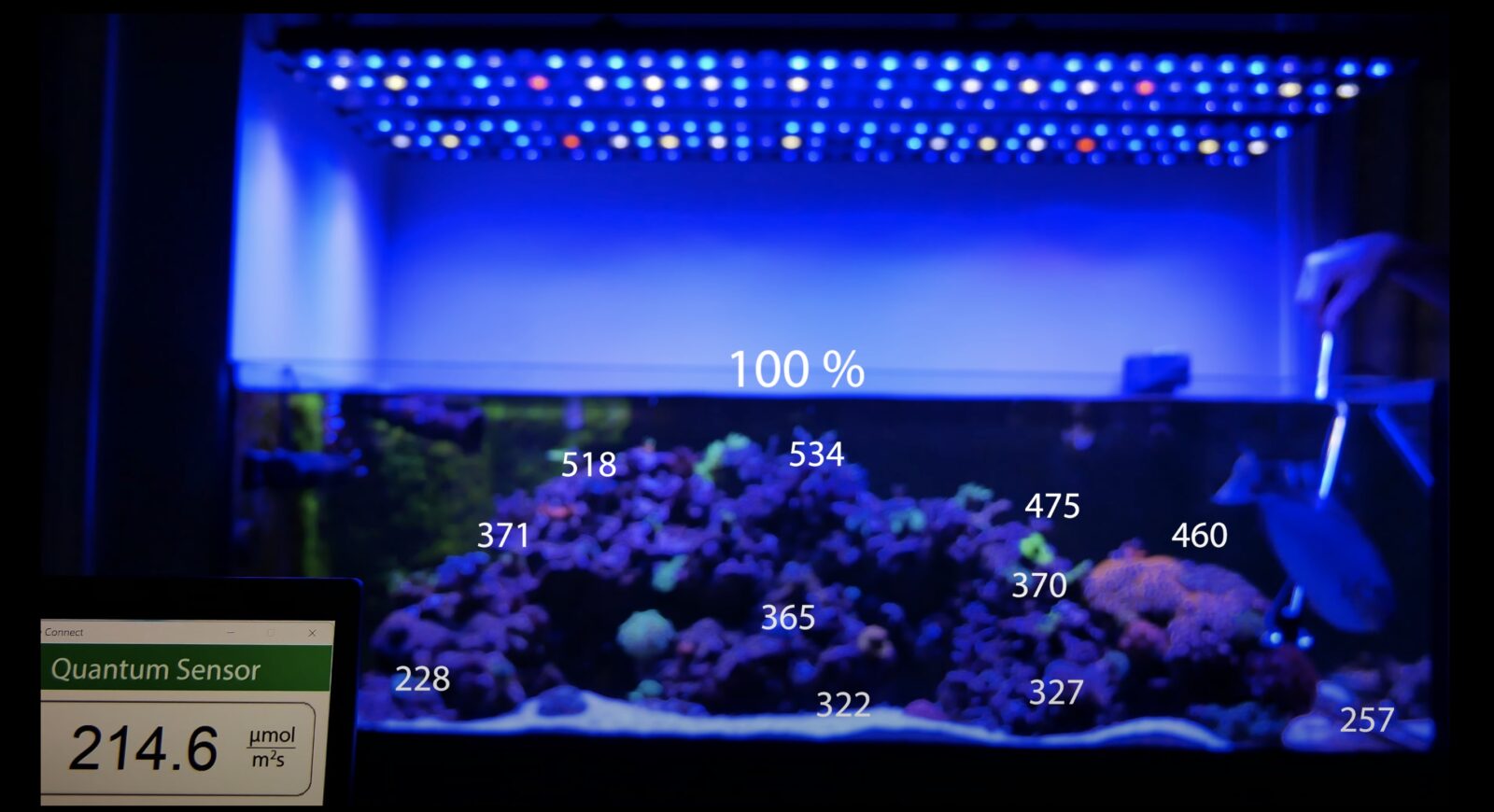 Welcome to the second part of the video review of Orphek's cutting-edge technologies by Even from @cloud9aquariums. In case you missed Part I, simply click on it to catch up.
Quick reminders: @cloud9aquariums is very popular American YouTube channel that has been entertaining and educating viewers since 2012 with captivating content on both freshwater planted and saltwater reef aquariums.
Having been thoroughly impressed by the positive feedback surrounding Orphek, he made the decision to incorporate 2 units of Orphek's OR3 Blue Plus LED Bars + 2 units of OR3 Reef Day LED Bars + 2 units of OR3 UV/Violet LED Bars into his setup for his SPS reef aquarium.
These lights were expertly assembled and suspended using Orphek's Universal Fixing Brackets and Hanging Kits. The lighting system is seamlessly controlled and dimmed by Osix and programmed through the Orphek App.
The video - Part II
In Part II, grasp this incredible opportunity to discover the PAR readings that @cloud9aquariums will generously share. Finally, you will gain a comprehensive understanding of why the combination of Osix and Orphek OR3 LED Bars might just be the ultimate lighting system for SPS corals this year, as it stands out according to Even's expertise.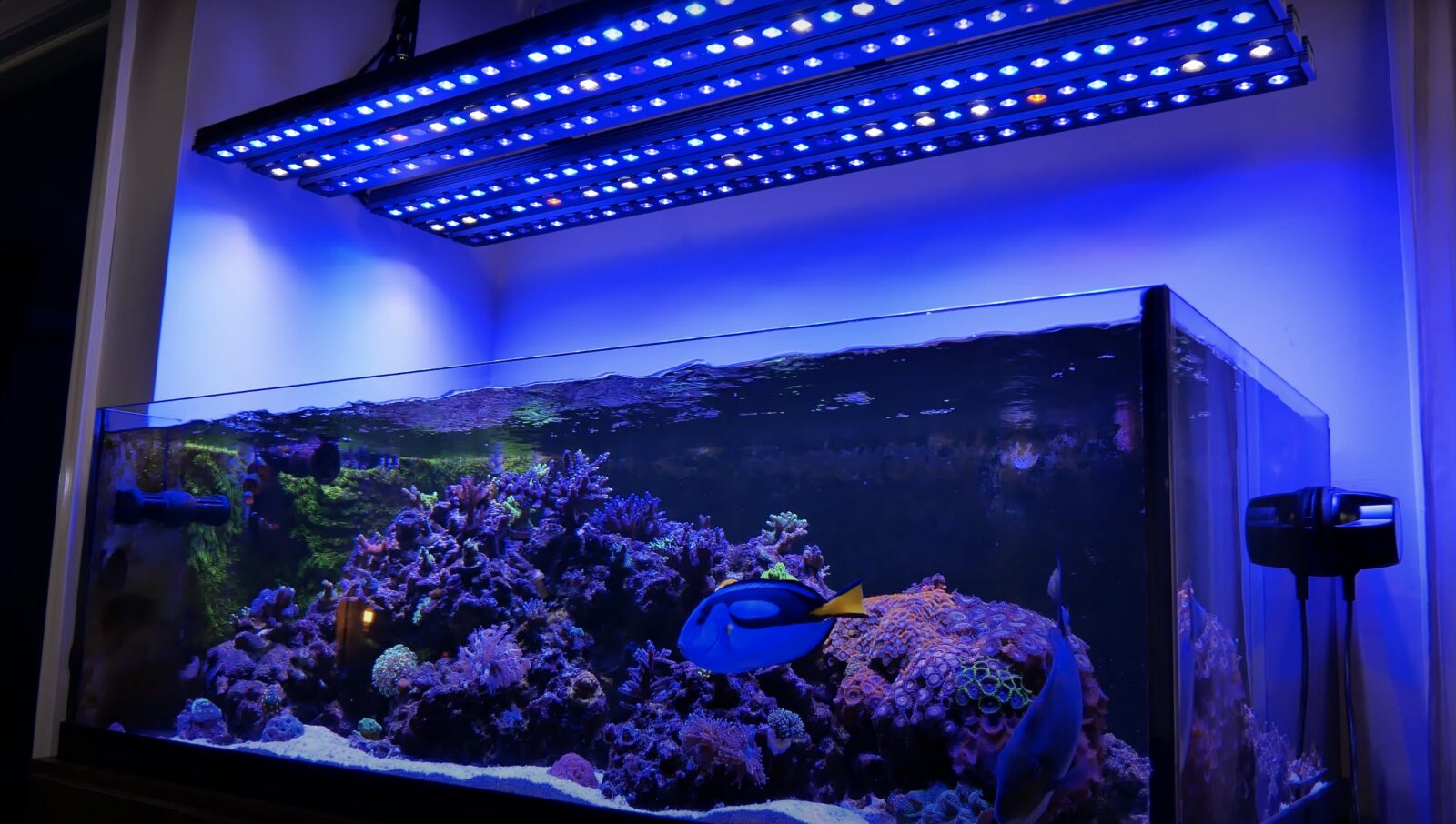 Reef aquarium size /set up layout
24 (W) X 48 (L) X 16 (D) inches - 69.9 (W) X 121.9 (L) X 40.6 (D) centimeters
Orphek lights were hanged 113 inches/33 centimeters from the tank's water surface and 29"/73.6cm from the bed sand.
PAR readings
To make the readings Even is using an Apogee SQ-420X.
[We think you know, but just in case... Apogee SQ-420X is designed, built, and calibrated at Apogee Instruments headquarters in Logan, Utah, USA. With a track record of over 25 years, the company specializes in creating research-grade instruments for scientists as well as dedicated growers and reefers.
PAR stands for Photosynthetically Available Radiation, which is light that falls into the 400-700nm spectral range. The unit for measuring PAR is micromoles per second, abbreviated as μmol/s. This unit indicates how many photons in the PAR spectral range fall onto the coral each second. PAR is measured in PPFD (Photosynthetic Photon Flux Density). PPFD measures both intensity of light and the amount of light that actually reaches the coral.
In a nutshell: PAR is light usable by corals for photosynthesis and is measured in PPFD.]
To start, Even measured PAR with his six Orphek OR3 LED Bars running at 50%. Check the screenshots below to see the impressive results!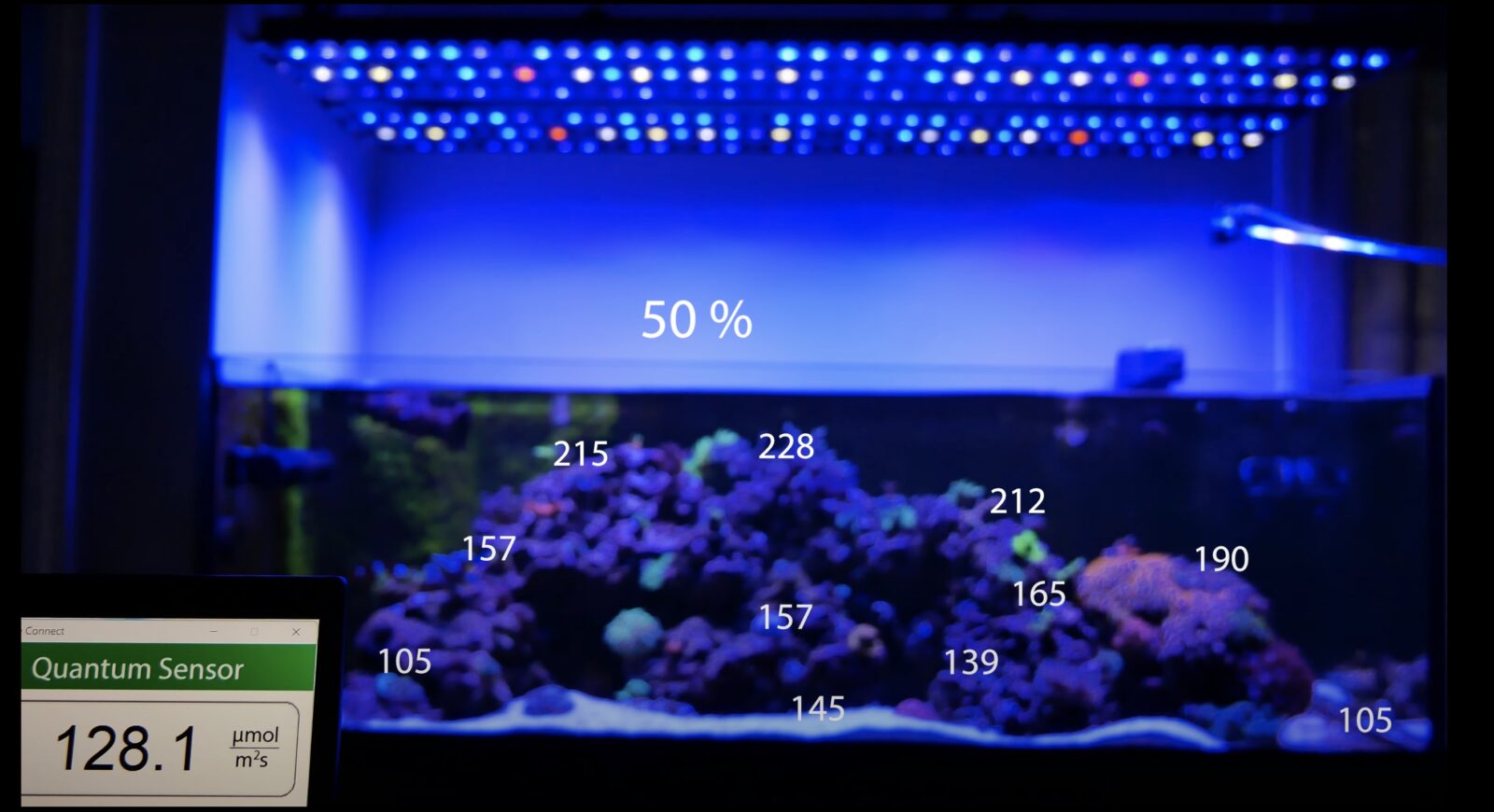 Next he measured with the lights running at 75%.
As you can see, increasing only 15% of power numbers jump more than 100 μmol/s!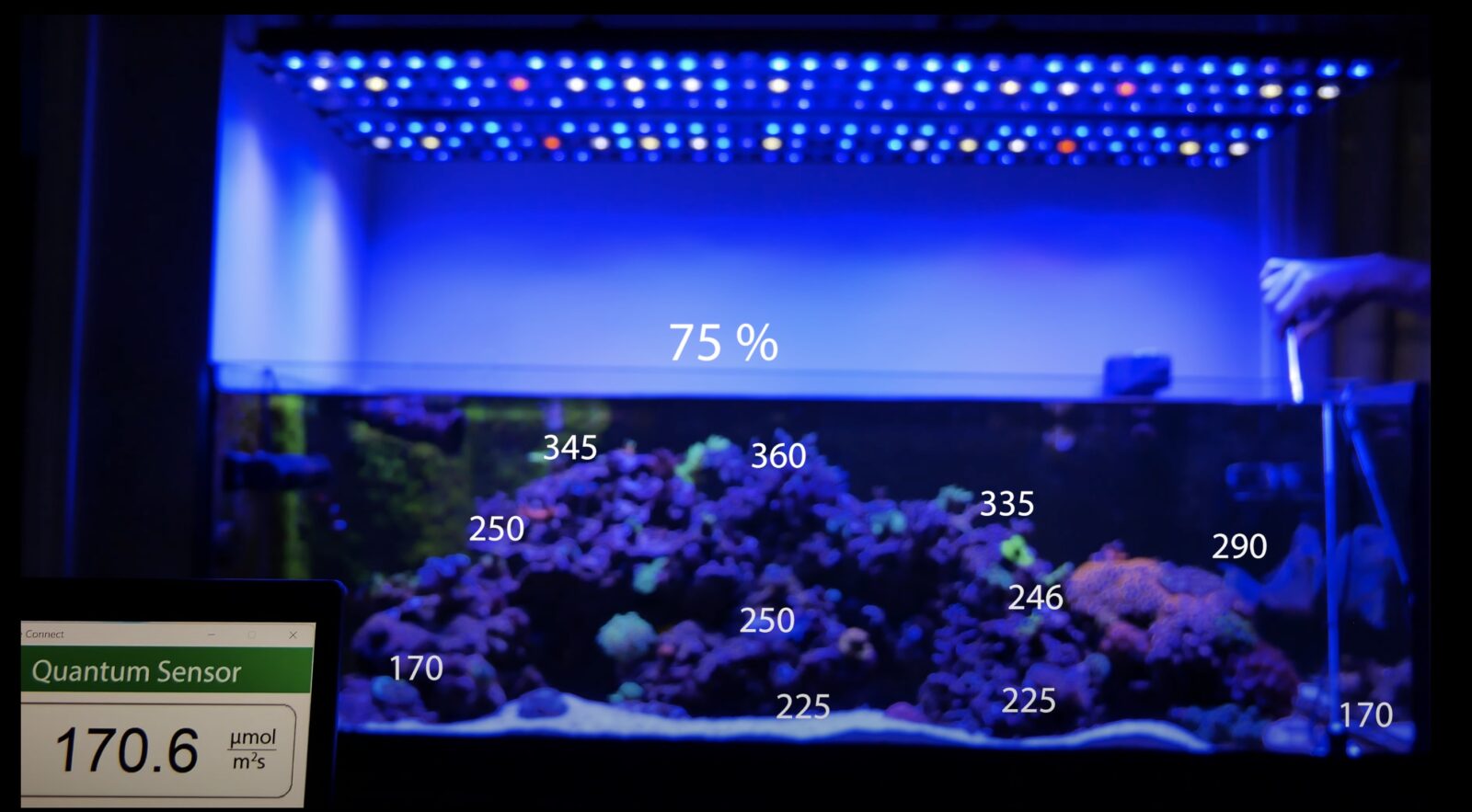 And finally, he measured with all 6 OR3 LED Bars running at 100% in all channels.
The PAR is incredibly high!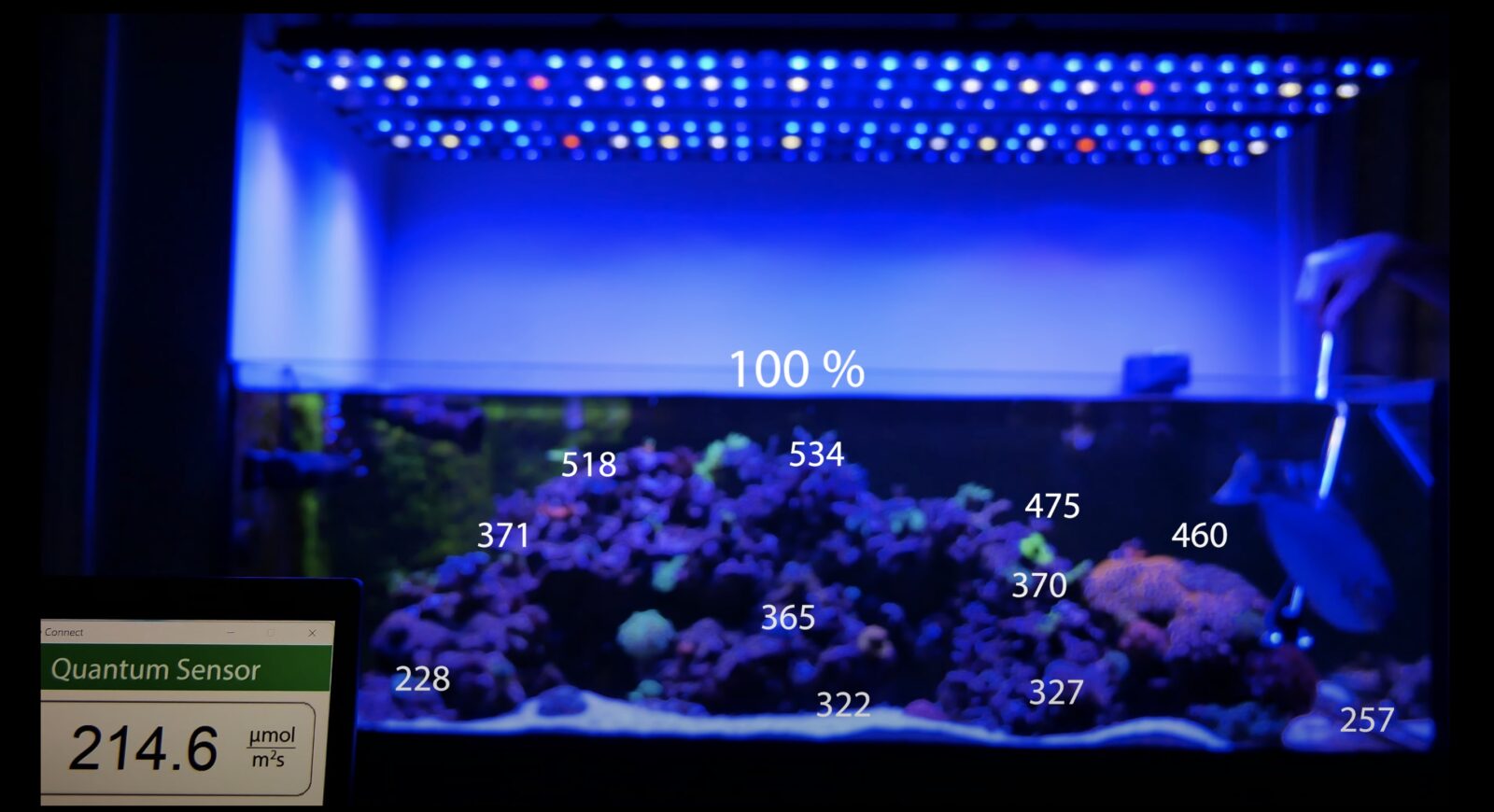 Conclusions
After conducting the PAR readings, Even draws his conclusion, and we present them below, using his exact words: "As you can see these (referring to the lights) have plenty of punch to grow any type of coral as well as an ideal spread across the tank."

As he proceeds to the final part of the video, he begins by stating that he really appreciates the clean aesthetic, solid feel, simple programming and the lack of light spill from these (referring to the lights)/ the pop and fluorescence from his tank was an instant wow factor and he add that the video doesn't do it justice.
As he continues, he has been running the lights for just a week, and while he tried the PAR match as best as he could when switching over to the system, the additional spread definitely boosted PAR in certain areas of the tank, yet everything has been still responding positively with great polyp extension and color expression.
To conclude his video Even unveils why he thinks Orphek system might be the greatest lighting system of the year: It is over built, over developed, the spread blankets the entire tank and it is so easy to set up that anyone can do it and find success.
To summarize everything he discussed in Part I:
Orphek's OR3 LED bars can easily substitute T5's providing color pop and shimmering effect.
They are IP67 waterproof certified, very heavy & solid and the make no noise.
Orphek takes R&D to another level in these fixtures by using their own proprietary 5watt LEDs and Osix is driven with a single Mean well power supply. That means one power brick and one plug.
He also chose to use Orphek's Lunar Mode, which according to the his explanation is the first of its kind. He mentions that we did extensive research into this mode and found that the true Lunar lighting is actually full spectrum and at incredibly low levels, so this mode actually allows to dim below one percent and then automatically mimics natural moon cycles and that Orphek has conveniently pre-loaded the Helius schedule in the App, which proves to be highly effective in the majority of tanks.
Orphek's shares its secret to get optimal coral health, growth & color pop:
Unprecedented high PAR readings + Perfect spectrum spread with best & even distribution of light
Indeed, with this great amount of PAR that you saw in @cloud9aquariums' video you can easily grow any SPS / LPS corals in any place of the tank!
A Thank you note from Orphek

Orphek wishes to express its gratitude to @cloud9aquariums Youtube channel for making this incredible video review of our Osix + OR3 LED Bars, and most of all, for being such a genuine passionate reefer!
---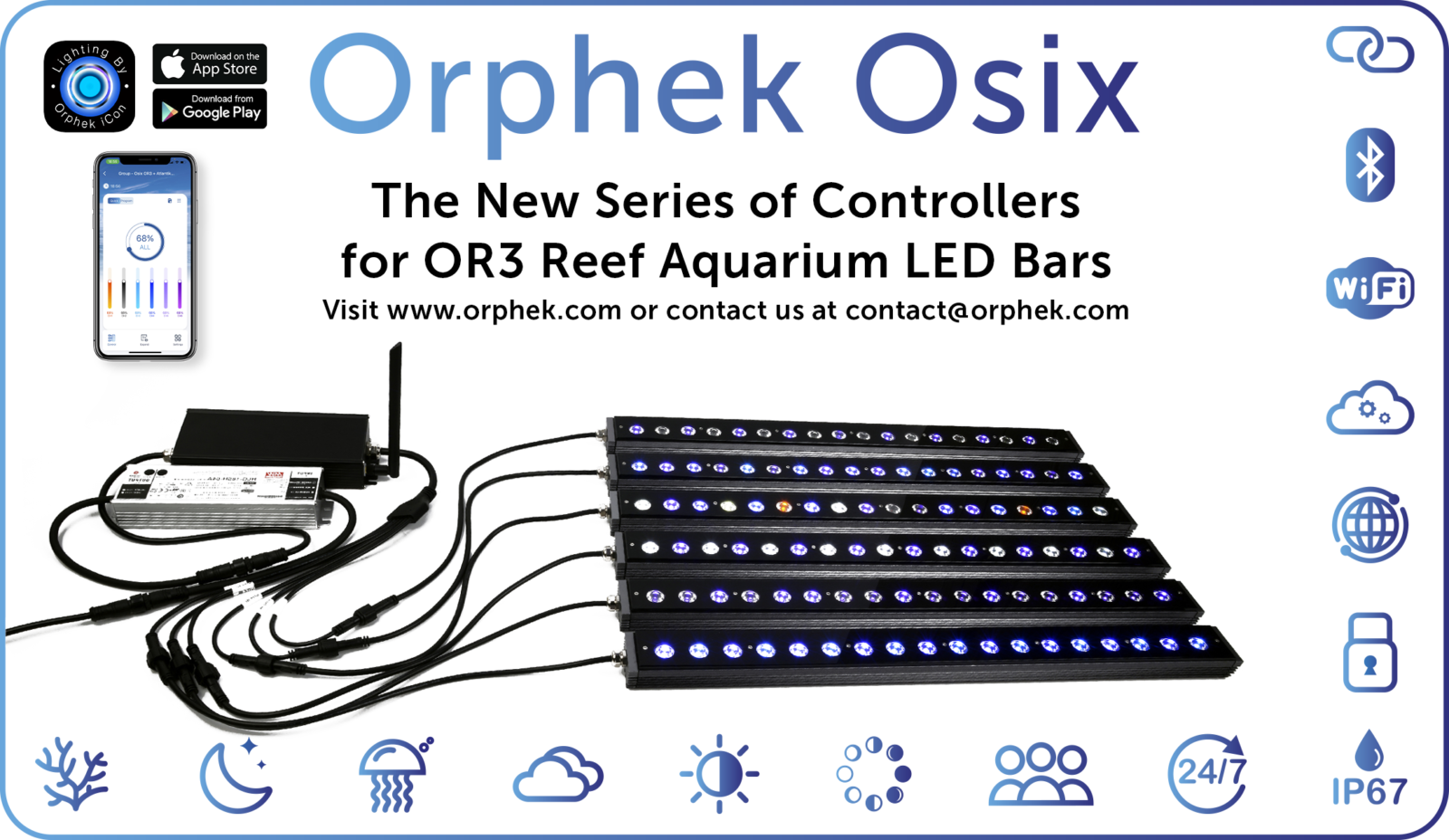 How can I order Osix/ OR3 LED Bars/ Orphek Mounting Solutions / Combos or each product individually?

Go to STORE to buy OR3 LED Bars/ Orphek Mounting solutions/ Combo Fixing Brackets + Universal Mounting Arm+ Extension kit in our online shop.
(Obs.: Osix and Osix + OR3 Combo is not currently available in our online shop)
Go to CONTACT to buy Osix and Osix Combo
* Orphek online shop that is a brand new shopping experience for Orphek products in many languages, many currencies and forms of payment. Our online shop offers free consultancy from our sales representative near your location. We offer Free shipping – With our Door to Door worldwide Express Delivery.
** Orphek online shop sells worldwide, but if you cannot find your country in our online shop, contact us.
More awesome video reviews about Osix combined with OR3 LED Bars
Latest articles posted about Osix & OR3 LED Bars Combo
Links
---
Credits
Image & content credits: All screen shots were taken from the video produced and published by@cloud9aquarium Youtube channel. Orphek has also added awesome proprietary photos of its products!
Excerpts were sourced from his comments/ personal opinion about Orphek. Orphek has added information (in Italic and between [ ]) about its products that holds significant importance and is worth sharing with our audience.
Invitation
We would like to invite you to browse our website and participate with your Orphek experience.
Let us know about your tank and share it with other hobbyists in Orphek Facebook Group and Instagram!
Sharing is very easy! All you have to do is to send us the basic information about your tank, usually starting from the beginning (when you started your tank), what are you running in the tank, the living creatures you have in your tank and of course, pictures