Orphek OSIX OR3 reef LED Bars Combo review, unboxing PAR measuring and mounting video - PART I
CJ from CJ'S Aquariums Videos is back and he surprised us with a video where he is showing the set up of the lighting system for his new Innovative Marine 75 EXT reef tank. (You will find the video in the end of this post)
And since in this video he is showing the unboxing of many Orphek products and he is also explaining a lot about Orphek OR3 LED Bars, we decided that it was worth sharing it here.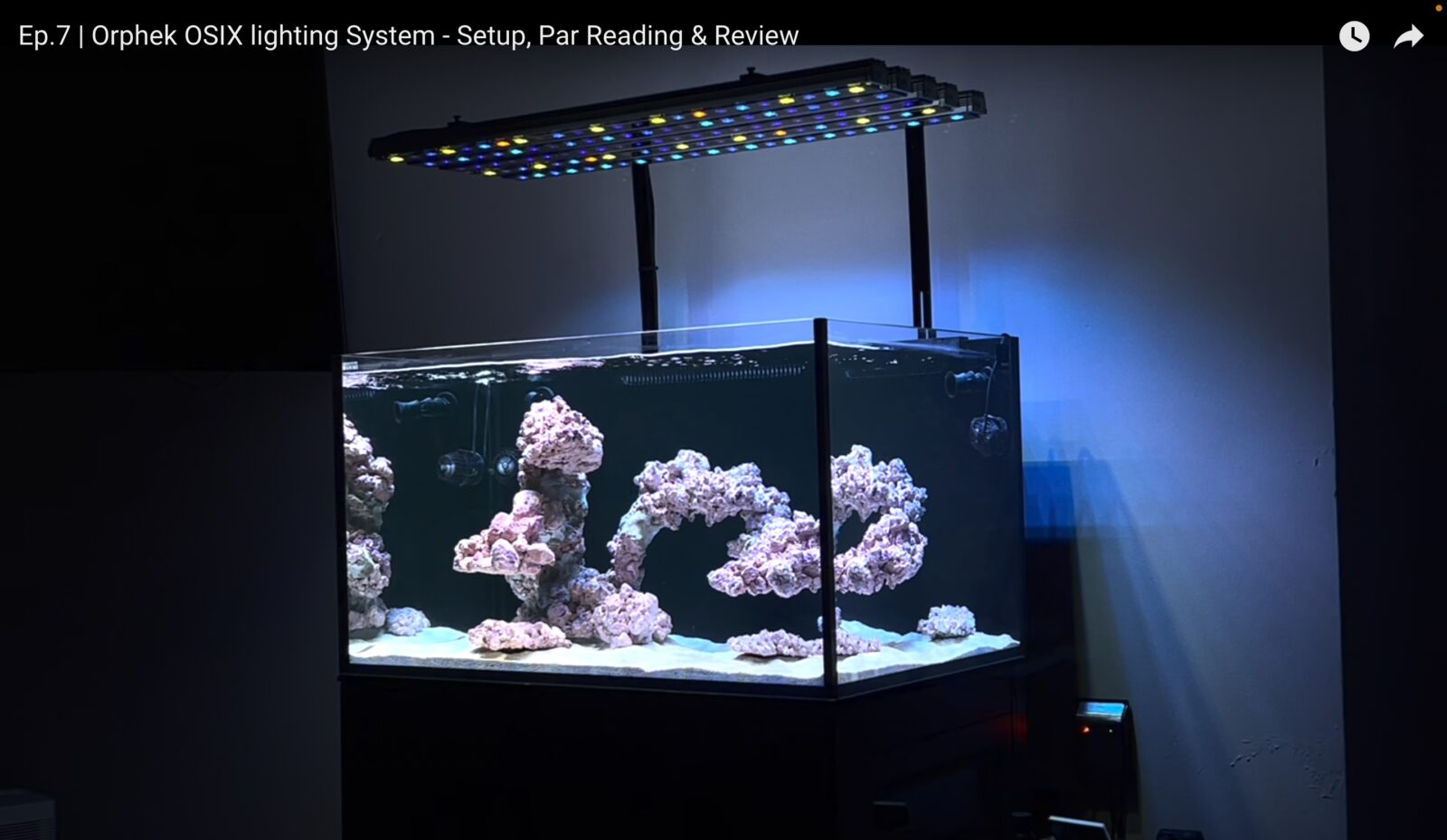 You will also get to understand how to mount the OR3 LED Bars over the tank and program them with OSIX controller via Orphek's awesome App. Not to mention that it is a great opportunity to check PAR readings and see the lights working over the tank.
If you are a non English speaker, don't worry! We extracted some parts of the video and we are posting here!
IMPORTANT: We divided the video in two posts.
So, in Part I we will bring the part of the video where he will show the mounting of the OR3 LED Bars and in PART II we will continue to show the remaining part of his video where the explain about the app., shows PAR readings and the spectrums of our awesome OR3 LED Bars.
OBs.: All his opinions about Orphek product were displayed in bold or italic letters.
So let's start!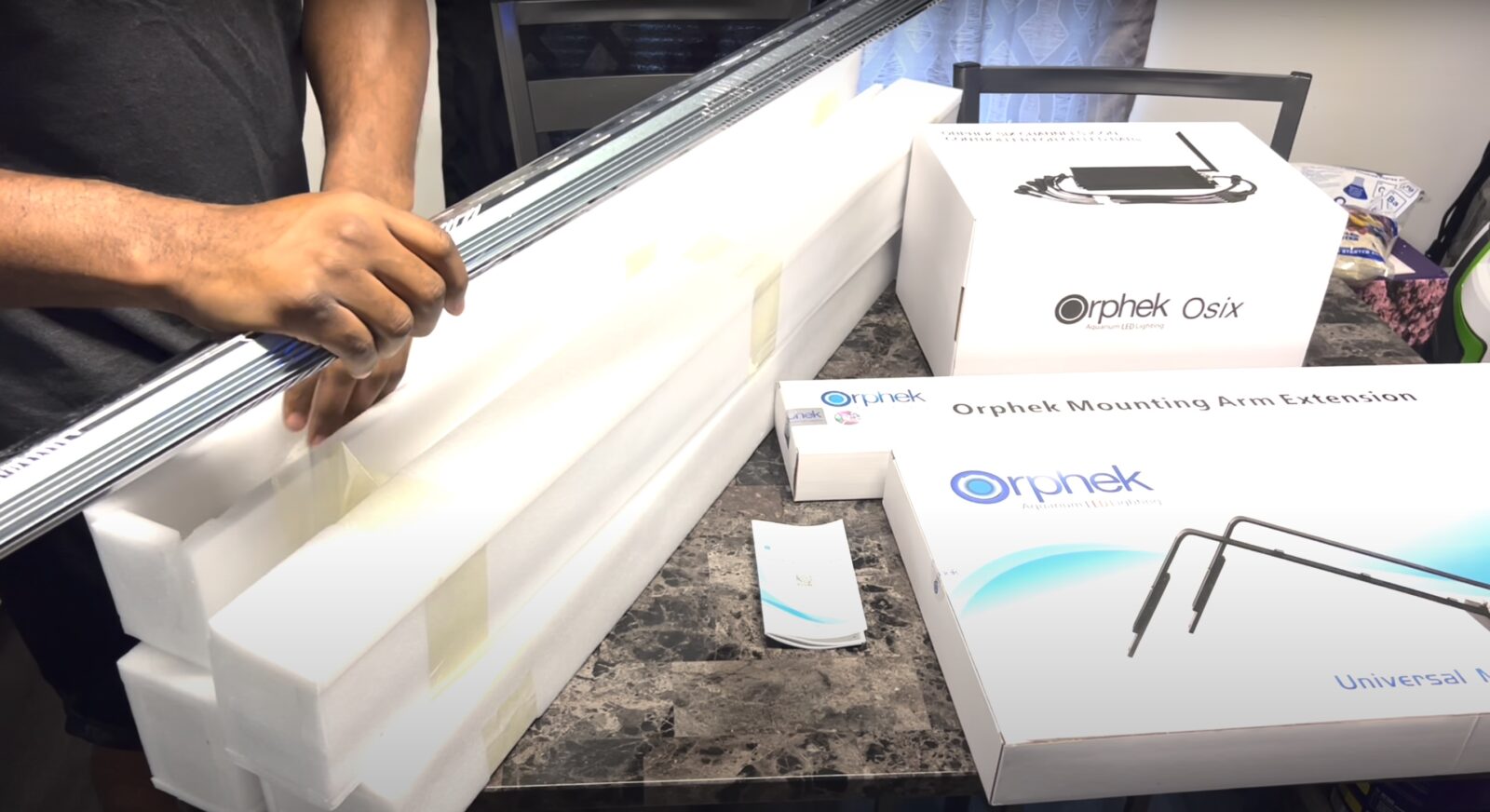 For his Innovative Marine 75 EXT reef tank CJ chose a total of 5 units of Orphek's OR3 90 LED Bars: 1 OR3 Reef Day + 1 OR3 Blue Plus + 1 OR3 UV + Violet + 1 OR3 Reef Day and 1 OR3 Sky Blue (in that order), to be assembled together and controlled by Orphek OSIX Smart Controller with iCon technology.
Unboxing the OR3 LED Bars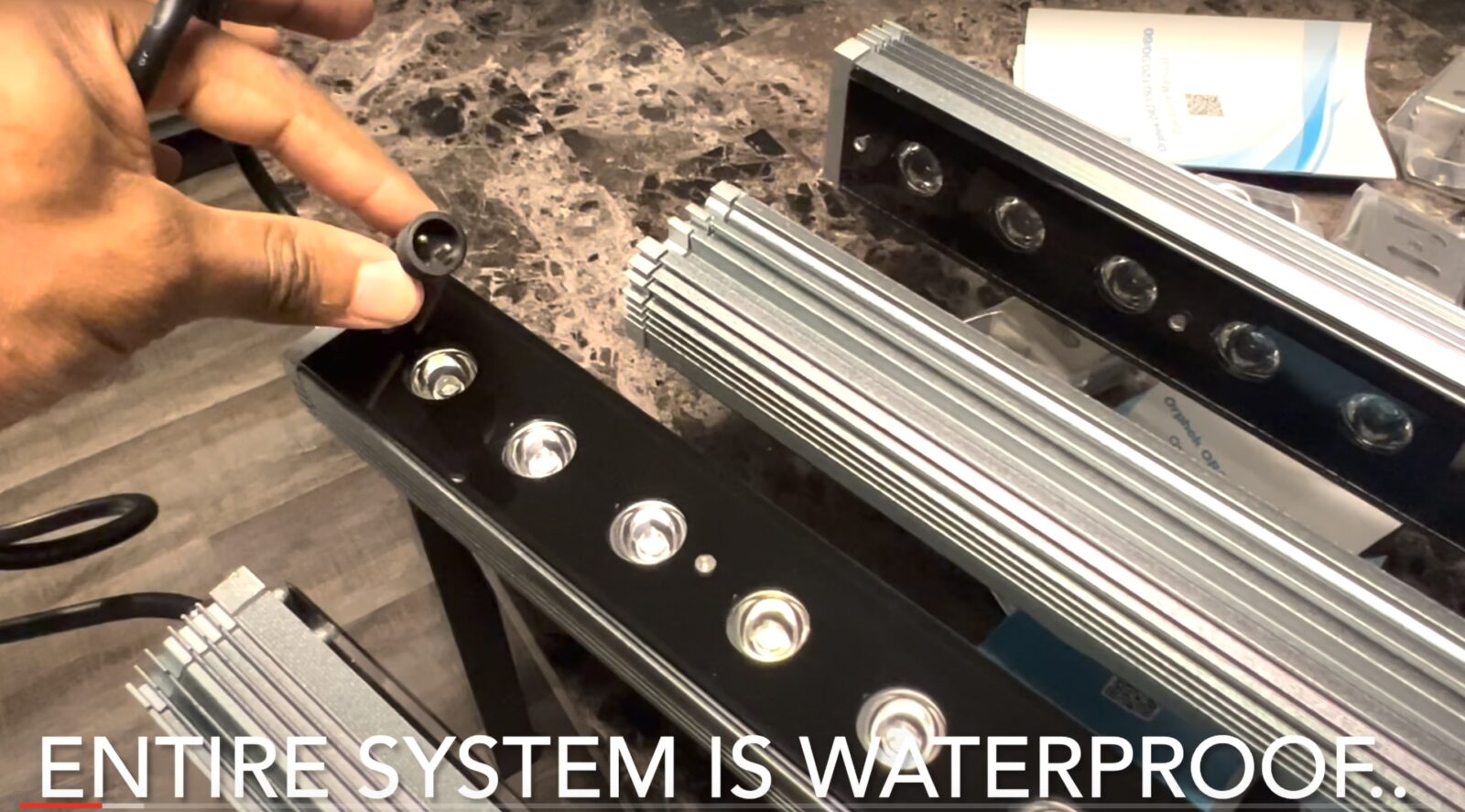 CJ starts by unboxing his OR3 LED Bars and to make a story short his impressions were:
"After opening and taking out of the foam what you will find is some SOLID reef bars/ PRETTY HEAVY/ I was pretty surprised how HEAVY they were and also how WELL CONSTRUCTED they were/they are SOLID and there is NO FLEXING AT ALL."
He also mentioned that the OR3 LED Bars are WATERPROOF.
In a nutshell he was pretty impressed by how MASSIVE our OR3 LED Bars are.
And indeed our OR3 LED Bars are IP67 certified with high quality materials, really resilient to the most extreme environments, with a thick 8mm acrylic top cover!
Mounting the OR3 LED Bars with Orphek Mounting Arm/ Fixing Bracket and Mounting Arm Extension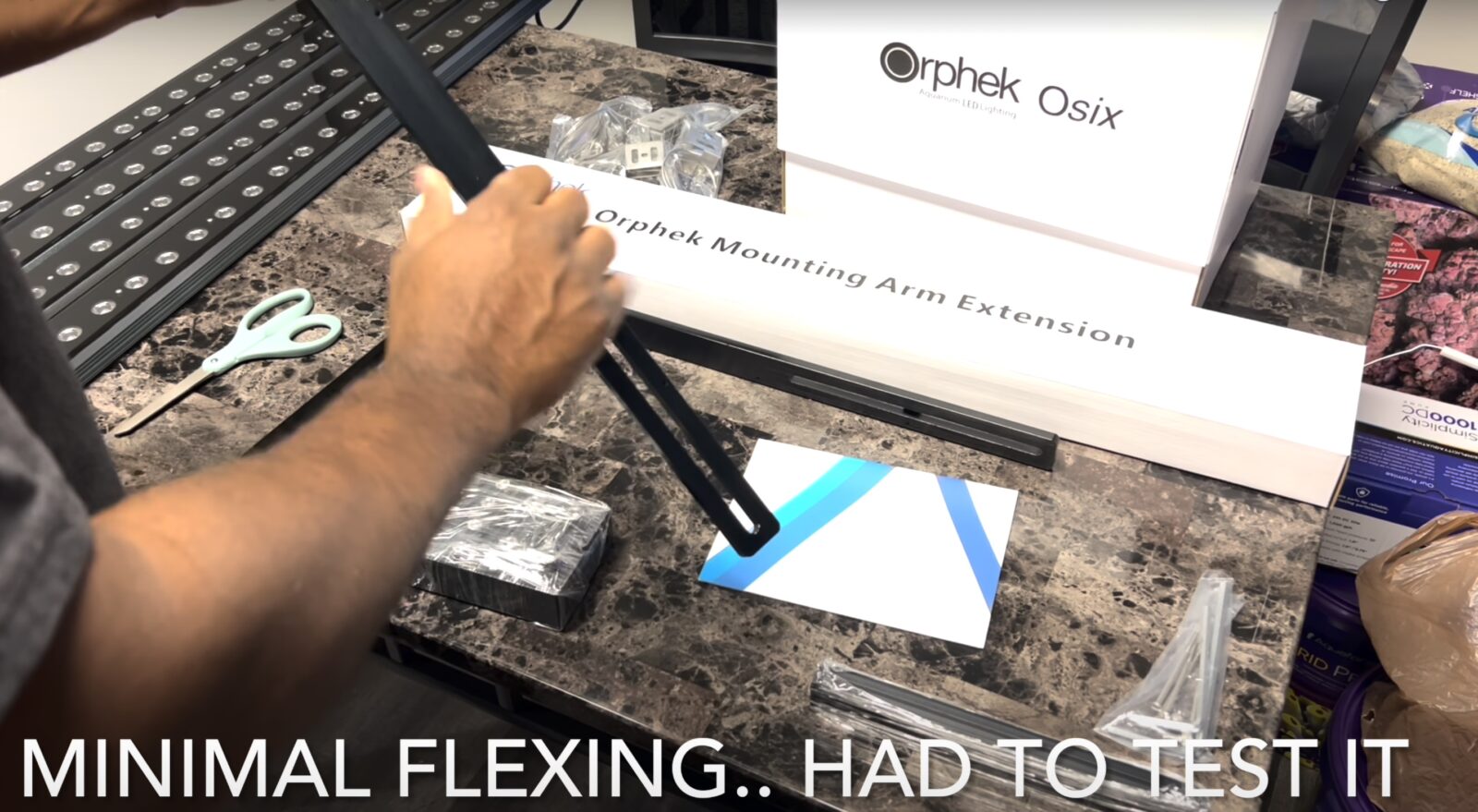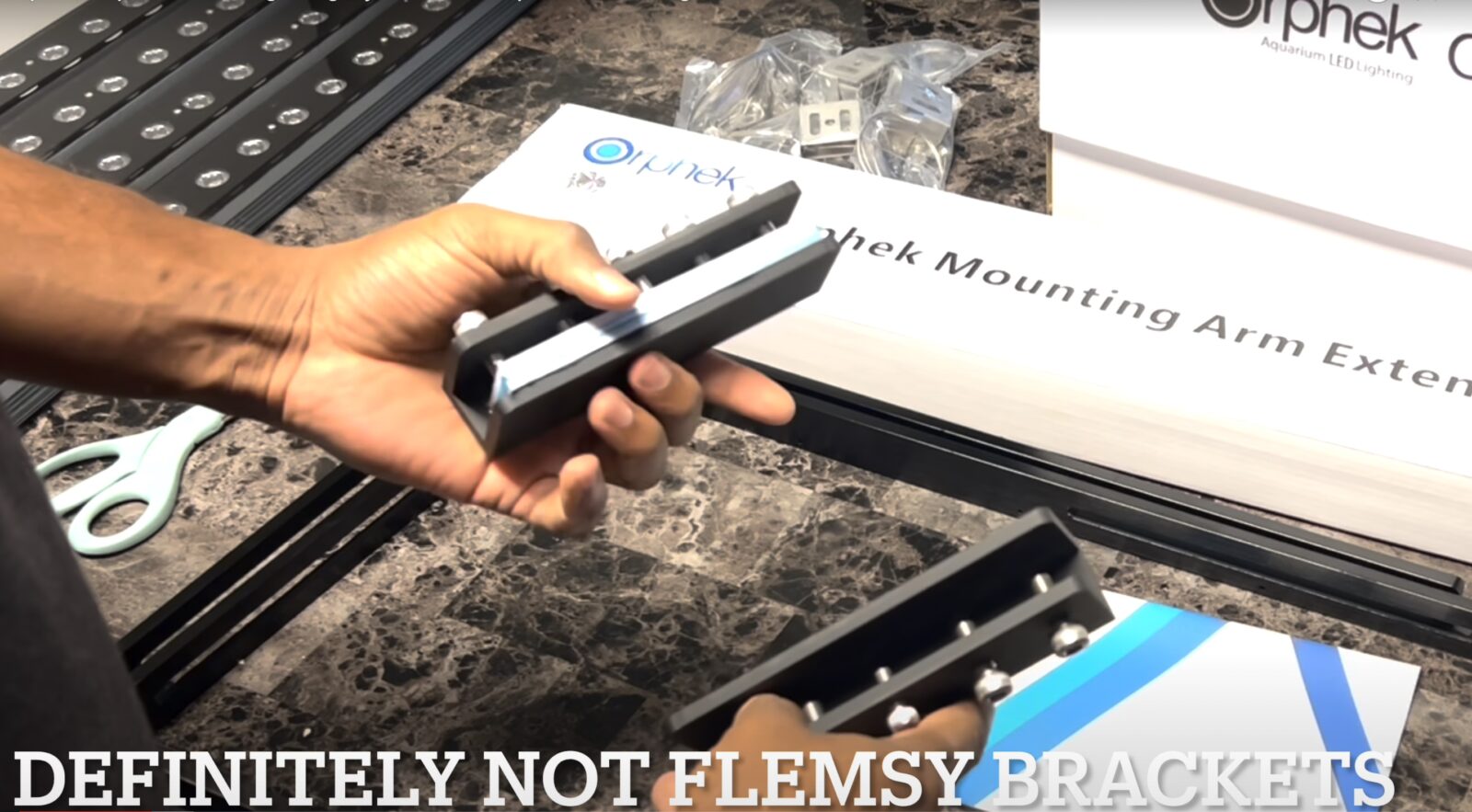 As he continues to unbox Orphek products you will see that he opened the Orphek Mounting Arm solution and he will show what comes in the box and talk about the quality of the materials.
According to him, the option was to have a clean sleek layout, so he preferred not to mount the bars from the ceiling.
He tested the flexibility of the mounting arms and in his words the components are OVER BUILT, HEAVY and THICK.
What he did not mention in the video is that Orphek Mounting Arms are anti-rust, anti-corrosion, heavily-built, multi-functional mounting kit therefore it will never rust even in salted water!
It is important to know that the black color of our Mounting Arm kit is not in fact color. We are using electric anodized Aluminium alloy.
COMPATIBILITY: Compatible with Atlantik, Atlantik Compact and OR LED Bar Lights.
Also compatible with other LED lighting brands.
VERSATILITY: The tank mount will fit tank thicknesses from 10 to 20mm (0.393 to 0.787 inches).
This kit will allow a wide range of horizontal and vertical movement to suit any aquarium application.
LAYOUT: Mounts directly to aquarium tank up to 45cm high (17 inches).
Unboxing Orphek OSIX - OR3 LED Bar iCon Smart dim controller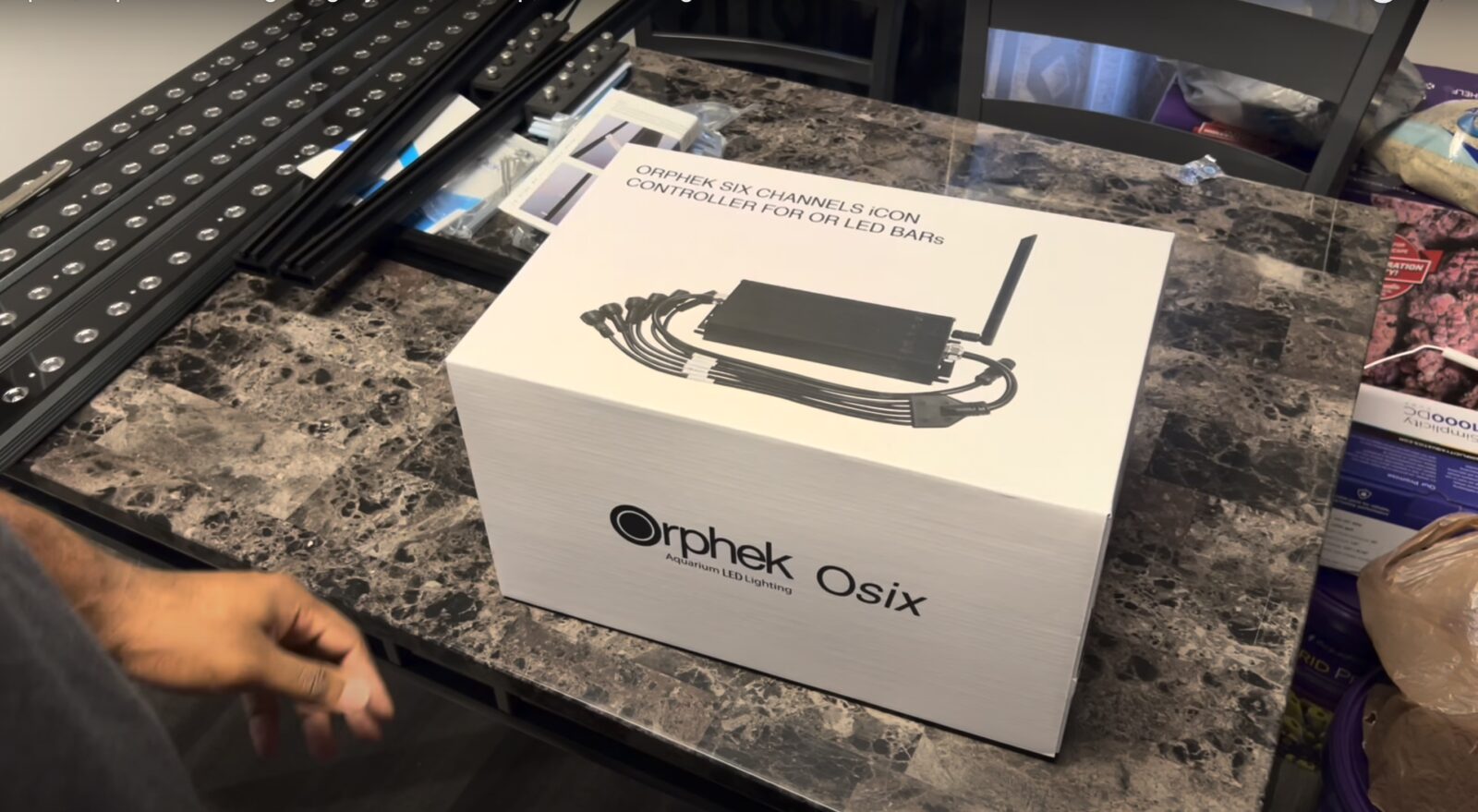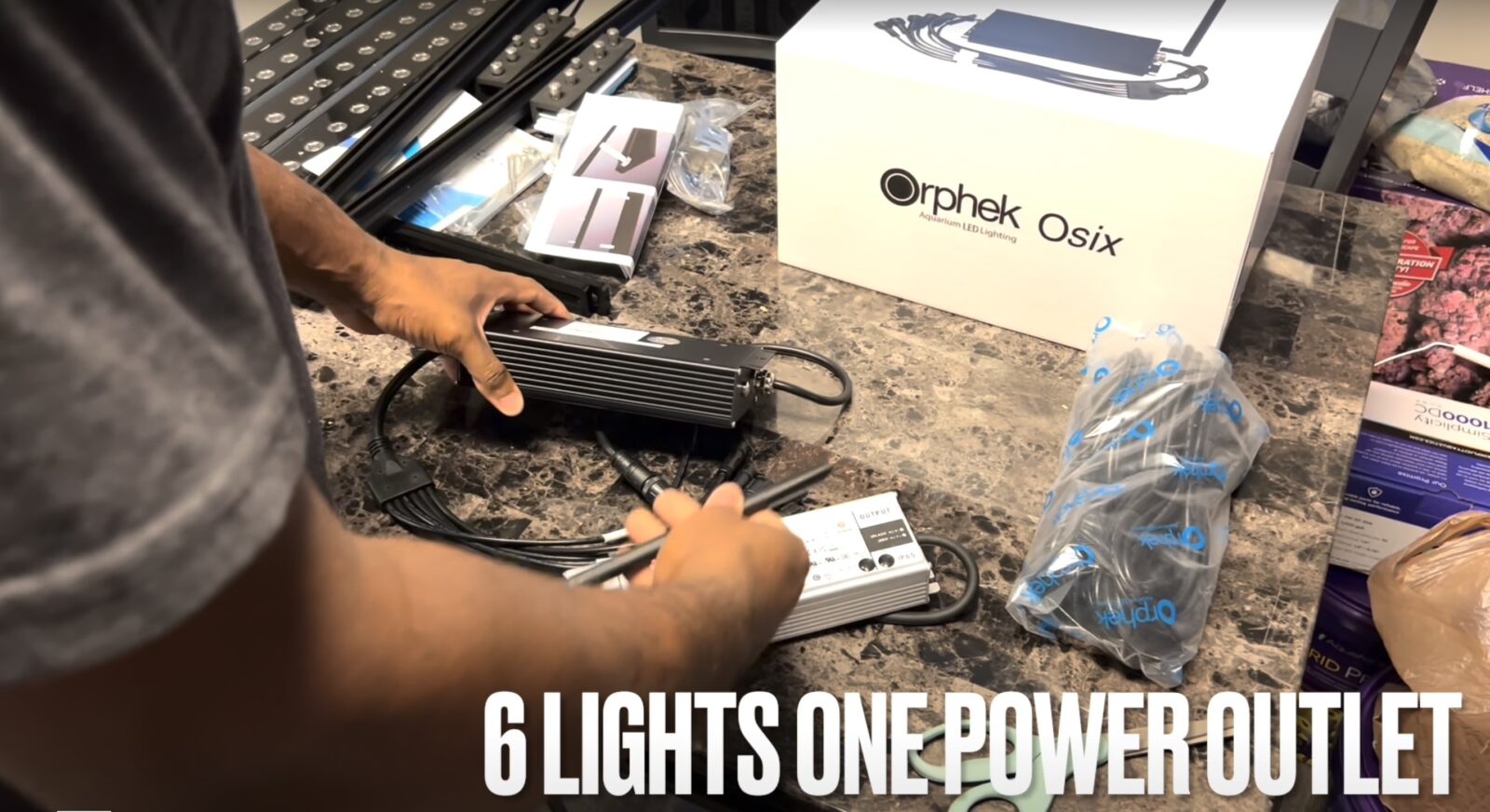 Watching the unboxing of Orphek OSIX you will learn that Osix is a Smart Device with iCon technology that allows you to program, control, monitor and dim your OR3 Reef Aquarium LED Bars and integrate them with all Orphek iCon LED solutions.
What Comes in the Box: 1x Osix Controller/1x Antenna/6x Controller Cable/1x Power Supply/1x Electrical Cable with Plug (Customized for your region).
Cj is mentioning that the reason he chose Orphek OR3 LED Bars is exactly for the fact that you can run 6 different lights at the same time from one power outlet. He also mentions the quality of the plugs - in his words they are PREMIUM. He noticed that Orphek includes very long extension cords, so distance and layouts are not an issue.
He also mentions that the Power Supply is a Meanwell driver which, in his opinion, also has an OVERBUILT QUALITY.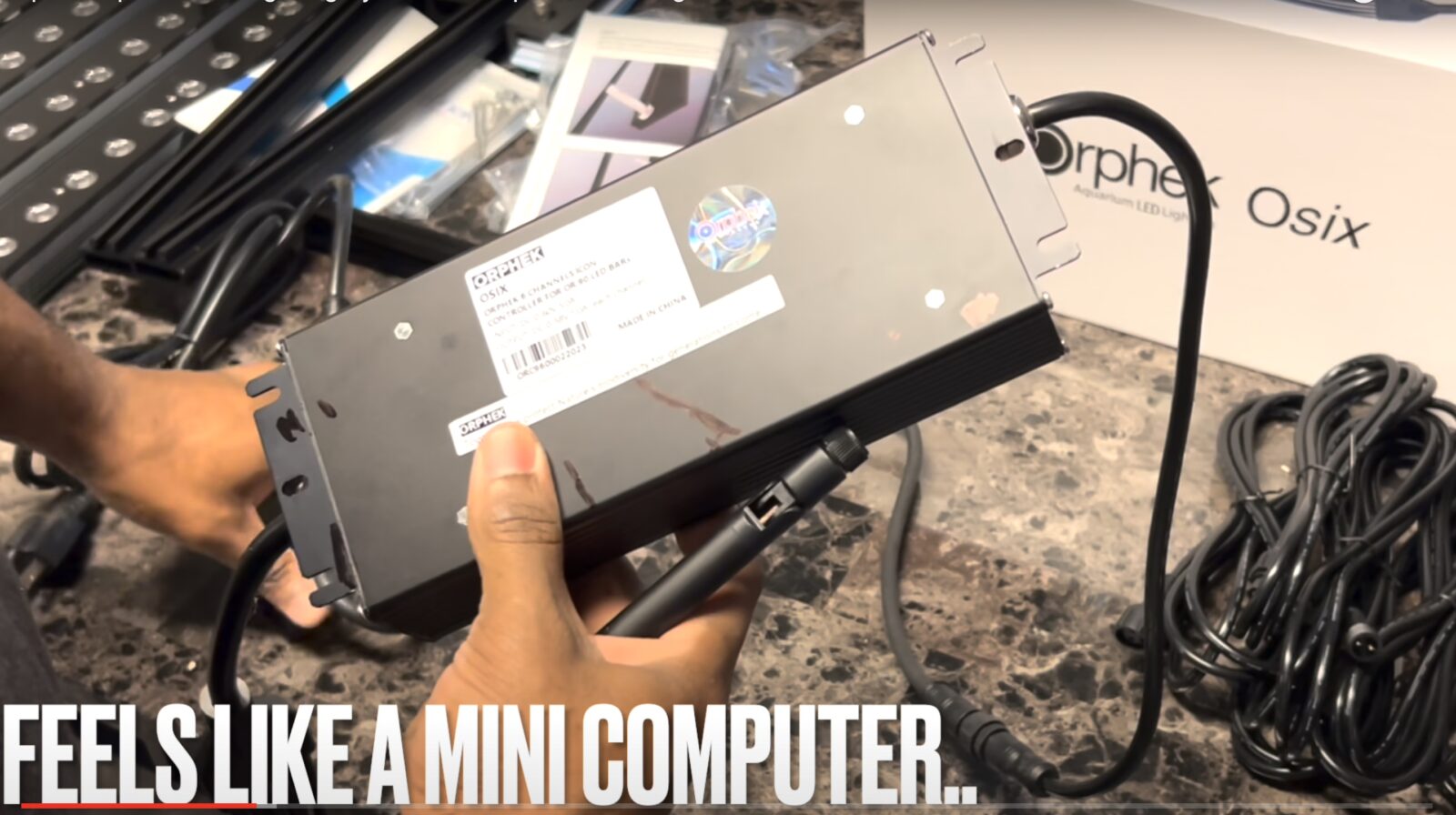 Most importantly, he totally get our product! It is indeed a mini computer!
Orphek R&D team developed and engineered a sophisticated technology, converting what could be one more dimming controller in the market into a groundbreaking device that will integrate LED lighting solutions is a way never seen before.
With Orphek Osix you will upgrade your OR3 LED Bars so they will operate with iCon technology (intelligent connectivity).
With Orphek Osix you will be able to connect your OR3 LED Bars to Orphek awesome App which is compatible with both Android and iPhone.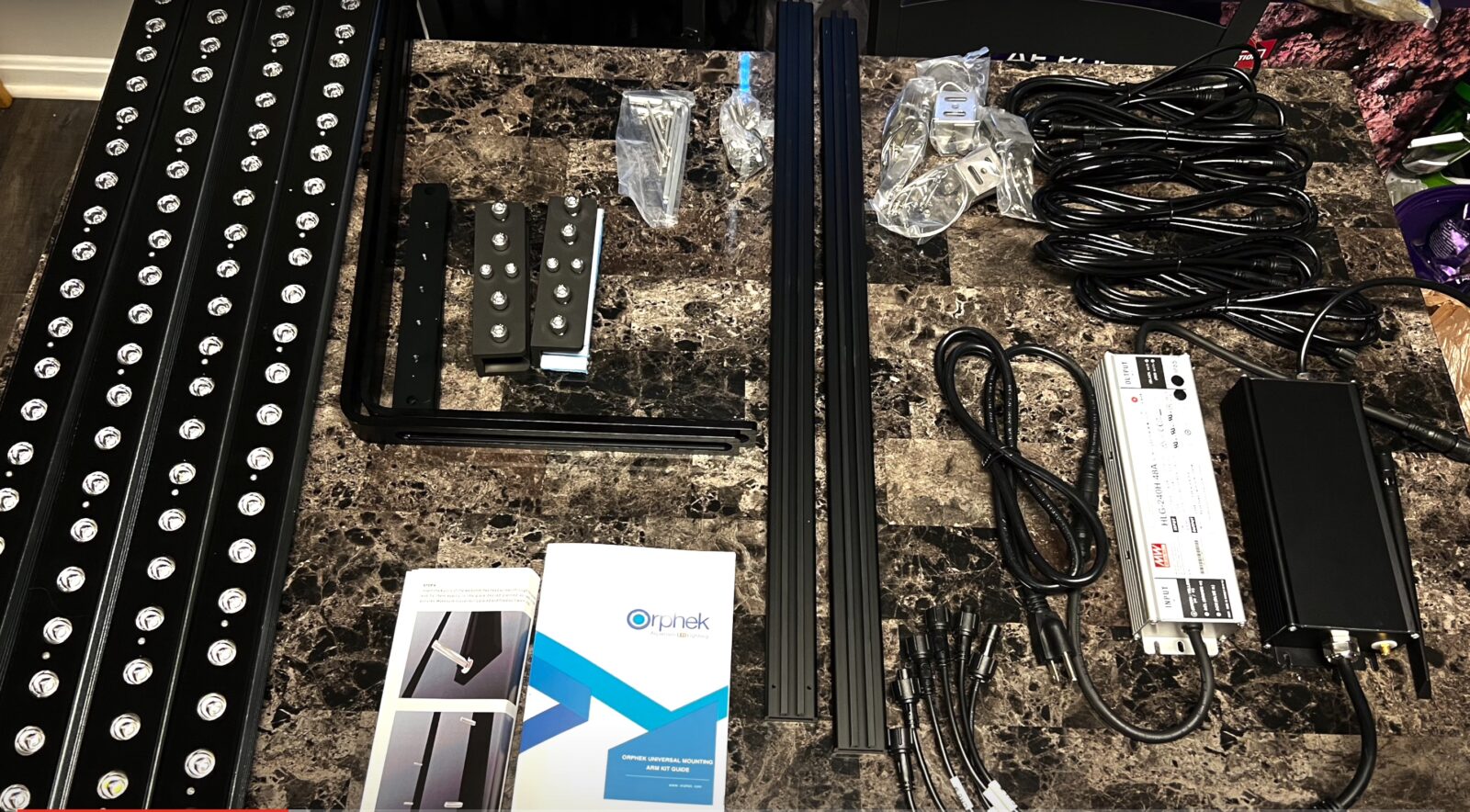 It seems like a lot to do, but in fact all Orphek solutions are very intuitive and friendly, so you will complete all the mounting and settings very fast and very easily!
Assembly of OR3 LED Bars with Orphek Mounting Solutions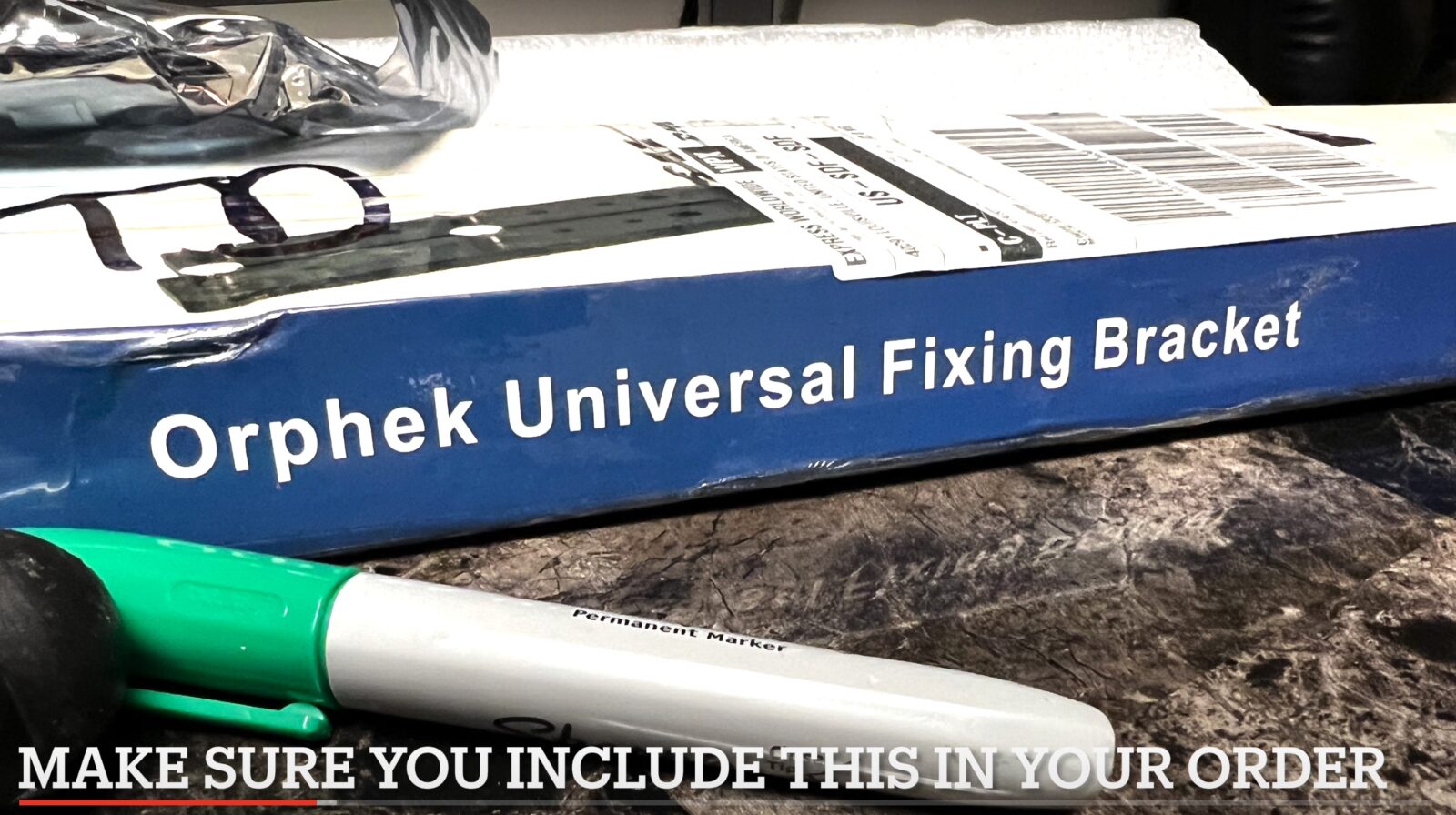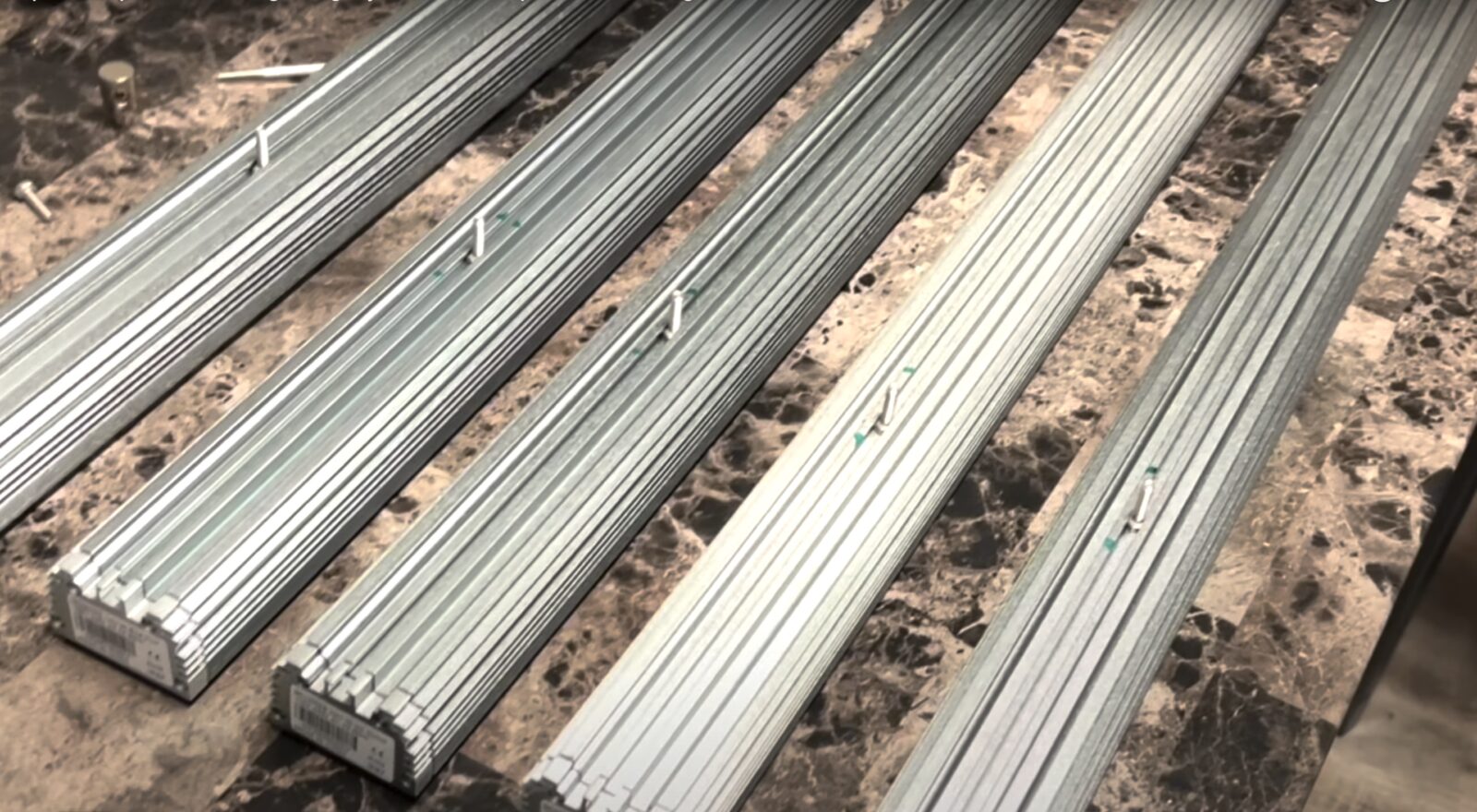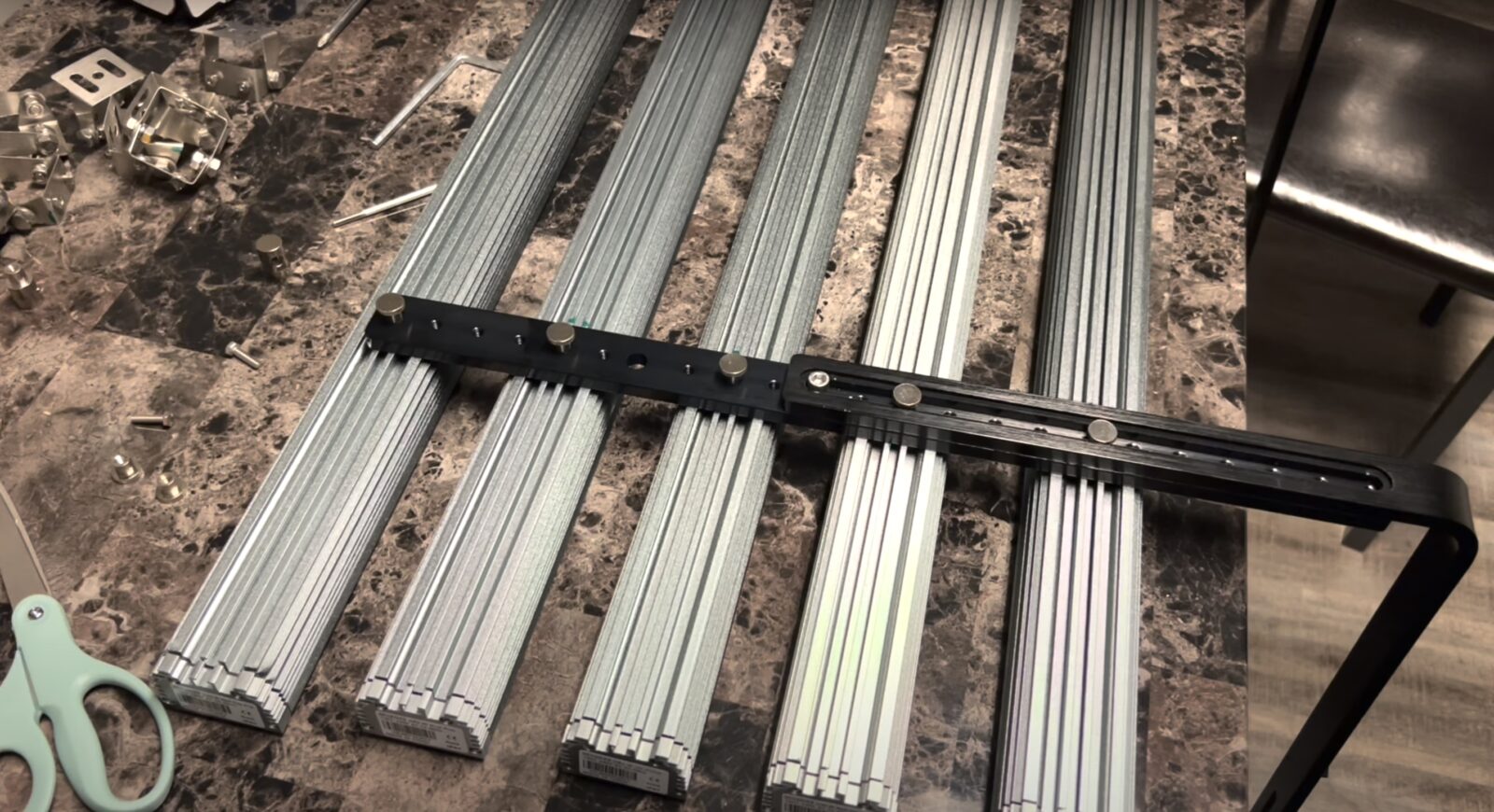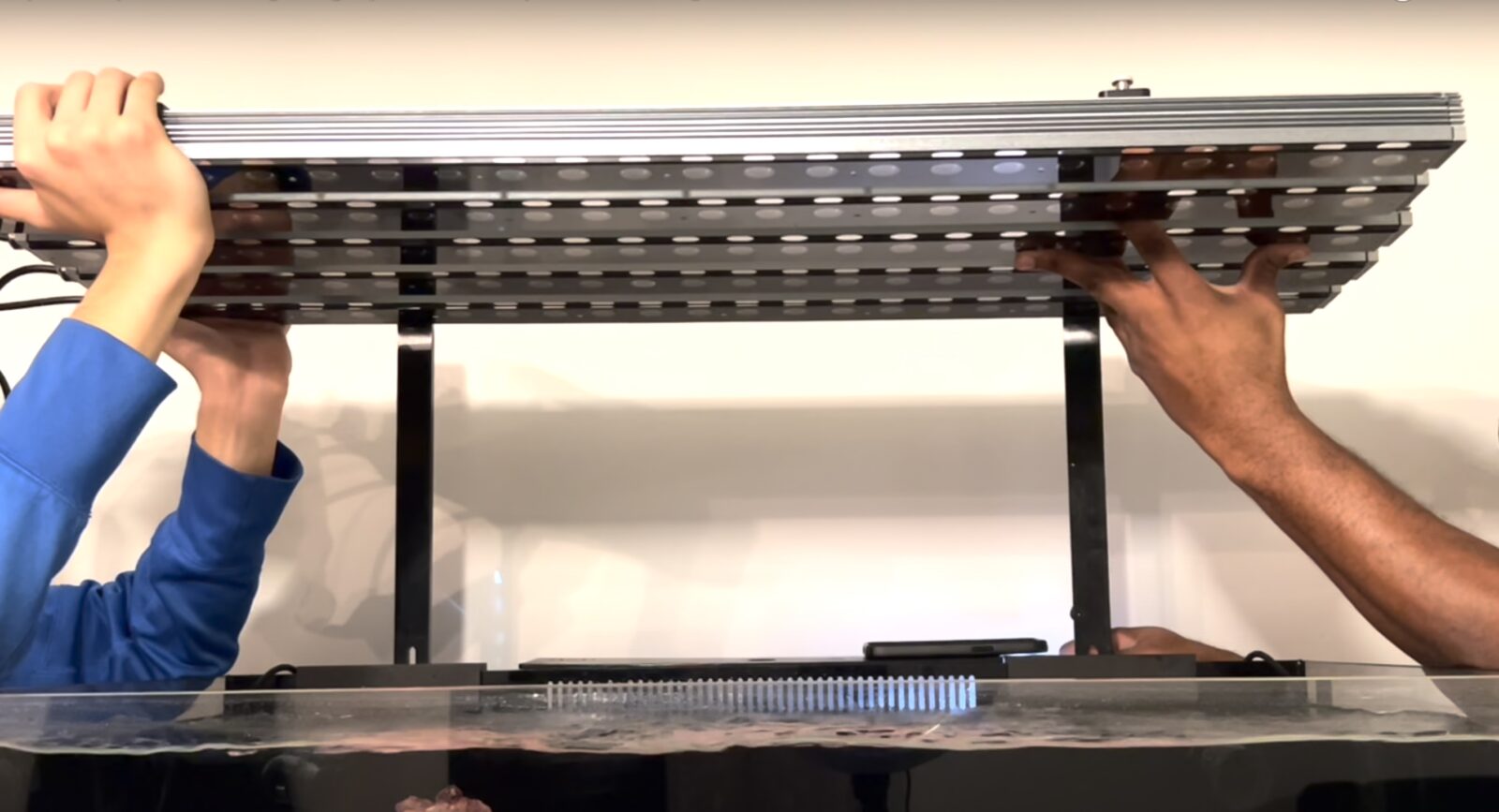 Lights were mounted 12/14 inches (30.48/ 35 cm) over the aquarium, but it can also be place at maximum hight of 17 inches (45cm).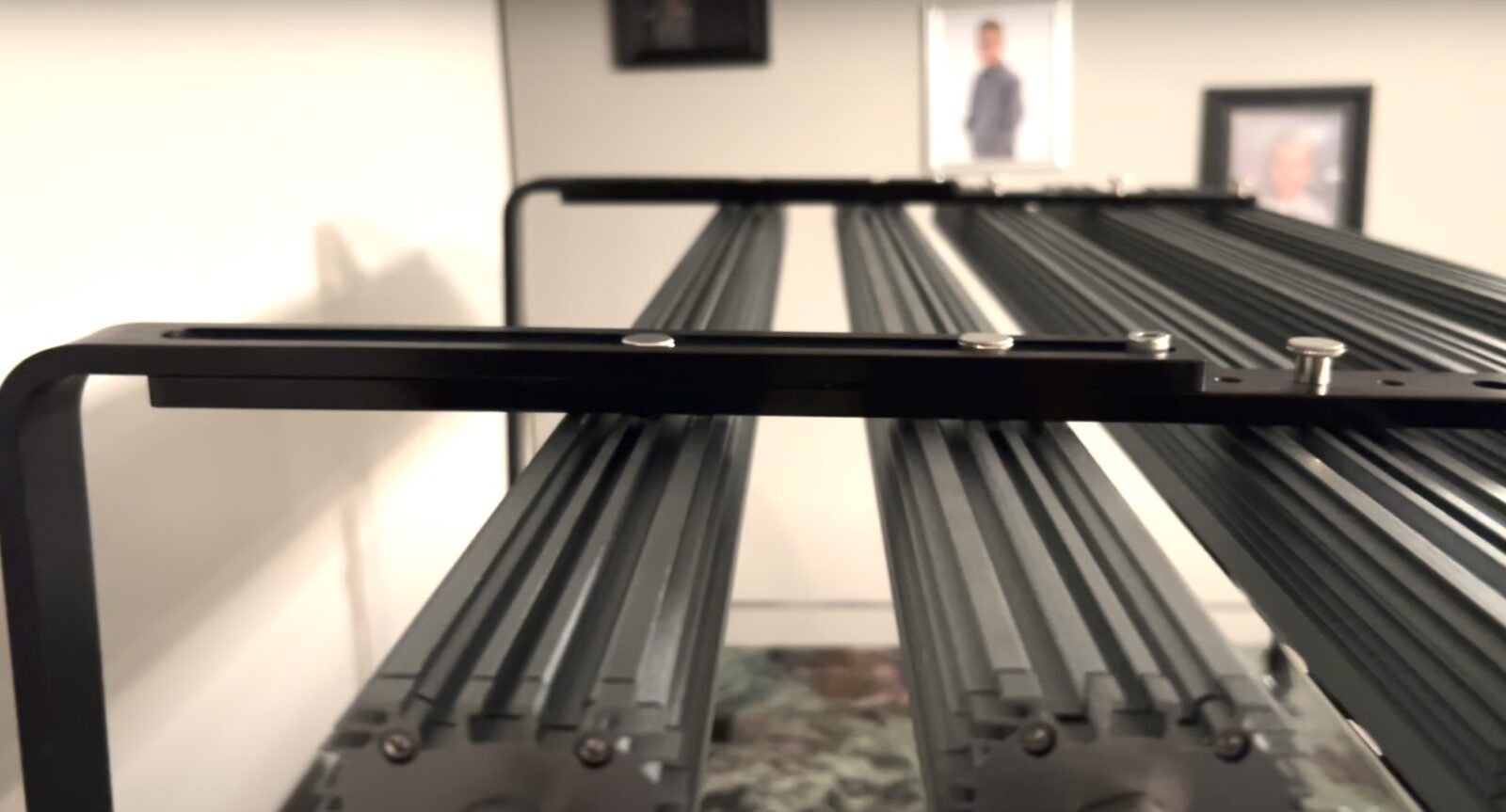 View from the top - CJ used screws only; brackets that come include in the kit were not needed for this layout.
Unboxing Orphek Extra Wide Coral Lens Kit – 52mm for Smartphones, Tablets And Cameras
Finally, he is unboxing our most incredible gadget - the Extra Wide Coral Lens Kit, which in his case is AN UPGRADING FROM OTHER KITS. His remarks are about the HIGH QUALITY, (which is no surprise to us because all Orphek products stand out for quality when compared to other products in the market).
The new generation of Orphek Coral Lens Kit is the latest and coolest Orphek gadget designed specifically for photography and video of corals and aquariums, and now it is also compatible with DSLR 52mm cameras, meaning that you will have a whole extra set of filters just to shoot aquariums and corals.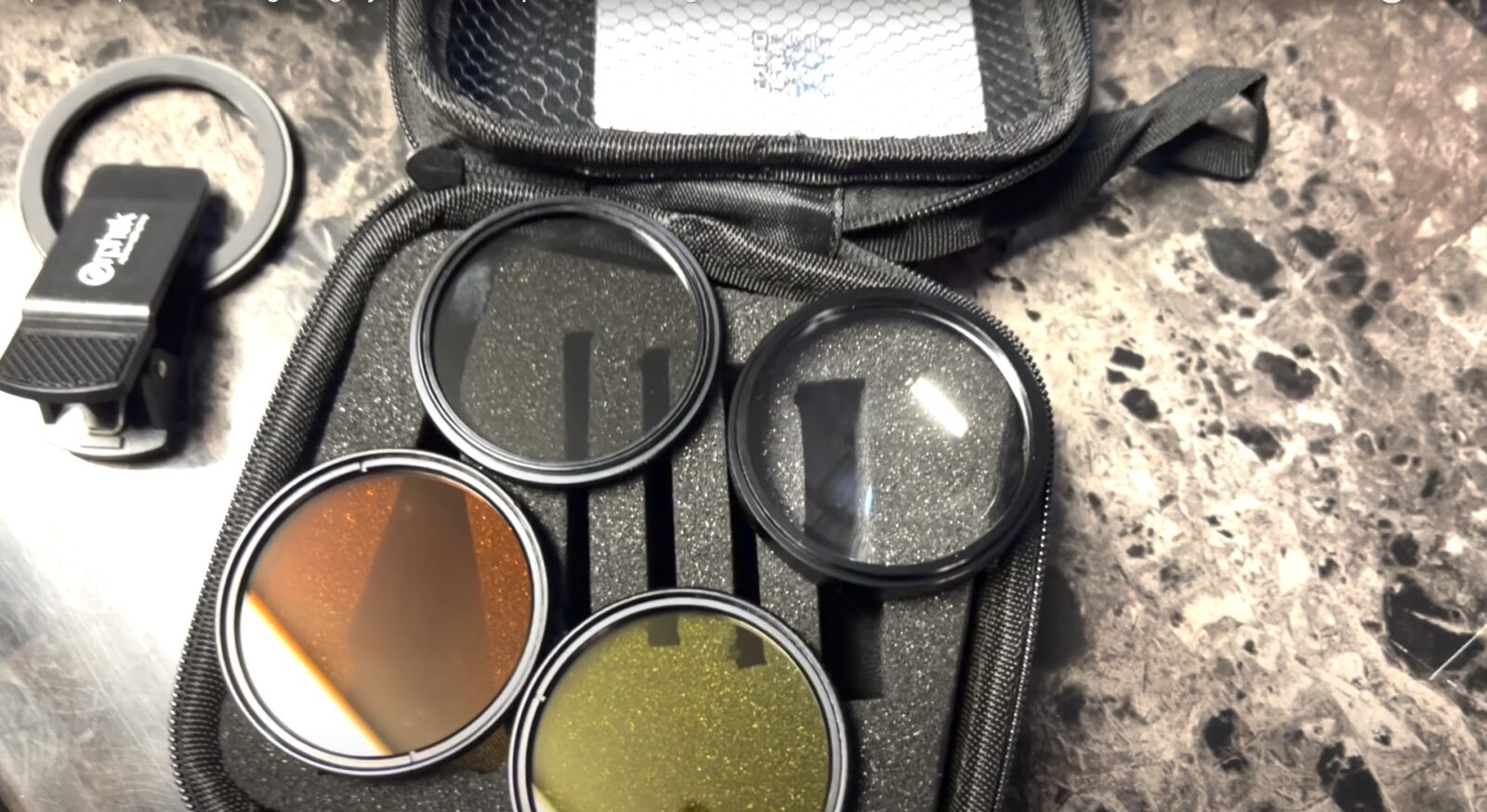 The lens included in this kit:
1x 15,000k Orange Lens
1x 20,000k Yellow Lens
1x 6 – 18mm +10 MACRO Lens for close up photos
1x CPL 52mm polarized wide lens
Final comments on the mounting:
CJ shows the lights assembled, mounted and turned on and the comments are that THERE IS MINIMUM SPILLAGE OF LIGHT OF THE TANK/ PERFECT WALL TO WALL COVERAGE.
To answer questions from Instagram regarding heat - CJ comments by touching the fixture - NO HEAT FROM THE TOP ACRYLIC AND MINIMUM HEAT FROM THE ALUMINUM TOP/ HEATSINK DOING AN AMAZING JOB.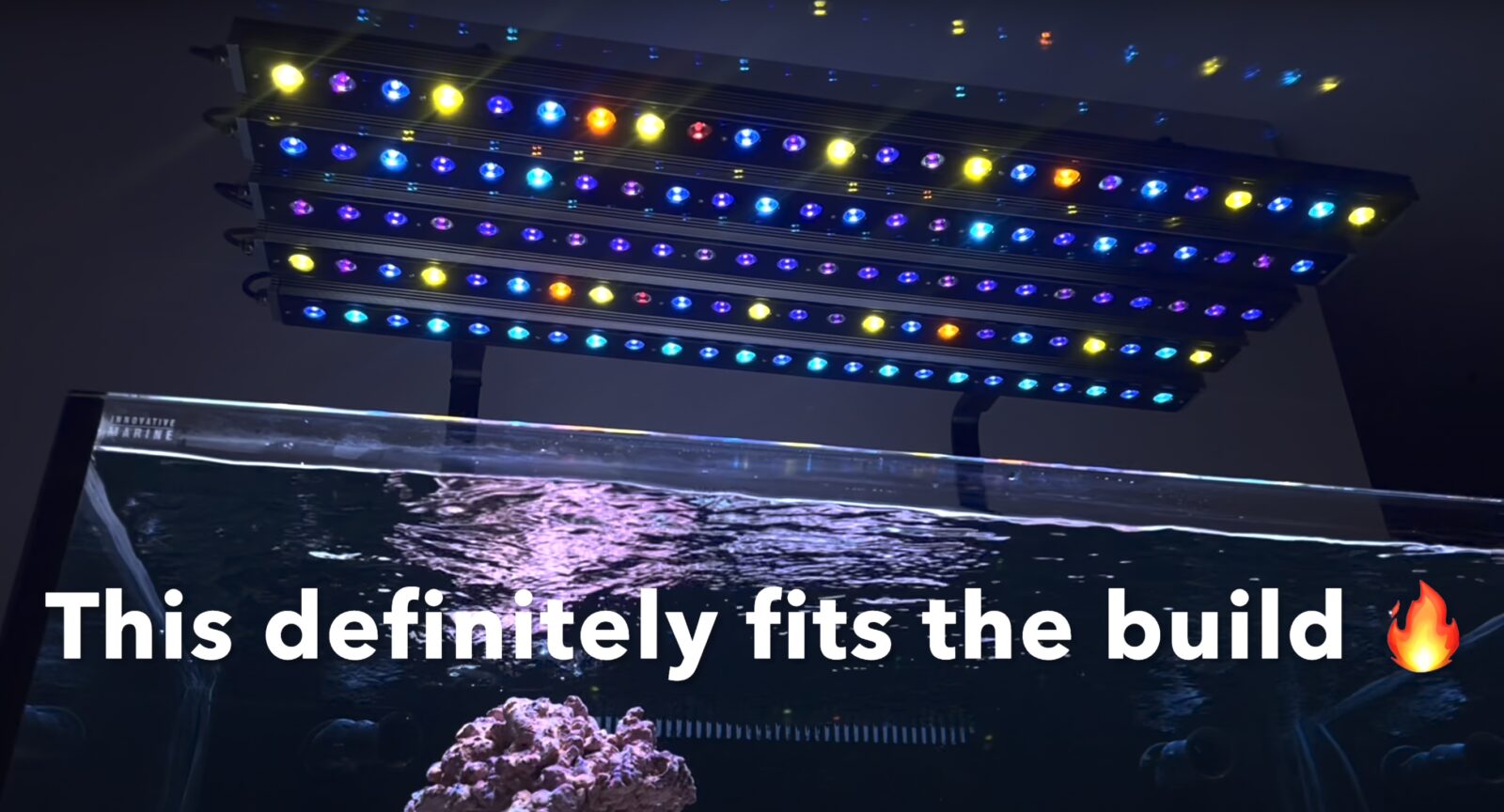 Concerning the wires - Layout
Also answering questions regarding the wires he shows that wires were straighten out running close to the mounting arm for a sleek look. The goal was to have a clean/barely noticing the cables kind of look, and it could only be achieve with the OSIX controller.
One app., one controller, one power supply, 6 cables, one plug, one electrical socket - how clean and organized and clean can you get better than this?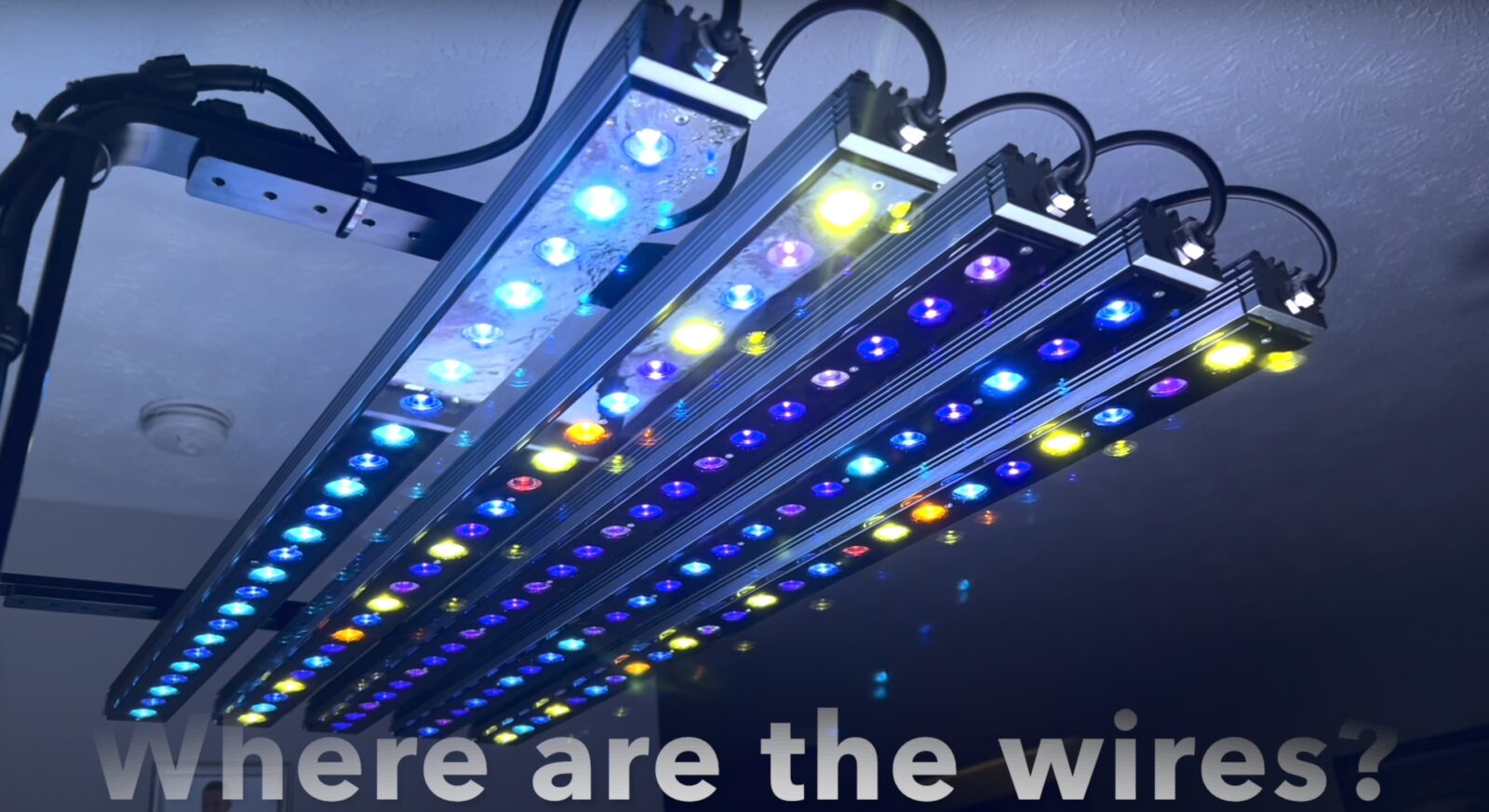 In this opportunity we would like to thank CJ so much for taking the time to make this detailed video about our products and for giving us his feedbacks.
In this post all photos are screenshot from CJ's original video, so all credits are his.
Orphek has added information that we feel are important to mention.
Stay tuned for PART II where we will show CJ's PAR readings/ the programming of the lights via Orphek app and the spectrums of OR3 LED Bars that he chose with more feedbacks from him.
If you wish to watch the video instead:
We hope you enjoyed as much as we did! Thanks man!