Six months using Orphek Osix OR3 LED Bar controller video review by Lord Reef Youtube channel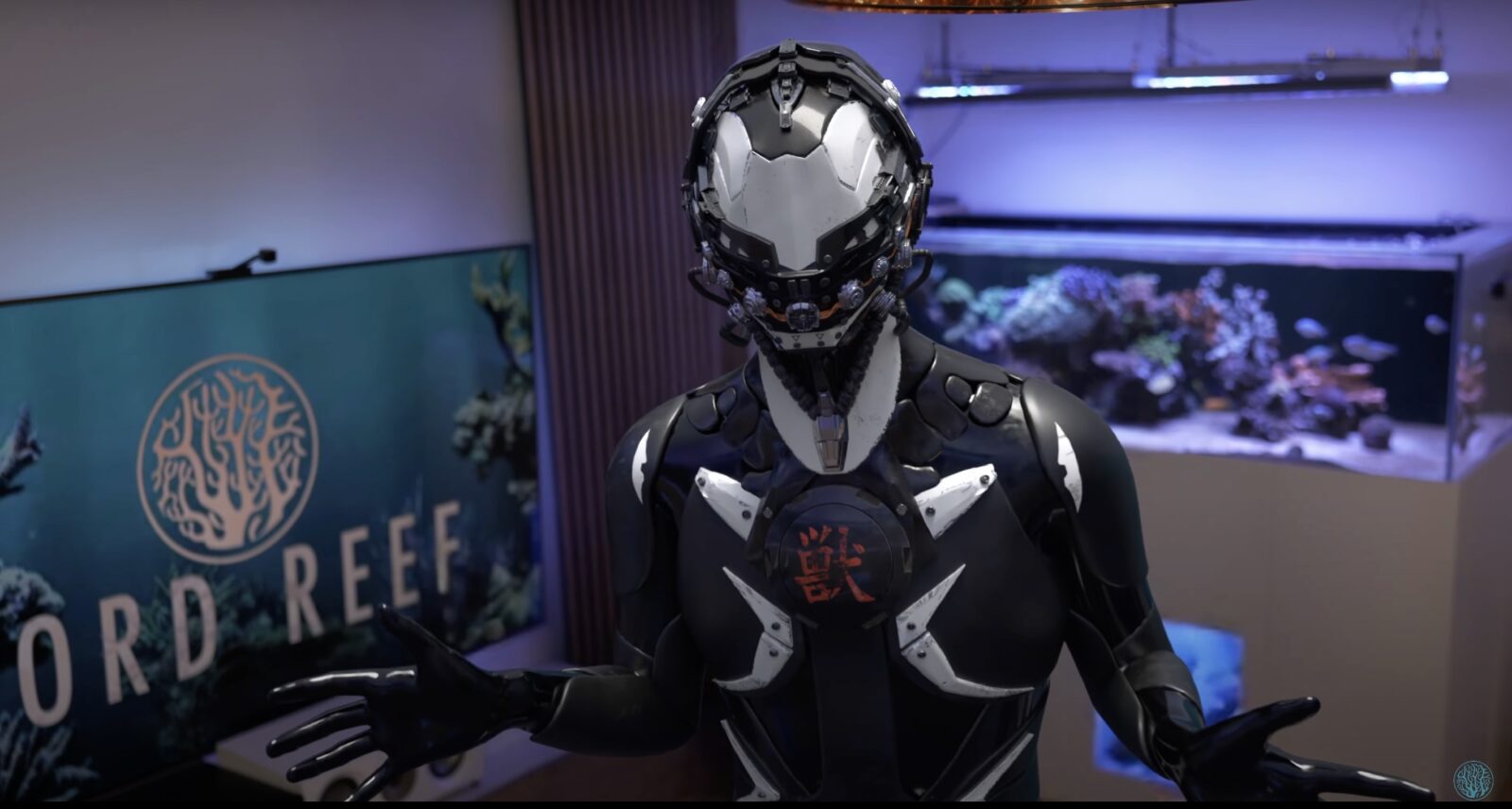 In this week's special we are thrilled to bring you an extraordinary review of the Orphek Osix controller from the renowned Spanish YouTube channel - @Lordreef.
Specializing in reef/marine aquariums, Lord Reef offers captivating content including in-depth discussions on LED lighting, making their channel a must-follow for enthusiasts in the field.
Today, we are thrilled to share his exceptional video review where he unboxes the Osix controller, explores its features and functionalities, evaluates its performance after six months of usage, and showcases the remarkable results in his own tank.
The video
@Lordreef adds an extra dose of amusement with his witty sense of humor and cool video effects! So, get ready to be entertained!
It is indeed an awesome to watch the video, but if you also scroll down, you will discover screenshots from the video accompanied by insightful excerpts, additional comments and valuable information from us that are really worth reading!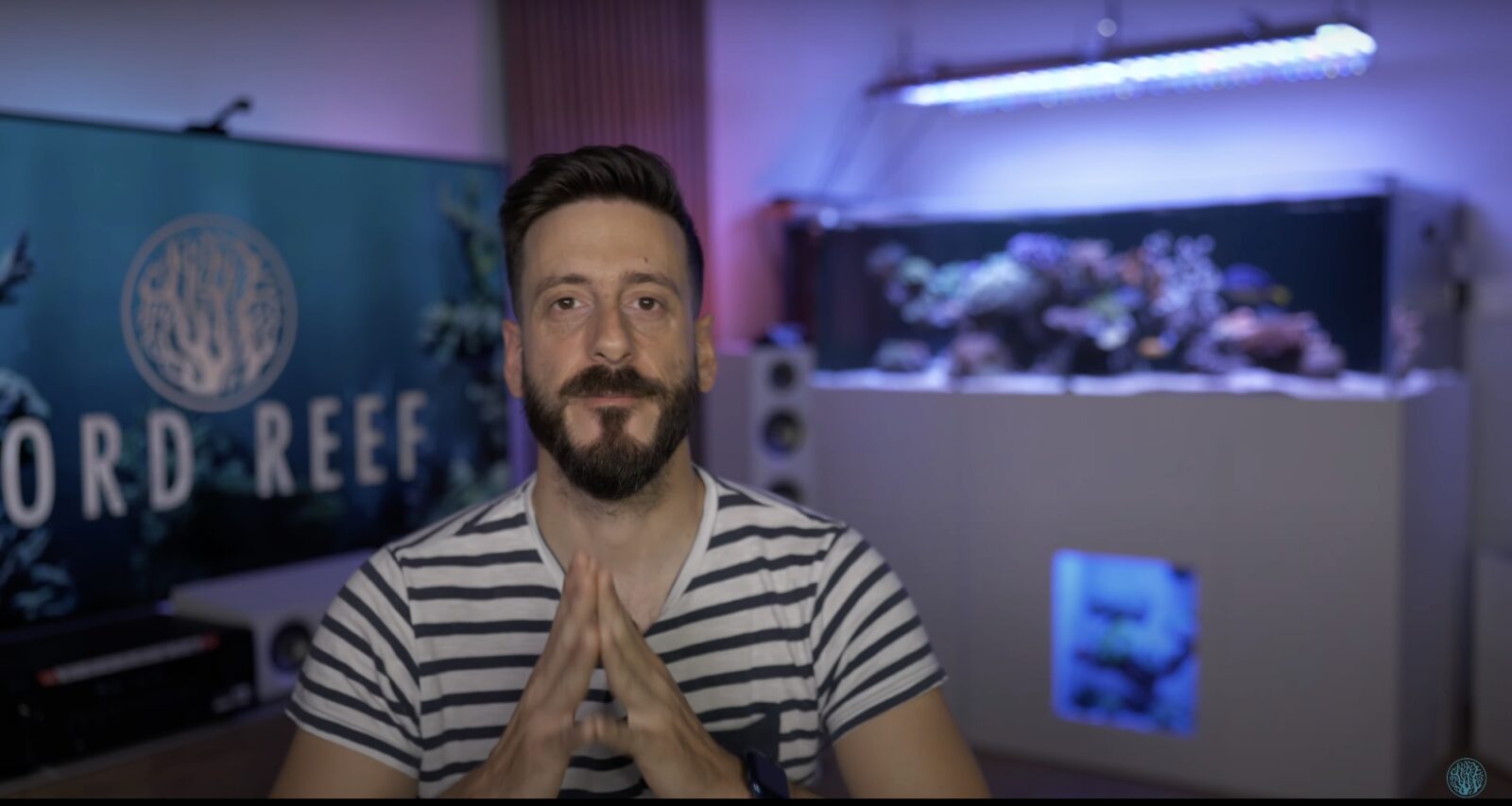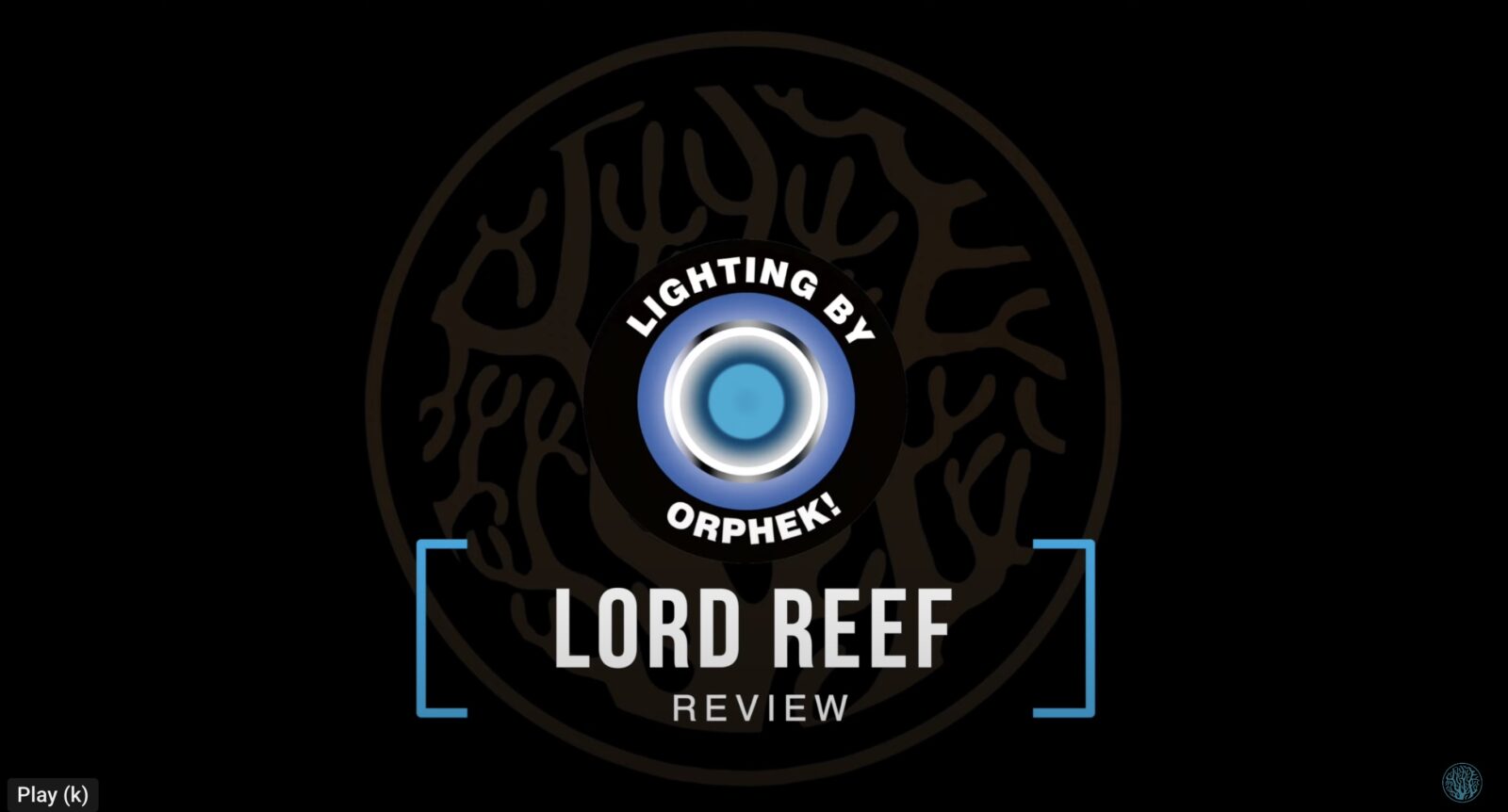 With great pride, @Lordreef presents himself as the hobbyist and reef YouTuber who was fortunate enough to be the first person to receive the Osix controller. He confidently states that, in his opinion, two months is already sufficient to form an initial assessment, but as agreed upon, he diligently reviewed the controller after a period of six months using it, ensuring a thorough and well-rounded evaluation.
[Just a quick info: In this video the tank is lighted by 2 units of Atlantik iCon, combined with 2 units of OR3 120 LED Bars.]
Lordreef lab gives technical info about Osix
Quality & Electrical info
@Lordreef clarifies that he won't be able to provide a physical unboxing presentation of the Osix controller since he has been actively using it for the past six months. However, he assures viewers that he will share his valuable experience and insights regarding the controller, offering a detailed account of his journey with it.
While the unboxing footage may be absent, @Lordreef's informative narration will more than compensate for it:
Upon opening the Osix package, you'll discover two electronic boxes. The first box contains the Meanwell driver, a remarkable component known for its exceptional ability to withstand water and dust (IP67 waterproof rating). Similarly, the second box is the control box itself, that despite its seemingly simplistic appearance, it's important to note that it also possesses an IP67 rating, indicating its ability to withstand water and dust. Furthermore, it operates consistently at 320 watts without any variance, ensuring stable and reliable performance.
[We would like to make a pause here and explains that the Osix series have different models. In this review, Lordreef focuses on providing technical information specifically about the model he has installed in his system, which is the Osix 120.
Find below the complete chart of electrical information of Osix 120 for your reference:
Osix 120 - Power Supply
Power Consumption: 310W+/-5%
Input Voltage: 100-240VAC 227VAC for North America only
Frequency: 47-63Hz/PF (Power Factor) >0.95
Input Voltage (V) / Current (Amps) 230VAC / 1.65A
Input Voltage (V) / Current (Amps) 115VAC / 3.5A
Output Voltage (V) 54 VDC/ Output Voltage (V) 5.95A
MeanWell driver: 1xHLG-320H-54A
Electrical outlet: Region appropriate
Osix - Control Box
Input Voltage (V) 0-60VDC/ Input Current (Amps) 5.95A
Output Voltage (V) 0-58VDC/ Output Current (Amps) 1.0A(each channel)]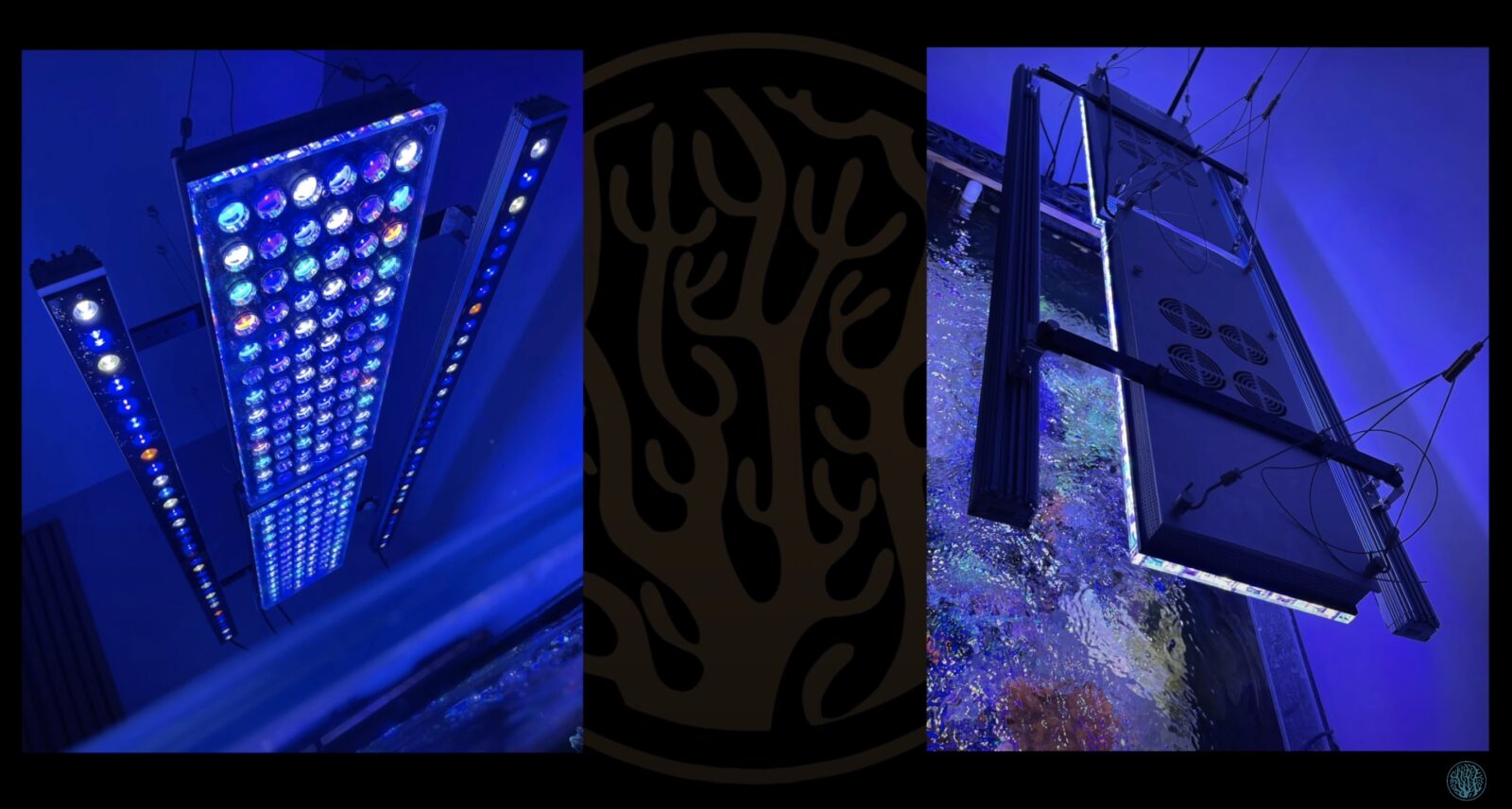 He continues...
With these high-quality and precise components in place, both the Osix controller and the lights are guaranteed to deliver top-notch performance and exceptional durability. You can rely on their seamless operation, as they effectively prevent any voltage spikes or drops that could otherwise compromise their performance.
@Lordreef also shares valuable information from Orphek, stating that the Osix controller can be installed in environments with temperatures reaching up to 50°C.
[We believe that this noteworthy detail highlights the robustness and adaptability of the controller, assuring users of its suitability even in challenging conditions.]
He feels that Orphek knows that aquarists keep their equipments in humid and hot areas and since sometimes it is not possible to install the equipments outside these areas, by using Orphek, a reefer should not be afraid of humidity, high temperature and corrosion.
[Indeed we really take pride in the quality of our products! Osix has high quality Aluminum electric anodized coating - All aluminium parts are made of high quality electric anodized aluminium coating, therefore it will never rust even in contact with salted water or environments with high humidity
Lordreef explains about Osix models and compatibilities
Alongside the control box and driver, the package includes six connection cables. Each of these cables corresponds to the OR3 LED bars that you connect to the Osix controller. He reminds that users can connect up to six bars and that Osix comes in a series of 3 models (Osix 60 / 90 / 120), meaning that each model of controller is developed for the corresponded model of the OR3 LED Bar.
Spoiler: He mentions that a forth model is coming soon!
[MODELS AVAILABLE TODAY - OR3 LED BARS COMPATIBILITY
Osix is compatible only with Orphek OR3 LED Bars:
Osix 60 - OR3 60 LED Bars only
Osix 90 - OR3 90 LED Bars only
Osix 120 - OR3 120 LED Bars only
You can connect up to six units of OR3 LED Bars, but only if all of them are of the same sizes, because each size of OR3 LED Bar has its own electrical specifications.]
Osix turn your LED bars into a fixture
Lordreef shares what he feels it is the information that worth millions: By adding 06 units of OR3 LED Bars you are creating your very own fixture controlled via Orphek App.
In the video he explains how:
Once installed, the Osix controller will be recognized in the Orphek App. as a fixture having 6 channels corresponding to the 6 cables fond in the Osix device.
So, each channel will be regulated as a fixture according to the number of OR3 LED Bars connected, (up to six) and if there is another Orphek solution with iCon technology, such as Atlantik iCon, it will be also controlled by grouping.
[FYI: Atlantik iCon comes with 06 separated control and programming channels. Each channel comes with 13 Dual-Chip 5W power LEDs/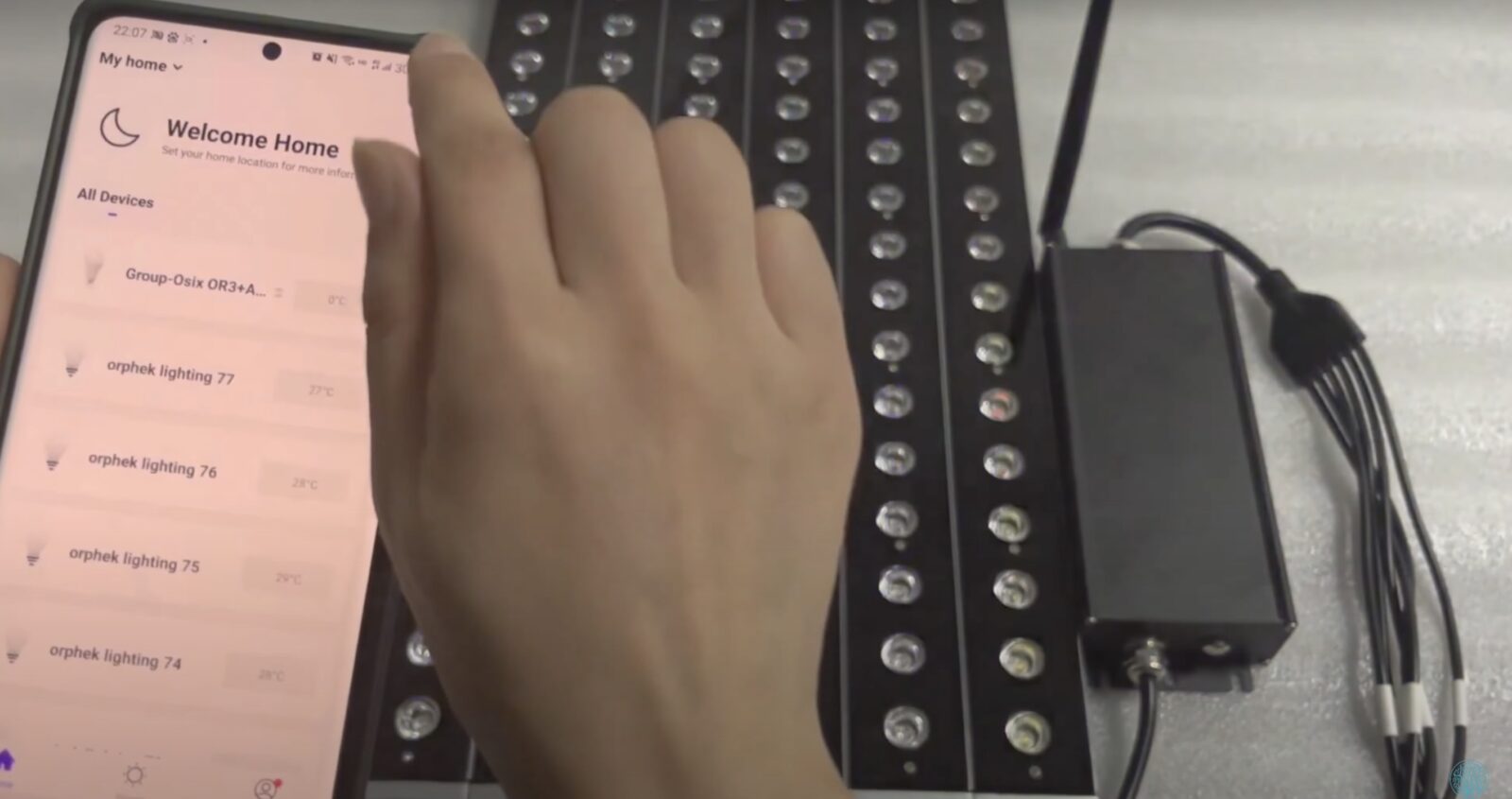 [Indeed Lordreef reveals what we also considers to be invaluable information: when you incorporate six OR3 LED Bars, you effectively create a personalized lighting fixture that can be easily controlled through the Orphek App. This powerful combination allows you to tailor and fine-tune your lighting settings according to your specific needs and preferences, providing an unparalleled level of customization and control over your aquarium lighting setup.
Further more...Osix is a smart device with iCon technology that allows you to program, control, monitor and dim your OR3 Reef Aquarium LED Bars and integrate them with all Orphek iCon LED solutions.
WHAT CAN YOU DO WITH OSIX?
Orphek R&D team developed and engineered a sophisticated technology, converting what could be one more dimming controller in the market into a groundbreaking device that will integrate LED lighting solutions is a way never seen before.
With Orphek Osix you will upgrade your OR3 LED Bars so they will operate with iCon technology (intelligent connectivity).
With Orphek Osix you will be able to connect your OR3 LED Bars to Orphek awesome App. which is compatible with both Android and iPhone.]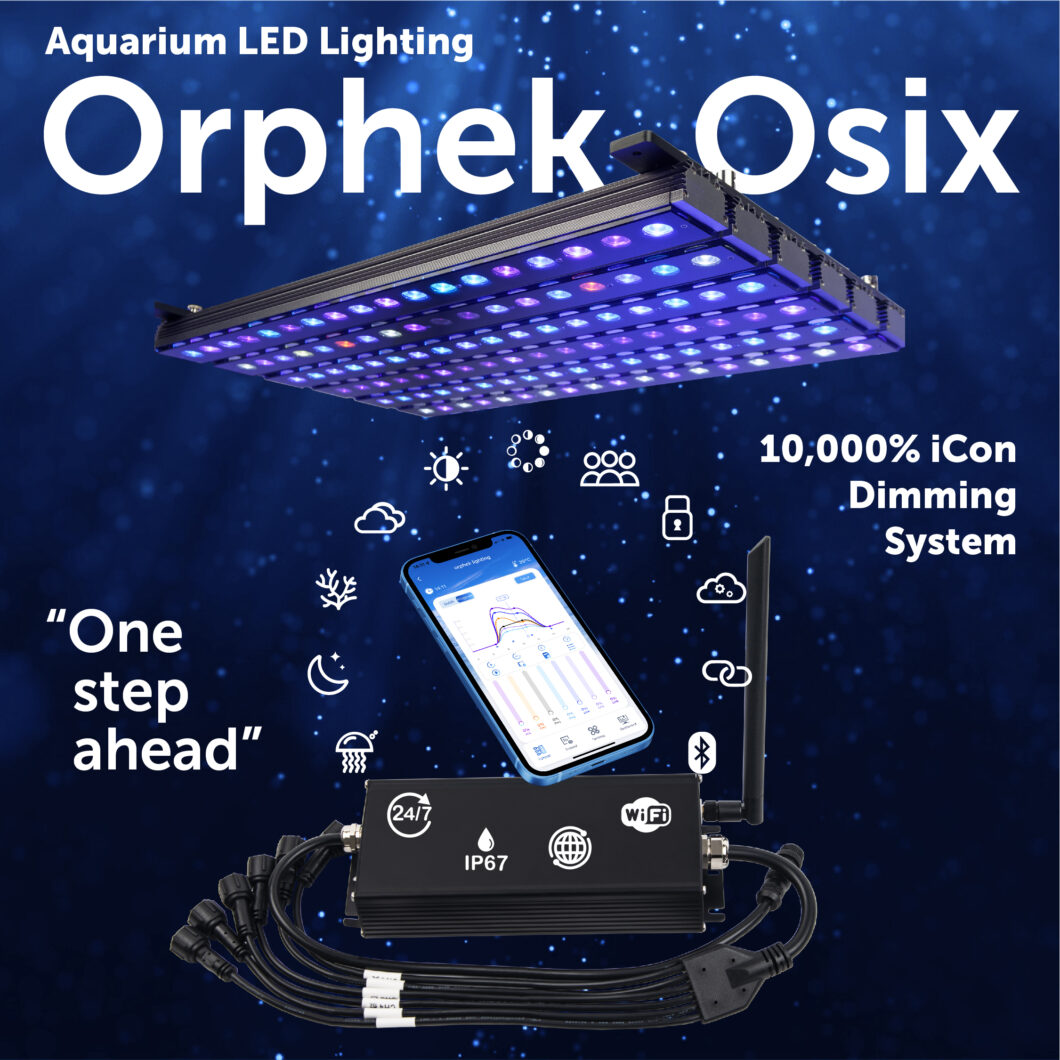 Light Coverage
In the second half of the video @Lordreef explain briefly about light diffusion and shadow spots. According to him, when you are filming a video, the light on the tank on a large scale will always contain some sections with less light (shadows) while with a spot light you won't see that (this is regarding light diffusion).
He also brings up his previous video on the Orphek Atlantik iCon, where he emphasized the fixture's ability to provide complete coverage for his tank. He stressed the importance of this feature, as regardless of the aquascape layout one chooses for their tank, corals inevitably grow and cast shadows on others, hindering the process of photosynthesis.
He further mentions that by purchasing OR3 LED Bars and controlling them with the Osix controller, users can effectively illuminate the entire expanse of their aquarium. The bars can be positioned and separated based on individual requirements and the chosen aquascape layout. As an example, he illustrates the option of arranging the bars in a flat formation or creating an arch to fully illuminate the center of the aquarium.
[Indeed, Orphek OR3 LED Bars are best for :
Boost of coral color pop, health & growth
Boost fluorescent color & photosynthesis
Supplemental light coverage
Achievement of your desired light spectrum & layout by mixing LED Bars]
Dimming control of Osix
@Lordreef highlights one of the most important features of the Osix controller, which is the dimming control functionality.
He elaborates on the capabilities of the Osix controller, mentioning that it enables the connection of up to six units of OR3 LED Bars - Users have the flexibility to combine six different spectrums of their choice and adjust the dimming levels from as low as 0.01% to 1% for Moonlight mode, which is beneficial for coral spawning. He also mentions that he has been showcasing corals and marine species that he has in his tank with photos and videos in his Instagram. it is also an opportunity to see how some species are reproducing, such as chromis viridis, antiasaquapinis and snails.
[Well, we want to make a quick stop here and add some comments for you!
Once you have the OR3 LED Bars + Osix installed, you are upgrading your OR3 LED Bars to iCon technology. That means that you will be able to profit from our groundbreaking technology!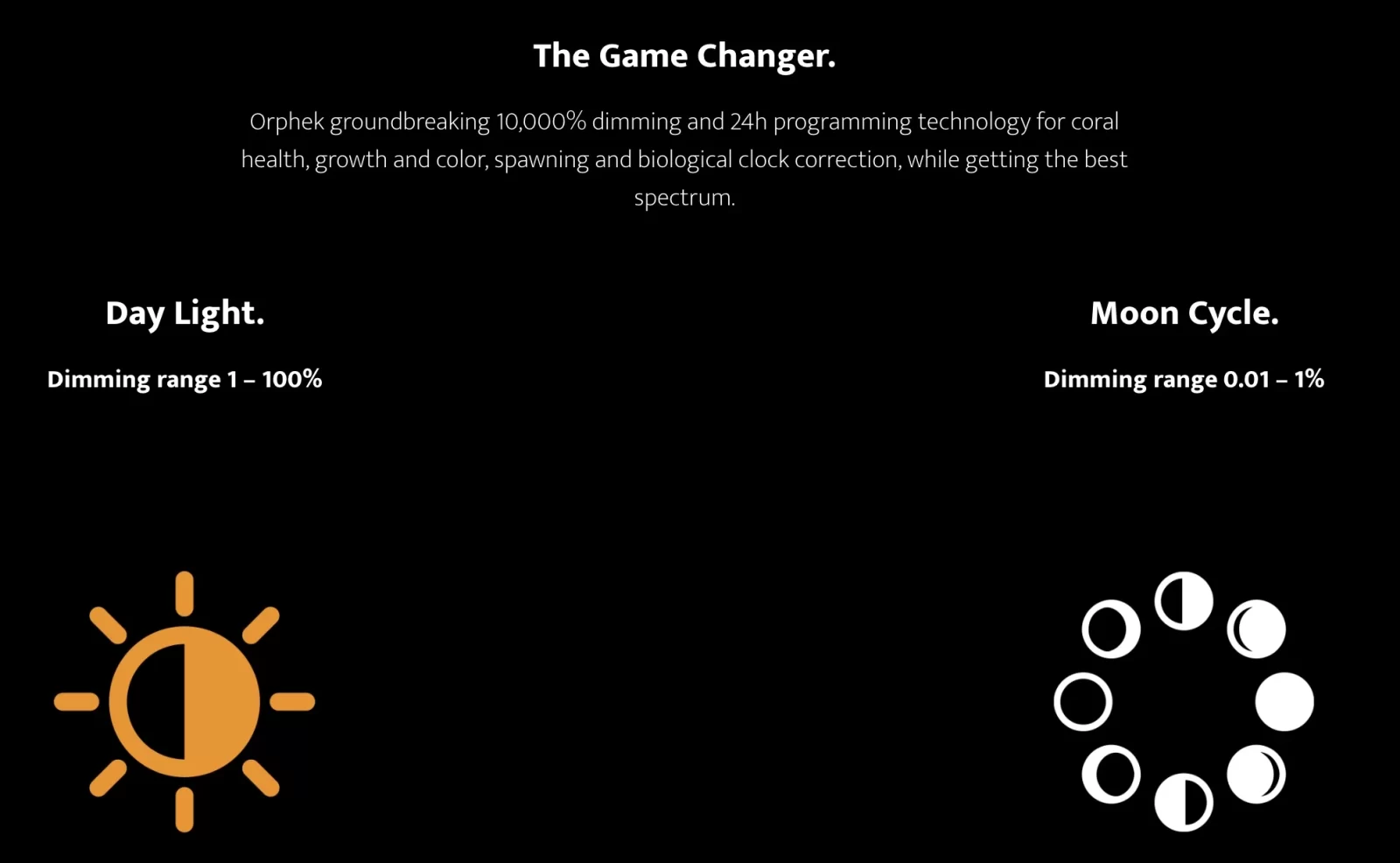 BEST SPECTRUM BY DAY + REAL NATURAL MOONLIGHT BY NIGHT:
You to get the best spectrum created by Orphek during the day with 1 – 100% dimming range and you can combine it with Orphek's moonlight spectrum during the night with 10,000% (0.01 to 1%) dimming range.
While relying on decades of academic research, Orphek R&D Teams developed and engineered the One and Only Real Moon Cycle in LED Reef lighting Solutions reproducing Nature at its fullest.
And just to detail a little bit, learn how Osix is changing the game and this is a trailblazer!!!
Osix allows you to use Orphek 10,000% dimming technology for Moon cycle.
Osix allows you to program dimming progression 24Hs a year round mimicking Nature.
Osix allows you to choose in what channels you will run your moonlight cycle for full customization!!]
PAR readings
In the final part of the video @Lordreef makes extra comments about PAR readings.
He notes the positive changes he observed in terms of PAR readings, which he personally measured using a PAR meter. Currently, he operates his tank at 60% intensity. He also adds that with a Meanwell driver there are infinitive possibilities of configuration for a combination of lights. With this level of control, there is no room for errors when it comes to spectrum selection, ensuring that any type of coral can thrive and be placed within the aquarium.
Conclusion
In conclusion, he emphasizes that all of his devices are housed within a closed canopy that feels quite like an oven when he opens its door. However, after using the Osix controller for six months, he proudly declares that he has not encountered a single issue. Despite running other Wi-Fi enabled equipment, he assures viewers that the Osix controller has never experienced any connectivity problems. Everything is functioning flawlessly. He also notes that since he has already used the controller for six months, a quarter of its warranty period has passed. However, he feels confident that since it is running perfectly, there shouldn't be any problems, especially if it is placed in a less heated location like his. He anticipates that the controller should last much, much longer under these circumstances.
Additionally, @Lordreef highlights that he has never come across any reports of malfunctions related to the Osix controller. He attributes this reliability to the exceptional quality of the Osix components, emphasizing that everything he owns from the Orphek brand has consistently been of fist class quality.
A Thank you note from Orphek
Orphek wishes to express its gratitude to @Lordreef Youtube channel for making this incredible & entertaining video review of our Osix and most of all, for being both funny & genuine passionate reefer!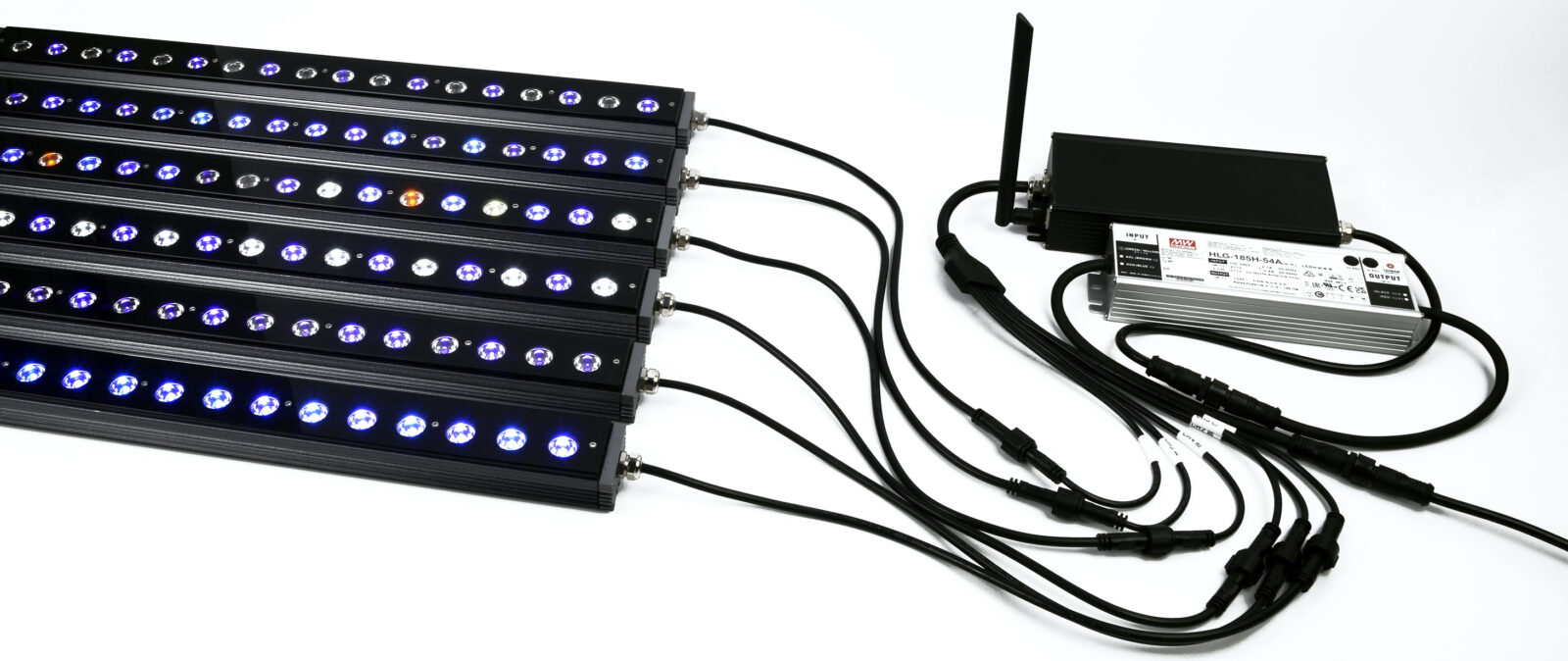 How can I order Osix/ OR3 LED Bars/ Orphek Atlantik iCon ?
Go to STORE to buy OR3 LED Bars/ Orphek Atlantik iCon
Go to CONTACT to buy Osix or the Osix Combo
Orphek online shop that is a brand new shopping experience for Orphek products in many languages, many currencies and forms of payment. Our online shop offers free consultancy from our sales representative near your location. We offer Free shipping – With our Door to Door worldwide Express Delivery.
** Orphek online shop sells worldwide, but if you cannot find your country in our online shop, contact us.
@Lordreef reviews Orphek Atlantik iCon & other reviews:
Latest articles posted about Osix:
Links
Osix Product Page in our website
OR3 LED Bars Product Page in our website / OR3 LED Bars in our online shop
Universal Fixing Brackets Kit product page in our website / Orphek Mounting Solutions in our online shop
Credits
Image & content credits: All screen shots were taken from the video produced and published by @Lordreef Youtube channel. Orphek has also added awesome proprietary photos of its products!
Excerpts were sourced from his comments/ personal opinion about Orphek. Orphek has added information (in Italic and between [ ]) about its products that holds significant importance and is worth sharing with our audience.
Invitation
We would like to invite you to browse our website and participate with your Orphek experience.
Let us know about your tank and share it with other hobbyists in Orphek Facebook Group and Instagram!
Sharing is very easy! All you have to do is to send us the basic information about your tank, usually starting from the beginning (when you started your tank), what are you running in the tank, the living creatures you have in your tank and of course, pictures