What makes Atlantik iCon possibly the best reef LED light of the market - find out all about it in this review by Spanish channel Lord Reef
In today's post we are extremely happy to share with all of you this awesome and extensive review of the Atlantik iCon by Spanish channel Lord Reef.
Lord Reef is a youtube channel about reef/marine aquariums, bringing interesting topics including led lighting.
He is going to compare Atlantik iCon with Radion LED Light and give us a final score. So watch this awesome video and check what grade we got!
For non-Spanish speakers we are bringing screenshots of the video with explanations in English of all covered topics by Lord Reef, so don't worry! You can also get all the information he is sharing right here!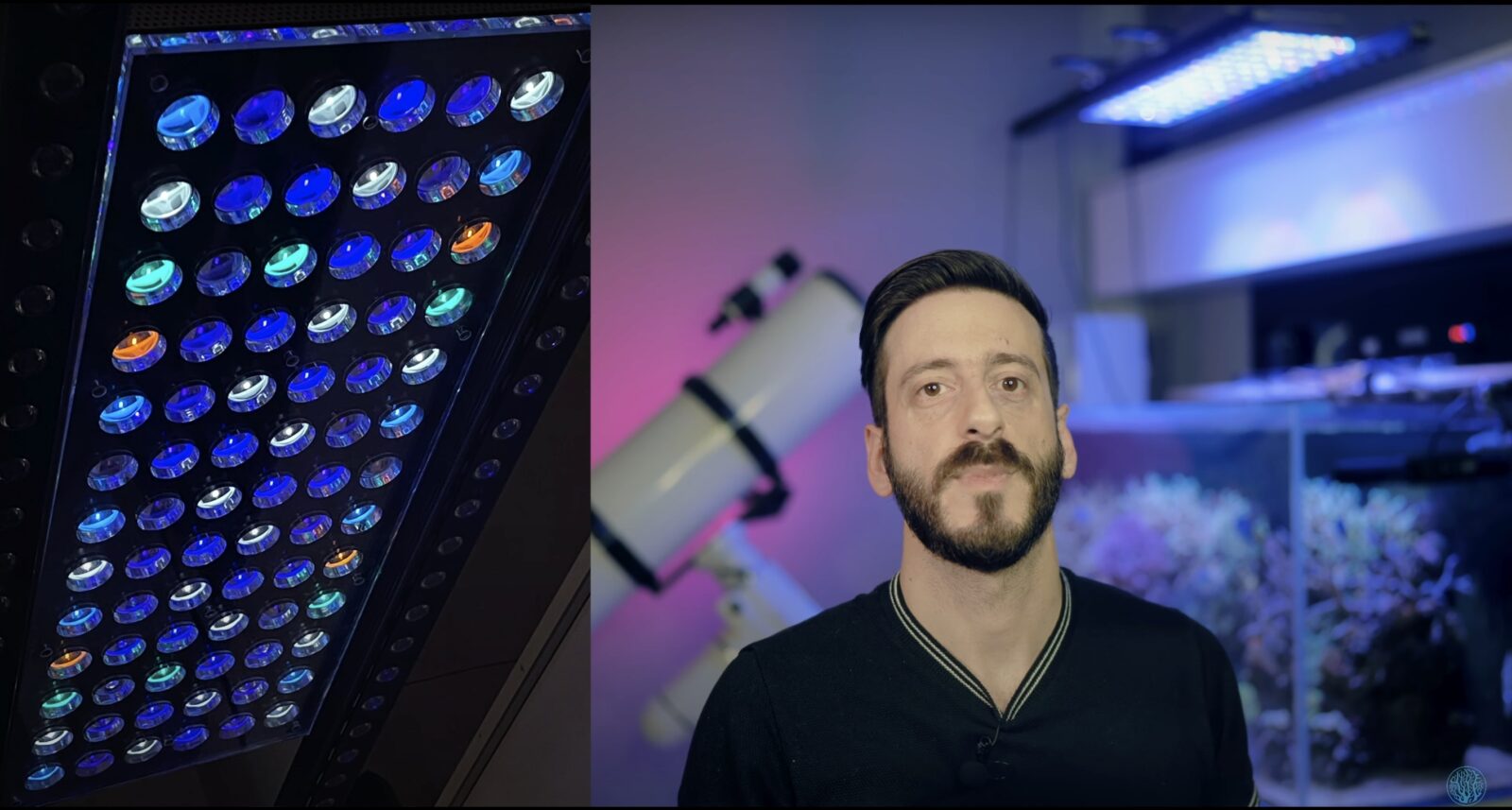 So, before we start reproducing the contents of his video we would like to give you the following informations:
1. Lord Reef has one unit of our Atlantik iCon combined with 2 units of our OR3 Led Bars over his reef tank, but for the purpose of this video, only the Atlantik iCon is switched on and he will only talk about this Orphek LED lighting solution.
2. Atlantik iCon app been update after this video was released, so when he will address to the topic of the fans speed (ventilation) we will give you the last updated information about Atlantik iCon cooling system and fans.
SO, let's get to the review of our Atlantik iCon!
SPECTRUM
When evaluating spectrum, Lord Reef takes into consideration the quantity of light, its spread and he defines the best spectrum as the one that the live creatures of the aquarium make the most of it. The one that fits the most to their necessities in general, specially for their photosynthetic needs, color and growth.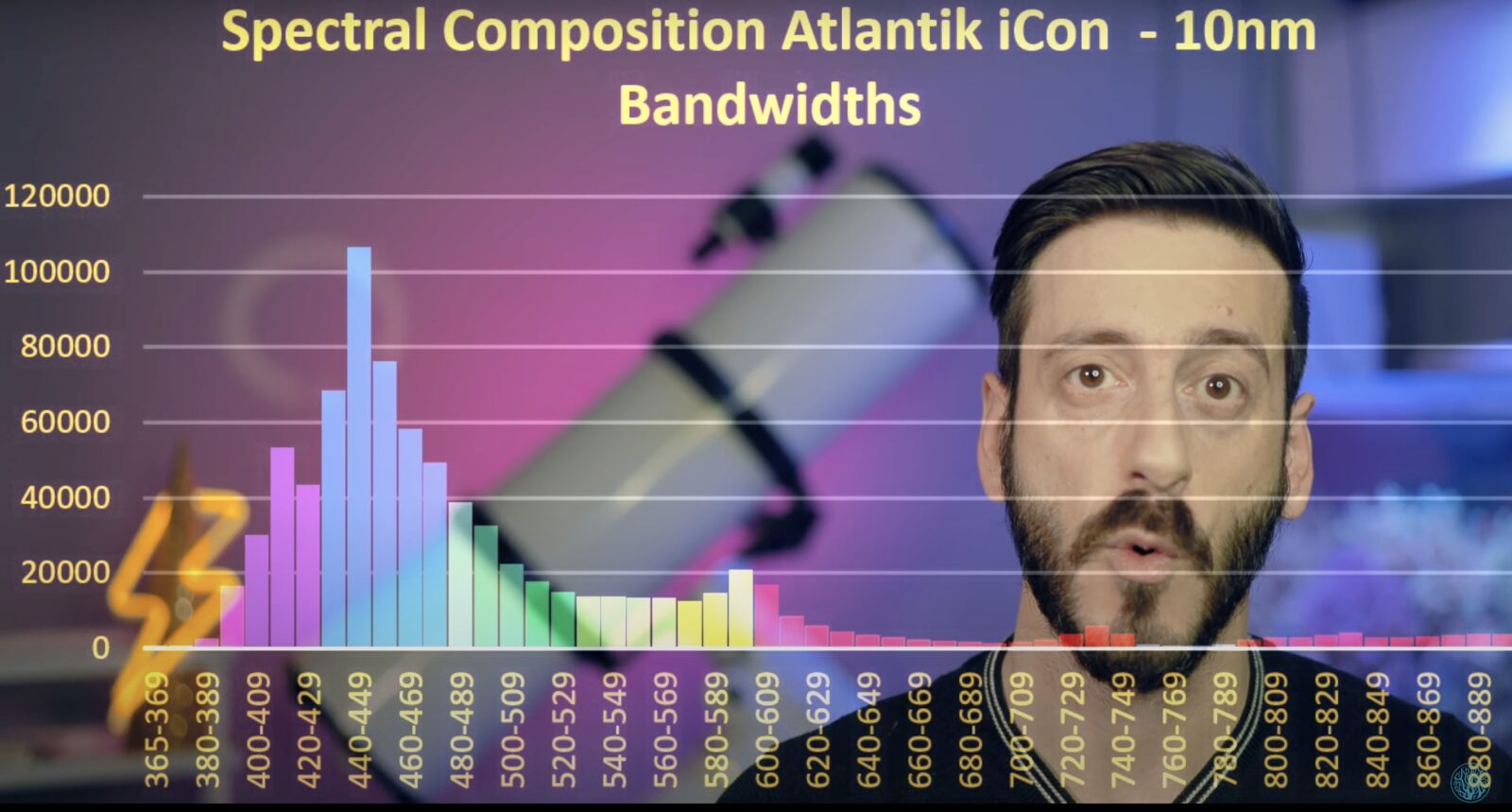 He explains how brands develop their own combination of LEDs in order to get to a certain spectrum and how some have focused light spectrums and others have spread spectrums blending more. He adds that he is not fond of LED light that offer focused light.
According to Lord Reef Orphek is the company offering the widest bandwidth spectral composition of the market (400nm to 730nm) and the closest to the Nature, really mimicking the natural spectrum, including green hues that others are leaving out in their spectrums.
Lord Reef finds the Cyan green spectrum very important and he is really surprised why other brands exclude them or put insufficient quantity of them.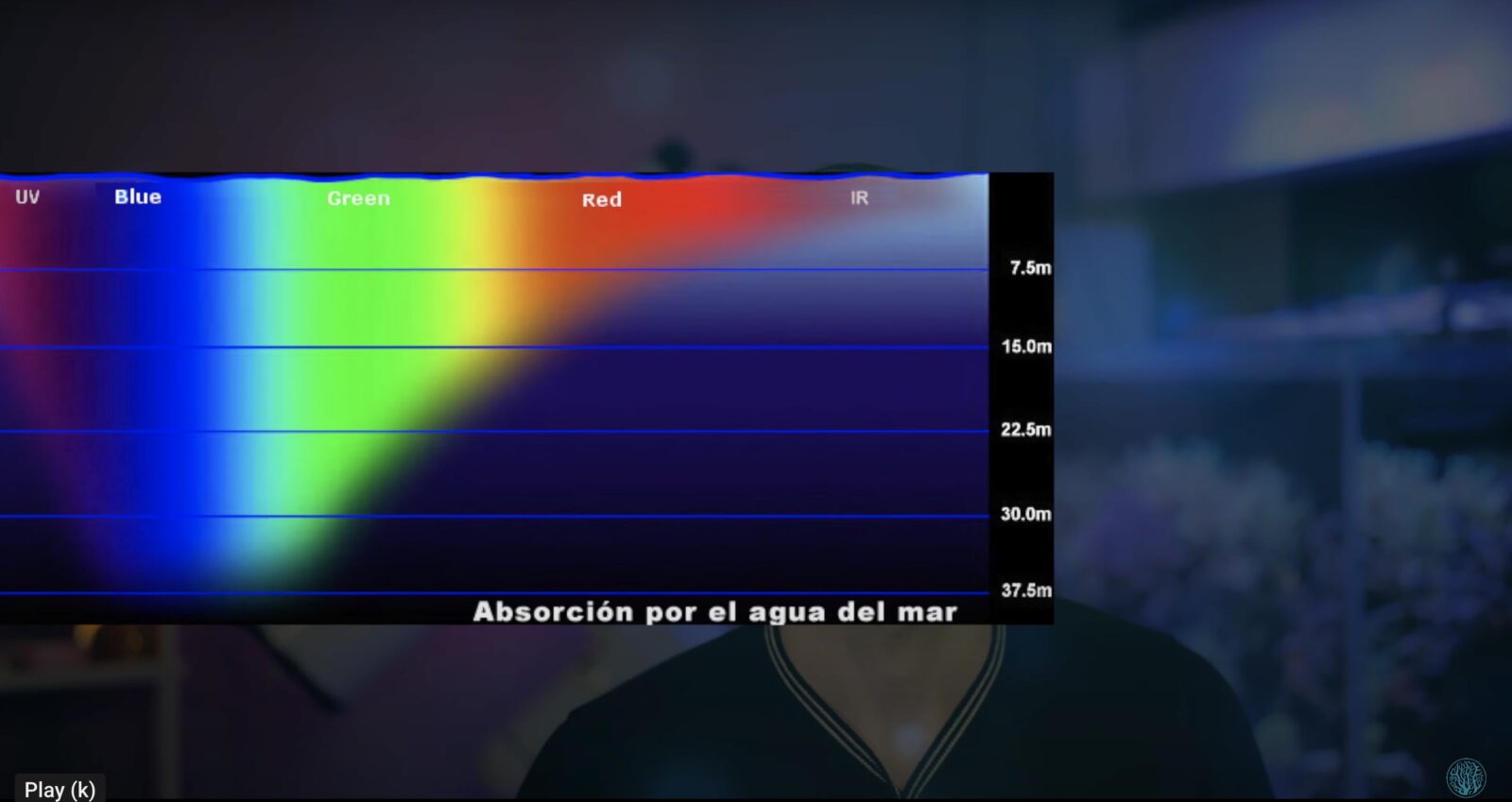 Lord Reef states that Orphek integrates perfectly green and green-cyan colors in its spectrum and this is one of the reasons that Atlantik iCon renders the most natural spectrum of all and he is applauding us for doing so! He adds that many brands in the market are selling marketing strategies of blue hues and blue pro hues, which looks good in pictures, but if you have a SPS/LPS tank you need the complete spectrum.
To make things short - he defines Orphek as the QUEEN OF THE MARKET rending the best spectrum and he gives Atlantik iCon 9,5/10 grade.
POWER FACTOR
Orphek Power consumption: 235w
Orphek PAR peak: 1700
He defines Atlantik iCon as the best PAR X Watt of the market.
He compares PAR measures of his previous 2 Radions XR 15 G4 with PAR measures he took with only 1 Atlantik iCon above the tank.
And if a picture is better than a 1000 words, let's see what he got!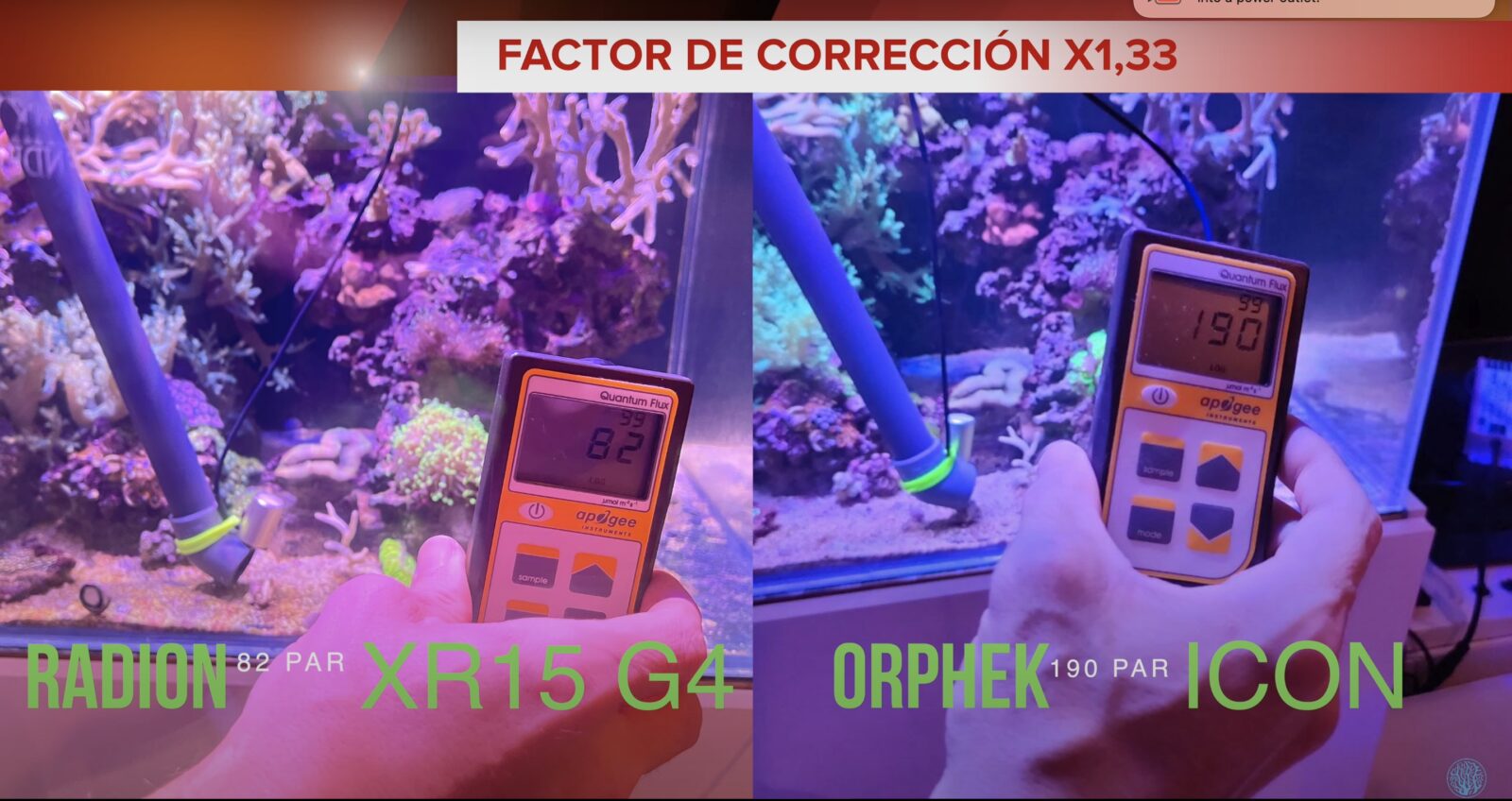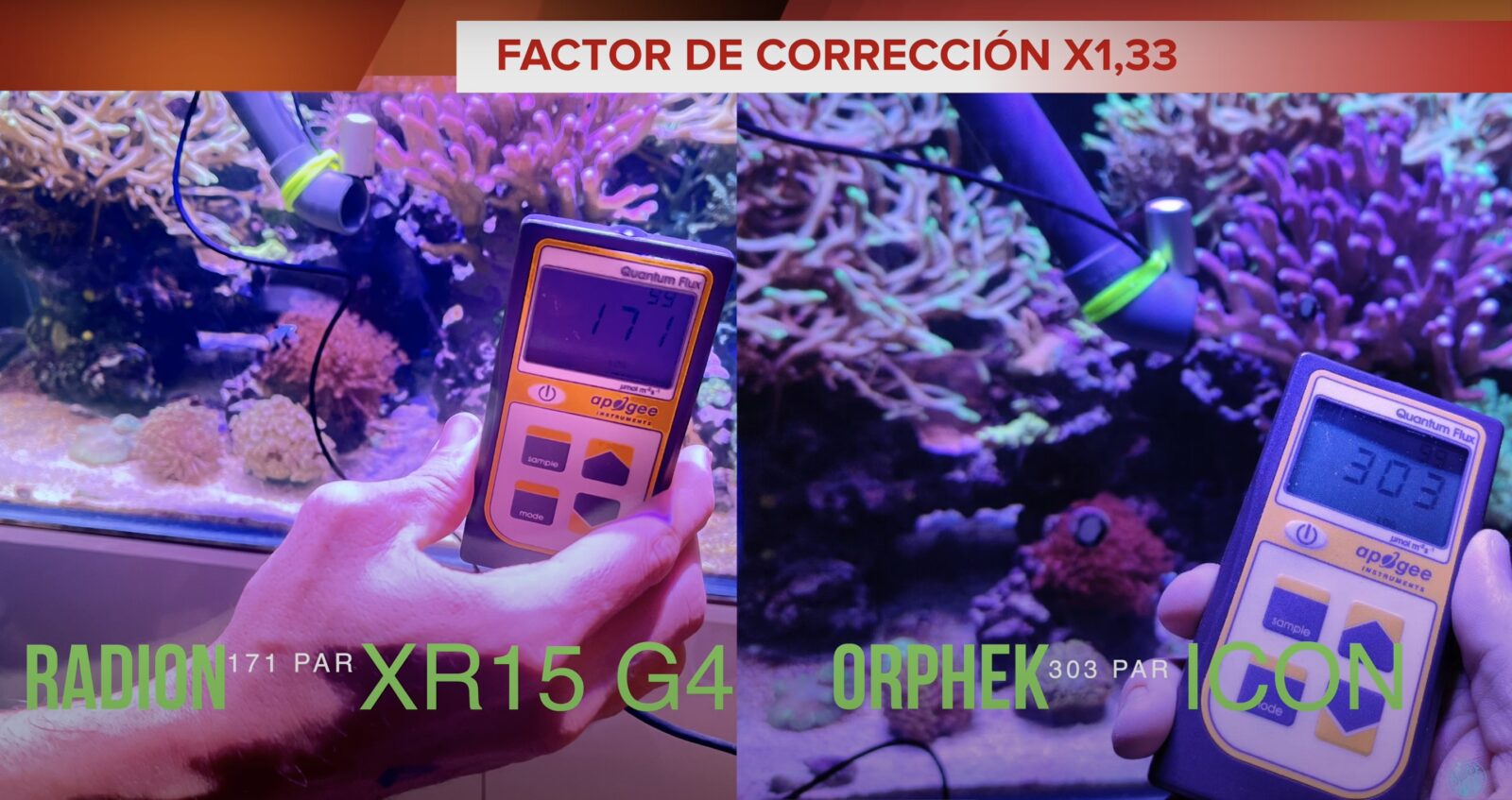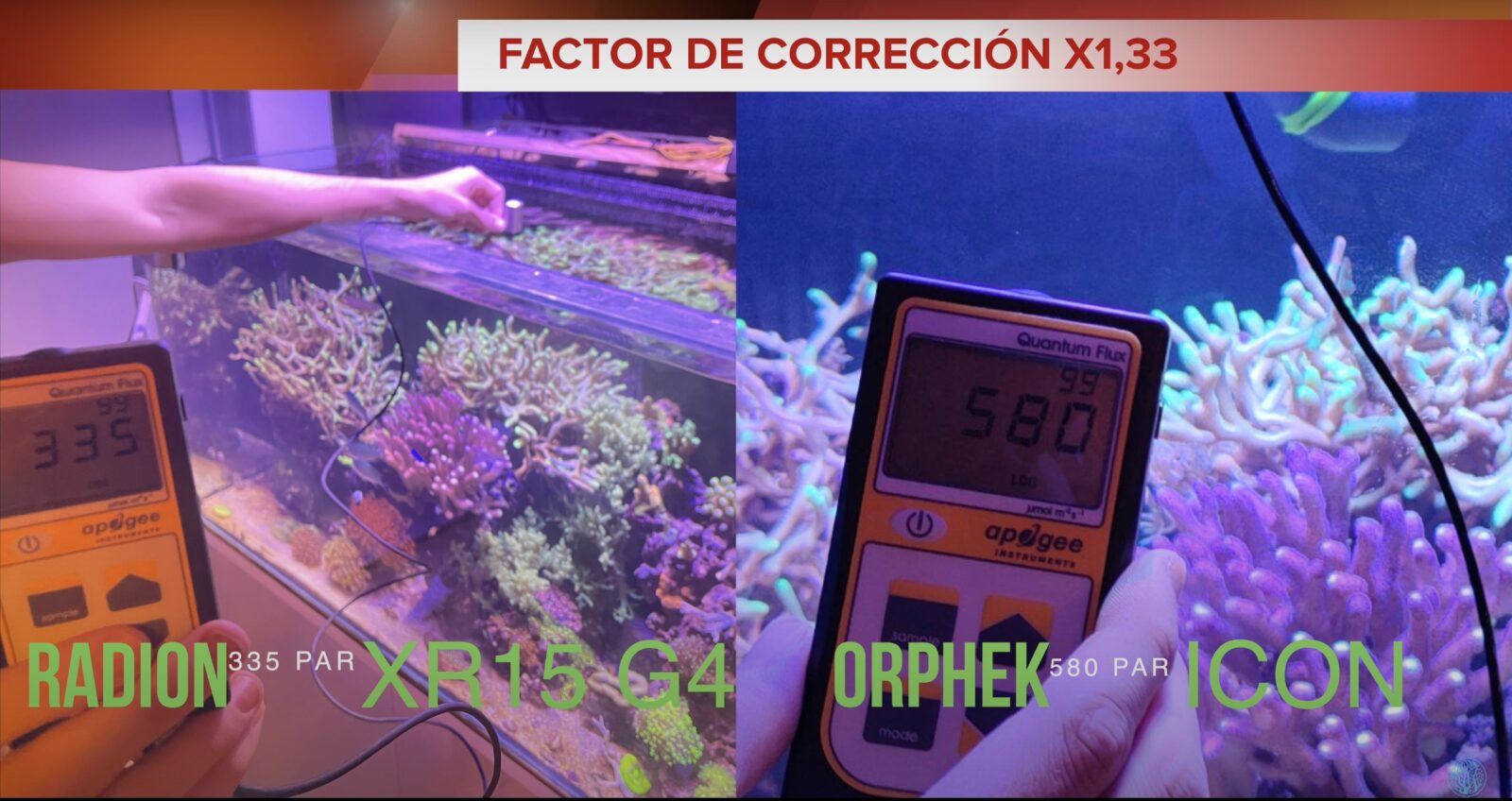 Lord Reef concludes that Atlantik Icon renders the best PAR per WATT and he gives Atlantik iCon 9,5/10 grade.
If you want to see more PAR readings by another European reefer, you can click on the link and see what Blogger DaniReef got: Orphek Atlantik iCon breaking all PAR Records: Review of DaniReef LAB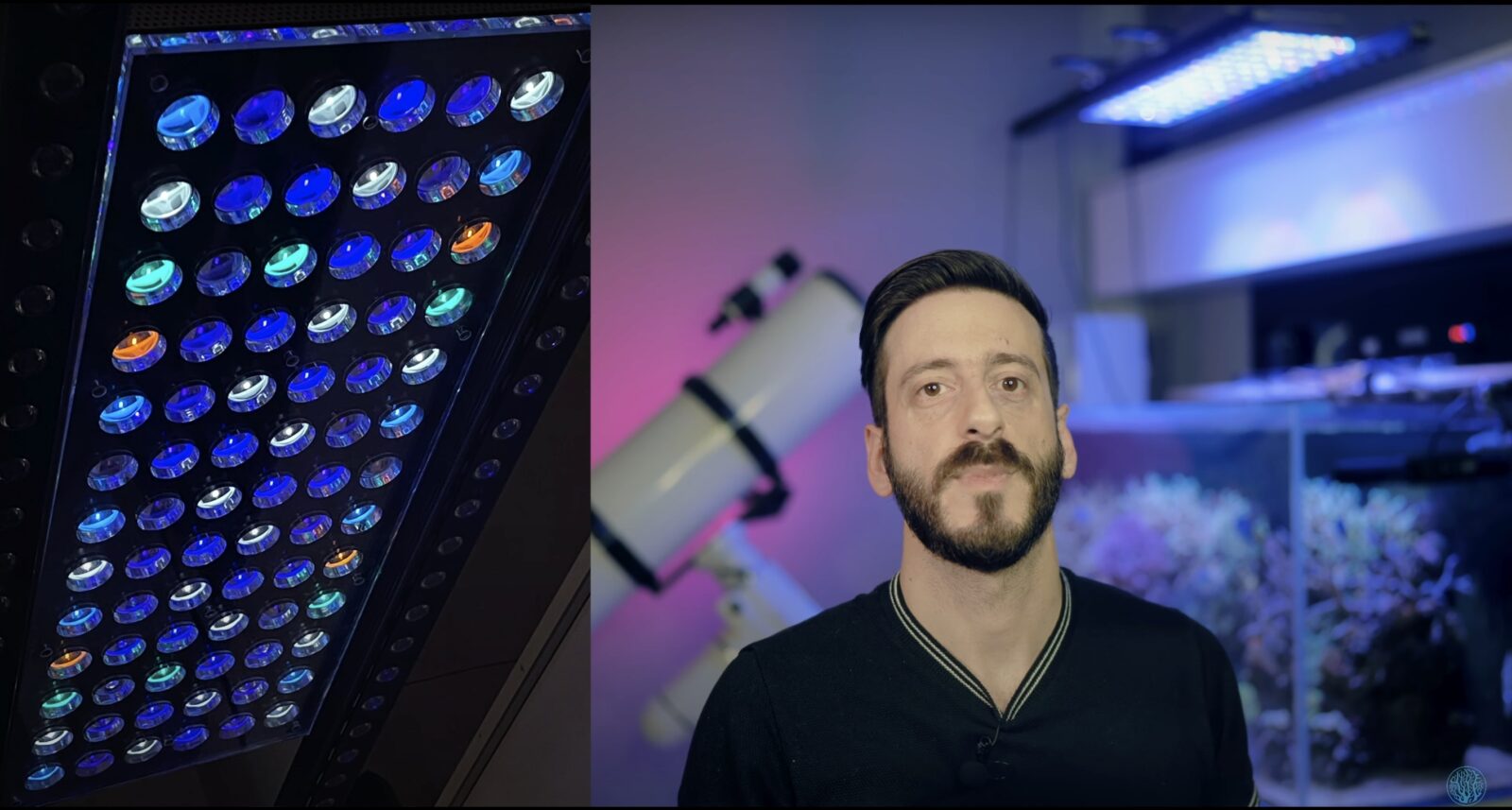 Lord Reef also mentions Orphek 1000% dimming control for Lunar cycle and he says that NO other brand in the market offers such an important feature that mimics Nature and it is crucial for coral spawning. He adds that Orphek Lunar cycle and spectrum is the real one.
For further reading about Atlantik iCon 1000% dimming control please click on the link:
The Secret of Atlantik iCon new Lunar program and advanced 1000% dimming control
CONNECTIVITY / APP.
Lord Reef tells that Orphek has improved its systems bringing a total new app and list all information about connectivity:
Intelligent Connectivity compatible with both IOS and Android.
Wi-Fi / Bluetooth – with iCloud support, 5G internet connectivity, high speed response.
Great new app easy to use.
Ability to program multiple Atlantik iCon units individually, in groups or in unison
Lord Reef concludes that Atlantik Icon connectivity and app. as it is today, with its new app. gets a 9,5/10 grade.
COOLING SYSTEM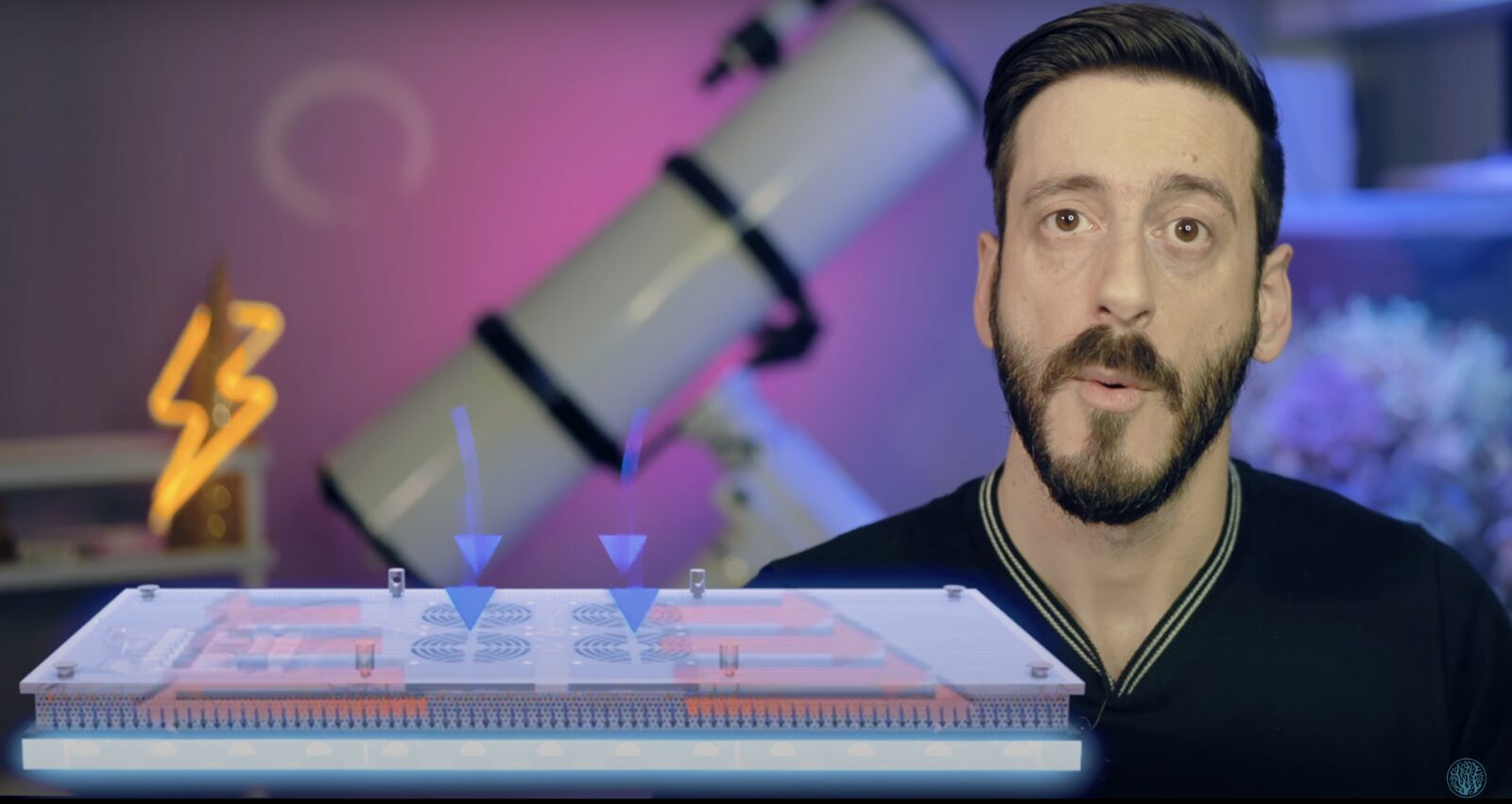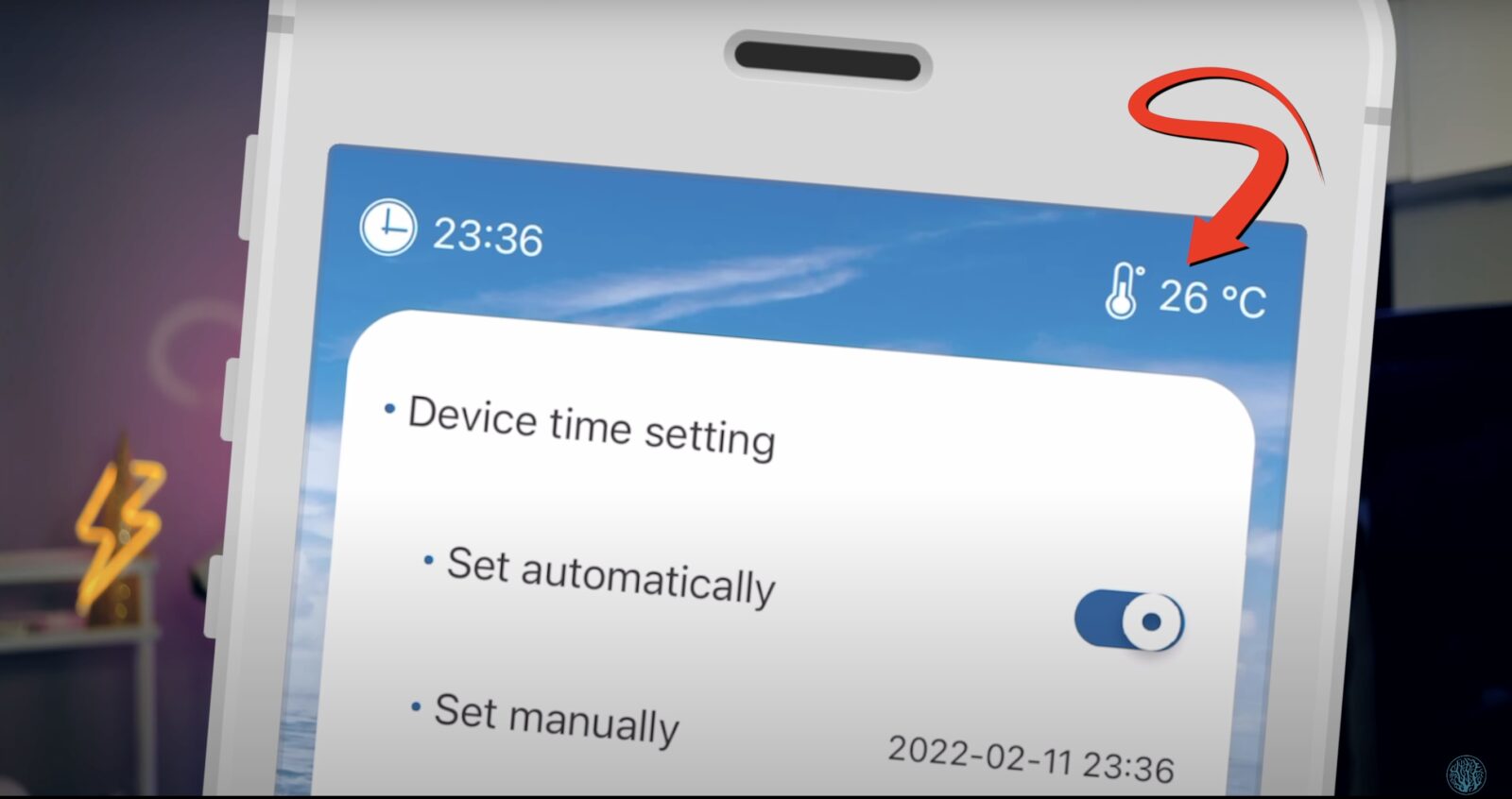 Reviewing Atlantik iCon cooling system Lord Reef explains that this new generation comes with a improved cooling system - Besides the aluminum heat sink, Orphek changed the acrylic top cover of the fans to high quality aluminum alloy, improving the cooling process performance. Now the heat dissipates much better. He also mention that the App always show the temperature of the light fixture so you can see if it is increasing or not. He also adds that there is room for improvement in term of ventilation, mentioning that Atlantik iCon is a tiny, really tiny bit more noisy than other lights. So he gave Atlantik iCon 8/10 graduation.
IMPORTANT: As mentioned before this review was made before the latest improvement - but he mentions on comments about the video that orphek has updated the fans, lowering them to 2db: as seen in the screenshot below:

That means he would have to reconsider this topic and we are sure that we would be graded differently!
Orphek is today the only company in the market offering quiet mode for noise reduction control!
FINANCIAL INVESTMENT
Orphek offers UPGRADE possibility of its systems. With that said, you should know that when you buy an Orphek LED light solution, such as the Atlantik, you will use the light's body over and over again! It means that if you have the previous versions of Atlantik and Atlantik Compact you can upgrade today to our newest Atlantik model: The Atlantik iCon – Atlantik with intelligent connectivity system.
In the long run you have Orphek Atlantik is the best investment of your money!
Financially speaking, Lord Reef explain that by purchasing Atlantik iCon you will be saving money considerably because you will be using the same body over and over again. So in terms of investment, quality against price, it might look like a expensive price, but if you take under the consideration the upgrading and the light life span, it is a good investment.
To finish he wraps up with pros and cons and we just decided to show you the screenshots:
PROs: Spectrum/ Par X Watt Ratio/ Light spread/ Connectivity/ Lunar cycle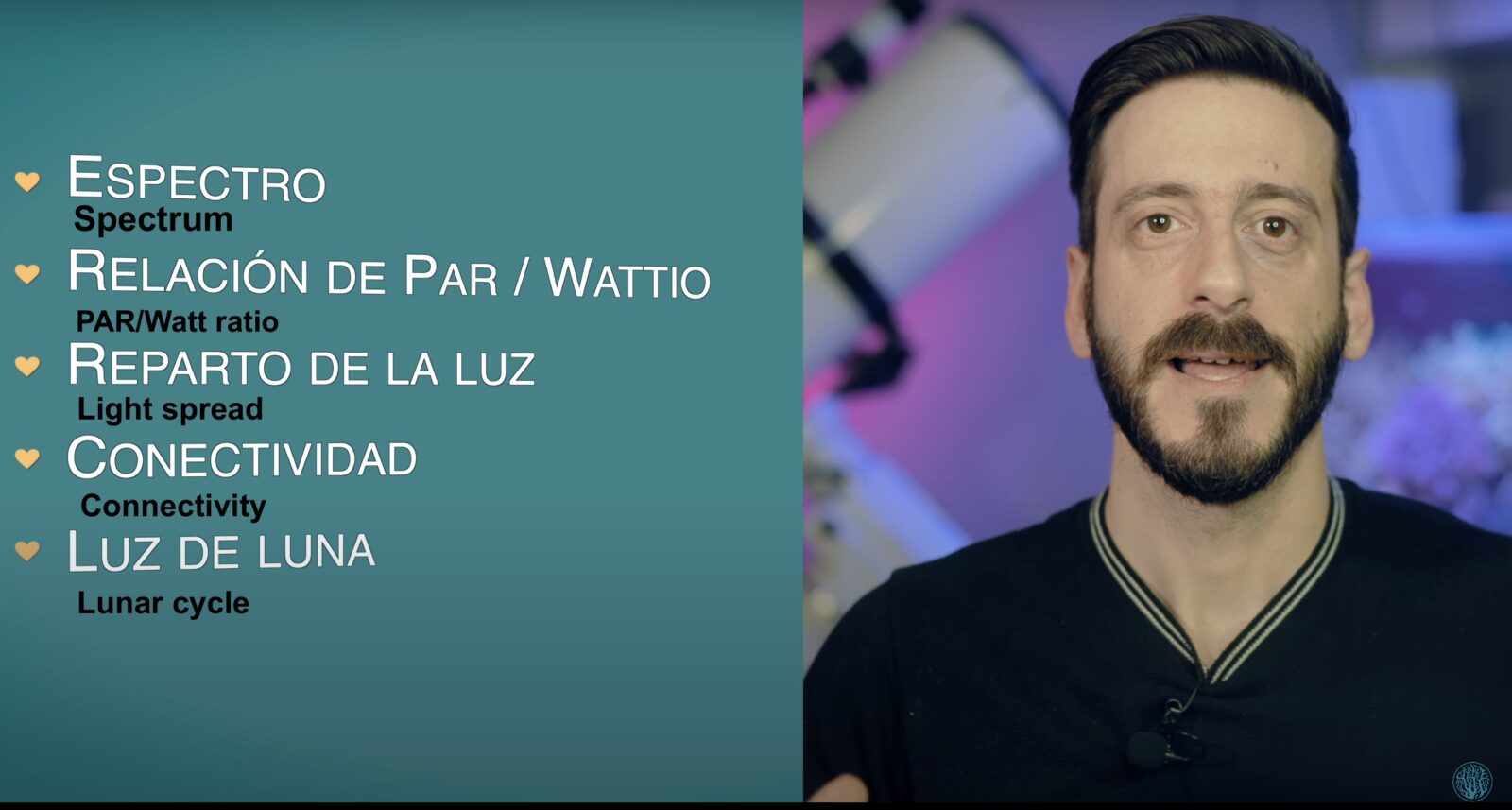 Cons: No cons observed!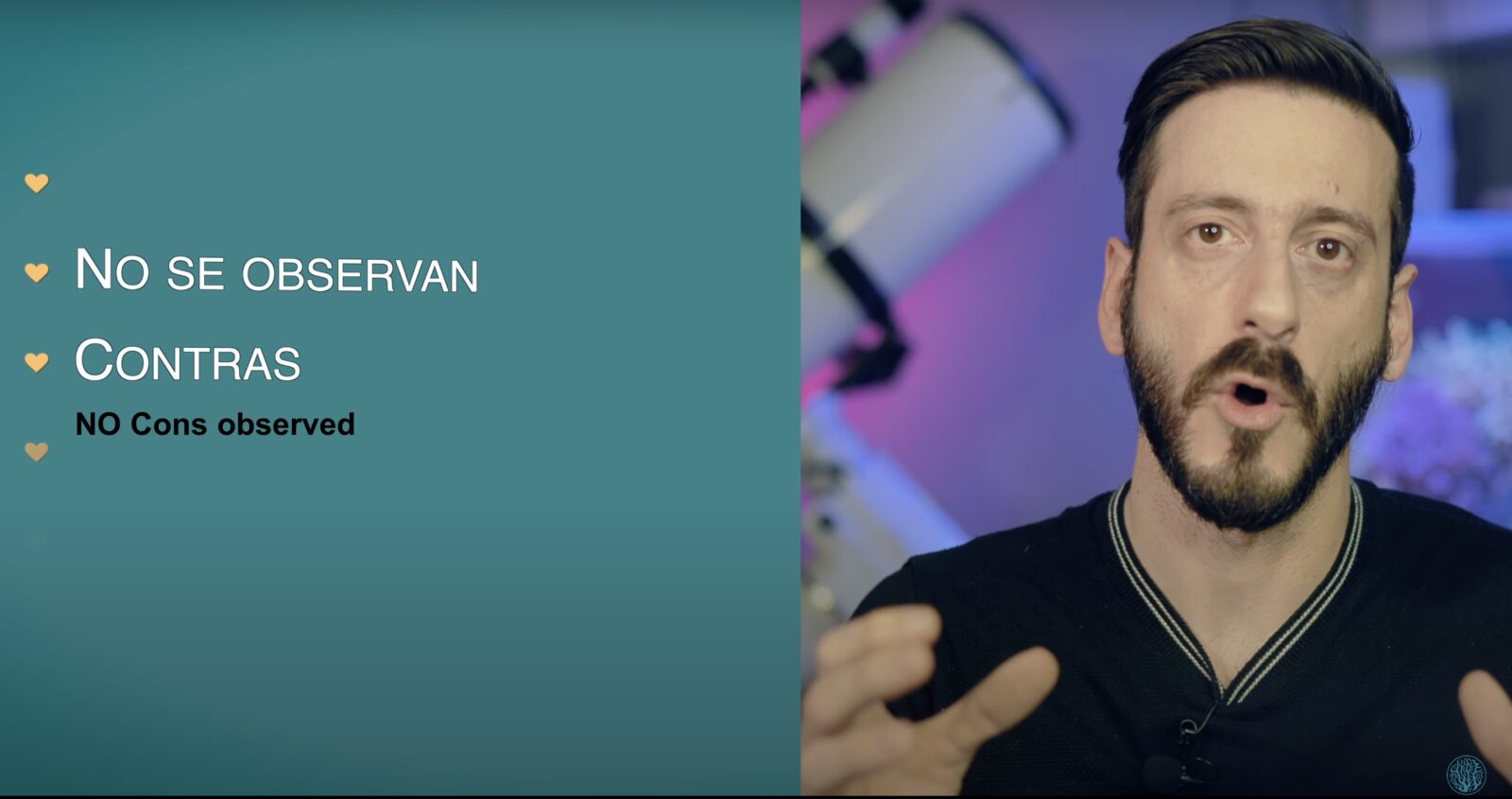 ROOM FOR IMPROVEMENT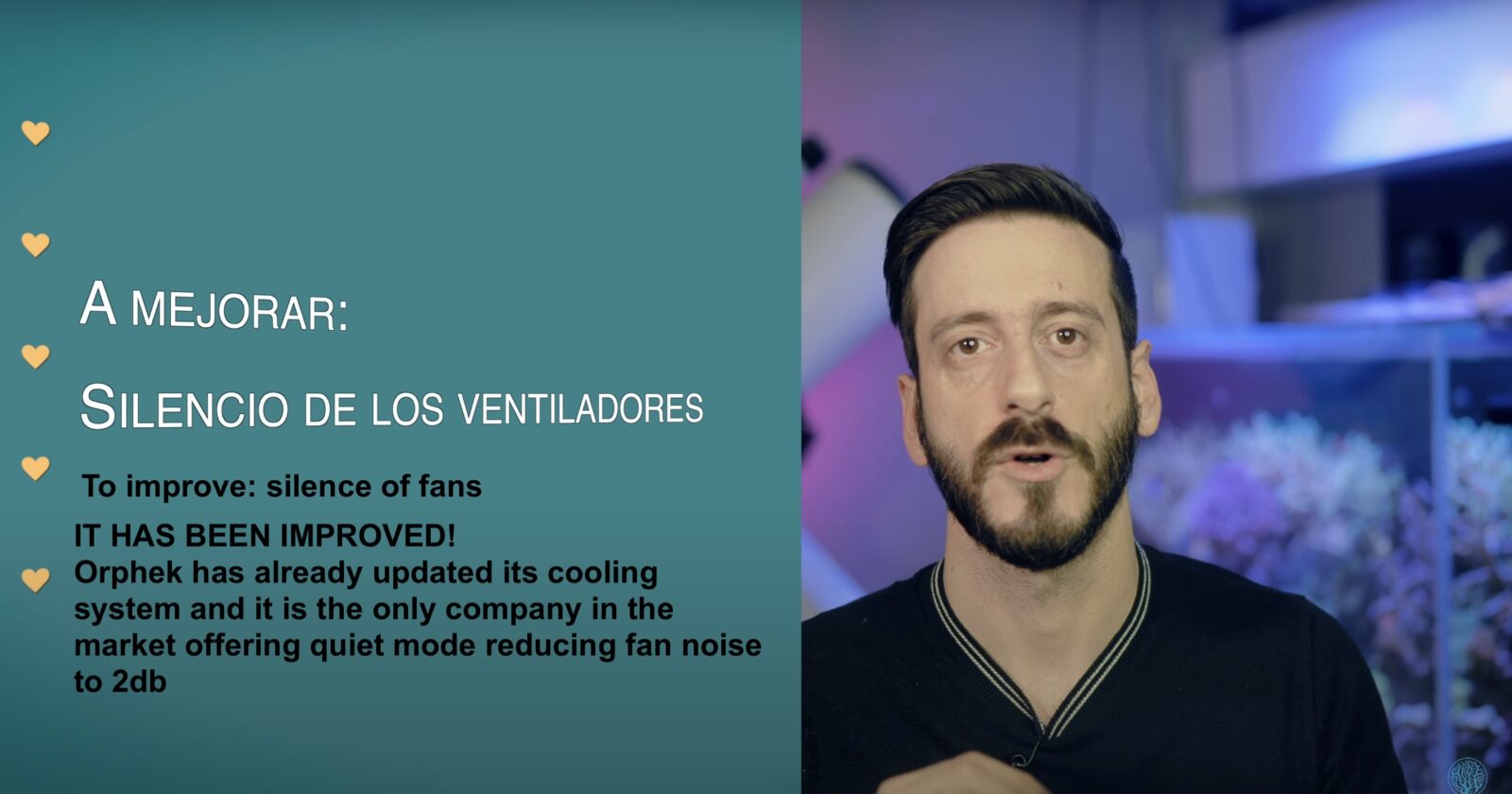 FINAL GRADE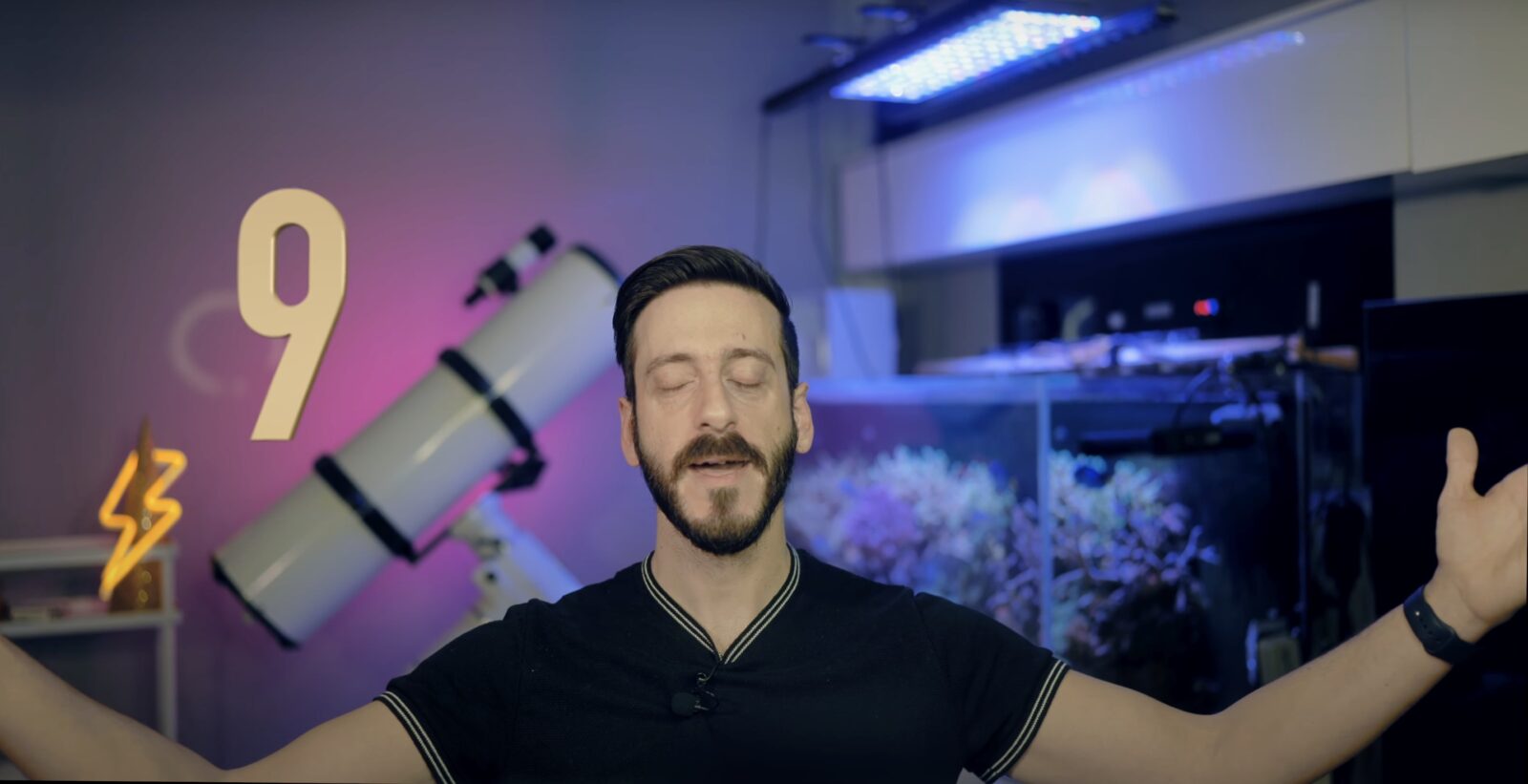 Orphek Atlantik iCon was rated as a 9/10 according to Lord Reef.
We wonder if we would get 10 out of 10 if re-evaluated after the updated improvement that he wished we would make when he made this video-review... after all, we did it!
For further reading:
More posts like this one:
Post related to the points discussed in Reef Lord's review - dive deeper into Atlantik iCon features: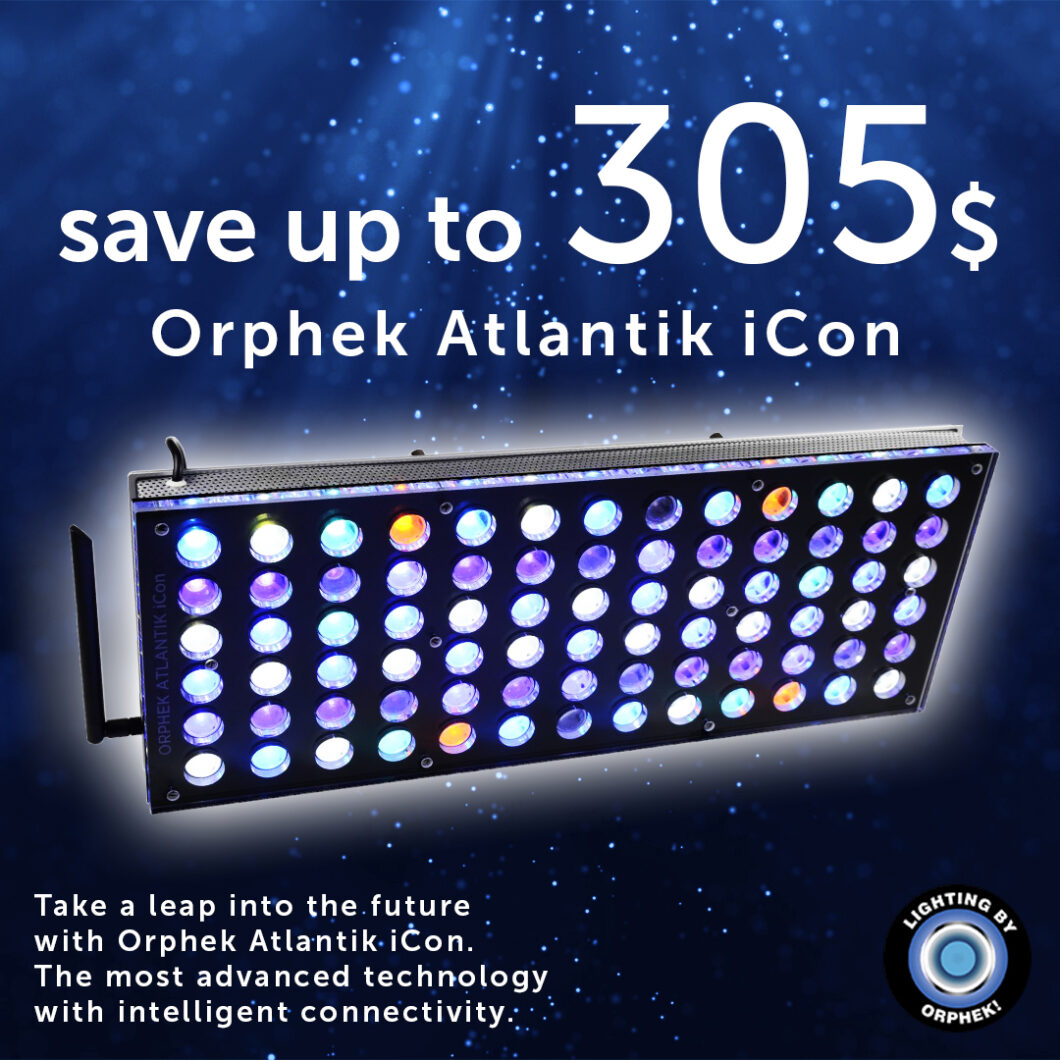 Applications:
SPS/LPS coral reef salted water tanks
Designed to enhance beauty of both natural and synthetic compositions!
Public venues / Private aquariums
Indoors
One unit is perfect for 43″ x 25″, 110cm x 65cm SPS/LPS Corals reef aquariums
Perfect for giving your tank the natural look, mimicking nature at its fullest
Perfect for coral farming
It comes with incredible features:
Intelligent Connectivity – friendly technology, operating through Orphek awesome new App., compatible with both IOS and Android, voice control and many other cool features.
Wi-Fi / Bluetooth – with iCloud support, 5G internet connectivity, high speed response, extra data security.
1000% dimming control system – never offered in the market before!
78 customized high quality, high efficiency 5w Dual-Chip power LEDs – total of 156 individual LEDs Chip.
10 optimized different types of Dual chip 5W wide range LEDs for maximum photochemical efficiency.
26 glass lens for all UV/violet LEDS – no yellowing over the time!
Plug and play technology – effortless part's replacement for simple and easy light maintenance.
Pre-installed program for optimal coral pop color & growth
Wide convex 120 degree lens
Customization: For Deep Aquarium  90 / 60 / 45 / 15 / and 5 degree lens
Mean well Fan-less IP65 power supply
New additional awesome features for your corals and jellyfish
Six separated control and programming channels
Pre-installed program for optimal coral pop color & growth
New improved heat dissipation and cooling system & 4 fans
Improved internal lens to make sure you are getting the best Orphek LEDs!
Extra data security
Orphek hanging solutions
Orphek offers many options for hanging/mounting its LED Solutions. Click HERE / HERE and HERE to get to know them!
We would like this opportunity to thank LORD REEF for this amazing video-review of our Atlantik iCon
About Lord Reef -
"Canal sobre acuarios marinos en el que trato temas interesantes acerca del mantenimiento de los acuarios marinos y de arrecife.
Mi intención es ayudar a la comunidad de Youtube con videos sobre flujo de nutrientes, control de algas y plagas, cuidado de peces, corales e invertebrados marinos, mantenimiento del balance iónico del agua, instalación de bombas de movimiento, de pantallas de iluminación led, skimmers para acuario marino, cambios de agua, icp…etc" (extraído de la descripción del canal Lord Reef)
"Channel about marine aquariums in which I deal with interesting topics about the maintenance of marine and reef aquariums.
My intention is to help the YouTube community with videos on nutrient flow, algae and pest control, care for fish, corals and marine invertebrates, maintenance of the ionic balance of water, installation of motion pumps, led lighting screens, skimmers for marine aquariums, water changes, icp…etc" (extracted from Lord Reef channel description)
Orphek also wishes to express its gratitude to all the clients who took their time to take these awesome photos and send them to us or to publish them in social medias.
We would like to invite you to browse our website and participate with your Orphek experience.
Let us know about your tank and share it with other hobbyists in Orphek Facebook Group and Instagram!
Sharing is very easy! All you have to do is to send us the basic information about your tank, usually starting from the beginning (when you started your tank), what are you running in the tank, the living creatures you have in your tank and of course, pictures of the tank and of your corals.